Brushing your teeth isn't just about having shiny, white teeth. Of course, it's nice to have a bright smile, but strong teeth and gums are vital to your overall health. While you might think your manual toothbrush is doing a thorough job, it's likely leaving behind plaque and debris below the gum line. In fact, studies show that in most cases, electric toothbrushes are more effective at reducing plaque build-up and gingivitis than manual ones.
Although it might seem like an extravagant purchase, an electric toothbrush can drastically improve your gum health, which, in turn, can reduce your risk of developing heart disease, stroke, and diabetes. Therefore, it is not surprising that more and more people are making the switch to electric-powered toothbrushes.
Plus, many new models come with advanced features that make it easy to get a deep clean every time you brush. Read on to discover 7 of the best electric toothbrushes of 2023. Our short buyer's guide also offers some tips and tricks for choosing the right toothbrush for you.
7 Best Electric Toothbrushes of 2023
Best Electric Toothbrush Overall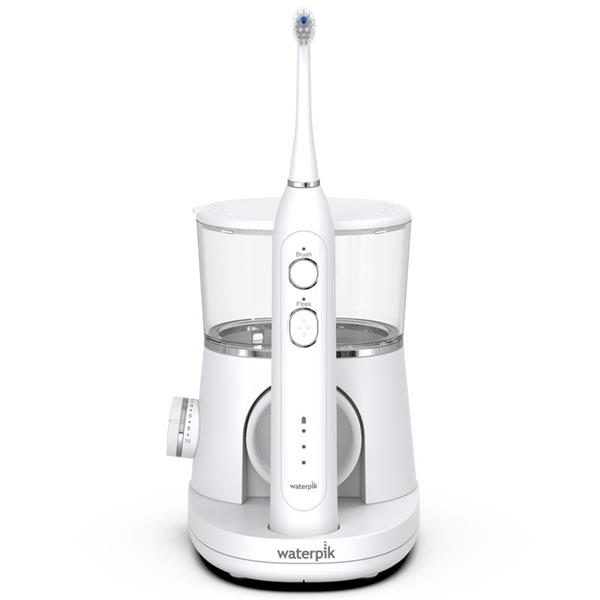 For a professional clean feeling, the Waterpik Sonic-Fusion Professional electric toothbrush is a perfect choice. This advanced device flosses and brushes your teeth simultaneously and is clinically proven to remove 99.9% of plaque.
$199.99 on Amazon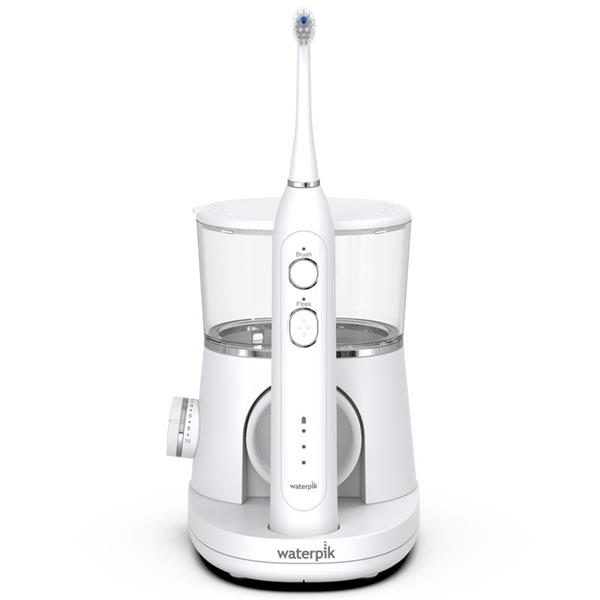 Top Pick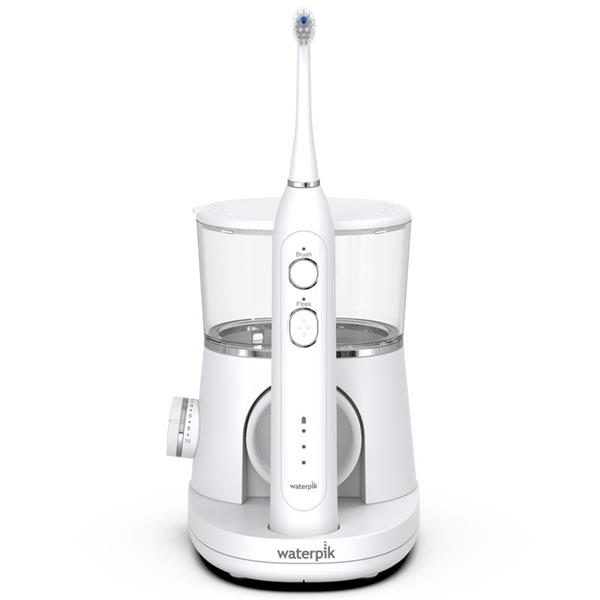 Best Electric Toothbrush Overall
Toothbrush and water flosser in one
Global voltage
Includes charging station, portable case, and two brush heads 3-year warranty
Available in white/chrome and black/copper
$199.99 on Waterpik.com
If you are looking for a toothbrush that can deliver a professional clean feeling, the Sonic-Fusion Professional by Waterpik is the best choice. This toothbrush has a built-in water flosser that can be used on its own or while you brush your teeth. The water flosser delivers a steady stream of water that flushes plaque and debris from deep below the gumline.
It is also clinically proven to be 50 percent more effective than string flossing. The water flosser has an advanced water pressure control system with 10 different settings. So, while it is powerful enough to blast build-up from between teeth, it is also gentle enough to protect implants, crowns, bridges, and veneers. The flosser can also be used with your favorite mouthwash instead of water.
The LED mode indicator light lets you how long you have brushed and how charged the device is. It comes with two patented brush heads, a charging station, and a portable case. With the global voltage (100-240VAC, 50/60Hz), you can travel with this device and safely charge it with most outlets. Waterpik also includes a 3-year warranty to ensure this advanced toothbrush will help you care for your teeth for many years.
Runner Up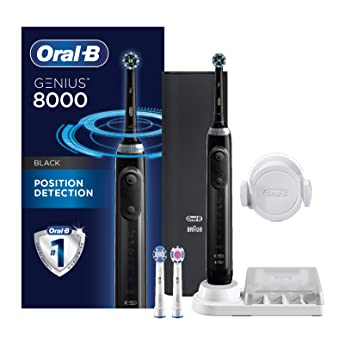 Best Smart Electric Toothbrush
Portable charging case
WiFi connectivity
Real-time coaching
Approved by the American Dental Association
Available in 5 different colors
$168.00 on Amazon
This smart toothbrush comes with several unique features that make it easy to take great care of your teeth and gums. The Oral-B Genius Pro 8000 connects to your smartphone via Bluetooth connectivity to help you brush better.
With facial recognition, your phone will let you know which zones have not been thoroughly brushed. Pressure sensor technology automatically adjusts the speed of the device to protect against over-brushing. Plus, the customizable Smart Ring provides real-time coaching that will help you keep your gums as healthy as possible.
With 6 different cleaning modes, including daily clean, gum care, sensitive, whiting, tongue cleaning, and pro-clean, you can select the perfect setting for your needs. This toothbrush comes with a smart charging travel case, so the device is always ready to use.
It is also available in 5 different colors—white, black, orchid purple, rose gold, and sakura pink. For a toothbrush that offers you all the tools you need to care for your gums properly, the Oral-B Genius Pro 8000 is a great option.
"The Oral-B Genius Pro 8000 connects to your smartphone via Bluetooth connectivity to help you brush better. With facial recognition, your phone will let you know which zones have not been thoroughly brushed."
Best Electric Toothbrush for Kids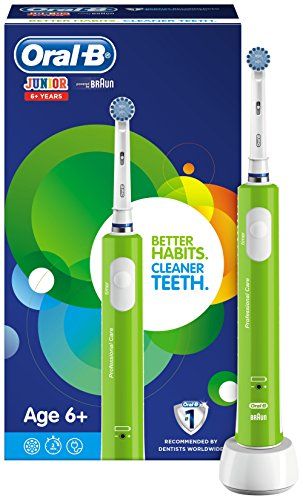 Best Electric Toothbrush for Kids
Gum pressure control
Built-in 2-minute timer
Ultra-soft bristles
Designed for small mouths
Rechargeable battery
$49.54 on Amazon
The Oral-B Junior Electric Toothbrush is the perfect tool to teach kids how to care for their teeth and gums. This device has a 2-minute timer with scheduled signals that tell kids when it is time to switch to a new zone.
Kids can even download the Oral-B app, available on the Apple Store and Google Play, to earn virtual stickers when they have brushed for the recommended time. Built-in controls work to teach kids safe oral hygiene. For example, a light on the brush flashes if kids apply too much pressure and automatically reduces the speed to protect their sensitive gums.
The round brush heads have ultra-thin, soft bristles that are gentle on gums and ideal for small mouths. These bristles also help reduce gum inflammation and remove more plaque than manual brushing. The Oral-B Junior comes with a small rechargeable base that fits well on most bathroom countertops. A full charge gives kids up to 2 weeks of brushing time.
Best Toothbrush and Flosser Bundle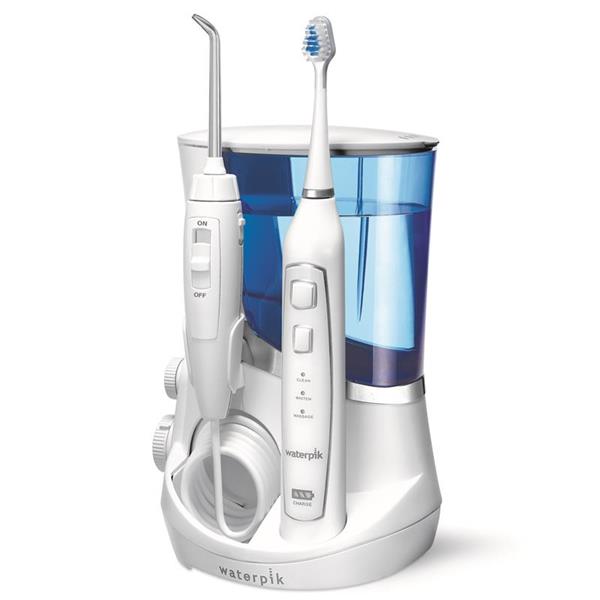 Best Toothbrush and Flosser Bundle
Compact charging station
5 replaceable water flossing tips
Includes travel case for the brush handle & replacement heads
2-year warranty
Available in black and white
$89.99 on Amazon
Waterpik's advanced toothbrush and water flosser technology are available in their Complete Care 5.0 bundle. This set includes their patented toothbrush with 3 brushing modes and speeds.
A built-in 2-minute timer pulses every 30 seconds, letting you know you can switch to a new quadrant. You can select either two oscillating (rotating) or sonic (vibrating) brush heads for this device. It also includes two travel cases—one for the brushes and one for the handle.
Included in this bundle is a separate water flosser with 5 interchangeable tips. The water flosser has a swiveling handle hose that makes it easy to clean hard to reach places. It has 10 different settings, so you can adjust the water pressure to fit your personal preference.
The water tank holds enough water or mouthwash to floss for 90 seconds. Each component of this bundle fits neatly into the compact charging base with a wrap-around cord holder, so your bathroom counter stays clean and uncluttered.
Tip: The Waterpik electric toothbrush and water flosser bundle regularly costs $119.99, but it is currently available for $100 on Waterpik.com.
Best Basic Model Electric Toothbrush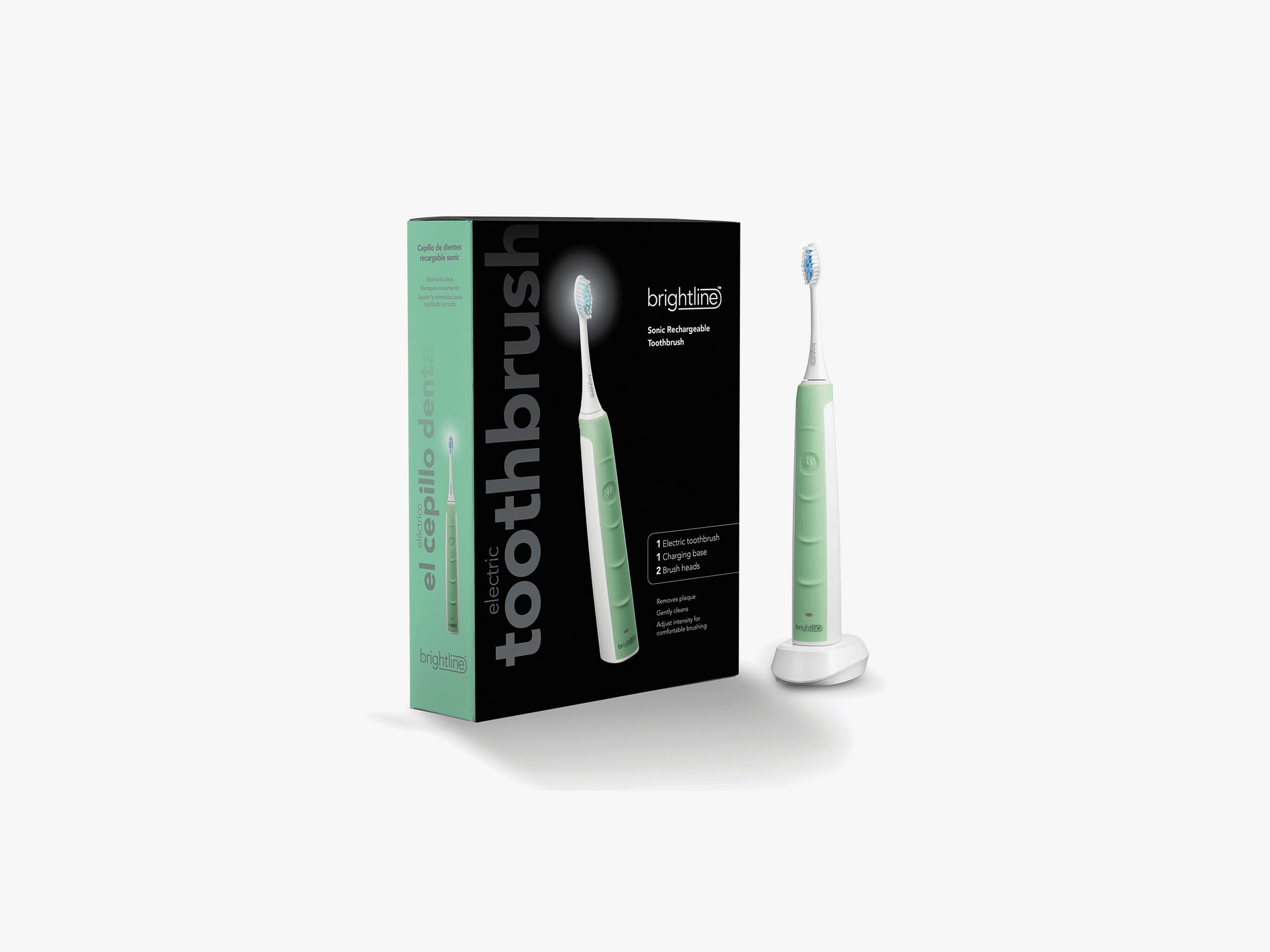 Best Basic Model Electric Toothbrush
5 sonic cleaning modes
48,000 brush strokes per minute
Contoured bristles
25-day battery power
Comes with two replaceable brush heads
$39.99 on BrightlineProducts.com
Like most Hamilton Beach products, their Brightline Sonic Toothbrush is made with high-quality, durable materials. This device has a basic, yet sleek design with 5 different brushing modes—including clean, white, polish, massage, and sensitive.
With smooth, contoured bristles that are perfect for getting into hard to reach places, this toothbrush delivers a full mouth clean. It also vibrates at 48,000 brush strokes per minute, which is more than the standard 15,000 brush strokes per minute.
This electric toothbrush has a 2-minute timer to keep your gums protected from over-brushing. It comes with a small compact charging base that offers a full 25 days of power, and two replaceable brush heads.
This powerful electric toothbrush is available for only $39.99. Plus, extra brush heads for this device are cheaper than with other leading brands. Brightline brush heads cost $6.99 for 2, while most leading brands offer 2 for $12.99 to $14.99 depending on the brand and style.
Best Value Electric Toothbrush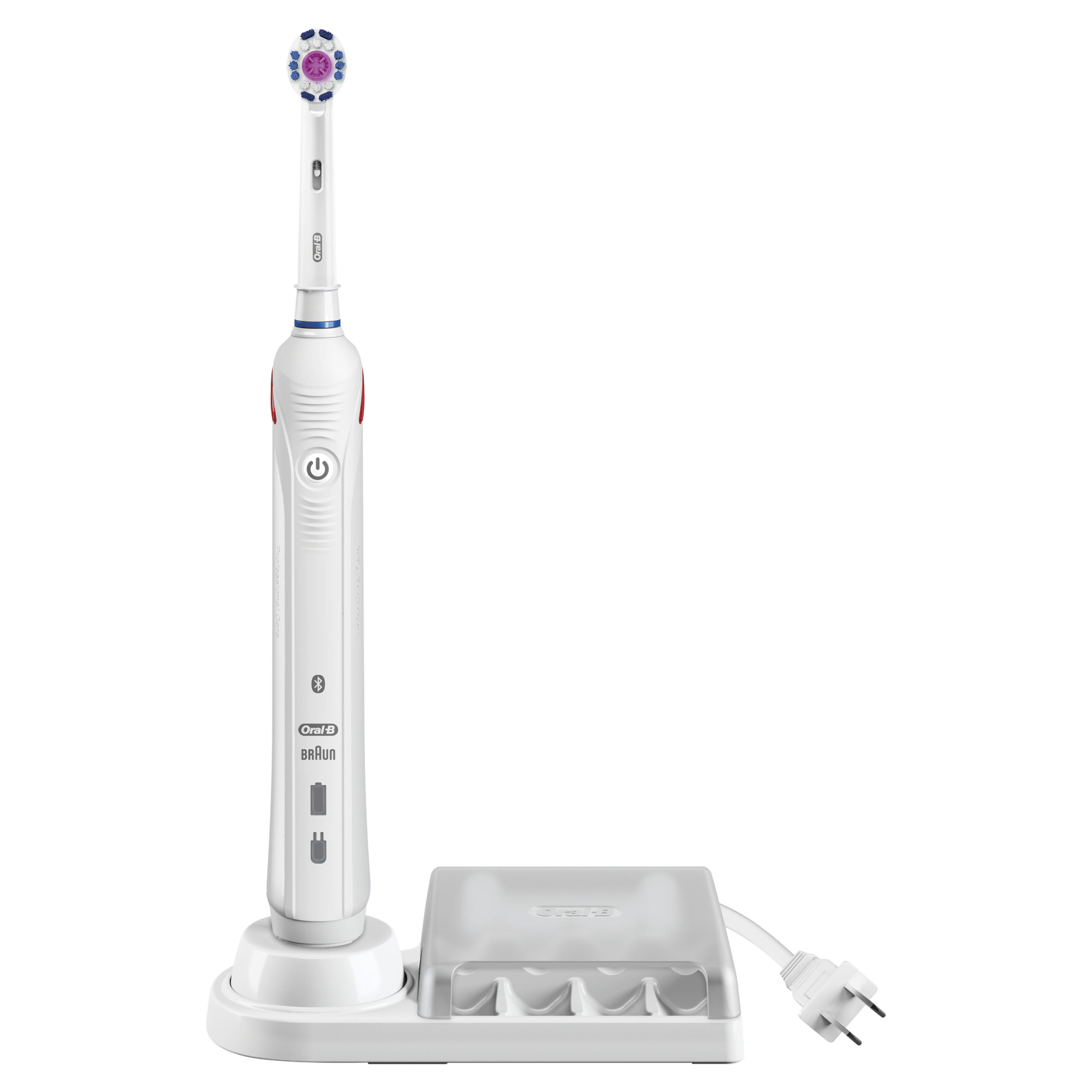 Best Value Electric Toothbrush
10-day battery power
Bluetooth connectivity
Compatible with all Oral-B brush heads
3 brushing modes
Affordable price
$57.70 on Amazon
The Oral-B 3000 is our pick for the best value electric toothbrush because, for just $57.70, you'll get a versatile and powerful toothbrush with smart technology. This device has Bluetooth connectivity so you can use the Oral-B app to personalize your brushing routine and set daily reminders.
Three brushing modes help you maintain proper oral health without damaging your gums. The Daily Clean Plus mode features an indicator light that lets you know if you are brushing too hard, while the Gum Care mode is ideal for those with sensitive teeth.
This toothbrush is compatible with all Oral-B brush heads, including the FlossAction, Deep Sweep, and CrossAction brush head. The charging base holds the handle and up to 4 brush heads. A plastic lid can be placed on top of the brush heads to protect them from germs when they are not being used. A fully charged handle provides 10 days of brush time, so it is easy to take the toothbrush with you on vacation and leave the charging base at home.
Tip: The Oral-B 3000 originally costs $109.99, but this smart toothbrush is now available on Oralb.com for $79.94.
Best Battery Powered Electric Toothbrush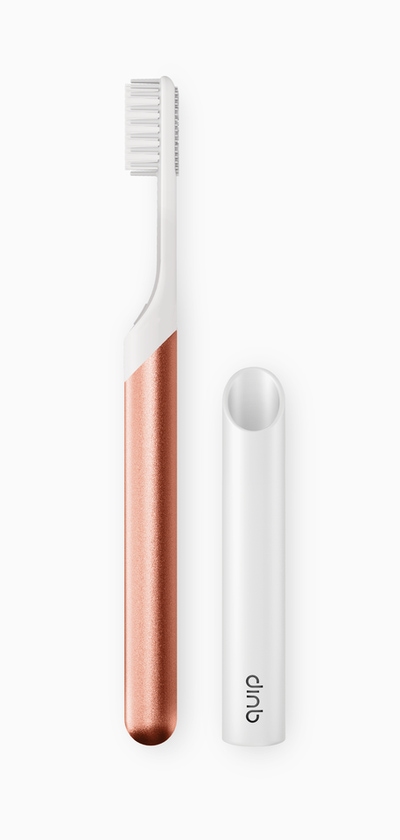 Best Battery Powered Electric Toothbrush
Sturdy aluminum handle
Available in metal and plastic
All-in-one cover, stand, and mount
Built-in 2-minute timer
3-month battery life
$40.00 on GetQuip.com
The Quip electric toothbrush is an effective, yet gentle, battery-powered toothbrush. There is no need for a changing base with this device. Simply place one fully charged AAA battery inside the toothbrush, and you will have up to 3 months of brush time.
The cover of this device acts as a mount or stand. It sticks to any countertop or mirror by applying firm pressure—allowing you to travel light and still keep your toothbrush protected from bacteria.
The brush heads on the Quip are made with 1200 soft, end-rounded, DuPont bristles that protect your gums from over-brushing. With 15,000 brush strokes per minute, you get an effective clean that reduces plaque build-up below the gum line.
The Quip toothbrush is available in both metal and plastic. The plastic model comes in either green or blue. The metal model comes in either silver, slate, copper, or gold. This affordable, battery-powered toothbrush is perfect for traveling or as a back-up toothbrush in your gym bag or purse.
How to Shop for the Right Toothbrush
The right electric toothbrush will fit seamlessly into your life. You want something convenient, easy to use, and, most importantly, effective. As you shop, try to keep the following points in mind. These tips will help you find a great toothbrush without spending money on features you don't need.
Budget
As with most essential purchases, be sure to determine how much you are willing to spend first. Most electric toothbrushes range between $40 to $50. Those in this price range provide a deep, effective cleaning. However, these brushes tend to have a shorter battery life and may not come with smart features like Bluetooth connectivity.
Those in the $80 to $200 price range typically include more advanced features such as interchangeable brush heads, Bluetooth, lithium-ion batteries with longer charge times, brushing sensors, and water flossers. Although these features may come with a higher cost, they can make it easier to practice good oral hygiene.
Timer
Most of the electric toothbrushes outlined above have built-in timers that monitor how long you have brushed. Two minutes is the brush time recommended by most dentists. Many electronic toothbrushes will pulse every 30 seconds to signal when it is time to switch to a new quadrant. A built-in timer can take the guesswork out of brushing.
Pressure
Some electric toothbrushes have various speeds and pressures to help protect your gums. If you have sensitive teeth and gums, be sure to purchase one with gentle, lower speed modes. The ability to attach brush heads with softer, thinner bristles can also reduce the likelihood of aggravating your gums.
Battery Life
The battery life of most modern electric toothbrushes ranges from 10 days to 25 days with a full charge. If you live a busy life or plan to travel without your charging base, look for a toothbrush with a longer battery life. However, keep in mind that those with a longer battery life tend to be more expensive.
Portability
If your electric toothbrush has a shorter charge time, you will want one with a small, compact charging base so you can take it with you when traveling.
You also want to keep your toothbrush protected from germs, so a portable case is essential. If you're frequently on the road, be sure to select one with these features.
Frequently Asked Questions
How long do electric toothbrushes last?
A high-quality electric toothbrush has an average lifespan of 3 to 5 years. More advanced and sturdier models can last up to 10 years. A 2-year warranty is standard and helps to protect against any manufacturing defects.
Should you leave your electric toothbrush on the charger all the time?
Leaving your electronic toothbrush on the charger is a great way to ensure that it is always ready for use. If the device is left on the base after it is fully charged, it will not damage the battery.
Is brushing your teeth 3 times a day bad?
Most experts recommend brushing your teeth at least twice a day, in the morning and at night. However, brushing your teeth after every meal can minimize any bacteria or plaque build-up.
Should you brush with a hard or soft toothbrush head?
In most cases, it is best to use a brush head with soft to medium bristles. Hard bristles can damage your gums and cause gum recession. Softer bristles are just as effective and will not harm your gum.
Is an oscillating electric toothbrush better than sonic?
Oscillating toothbrush heads rotate, while sonic brush heads vibrate. Oscillating brushes typically have lower power and may not be as effective at removing plaque. Sonic toothbrush heads are thought to be more powerful and able to remove more plaque and debris from below the gumline.
Conclusion
When considering the health benefits of maintaining clean, healthy teeth and gums, it is easy to understand why electric toothbrushes have become so popular. With many studies now showing how effective these devices are, dentists everywhere are encouraging their patients to make the switch. If you still have questions about whether an electric toothbrush is right for you, talk to your dentist. They may even be able to recommend the best electric toothbrush suited to your specific needs.