Fresh juice is a great way to get more nutrients into your diet. One serving of fruit or vegetable juice contains several vitamins and minerals to boost your immune system and digestion. Many people also believe because cold-pressed juice is exposed to less heat, it retains more nutritional value.
A daily trip to your local juice cafe can become costly. Just one 8 to 10-ounce serving can cost between $5 and $10. Although fresh juice comes with many benefits, some of us may not be able to afford this steep price. If you want the delicious taste and nutrient value without the extra cost, a home juicer is a great solution.
There are many high-quality and affordable juicers on the market, many of them from reputable companies such as Hamilton Beach and Breville. There are also lesser-known brands offering advanced machines to make creating a refreshing and healthy juice quick and easy. To help you find a device that fits your needs and budget, we introduce you to 8 of the best juicers of 2023. Read on to discover more about the different types of juicers and what to consider as you shop.
8 Best Juicers of 2023
Best Juicer Overall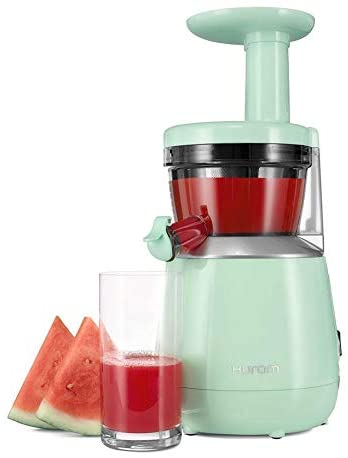 For a compact, yet durable juicer, the Hurom HP is the best option. This machine produces smooth, cold-pressed juice and uses a patented extraction method, which pulls every drop of juice from your produce.
$299.00 from Hurom.com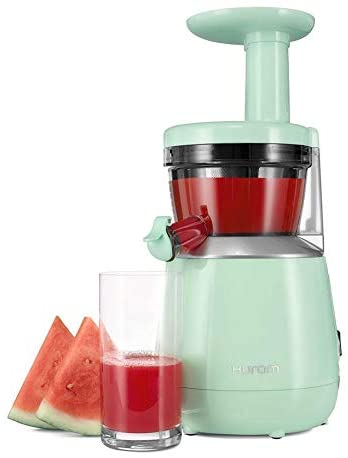 Top Pick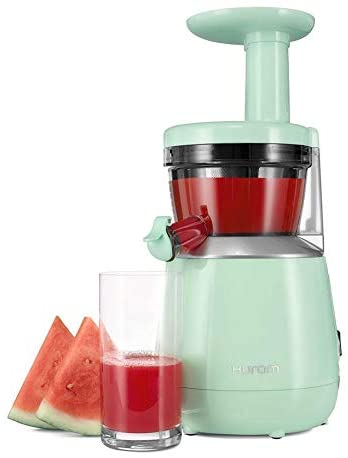 Best Juicer Overall
Uses a slow, masticating extraction method
Sleek, stylish design
11.8 oz chamber capacity
2-year warranty on parts, 10-year warranty on motor
Available in white, pink, and mint
$299.00 on Hurom.com
The Hurom HP Slow Juicer is our pick for the best overall juicer because it has a sleek, retro design, and a cold-press extraction process. This machine uses Hurom's patented Slow Squeeze Technology to mimic the motion of hand squeezing.
This method ensures juice is exposed to less heat and stays as close to its natural state as possible. The low-speed auger presses every ounce of fluid from your produce and leaves behind only bone-dry pulp. The Hurom machine produces fresh-tasting juice full of natural vitamins and minerals.
The body and filter are made with heavy-duty Ultem plastic, which is more durable than traditional plastics. This machine is also easily disassembled for cleaning. Plus, it has an inner spinning brush that rotates to clean the strainer and juice chamber.
With a powerful 150 watt motor, the Hurom HP allows you to enjoy cold-pressed juice from a variety of foods, such as leafy greens, root vegetables, nuts, and soybeans. For a safe, easy to use, and advanced machine that creates fresh, delicious juice, the Hurom HP is a great option.
Runner Up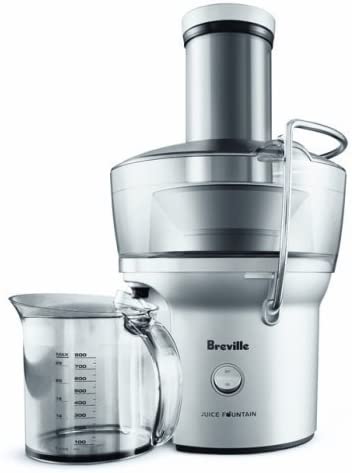 Best Centrifugal Juicer
700-watt motor
Wrap-around cord storage
Included 25-ounce juice jug
Extra-wide 3-inch feed chute
1-year limited warranty
$99.95 on Breville.com
The Breville Compact Juice Fountain (model # BJE200XL) is a high powered centrifugal juicer. This machine uses a titanium-reinforced disc and Italian-made micro mesh filter basket for extraction. The motor has 700 watts of power for quick and efficient processing.
Despite its power and speed, the Breville Compact Juicer extracts juice and nutrients from your produce with very little heat. With the extra-wide 3-inch feed chute—you can juice your ingredients without pre-cutting, which saves you prep time in the kitchen.
A large capacity 25-ounce jug captures juice from the fountain, while the built-in froth separator ensures your glass has more liquid and less foam. A 1.6-quart pulp container lets you juice more produce without having to stop for cleaning and emptying.
The body of this machine features heavy-duty grade plastic and brushed stainless steel. The combination of these two components creates a durable yet stylish design. The cord also wraps around the base of the machine for quick and easy storage. Breville supports the quality of this machine with a 1-year limited warranty.
"Despite its power and speed, the Breville Compact Juicer extracts juice and nutrients from your produce with very little heat. The extra-wide 3-inch feed chute—you can juice your ingredients without pre-cutting, which makes juicing easy and convenient."
Easiest to Use Juicer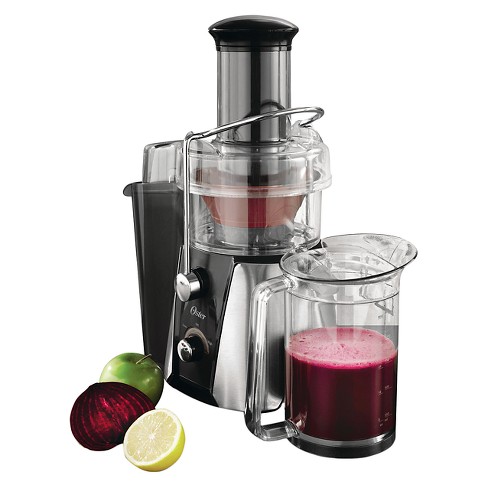 Easiest to Use Juicer
1000-watt motor
5-speed settings
32-ounce juice pitcher
and froth separator
Extra-large pulp collector
Easy clean Rise 'n Ready filter
~$150 at various retailers
The Omega Nutrition is a masticating juicer, which uses a low-speed motor (80 RPM) to press the juice from the fruit. This slow speed reduces heat build-up and oxidation, so your juice maintains as many vitamins and minerals as possible.
Cold-pressed juice is easy for the body to digest and provides antioxidants that boost your immune system and energy levels. With three adjustable pressure settings, you can make everything from baby food to pasta dough to nut milk.
The horizontal design, single auger, and built-in handle make this juicer easy to use and transport. With an extra-large feed tray, you can juice wheatgrass, mince herbs, or ground beans. The automatic pulp extraction allows you to use your leftover pulp in baking and cooking—saving you money on your grocery bill. Each element of the Omega Nutrition Juicer is BPA and BPS free. Plus, Omega includes a 15-year warranty that covers parts and motor.
Best Value Juicer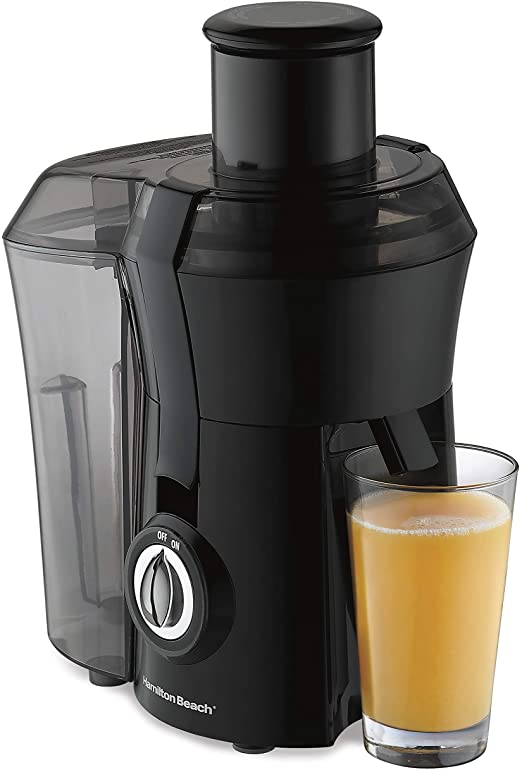 Best Value Juicer
2 juicing speeds
1.1 horsepower motor
Easy Sweep cleaning tool included
40 ounce BPA free pitcher with drip-free spout
3-year warranty
$110 on Hamiltonbeach.com
The Hamilton Beach Big Mouth Juicer is a versatile, easy to use, and affordable machine that produces delicious, pulp-free juice. This juicer has 2 speed settings, low and high, set by a LED-backlit dial on the face of the device. The high-speed setting is ideal for juicing firmer fruits and vegetables, such as oranges and carrots. The low-speed option works well for soft fruits, such as berries or watermelon.
This juicer collects in a 40-ounce pitcher with a drip-free spout. You can push the spout up when removing the pitcher to keep it from dripping on your countertops. When you are ready to pour, simply push the spout down.
To make cleaning a breeze, Hamilton Beach includes their Easy Sweep cleaning tool to quickly remove debris from the filter and blade. All plastic attachments are removable and dishwasher safe. Plus, it comes with a 3-year limited warranty.
Tip: The Hamilton Beach Big Mouth Juicer is currently available for $109.99 on HamiltonBeach.com—this includes free shipping, free returns, and their 3-year limited warranty
Best Compact Juicer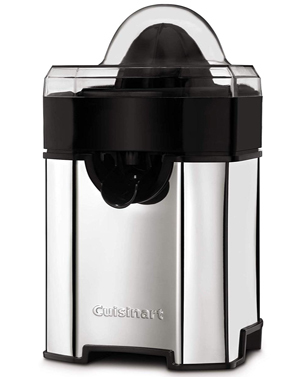 Best Compact Juicer
Adjustable flow spout to prevent dripping
Includes cleaning brush
40-ounce pulp collector
16-ounce juice pitcher
3-year warranty
$99 on Cuisinart.com
If you have limited kitchen space, the Cuisinart CCJ-500 Juicer is an excellent option for you. This vertical juicer has a compact design and safety bar that must be securely locked in place for the machine to operate.
The one-touch on/off switch features an LED light for easy use, while the lid houses the large feed tube and pusher. You can control the flow of juice with the adjustable spout—this prevents dripping from the machine while removing the pitcher.
The pulp collector in the back of the machine holds 40 ounces of pulp, while the juice pitcher holds 16 ounces. A mesh filter basket and blade grind your ingredients to the perfect consistency for maximum juice extraction.
The built-in cleaning brush easily removes build-up from the blade and mesh basket. Although this machine has a smaller footprint, it is powerful enough to tackle everyday jobs, such as making green juice or fresh orange juice.
"If you have limited kitchen space, the Cuisinart CCJ-500 Juicer is an excellent option for you. This vertical juicer has a compact design and safety bar that must be securely locked in place for the machine to operate."
Best Vertical Juicer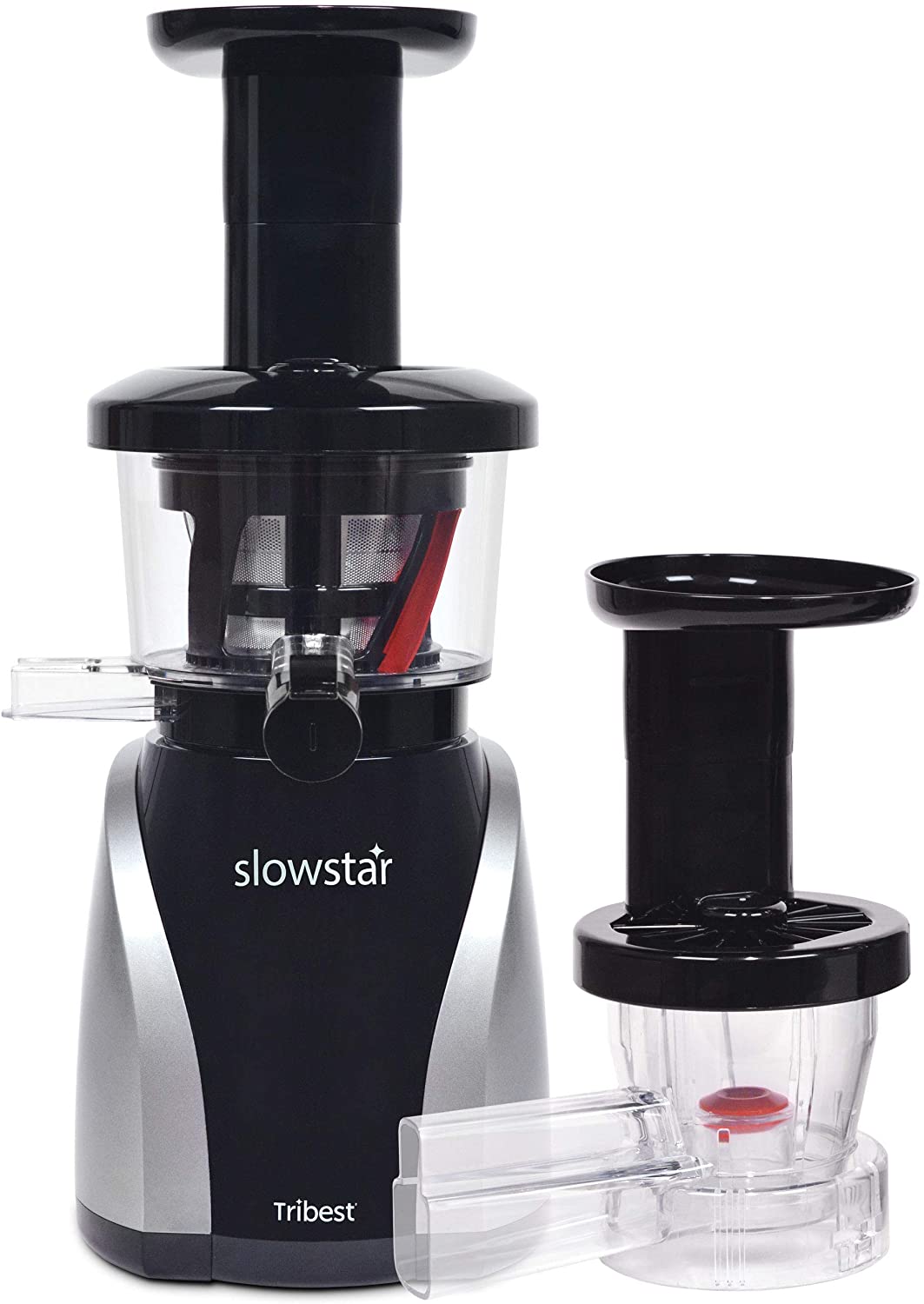 Best Vertical Juicer
Includes mincing attachment
3 different speed controls
200-watt motor
BPA-free housing and mesh screen
10-year warranty
$398 OnTribest.com
The Tribest Slowstar is a vertical masticating juicer with a low speed of 47 RPM and a double-edged auger, making it more powerful than most slow juicers. Tribest's Duoblade rapidly cuts and crushes ingredients for maximum juice extractor with less pulp—this means you get more fiber and nutrients in your juice.
The Duoblade is made of Ultem, which is eight times stronger than the plastics used in most slow juicers. The slow RPM also reduces friction and heat build-up, which can affect the vitamins and minerals in your juice and the taste.
The 200-watt motor is strong enough to prevent jamming of fibrous ingredients, such as whole carrots and celery. In addition to juicing, this machine comes with a mincing attachment that makes it even more versatile. With this attachment, you can quickly produce sorbets and nut butters.
A built-in juice cap makes the juicer easy to clean. You can close the cap and add water to the housing for a quick pre-rinse, or open the cap to pre-mix your juices and keep track of your favorite fruit and vegetable blends.
Best Quiet Motor Juicer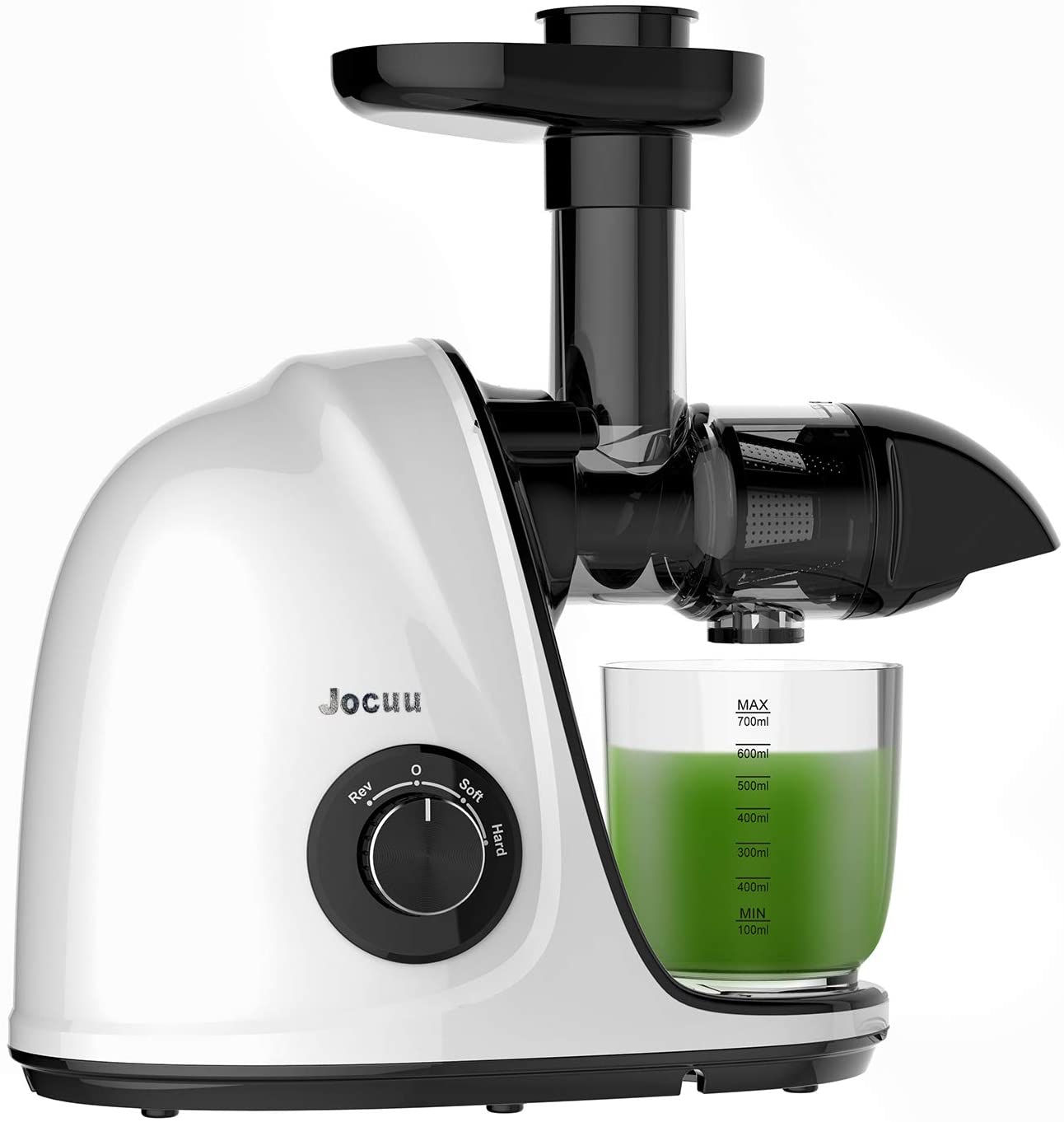 Best Quiet Motor Juicer
150-watt motor
2-speed controls
Less than 50-decibel motor
Reverse function helps avoid jamming
4-year motor warranty and 2-year parts warranty
$89.99 on Jocuu.com
The Jocuu Masticating Juicer uses a low-power 150-watt motor to slowly press fruit to separate juice and pulp. This juicing process creates a higher yield and more nutrient-dense juice.
With two speed settings—one for fibrous fruit and the other for vegetables with skin. It also has a reverse function to avoid potential jamming. All attachments feature food-grade antioxidant materials, so you can rest assured your juice won't be exposed to any harmful chemicals or substances.
The motor of the Jocuu Masticating Juicer is ultra-quiet, with a decibel level less than 50—about the level of a normal conversation. This motor allows you to experience high-quality, nutrient-packed juice without the excess noise levels that often come with a blender or a centrifugal juicer.
With one-button disassemble, it is easy to take this machine apart for cleaning. The juicer's base also has a power wire receiver, which keeps your countertops clean and clutter-free.
Common Types of Juicers
You've probably noticed that our list contains two different types of juicers, centrifugal and masticating juicers. Below, we explain the differences between these two juicing styles.
| | |
| --- | --- |
| Centrifugal | These juicers use centrifugal force to cut and spine fruit at high speeds. By rotating, these machines extract the juice from the fruit and vegetables. These juicers are typically faster than masticating varieties. However, they can also be louder. |
| Masticating | Masticating juicers, also known as a cold-pressed juicer, extracts juice by slowly pressing the produce. These machines are quieter, slower, and produce less heat, which is why these juicers are often called "cold-press juicers." By applying less heat to the fruit, it retains more nutrient value. |
Which is Better, Centrifugal or Masticating Juicers?
The answer to this question depends on your needs. Centrifugal machines are faster, high-powered, and produce juice with more pulp. These machines use a blade and require you to cut up your ingredients before juicing.
Masticating juicers don't use a blade and are slower. However, these machines produce more nutrient-dense juice because they create less heat. Cold-pressed juices are also smoother, have less pulp, and are easier for your body to digest.
Both types of juicers are available at a wide range of prices, so the style that is right for you will largely depend on what kind of juicer you prefer.
What to Consider When Shopping for a Juicer
In addition to juicer type, there are a few other points you will want to consider when choosing a juicer. Below, we outline the most important factors to consider and how to select a juicer that meets your needs.
Type and Yield
One of the first things you should consider is the juice yield the machine can produce—this tends to relate to the type of juice you hope to make. Masticating juicers often work best for leafy greens and other soft fruits. These machines produce more juice and extra-dry pulp, helping you get more out of your produce. Centrifugal juicers are capable of producing a higher yield when juicing citrus fruits and hard vegetables.
If you prefer a faster machine, you may have to settle for a smaller yield. If you don't mind taking more time for juicing, a slower, masticating device can offer you a higher yield.
Size
When it comes to size, consider storage space and juice yield. If you plan to use your juicer every day, you may want to keep it out on your countertop, so a compact machine may work best. If you plan to store your juicer, you should select a smaller device that can easily fit inside your cupboard. If you purchase a machine with attachments, make sure you have the cupboard space to accommodate these accessories.
Masticating juicers may be horizontal or vertical. Horizontal models produce a higher juice yield, but they tend to be bigger and heavier. Vertical juicers have a smaller footprint and will take up less room on your countertop. Plus, they are easily stored. Centrifugal machines are typically vertical and compact, perfect for a smaller kitchen. However, keep in mind a smaller juicer will produce a lower yield and may not handle more prolonged periods of juicing without overheating.
Noise Level and Speed
Your juicer speed and noise level should fit your lifestyle. If you want a quick machine for your morning juice and noise is not an issue for you, you may prefer a centrifugal juicer. These machines can juice an apple in about 30 seconds.
Masticating juicers have a quiet motor, which can help you keep the noise level in your home low. However, these juicers are slower and may not be ideal for a busy morning.
Ease of Use
A juicer that is easy to assemble, clean, and operate will get more use. Those that are cumbersome and difficult to take apart will just take up space in your kitchen cupboard. When it comes to ease of use, consider your needs. If you want a machine that is easy to clean, look for those with dishwasher safe attachments and accessible cleaning features, such as tools and accessories.
Juicers with large feed tubes require less prep and can save you time in the kitchen. Machines with multiple speed settings will also give you more control over juicing, while those with large pulp collectors allow you to juice for extended periods before cleaning.
Price
The cost of a juicer can range between $50 to $1000. In most cases, juicers that produce a high juice yield, with less pulp, are more expensive. Machines with a lower juice yield tend to have a lower price point, but they will force you to spend more money on fruits and vegetables, costing you more in the long run.
Ultimately, you should consider how much you want to invest in a juicer and what type of juice you want to produce. If you plan to juice only citrus fruits or root vegetables, a less expensive machine may work. However, if you're going to juice a wider variety of fruits and vegetables, you may want to invest more in a high-quality machine.
Frequently Asked Questions
How long is cold-pressed juice good for?
Cold-pressed juice can last in the fridge for 3 to 5 days after juicing. However, the juice will lose about 40 percent of its nutritional value after one day. Juices made with fast juicers, such as centrifugal machines, will lose nutrients much quicker, about 30 to 50 percent per hour. While it may be convenient to make your juice ahead of time, it is best to drink it immediately.
Should you peel oranges before juicing?
You should peel fruits with a tough peel, like citrus fruits, before juicing. The peel can easily get caught in the machine and cause a jam. Plus, the rind of the fruit can make your juice taste bitter.
What is the difference between a juicer and a blender?
Juicers chop, crush and press fruits and vegetables to separate the pulp, leaving only fresh juice. Blenders puree, mix and liquefy the whole fruit or vegetable to create a thicker drink or smoothie.
Do juicers destroy nutrients?
The more juice is heated or processed, the more nutrient value it loses. Therefore, many people believe masticating juicers produce more nutritious juice because they create less heat due to the slow motor speed. With a slower pace, the machine will naturally produce less friction, which creates less heat.
What happens if you put a banana in the juicer?
Certain fruits such as bananas, avocados, and figs do not produce much juice, so you should not put these ingredients into your juicer. However, you can always blend fresh juice with a banana or avocado to make a delicious smoothie.
Conclusion
If you are trying to live a healthier lifestyle or incorporate more nutrient-rich foods into your diet, a juicer will make a great addition to your kitchen. As you shop, be sure to look for a machine that fits your needs. Your budget, kitchen space, and the type of juice you hope to create should all be part of your decision. With such a wide selection of high-quality juicers available, you should have no problem finding one perfect for you.