Shopping for a new refrigerator is not something we tend to do very often, but when we do, it is important to select the right size and style for our needs. Whether you are remodeling your kitchen or moving house, you may find yourself ready for a new, upgraded refrigerator.
As you shop for a new fridge, you will come across several different styles. Some have French doors and a side-by-side freezer-fridge combo, while others have a bottom freezer drawer. Many of the smart fridges on the market today also come with Wi-Fi connectivity that allows you to monitor the contents of your fridge from your smartphone.
The right refrigerator for you and your family can make stocking and organizing your kitchen a breeze. To help you narrow down your choices and understand the various features available to you, we highlight 8 of the best refrigerators on the market. We have also included a short buyer's guide to help you keep your specific needs in mind.
8 Best Refrigerators of 2022
Best Refrigerator Overall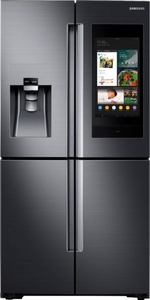 If you are looking for a smart refrigerator that can help you keep track of family events and monitor your groceries—the Samsung Family Hub is the perfect appliance for you.
$3699.99 on BestBuy.com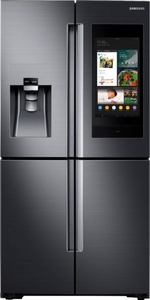 Top Pick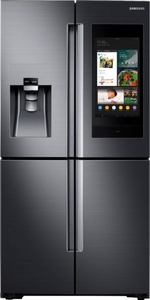 Best Refrigerator Overall
22 cubic foot capacity
Flex French doors
Fingerprint resistant
Energy Star certified
Available in black stainless steel and stainless steel
$3699.99 on BestBuy.com
The best overall refrigerator on our list is the Samsung Family Hub. Although this refrigerator is the most expensive on our list, it comes with so many advanced features that make cooking, entertaining, and managing your groceries easy and convenient.
This smart refrigerator has three built-in cameras and Wi-Fi connectivity that allows you to monitor what's in your fridge right from your smartphone. With the integrated digital family bulletin board, you can check your calendar, leave handwritten notes, make grocery lists, and send messages to your family members right from the fridge. You can even monitor your other Samsung appliances and adjust the temperature of the refrigerator and freezer.
This refrigerator also has flex French doors and a side by side freezer and fridge. With the built-in FlexZone feature, you can convert the freezer section to a fridge with the push of a button. The 22 cubic foot capacity means there is plenty of storage for all of your family's favorite foods. Sliding trays and adjustable shelves let you customize the interior of the refrigerator. You can even program expiration dates into the appliance, and it will remind you when certain items are about to spoil. For a truly state of the art refrigerator that can help you find recipes and keep track of a shopping list, the Samsung Family Hub refrigerator is a good choice.
Tip: The Samsung Family Hub Refrigerator in black stainless steel originally costs $4099.99, but is available now at BestBuy.com for $3699.99.
Runner Up
Best Energy Saving Refrigerator
21.7 cubic foot capacity
InstaView Door-in-Door
ColdSaver Panel
Energy Star certified
Available in black stainless steel and stainless steel
$2499 on LG.com
The LG InstaView Door-in-Door is our pick for the best energy-saving refrigerator because it comes with LG's unique ColdSaver panel and InstaView glass panel door. These two technologies work together to let you see inside your fridge without letting out any cold air.
To use this feature, simply knock twice on the inside glass door, and a premium LED interior light will illuminate the contents of your refrigerator. This feature makes it easy to decide what to make for dinner without even opening the door.
Inside the 21.7 cubic foot capacity refrigerator is LG's Slim SpacePlus ice maker, which folds into the appliance to free up space. The extra tall ice and water dispenser are large enough to accommodate most container sizes—making it easy to fill both glasses and pitchers.
The interior crispers have built-in humidity control to keep your fruit and vegetables fresh. Plus, you can connect your smartphone to the refrigerator using its Wi-Fi connection and the LG SmartThinQ app. This appliance's energy efficiency makes it the ideal choice if you are looking to lower your electric bill and reduce your carbon footprint.
Best Large Capacity Refrigerator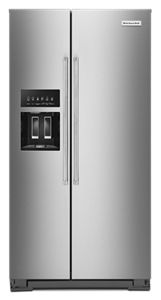 Best Large Capacity Refrigerator
22.6 cubic foot capacity
PrintShield exterior finish
Preserve Food Care System temperature control
Space-saving mounted ice bin
Available in black stainless steel and stainless steel
$2789.00 on KitchenAid
This KitchenAid side-by-side refrigerator has 22.6 cubic feet of space and clear shelving and door bins that allow you to organize your sauces, produce, and beverages. Two independent cooling systems monitor and adjust the temperature to ensure nothing is too cold or too warm.
KitchenAid's FreshFlow Air Filter keeps odors at bay to prevent cross-contamination. The Produce Preserver in each drawer keeps your fruits and vegetables from over-ripening.
The exterior of the refrigerator features KitchenAid's PrintShield finish, which keeps smudges and fingerprints from collecting on the doors. The ice and water dispensers have two custom presets, allowing you to program the perfect amount of water and ice for things you fill every day, such as your coffee maker or ice tea pitcher. Although this refrigerator has a large storage capacity, the counter-depth design ensures that it will not stick out beyond the edge of your countertop.
"This KitchenAid side-by-side refrigerator has 22.6 cubic feet of space and clean shelving and door bins that allow you to organize your sauces, produce, and beverages."
Best Contoured Refrigerator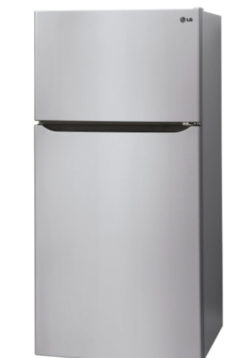 Best Contoured Refrigerator
Model #LTCS24223S
24 cubic foot capacity
Contoured doors and handles
Energy Star certified
Full-width pantry door
Available in stainless steel and white finish
$1399.00 on LG.com
The most notable feature of this LG Top Mounted Refrigerator is its unique contoured design. Instead of standard handles, this fridge has hidden hinges and pocketed handles that sit flush with the doors.
This feature gives the appliance a sleek, modern look. With a 24 cubic foot capacity and clear door bins, there is plenty of room to store everything from vegetables to large cakes and tall beverages. The door of this fridge is 33 inches wide, the same size as a full-size pantry door.
Inside this refrigerator is LG's Multi-Air Flow Freshness System, which consists of several vents placed throughout the appliance to surround items with cold air. This system also monitors humidity and automatically adjusts as needed.
Two produce draws have temperature control to keep vegetables at their peak freshness. A full 33-inch wide Glide N' Serve pantry drawer lets you arrange ingredients and precooked items—perfect for entertaining.
Best French Door Refrigerator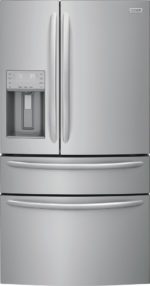 Best French Door Refrigerator
Model #FG4H2272UF
21.8 cubic foot capacity
OpenAccess door
Energy Star certified
Custom-Flex temperature control drawer
Smudge-proof stainless steel finish
$3599.00 at various retailers
This Frigidaire French door model comes with several unique storage options. The SpaceWise organization system features adjustable shelves and expandable door bins. Plus, the center shelf can be flipped up to accommodate taller beverage containers.
This fridge has a sophisticated French door design. However, one door is larger and allows for quick access to 75 percent of the fridge's contents. This feature lets you quickly grab frequently used items by only opening one door.
Two drawers make up the lower half of this appliance—the bottom drawer is a freezer, and the top is a Custom-Flex temperature-controlled drawer. This unique storage drawer can be preset to any temperature between -6 to 45 degrees Fahrenheit.
This feature allows you to convert the drawer to a freezer or a fridge as needed. Produce drawers are also equipped with Frigidaire's Auto CrispSeal to preserve your ingredients until you are ready for them.
Tip: The Frigidaire French Door Fridge originally costs $3599.00, but it is available at various retailers for up to 25% off.
Best Bottom Freezer Refrigerator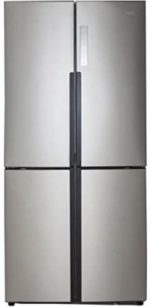 Best Bottom Freezer Refrigerator
Model #HRF15N3AGS
15.3 cubic foot capacity
Hidden pocket handles
Exterior temperature controls
Spill-proof glass shelves
Stainless steel finish
$1399 HaierAppliances.com
This 4-Door fridge has two bottom freezer drawers, each equipped with Haier's Quick Freeze technology. This feature distributes a blast of cold air to newly introduced items to speed up the freezing process.
However, it does this without damaging ingredients that are already frozen. The top portion of this appliance features two adjustable, spill-proof glass shelves. If anything spills, these shelves will prevent the liquid from running down the sides.
The interior has blue accents that match the blue LED lightning—creating a clean yet functional look. The double doors on this fridge feature top center pocketed handles for a more streamlined exterior.
Temperature controls are on the outside of this fridge—allowing for quick monitoring and adjusting of the temperature without having to open the doors. You can simply push the button to increase or decrease the temperature by 1 degree.
Best Top Freezer Refrigerator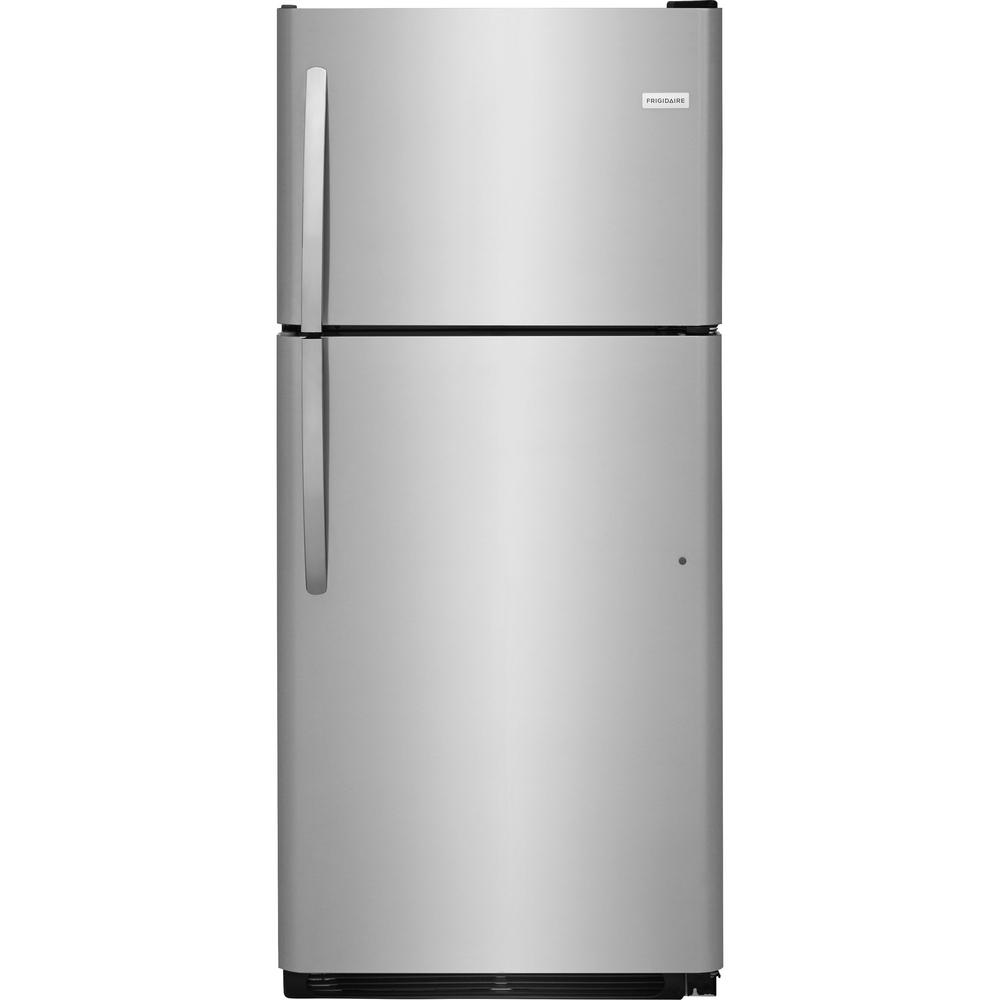 Best Top Freezer Refrigerator
Model #FGTR2037TF
20.4 cubic foot capacity
Affordable price point
3 sliding spill-proof shelves
Full-width deli drawer
Smudge-proof stainless steel finish
$1129.00 at various retailers
Frigidaire's top-freezer model has a total of 20.4 cubic feet of storage space. 5.1 cubic feet is dedicated freezer space—tall enough and wide enough to accommodate most items. An optional icemaker can be added, so you don't have to hassle with ice trays.
The refrigerator portion of this appliance makes up 15.3 cubic feet of space and has three full width sliding Spill-Safe glass shelves. These shelves help keep the interior of the machine clean and mess-free. Plus, shelves can easily be raised or lowered to accommodate large items when entertaining guests.
Since this fridge is so affordable, it can serve as a great extra fridge for a garage or basement. No matter where you place it, the sturdy internal motor is built to handle even extreme conditions. A full width sliding deli drawer makes keeping track of your meats and cheeses easy, while the two humidity-controlled produce drawers keep your veggies fresh and crisp.
Best Value Refrigerator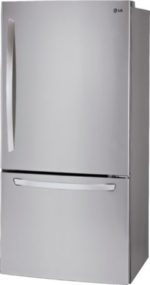 Best Value Refrigerator
Model #LDCS24223S
24.1 cubic foot capacity
Smart Pull freezer handle for easy access
Energy Star certified
5 adjustable spill-proof glass shelves
Smudge-proof stainless steel exterior
$1439.00 at Lowes
If you are looking for a reliable refrigerator with an affordable price point, this LG bottom freezer model is a great choice. With a durable stainless steel exterior and a Linear Compressor, this fridge is built to last and is made by one of the best refrigerator brands.
The door of this appliance is reversible, allowing you to access your ingredients from either side. Hidden hinges and a smudge-proof finish create a sleek, stylish design.
This LG appliance has 24.1 cubic feet of refrigerator capacity and a Smart Pull bottom freezer that makes it easy to arrange and locate everything you need. The freezer compartment is equipped with an interior LED light, ice maker, and two freezer buckets.
The refrigerator section features five adjustable shelves and door bins wide enough to fit a gallon jug. LG's Smart Cooling technology monitors and maintains the internal temperature, so your groceries are always fresh.
"If you are looking for a reliable refrigerator with an affordable price point, this LG bottom freezer model is a great choice. With a durable stainless steel exterior and a Linear Compressor, this fridge is built to last."
Types of Refrigerators
| | |
| --- | --- |
| Top-Freezer | Generally between 30 and 33 inches wide and has a single door freezer on top of the appliance. These fridges are inexpensive and fit well in most kitchens. |
| Bottom-Freezer | Measures around 33 inches wide. The freezer, typically a drawer, is located on the bottom of the fridge. The top portion of the appliance may feature double doors or one single door. This style often comes with retractable shelves, bins, and spill-proof technology. |
| French Door | A French door style or double door fridge is usually 36 inches wide and has a standard countertop depth. These appliances have a large capacity and are ideal for families. The freezer component on a French door fridge is located in the bottom as a sliding drawer. |
| Side-by-Side | Like a French door style, a side-by-side fridge has two doors that swing outward. However, the freezer occupies one whole side of the appliance. Side-by-side fridges are normally 36 inches wide and have a standard counter-depth design. |
| Built-In | A built-in refrigerator is designed to sit flush with your kitchen cabinets. These appliances can measure as wide as 48 inches and as tall as 80 inches. Built-in fridges are the most expensive on the market. |
| Compact | Sometimes referred to as a mini fridge, a compact refrigerator has a small cube design that works well in college dorm rooms and offices. These appliances typically have 1.7 cubic feet of storage and measure 17 inches wide by 18 to 20 inches tall. |
How to Find the Right Refrigerator
Efficiency
Modern refrigerators are much more energy-efficient than they were ten years ago. If you are buying a new fridge, it will likely come with the Environmental Protection Agency's (EPA) Energy Star certification.
While this seal of approval is great, you will still want to compare the annual energy cost and kilowatt-hours for each fridge. This information is typically found on the EnergyGuide for each appliance. The standard energy usage to earn an Energy Star certification varies per style.
For example, a French door refrigerator may use more energy than a top-mounted refrigerator, but, because the french door style has a lower standard, it may still have an Energy Star rating. Therefore, it is essential to look at the actual energy usage and not just the certification.
Size
The size fridge you need depends on the size of your kitchen and your family. Standard counter-depth refrigerators work well in most kitchens. This size is designed to fit between the wall and sides of the counter without sticking out too far. Before you start shopping, it is a good idea to measure the width and depth of the cutout in your kitchen first.
To determine the storage space you will need, you can add 6 to 8 cubic feet per adult living in the home. For example, a house with two adults will need a fridge with at least 14 to 16 cubic feet. If you have one or more children, you should add another 4 cubic feet of space. For those who like to entertain or cook large meals, a fridge with 20 to 24 cubic feet inside may be a better option.
Finish
Most of the refrigerators on our list come in stainless steel or black stainless steel. Both colors are popular appliance finishes that fit well in modern kitchens. Black and white finishes are also available for some models. If you are shopping for a built-in style refrigerator, you will want one with a finish that matches your cabinets.
Many stainless steel fridges also come with smudge-proof or fingerprint-resistant coating to keep the exterior of the appliance clean.
Water and Ice Dispensers
Through-door water and ice dispensers can increase the cost of the fridge. However, many people find it convenient to have filtered water and ice on hand. If this is important to you, it may be worth the extra cost.
If you don't want to take on the cost of an exterior water and ice dispenser, you can opt for a fridge with an interior ice maker. With this option, ice is still on hand; you just have to open a drawer or lid to access it. Interior ice makers come with an extra cost; however, they are less expensive than refrigerators with an exterior dispenser.
Features
Interior shelving and drawers can make it easy to organize and store your food. As you shop, consider the items you buy most frequently. If you need to store tall pitchers or gallons of milk, it is helpful to have adjustable or flippable shelves that can accommodate larger items. Drawers can also make organizing snacks, meats, and cheeses easier. Your new refrigerator should also have 1 to 2 humidity control drawers to keep your produce fresh. The best features to look for ultimately depend on your needs at home.
Smart Technology
Smart refrigerators have features like digital bulletin boards, interior cameras, and Wi-Fi connectivity. While these additions increase the price of the fridge, they can help you streamline everyday tasks, such as cooking, grocery shopping, and meal planning. However, these features do not improve the efficiency or effectiveness of the refrigerator. If you are shopping on a budget, you may want to avoid appliances with smart technology.
Budget
The price of a refrigerator varies based on style. Therefore, it is helpful first to determine which style you prefer before setting your budget. A new top freezer fridge will cost between $700 and $1000, while a bottom freezer fridge typically costs between $900 and $1500. A new model side-by-side refrigerator costs between $1200 and $3000. French door style refrigerators are the most popular and also the most expensive. You will likely pay between $1400 and $4000 for this style.
FAQs
Is a top or bottom freezer better?
Top-mounted refrigerators are more energy-efficient than bottom freezers. Top-freezer models use 10 to 25 percent less energy than bottom freezers. However, bottom freezers are larger and often come with slide-out drawers and bins that make organization easier than with a top freezer.
Which refrigerator brands are the most reliable?
KitchenAid, GE, LG, Samsung, Bosch, Whirlpool, and Frigidaire refrigerators tend to rate the highest in terms of customer satisfaction. These brands are also reputable and have customer support systems in place if your machine needs any repairs.
What is the best month to buy a refrigerator?
The best time of year to buy a new refrigerator is between September and October. During this time, appliance manufacturers are getting ready to introduce new models. To clear old inventory and make room for new designs, they offer discounted prices on their current models.
Do French door refrigerators have more problems?
French door refrigerators do not show a higher rate of failure when compared to other styles. However, these appliances typically have a built-in ice maker and dispenser, which can often be a source of failure on many refrigerators. If you purchase a fridge with an automatic ice maker and dispenser, make sure it comes with at least a 1-year warranty.
How long should a refrigerator last?
High-quality refrigerators tend to last between 10 to 18 years, with 14 years being the average lifespan. Compact fridges, or mini fridges, often last around 4 to 12 years, with 8 years being the average.
Conclusion
When selecting a new fridge, ease of use is important as it must fit seamlessly into your home and your life. You want something that will keep your ingredients organized, ready to use, and at just the right cold temperatures. When your groceries are visible and easily accessible, you won't have to worry about losing track of items or hunting for them while you are in the middle of cooking dinner.
As you shop, be sure to keep your needs and budget in mind. If you are comfortable spending between $2500 and $3500 on a smart fridge, these appliances can save you time and make searching for the best refrigerator more convenient. However, if you are on a tight budget, there are plenty of advanced, spacious fridges with a large interior capacity available for under $1500.