It's hard to imagine a clean home without a good vacuum cleaner. These staples of modern cleaning life come in a wide array of shapes and sizes with a growing number of advanced features. From handheld and stick to uprights and canisters, there are so many choices it's hard to know where to begin.
The answer lies in part on your flooring type, house size, and personal preferences. Some vacuums are better at cleaning bare floors than thick carpet. Other models specialize in removing pet hair or allergens like pollen and dust mites. Yet stick and handheld models are better suited to clean crumbs and small spills.
We've selected eight vacuum cleaners with standout performances that fall into a wide range of budgets. We've also included a shopping guide to help you find the right new vacuum for you.
8 Best Vacuum Cleaners of 2023
Best Vacuum Cleaner Overall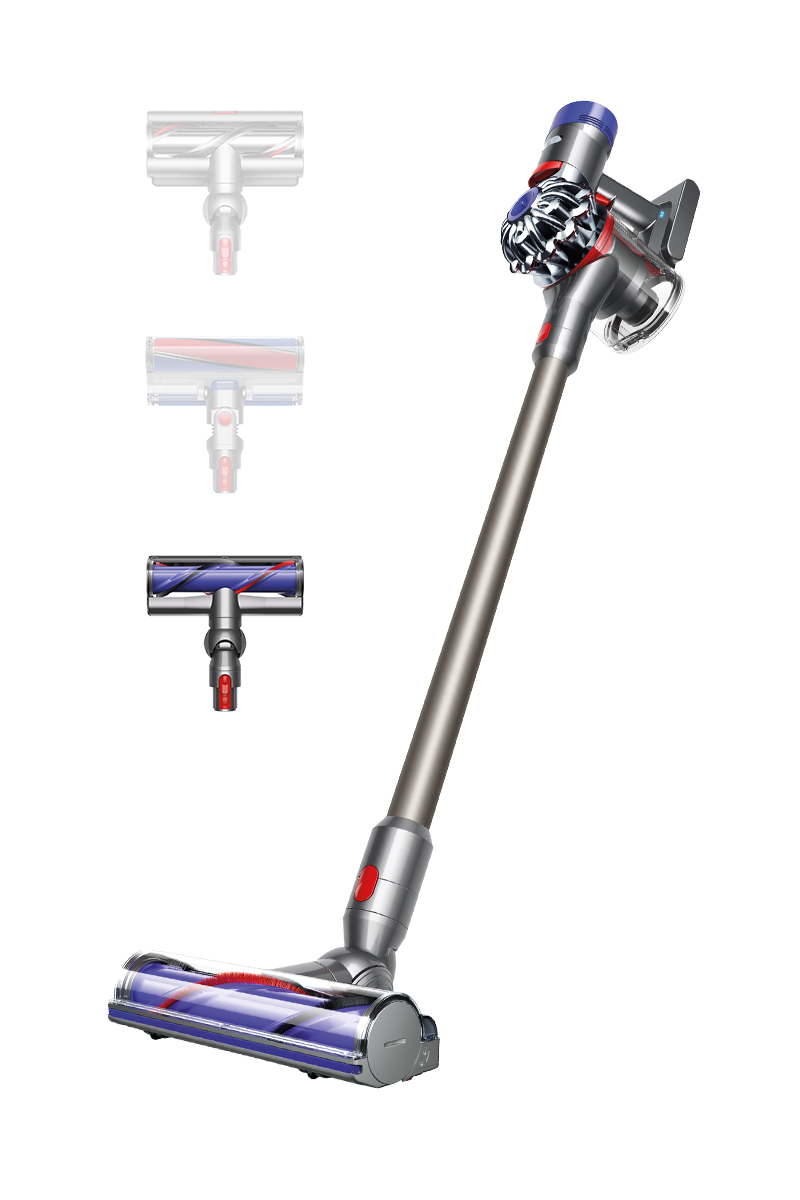 The Dyson V8 Absolute has the power of an upright with the convenience of a stick vacuum.  It provides a solid 30 to 40 minutes of power before it needs to charge while maintaining enough suction power to pick up pet hair, fine particles, and other tough dirt and debris.
$509 from Amazon.com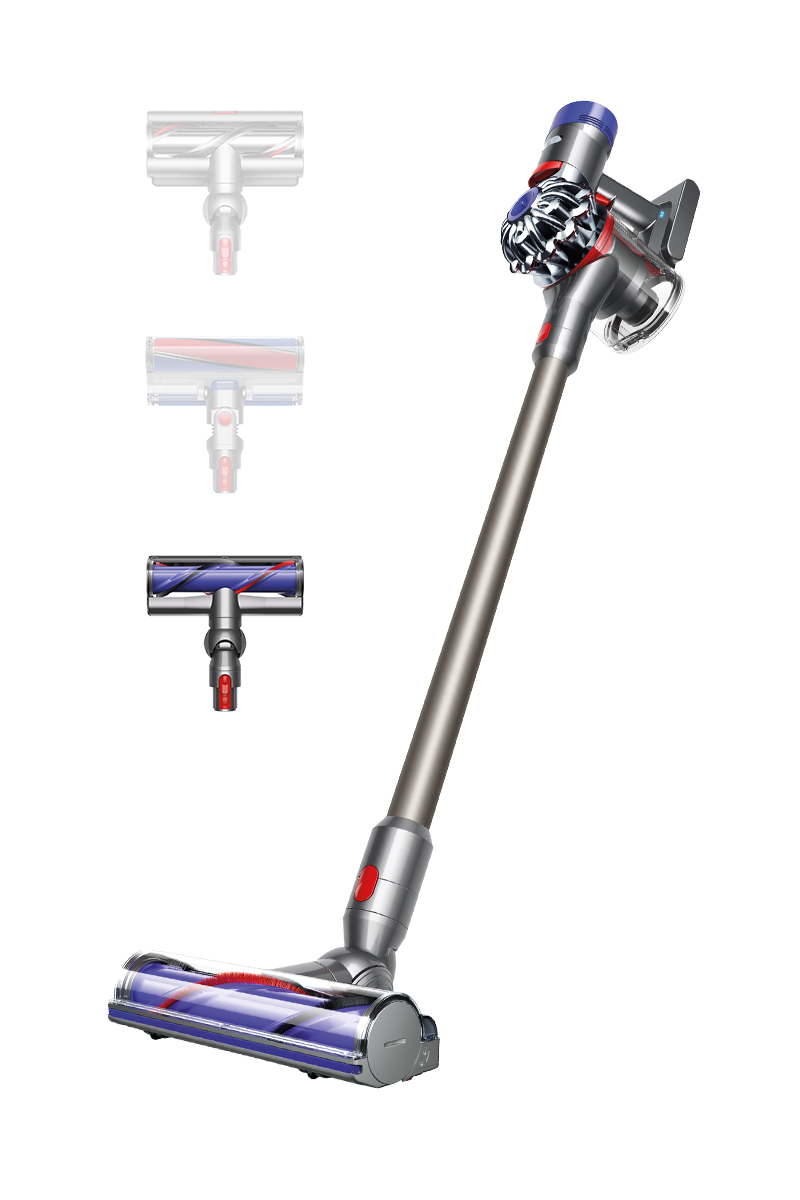 Top Pick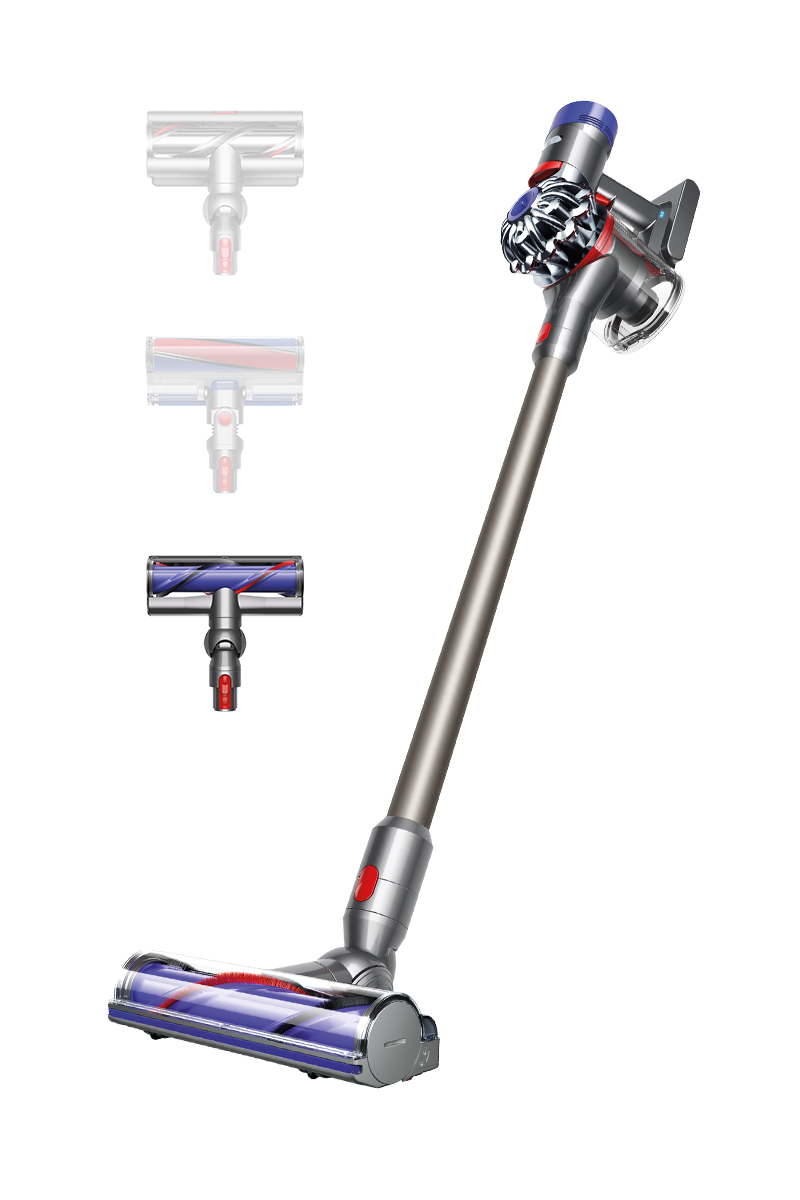 Best Vacuum Cleaner Overall
Instant release trigger saves battery power
HEPA filter traps allergens
Save money with washable filter
Best Vacuum Cleaner Overall
Dyson creates impressive vacuum cleaners, and the V8 Absolute doesn't disappoint. It's cordless, so you're not tripping over a cord or constantly changing outlets. The V8 Absolute powers through a solid 30 to 40 minutes of battery life. It also has a smartly designed instant release trigger that extends battery life by cutting power as soon as your finger releases the trigger. Of course, battery life depends on how the vacuum is used. For example, if the V8 Absolute is used on max mode, a mode designed to remove deep ground-in dirt, the battery loses power significantly faster.
Although the V8 isn't the latest model in the Dyson lineup, considering the price and features, it's the best value.
The V8 Absolute utilizes a HEPA filtration system to capture common allergens like pollen, dust mites, and pet dander. The filter is washable, saving you money on replacement filters over the lifespan of the vacuum.
This model also converts into a handheld vacuum. If you need to clean the stairs or a sofa, the handheld configuration provides easy maneuverability with the same suction power as the full-size configuration. When it comes time to empty this model, the ejector cup releases directly into the garbage can without removing it from the main body of the vacuum.
Finally, the V8 Absolute comes with a soft roller head for hardwood floors, a drive cleaner head for carpets, plus three extra attachments, including a crevice tool, a mini dusting brush, and a mini motorized tool to give you additional cleaning options.
"The Dyson V8 Absolute Cordless Stick Vacuum Cleaner uses a wall-mounted docking station that also provides storage for all of the attachments."
Runner Up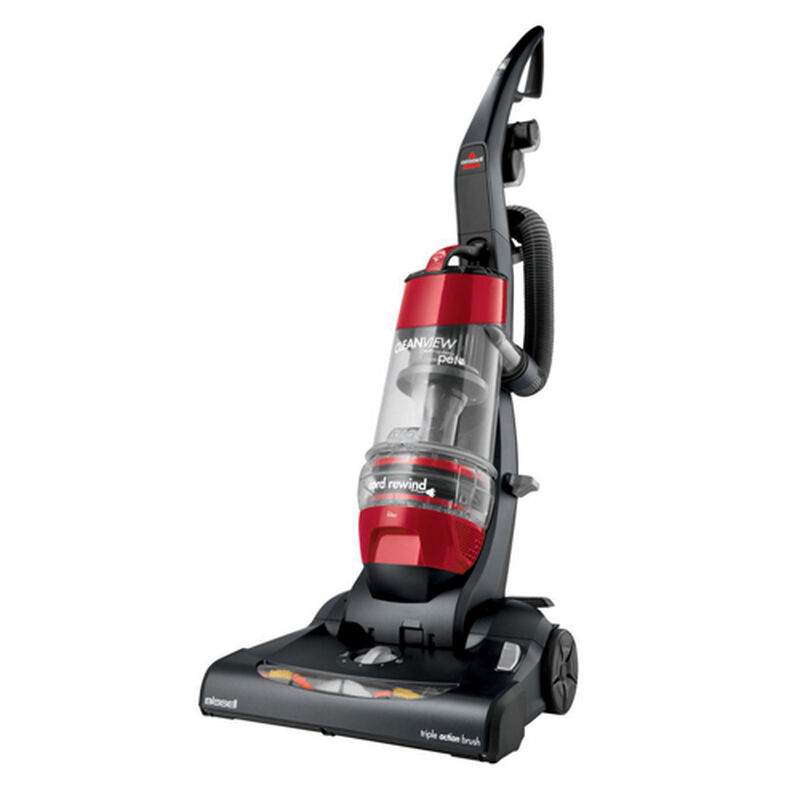 Best Budget Vacuum Cleaner
Scatter-free technology makes cleaning hard floors easier

Edge-to-edge brush design for a more effective reach 

Comes with 2 specialized pet hair cleaning tools
$99 from Bissell.com
There's nothing better than an affordable vacuum that delivers, and the Cleanview does just that. Multi-cyclonic suction quickly picks up dirt, while efficient filtration traps dust and allergens. A long 27-foot cord gives enough length to reach through large rooms without changing electrical outlets.
Another of the Cleanview's strengths is the edge to edge brush head design. With this model, suction reaches to the very head of the brush roller, so there's not a line of dirt left next to the walls. Swivel head control accentuates the edge to edge design by allowing the vacuum to keep a tight turning radius around corners.
When this vacuum gets full, an easy empty dirt bin opens directly over a garbage can. And pet owners will love the pet turbo eraser and pet hair corner tool to reach into all of the cracks and crevices that trap pet hair. In total, the Cleanview includes six extra attachments to clean everything from stairs and curtains to upholstery and under furniture.
The Bissell Cleanview Swivel Pet comes with a 4-year limited warranty that offers extra protection on any defects in materials or craftsmanship.
Best Handheld Vacuum Cleaner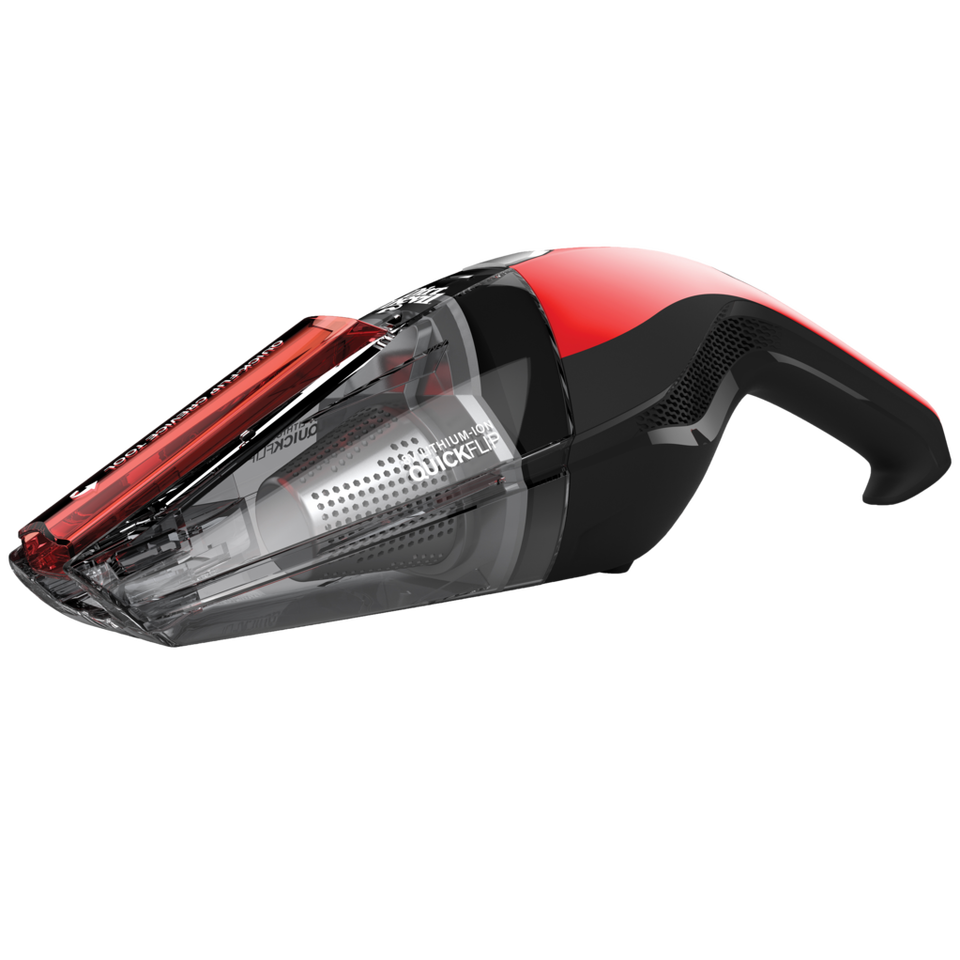 Best Handheld Vacuum Cleaner
Access to narrow spaces with the quick-flip crevice tool
Detachable 2.5-foot extension hose, expanding the reach
Consistent, corded power
$40 from DirtDevil.com
Dirt Devil's Scorpion Handheld combines a powerful seven amp motor with a lightweight casing that's portable but tough. Handheld models like this make cleaning small messes, cars, and stairs quick and easy. The Scorpion adds to that convenience with a built-in quick-flip crevice tool. When it's time to clean between the car seats or couch cushions, you flip out the crevice tool and pop it back in place when you're done.
A long 16-foot cord keeps the power flowing and suction strong while providing the length to move up a staircase without changing outlets. Lastly, the .45L cup is easy to empty, and because it's clear, you always know when the vacuum is full.
Tip: Handheld vacuums can be either cordless or corded. Cordless models are more portable and give you freedom of movement. However, they typically run out of battery power within 15 to 20 minutes. Corded models may not be as portable, but their power and suction never run out.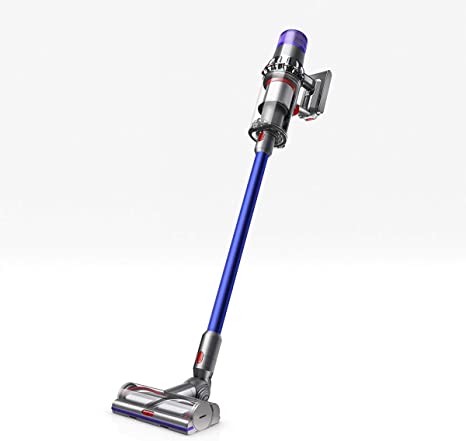 Best Cordless Vacuum Cleaner
LCD displays battery life, maintenance reminders, and blockage notifications
3 suctions models, including eco, auto, and boost
DLS system automatically adjusts motor speed according to floor type
$583 from Dyson.com
Dyson has done it again with a high-tech cordless vacuum that takes the guesswork out of cleaning. Sensors automatically detect flooring type then adjust the motor speed accordingly. For example, when you move from carpet to hardwoods, the suction kicks into high gear to get the fine dirt that's easy to miss on smooth floors.
The V11 Torque comes with a versatile set of extra tools, including a mini-motorized tool, crevice tool, dirt brush, dusting brush, combination tool, and wand storage clip. Those tools function within one of three cleaning modes — eco, auto, and boost. Eco saves battery life; auto mode automatically adjusts power and suction based on the floor type; boost targets deep ground-in dirt.
An LCD display lets you see which mode you're in as well as showing battery use, remaining run time, and maintenance alerts. This model is for those who like a little tech in their life and need a few reminders to keep up with maintenance.
Best Lightweight Vacuum Cleaner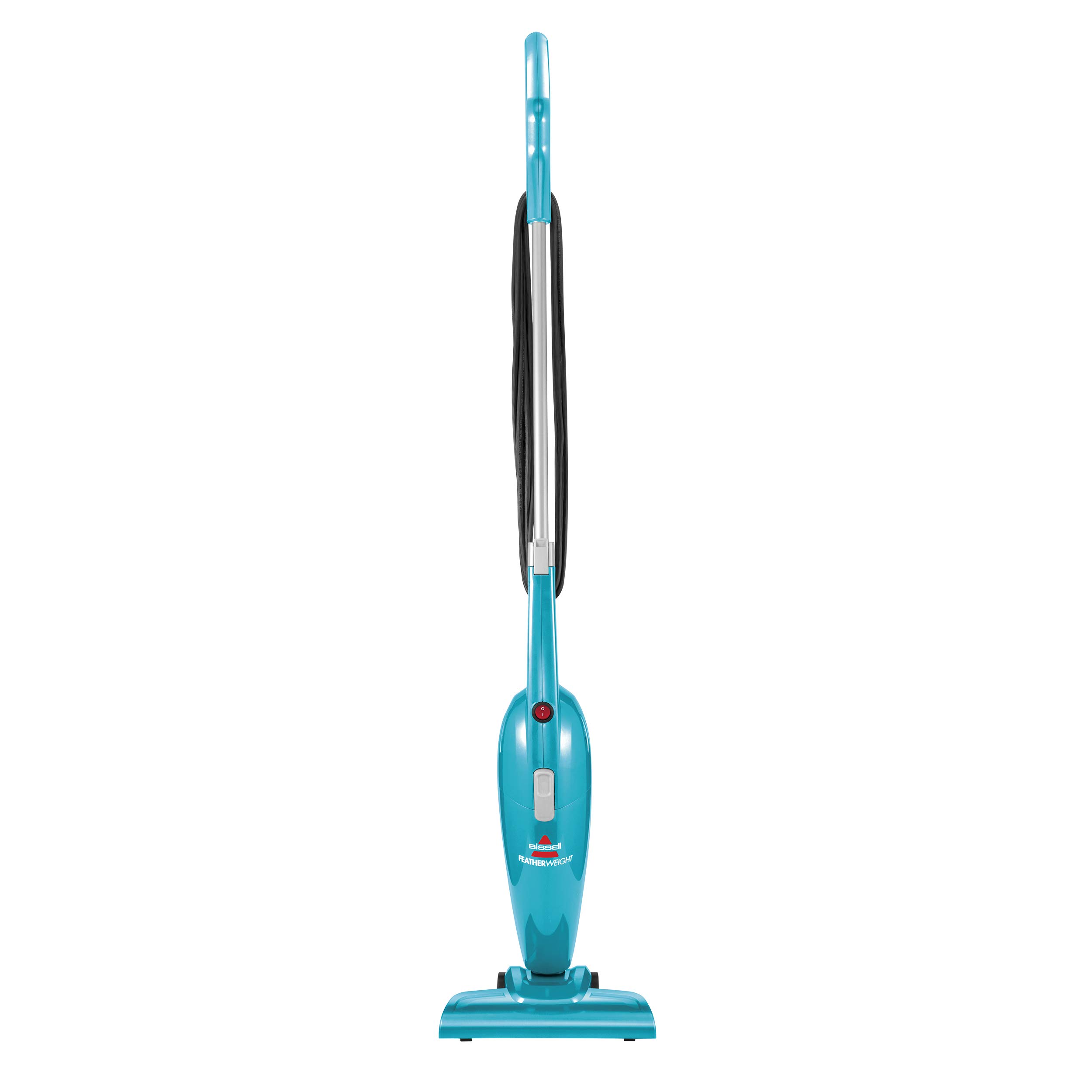 Best Lightweight Vacuum Cleaner
Weighs 2.6 pounds
3-in-1 design for versatile cleaning options
Excellent for hardwood floors and carpet surface dirt
$30 from Bissell.com
Vacuums don't get much lighter than the 2.6 pound Bissell Featherweight Stick 2033. This model is not only lightweight, but it also converts to three configurations for more cleaning options. When it's a stick, it glides over hardwoods, carpet, and area rugs.
When it's time to clean the couch cushions or car, it transforms into a handheld vacuum where it has just as much power as when in stick mode. The third configuration is a stair vacuum wherein the floor nozzle attaches to the handheld vacuum for a short, easy to move configuration with a wide suction path.
There may not be a brush roller in this vacuum, but the Featherweight Stick does an impressive job of removing fine dirt on hardwoods and surface dirt from carpet. This model is one of the best options for quick cleanups because it's easy to carry, doesn't leave dirt behind, and has versatile uses.
Tip: Stick vacuums are perfect for a basement or upstairs vacuum, where you might want to do a quick clean up in between deeper cleanings with a full-size vacuum.
Best Robot Vacuum Cleaner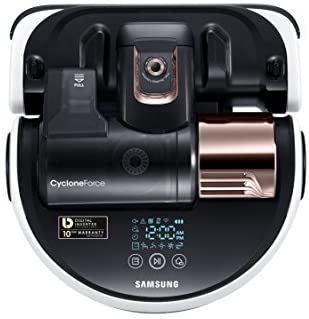 Best Robot Vacuum Cleaner
Wi-Fi connectivity and voice control options
Onboard camera used to determine cleaning pattern
Rubber blade extends to clean next to walls and in corners
$260 from Samsung.com
A set it and forget it vacuum — that's exactly what you get with the Samsung R7040. This robotic vacuum's Wi-Fi connectivity allows you to connect to your smartphone via an app. It also connects to virtual assistants like Alexa and Bixby for voice control.
With your smartphone or the included remote, you can create a cleaning schedule, adjust the suction settings, and set the cleaning mode. Robotic vacuums often struggle to reach next to walls and around corners. The R7040 includes a rubber blade that extends to the side to get some of those hard to reach spaces.
Samsung also includes the latest in technology, including a full view sensor and visual mapping. They work together to avoid obstacles and cut tight corners for better cleaning. Finally, the R7040 automatically returns to its docking station once the battery gets low.
Best Vacuum Cleaner for Pet Hair
Best Vacuum Cleaner for Pet Hair
Extensive HEPA filtration system prevents allergens and pet hair from escaping
6 attachments, including tangle-free turbine tool for pet hair
Auto-adjusting base plate maintains suction when changing surfaces
$538 from Dyson.com
The Dyson Ball Animal 2 Total Clean Pet Vacuum takes the top spot for pet hair. Strong suction and an auto-adjusting base plate make this vacuum a top pick for pet-loving homes. As the vacuum moves from hardwoods to carpet or vice versa, the base plate automatically raises or lowers to maintain suction.
The Ball Animal 2 comes with nine attachments, including a tangle-free turbine tool and a reach under tool to clean all of your pet's favorite hiding spots. All of those tools stay together in an included storage bag with a carrying handle.
The ball steering glides around tight corners and maneuvers around odd angles. That means a tighter cleaning edge around furniture and corners. Finally, a 35-foot power cord lets you reach almost anywhere, even in large homes.
"The Dyson Upright Vacuum Ball Animal 2 Total Clean also comes as the Dyson Upright Vacuum Ball Animal 2. They're the same vacuum except the Total Clean comes with six extra attachments."
Best Vacuum for Hardwood Floors
Best Vacuum for Hardwood Floors
Easy empty dirt cup
Tank weighs less than 8 pounds for better maneuverability
Adjustable suction based on floor type
$60 from Bissell.com
The Bissell Zing Canister specializes in low pile carpet and bare floors. Variable suction makes it a great vacuum for homes with multiple flooring types, but it's the performance on hardwood that makes it a stand out. Cyclonic suction pulls in the fine particles that can be difficult to remove from bare floors. It does so without blowing debris away from the nozzle before the particles get picked up. Its adjustable suction lets you increase the power on bare floors and lower it on high-pile carpets.
The Zing is also relatively lightweight for a canister vacuum. The tank itself only weighs eight pounds while the entire vacuum comes in at just twelve pounds. Wheels on the tank allow for traditional mobility, but the tank's carrying handle lets you carry it for easy use on stairs.
While the Zing has a shorter power cord than some models, only 16 feet, a long four-foot eight-inch extension hose drastically improves the reach. Keep in mind that this vacuum doesn't have a brush roller, so it's not designed for deep dirt removal from high pile carpets.
Types of Vacuum Cleaners
As pet owners and allergy sufferers know, not every vacuum works for every household. Hardwood floors need a different vacuum than one with shag carpet. And sometimes all you need is a lightweight model for spot cleaning or to take on stairs. The size of your house, your flooring type, and personal preferences will determine which is the best vacuum cleaner for you.
Upright
Upright vacuum cleaners come in bagged and bagless models. Their powerful suction makes them a consumer favorite for their deep carpet cleaning. Brush rollers loosen and pull debris out of carpet fibers to remove allergens, dirt, and pet hair. Uprights work on hardwoods, but the brush roller needs to be turned off to prevent scratches. Some uprights reach into corners and clean edge to edge, while others will require the use of a hose to get close to walls and in corners.
These models can be heavy and don't have as many attachments as canister vacuums. However, there are many lightweight models designed to provide the power of an upright without wearing out your arm and shoulder.
Canister
Canister vacuum cleaners have a tank on wheels with a long hose attached to a nozzle. They come with the widest array of attachments and tools, making them great for cleaning just about everything, including carpets, hardwoods, upholstery, and drapery. They also do well on stairs and reaching into high corners to get cobwebs and dust.
The bulk of a canister model's tank makes these vacuums clunky to pull around larger houses. If you need to take it upstairs, be ready to use two hands because they're heavy. Storage can also be an issue as they're not as compact as upright models.
Cordless
Many types of vacuums come in a cordless variation. Stick and handheld are the most common, but there are now several full-size cordless upright vacuum cleaners.
Cordless vacuums give the ultimate in mobility. There's no cord to manage or changing outlets, but battery life can be an issue. Some last as little as 15 minutes, but newer more powerful batteries keep coming out that hold a charge longer.
Cordless models may also include a docking station. Some stations are wall-mounted while others sit on the floor. Wall-mounted stations take up less floor space and easily mount within a storage closet or pantry.
Stick
Did your dog spill your potted plant or children tromp through the kitchen after running through the leaves? If so, a stick vacuum gives you a way to do quick cleanups. They're usually five to seven pounds, but some models barely weigh three.
Many stick vacuums convert into a handheld unit or stair model, giving you a versatile range of uses. Sticks may also be cordless or corded. Cordless stick vacuums are easier to use, but their battery life is often short.
Light clean up is really what most stick vacuum cleaners are meant for. They may have suction only or a roller bar, but only higher-end models have the large, powerful brush rollers of a full-size vacuum.
Robot
Robotic vacuums scan the room, creating a map so they can navigate around obstacles. Their suction isn't as powerful as a full-size model, but they're great at cleaning between deeper cleaning sessions.
Most have a remote through which you can program the vacuum to run while you're at work or asleep. However, newer models take advantage of Wi-Fi and voice control so you can program the vacuum from anywhere.
Handheld
Handheld vacuums are traditionally used on stairs and in cars as well as to pick up crumbs and small messes. They're incredibly lightweight and easy to maneuver. Most have small bins or cups that catch dirt. Some bins are tricky to remove, which often ends with you accidentally dumping the contents on the floor, so look for a model with an easy to remove bin.
Most handheld vacuums come with a few attachments like crevice tools or an extension hose. You'll need a crevice tool if you're going to reach into tight spaces since handhelds generally have a wide blunt nozzle.
Handhelds are often cordless, but battery life isn't their strength. Some may only last 15 to 20 minutes and lose suction as they get close to the end of the battery's charge. Models with a good battery life may last 30 to 40 minutes and maintain suction throughout.
Features to Consider When Buying a Vacuum Cleaner
Filter Type and Ease of Access
If you have allergies, look for a HEPA filter. HEPA filters remove 99.97 percent of allergens larger than .3 microns. That's powerful enough to get rid of most pet dander, pollen, and dust particles.

Some models also have a pre-filter to catch larger debris before pulling air through the HEPA filter.

Filters may be washable, permanent, or disposable. Washable filters will save you money, but they too have a lifespan and will eventually need to be replaced.

Check out how to access the vacuum's filters. Some require the vacuum to be taken apart, while others are easily accessed. And, no matter the filter type, eventually it will need to be replaced.

Attachments and Tools
Vacuums can't reach everywhere without the help of attachments and tools. Look for a model that comes with all of the attachments you need because tools can be pricey to buy separately.

Common attachments include an upholstery tool, crevice tool, and dust tool. Other less common attachments are brush heads, pet hair tools, narrow edge tools, and mattress tools.

You also have to think about tool storage. Some vacuums have onboard storage for all of their tools and attachments, which makes them easier to keep track of, while others come with a separate carrying bag for their accessories.

Power Cord Length
Changing electrical outlets takes time. Uprights and canisters should have a cord that is at least 15 to 20 feet long, but the longer the better.

Stick and handheld models may have shorter cords, but you still want to look for cords that are at least 15 feet long. Less than that and you won't be able to go far.

Head Height Adjustment
Head adjustability allows the vacuum to maintain the proper suction and brush control over different types of flooring. Some models automatically adjust, while others are manual. Either way, you need to have enough height adjustment to accommodate the floors in your home. For example, hardwood floors need a lower height while thick shag needs more clearance between the vacuum and the carpet.
Brush Control
Many models have brush control, which means you can turn the brush roller off and use suction only. If you have hardwood floors, you'll need this option.

The nylon bristles on a vacuum brush roller are often stiff enough to scratch hardwood floors. The spinning of the brush and vacuum exhaust can also cause enough of a breeze to blow dust away before the vacuum can pick it up.

Suction Control
Suction control isn't found in every vacuum. However, if you want to vacuum delicate upholstery or drapes, look for a model that allows you to adjust the suction level, so you don't damage your belongings.
Bagged or Bagless
Some vacuums have a replaceable bag, and others have a dust bin or cup. Bags hold more dirt, but they tend to release dust into the air when they're removed.

Some dust bins hold dust better than a bag, but others are difficult to remove and are easily spilled. Bins and cups also require more complex filtration systems, which results in more filter replacements. Economically speaking, replacement bags are less expensive than replacement filters, so keep that in mind.
Frequently Asked Questions
Do vacuum cleaner filters affect suction power?
Some of today's vacuums have two- or three-stage filtration. While that's great for reducing allergens, it does slightly reduce suction. The more filters the air must pass through, the weaker the suction becomes. However, the reduction in suction is so small, you may not even notice.
Do I need a second vacuum cleaner for my stairs?
Many people like using a hand, stick, or stair vacuum for the stairs, especially if they own an upright. An upright's heft and design make them difficult to manage on stairs. These smaller, lighter options are easier to use and don't require as much muscle to move up and down the stairs. Canister vacuums work on stairs, but they can be heavy to carry up and down each floor. Some people choose to keep a stick vacuum on the second floor to make cleaning easier.
How often do I need to change the bag or empty the canister of my vacuum?
There's no set time period for emptying your vacuum. But both bags and canisters have a fill line. Once the debris reaches the line, change the bag or empty the canister. Hand vacs and stick vacs may need to be changed every time you use the vacuum. It will depend on how much floor space you're cleaning and how dirty that space is.
Final Advice
There's a vacuum out there for everyone, and you can find high-quality models in just about every price range. Whether you want a high-tech model or stick to the very basics, the best vacuum cleaner is available at the click of a button and can be delivered straight to your door so you can easily keep your home clean.