It's easy to take fresh, clean clothes for granted until your washer or dryer start malfunctioning. While you don't have to buy washers and dryers as a set, you often get a better deal on new models and the best performance when they're purchased together. Complementary functions and identical warranties are easier to manage and use, which often makes the best washers and dryers a set.
Today's washers and dryers come with impressive features like steam clean cycles, self-washing cycles, and remote app control. High-capacity models let you wash two or three standard loads at once, while compact washers and dryers do it all from a small footprint. But if you really just want the basics, there are simple, budget-friendly sets that clean and dry without a hitch.
5 Best Washers and Dryers of 2022
Best Washer and Dryer Overall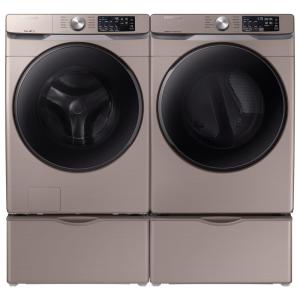 The four color options alone makes this an attractive pair, but when you add in the perfect steam settings on both units, they're clear leaders in performance, too.
$1,358 from Samsung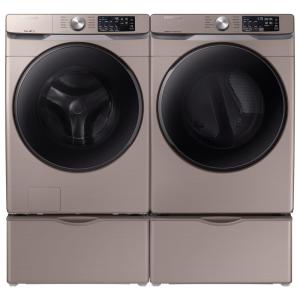 Top Pick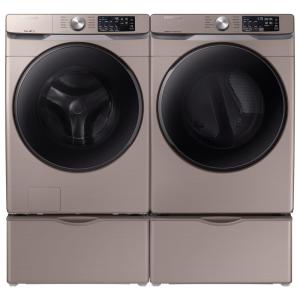 Best Washer and Dryer Overall
4 timeless color options
Steam washing (washer) and steam sanitizing (dryer)
Self-cleaning, stackable, and smart control offer versatile use and cleaning options
$1,358 from Samsung.com
This high-efficiency (HE) set includes a 4.5 cubic foot capacity washer with a 7.5 cubic foot capacity dryer. One reason sets are such a great purchase is that they complement each other in their capacities. Besides the complementing capacities, it's the Samsungs' sleek looks and finishes that stand out first. They come in the standard stainless steel, black stainless steel, and white, but Samsung added in champagne for a modern take on a classic design.
As far as features, the front-load Samsung washer's steam option gives it powerful stain removal abilities. The steam feature eliminates the need to pretreat stains, saving time and money. Another great option is the self-clean cycle that sanitizes the drum, removing any mold or mildew. This model includes Samsung's Smart Care, which connects the washer to an app and automatically sends reminders to run the self-clean cycle every 40 loads and a notification when loads get done.
There's an electric or gas version of this dryer, but they have the same great features. This model, too, uses the power of steam. Only this time the steam sanitizes the clothes during the drying cycle. Internal sensors automatically adjust the time of each load to optimize drying time and protect wet laundry from heat damage. Like the washer, the Samsung dryer has Smart Care that provides automatic updates and quick diagnosis of problems.
"The Samsung WF45R6100AC and DVG45R6100C are stackable and made at closet-depth for a better fit in small spaces."
Runner Up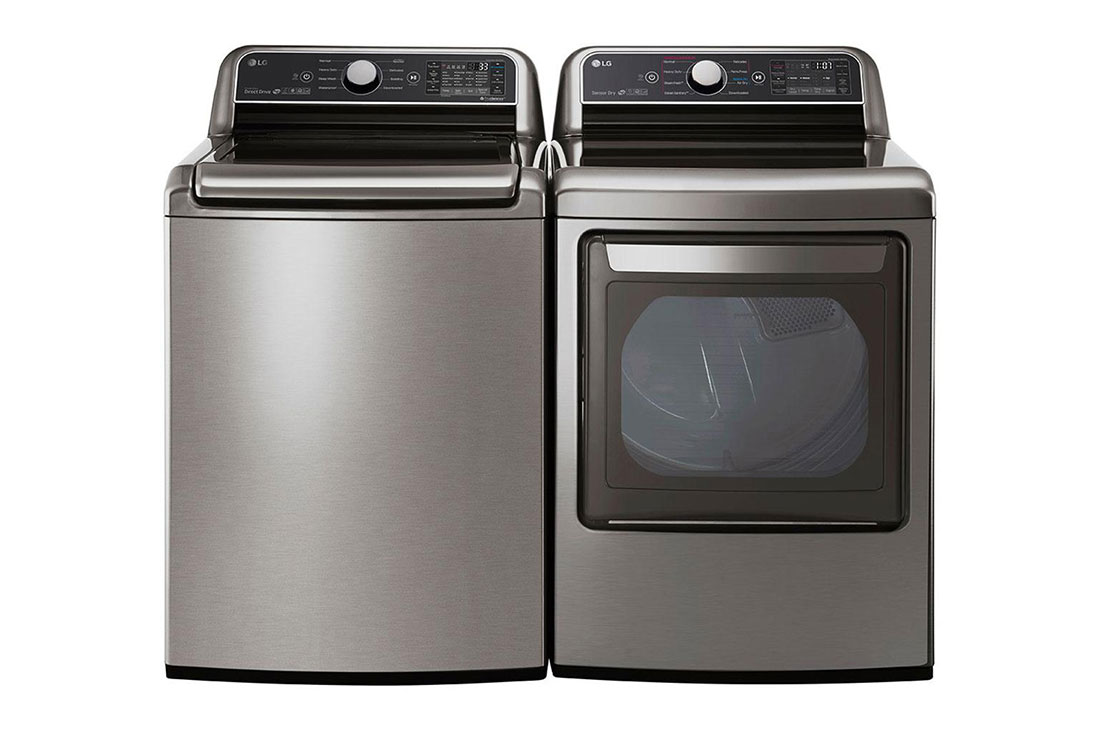 Best Top-Loading Washer and Dryer
Dryer's reversible door hinge for convenient configuration and easier access
Large capacity of the washer (5.0 cubic feet) and dryer (7.3 cubic feet) for oversized loads
Smart features that give washer/dryer notifications for downloading new cycles and "load done" notifications
$1,399.98 from LG.com
This gorgeous LG washer and dryer have glass lids so you can watch your laundry while it's cleaned. If you've constantly got laundry running, this is the set for you. They're HE machines with large capacities, so they use less soap to wash a high laundry volume.
The washer's impressive 5.0 cubic foot capacity handles loads twice the size of many basic washers. It's fully complemented by the 7.3 cubic foot dryer. The smart feature connects the washer to an app where you can download new wash cycles and set notifications to be sent when a load is done. Beyond the perks of an ever-growing number of wash cycle options and a large capacity, this washer simply cleans well, tackling heavy-duty fabrics with a heavy cycle and delicates in the delicate cycle with equal precision. This model's ColdWash™ technology takes advantage of water jets and a unique washing motion to clean clothes just as well in cold water as it does in hot.
The dryer includes an unusual feature, wherein the door can be opened from the bottom or side hinge. It provides the ultimate in versatile access. This model saves energy with internal sensors that adjust drying times based on humidity levels. It's also compatible with Alexa and Google Assistant, for wireless control, notifications, and diagnosis when troubleshooting.
Best Front-Loading Washer and Dryer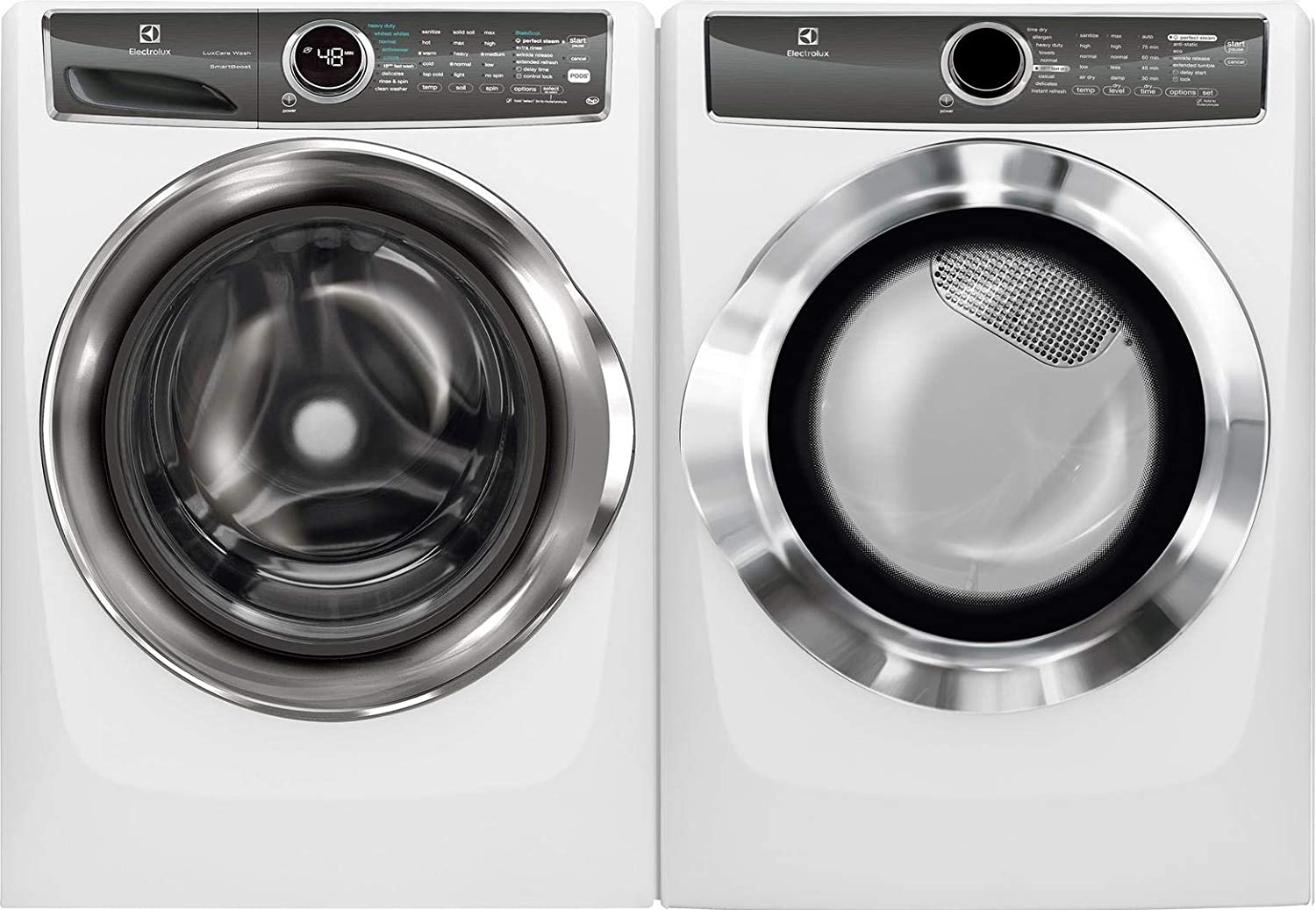 Best Front-Loading Washer and Dryer
Washer premixes water and detergent  for more effective cleaning
Dryer's steam feature quickly removes wrinkles
Both have a 15-minute wash or dry cycle
$2,798 from Electrolux.com
The Electrolux pair both utilize the power of steam to clean, sanitize, and remove wrinkles. However, they each have their own strengths that make them great buys. The design of the set allows them to fit almost anywhere. They can stack on top of each other or stand side-by-side underneath the laundry room counter. Both units include a reversible door for convenient opening no matter how they're arranged.
The Electrolux washer premixes detergent and/or stain remover with water to fully utilize the cleaning power of the laundry soap. A favorite feature is the 15-minute-long quick cycle, which definitely cuts down the 46-minute-long normal cycle. Finally, internal sensors automatically adjust the water level based on the size of your laundry loads, using less water, and removing the guesswork on load size.
To complement the 15-minute wash cycle, this dryer has a 15-minute quick dry cycle, too. Whether it's a kid who needs a uniform before the game or the perfect shirt for an evening event, you can get your favorite items through the washer and dryer in 30 minutes. The dryer also has sensors that adjust the drying time based on the internal humidity level. Finally, there's a steam option that gets rid of wrinkles, which means less ironing for you.
Tip: If you want to stack the Electrolux models, you'll need to buy a separate stacking kit. You can also purchase pedestals for even more installation options.
Best Stackable Washer and Dryer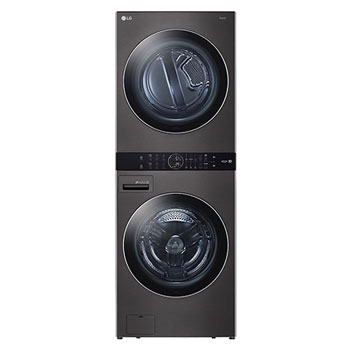 Best Stackable Washer and Dryer
Steam functions on both the washer and dryer
Washer's 6 motion design cleans deeper and more efficiently
Smart control available with both the washer and dryer for remote notifications and cycle adjustments
$1,979.88 from BestBuy.com
This LG pair provides a space-saving stackable option along with serious cleaning power. They also offer incredible capacity for a stackable pair. You're looking at 4.5 cubic feet for the washer and 7.4 cubic feet in the dryer. That's big enough for larger families.
And, if your occupation or kids create dirty clothes that put your washer to the test, the washer uses a six motion technology and steam to reach deep into the fibers and remove dirt and stains. The washer's steam feature reduces the need for pre-treatments too, saving you time. However, that steam feature is perfectly paired with the dryer's steam option, which blasts odors and gets rid of wrinkles, reducing the need for ironing.
Both models are smart, which means they connect to an app that allows you to adjust settings, check time left, and start/stop loads using your phone. They're also compatible with Alexa and Google Assistant so you have voice control as well. As a pair, they're a great option. However, like other stackable models, you have to purchase the stacking kit separately.
Tip: Stackable washers and dryers save space in the laundry room. However, just because they're stackable doesn't mean they're compact. Before buying, carefully measure your available space, both vertically and horizontally.
Best Budget Washer and Dryer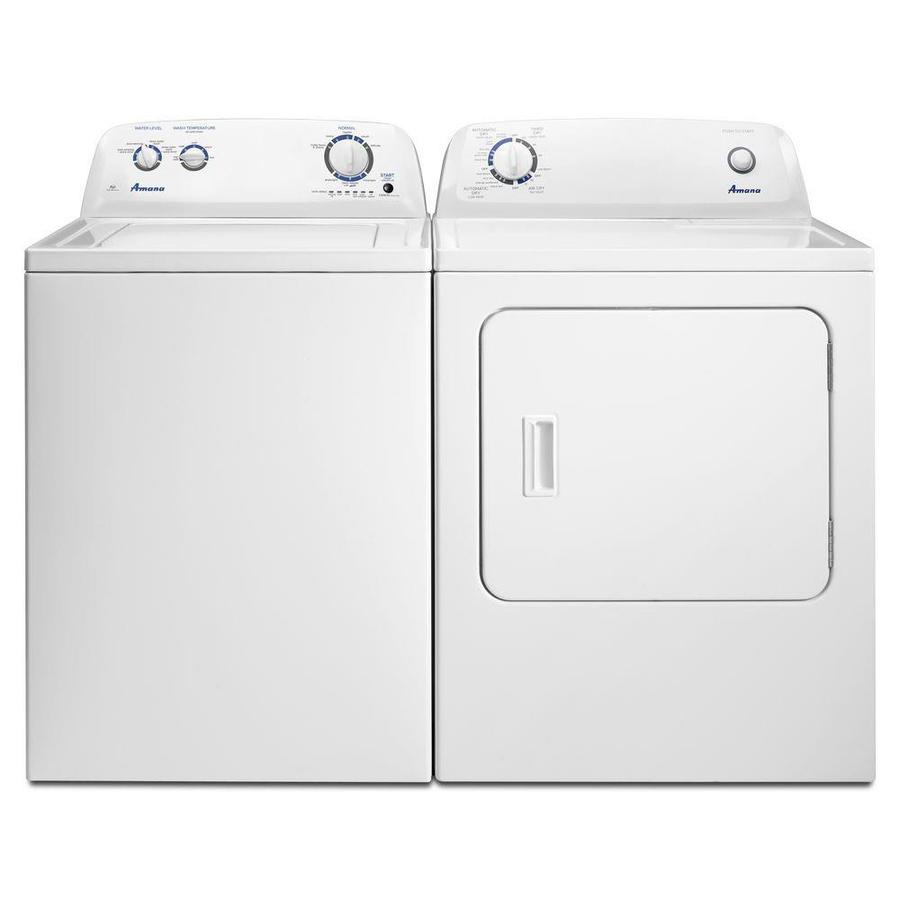 Best Budget Washer and Dryer
Washer's late lid lock gives you extra time to fill the load
Sensors automatically adjust the dryer's cycle time
Wrinkle prevention feature provides extra time to get the laundry out before wrinkles set in
$1,000 from Amana.com
Sometimes all you need are the basics like a washer that cleans like a pro and a dryer that won't leave your clothes damp. This Amana set does the basics and does them well. A simple porcelain tub and dual-action center agitator in the washer take on tough stains with settings for delicates and heavy-duty items. The late lid lock gives you some extra time to add those stray socks and extra T-shirts before the cycle gets too far.
The 6.5 cubic foot capacity dryer works perfectly with its accompanying washer. The automatic dryness control sensors automatically adjust the drying time based on internal humidity levels. That saves you from soggy clothes and over-drying. Finally, the Amana dryer includes a wrinkle prevention option in case you can't fold right away.
Tip: Clean the lint screen after every load. A lint covered screen restricts airflow, extends drying times, and poses a fire hazard.
What You Should Know About Washer and Dryer Sets
It's not absolutely necessary to buy a washer and dryer as a set. However, sets come with some distinct advantages to consider. First, they complement each other in capacity. The best dryers should have around 50% more capacity than their accompanying washers, so there's space for clothes to move and air to circulate. A dryer that's too small may mean you run a load through the dryer several times before the clothes are dry. In a set, the dryer capacity generally complements the washer capacity, which reduces drying times and saves you time and money. Second, if you're looking for a stackable option, a set is the only way to go. Stackable sets come with kits to secure the dryer on top of the washer. Also, aesthetically speaking, a matching set looks better. They have uniform depth and height, making it easier to fit the space in your laundry room. Finally, a washer dryer set may include complementary features, such as steam washing and sanitizing or Wi-Fi connectivity that coordinates wash cycle downloads and drying times.
Washing Machine Types: Front-Loading vs. Top-Loading
At their most basic, washer/dryer sets come down to either top-loading or front-loading designs. These categories can be further broken down into stackable, all-in-one, and compact designs, but for the purpose of this guide, we're sticking to the basics.
Front-Loading Washing Machines: Pros and Cons
Front-load washing machines use an airtight door and don't have a center agitator. You might need to bend over to access clothes, but there's no standing on tiptoes to reach the bottom of the drum as can happen with top-loaders. If the washer and dryer doors swing in the correct directions, it's easier to transfer clothes from a front-load washer to the dryer because you transfer them at the same level. If you want to stack your washer and dryer, a front-load washer is a necessity. They can be installed under the counter, saving space in the laundry room, too. Front-load washers also have a higher capacity than their top-loading counterparts. Without a center agitator, there's extra room in these models for up to 20 to 30 percent more clothes. Agitator-less washing is gentler on clothes, too. On the downside, the airtight doors found on front-loaders can lead to mold growth. Also, children can access the front control panel, which means the cycle could be interrupted or the washer started accidentally. Some models include child locks to counter this problem.
Top-Loading Washing Machines: Pros and Cons
Top-load washers have been around since the first washing machine was invented. One advantage is the lids on top-loaders are not airtight, so there's less of a mold risk. These models are typically less expensive than a standard front-loading machine, too. Also, since you're probably familiar with how they work and how well they clean clothes, there's no adjustment period with this type of machine. As far as cons, models with center agitators wear out clothes faster. Plus, they're less efficient since they use more water, energy, and time per load. Although there are top loaders that operate without agitators, the biggest issue with them is they may have problems maintaining load balance. Given the design of top-load washing machines, if you're shorter than average, it can be tough to reach the bottom of the washer, especially in high-capacity models. For some people, this can be uncomfortable as you may need a step stool to get the last sock.
What to Look for In a Washing Machine
| | |
| --- | --- |
| Capacity | Washing machines range in capacity from 2.4 to 6.0 cubic feet. The capacity you need depends on your family size and the space you have available in your laundry room. In general, you should buy the largest capacity washer that your budget and space allow. You'll do less laundry, save energy, and save money in the long run. However, if you have a small family of two or three people, a washing machine with a 3.0 to 3.5 cubic capacity is a good choice. Anything over 4.0 cubic feet is considered high capacity, so they're best suited for families with four or more people. Compact washers are usually 24 inches wide, though some 27-inch models are still considered compact. High-capacity models may measure up to 34 to 36 inches in width. You'll want to measure and balance capacity with the space available. |
| Agitation | You've got two choices — agitator and agitator-less. Only top-loading washing machines have agitators. These models come in smaller capacities and are harder on clothes, but they do a good job of cleaning and removing stains. Some people prefer units with center agitators because they also maintain load balance better than agitator-less models. All front-loaders and some top-loaders are agitator-less. These models use water more efficiently, are gentler on clothes, and usually remove more water during the spin cycle. Some mix laundry detergent with the water and spray it into the load with jets to pressure treat clothes while cleaning. However, some agitator-less washers have trouble maintaining load balance. |
| Cycles | Washing machines vary in the cycles they offer. You need the basics like delicate, normal, and heavy-duty cycles. However, if you want to preserve your clothes, a model with more cycle options can help. You can choose washing modes for performance fabrics, bedding, and denim to get the right temperatures, soaking times, and agitation. Smart washers may allow you to download extra cycles so you can fine-tune your washing. |
| Drum Material | Washing machine drums come in either stainless steel, porcelain-enameled, or heavy-duty plastic. Stainless steel is considered the best because it's durable, strong, and doesn't rust. However, it's the most expensive option. Porcelain-enameled models are more affordable and hold up well, too. Over time though, the porcelain may chip, which leads to rust in the drum. Heavy-duty plastic drums are found on a few entry-level washing machines. They don't have the durability of stainless steel or porcelain, but if you're on a tight budget, they'll last a few years. |
| Smart Features/Wi-Fi Connectivity | Smart washers allow you to get and send diagnostics to the manufacturer's customer support when troubleshooting problems. They also allow you to get notifications when loads are done or download new wash cycles as needed. |
What to Look for in a Dryer
| | |
| --- | --- |
| Gas vs. Electric | Gas and electric dryers have their pros and cons. Gas dryers usually come at a smaller price tag than their electric counterparts. Plus, they are more efficient at drying and can be more cost-effective if natural gas or propane are inexpensive in your area. However, if your house isn't already connected to a gas line, it can be pricey to install the lines and the dryer. Electric dryers are easy to install, but often cost more to run and aren't as efficient at drying clothes. |
| Capacity | The dryer should have approximately 50% more capacity than the washing machine to adequately dry clothes. In some cases, you may want an even larger dryer especially if you regularly plan to wash and dry bedding, coats, rugs, and other heavy or large objects. |
| Automatic Sensors | Models with automatic sensors adjust drying times according to the humidity level inside the drum. In general, they prevent over and under drying. However, some have trouble with heavier items. |
| Temperature Options and Adjustment | Know the kind of cycle options you need. For example, a permanent press cycle uses cool air at the end to reduce wrinkles, and some models use an air only setting for delicate items. |
| Smart Features | Smart dryers notify you when your load is done. They also automatically connect to customer support if you're troubleshooting problems. Some models download extra cycles for more precise drying, too. |
Frequently Asked Questions
Do you need a stacking kit for stackable washers and dryers?
Most definitely, yes! Stacking kits secure the washer and dryer, so they don't fall or shift during the wash or dry cycle. It's dangerous to stack these heavy appliances if they aren't properly secured. Some stackable models come with a stacking kit, while others will need to be purchased separately.
Are top-load washers better than front-loaders?
Both washer types have their pros and cons. Front-loaders use less water, making them more efficient. They also clean well, can be stacked, and often fit better in laundry rooms. However, they have more problems with mold and tend to require more maintenance. Top-loaders use more energy, and models with agitators can be hard on clothes. But they're less likely to have issues with mold growth and break down less often than front loaders. In summary, one isn't necessarily better than the other, but if the pros of a top or front-loader fit your needs better, that's probably the washer type for you.
Are washers with agitators hard on clothes?
The kind of clothing you have and their soil level can help you decide if you need an agitator or not. In comparison to an agitator-less design, agitators put more wear and tear on clothes. However, for heavily soiled clothes, an agitator can be more effective at removing stains and dirt.
Final Advice
The right washer and dryer combo can make laundry day a breeze. You can get a notification when the cycles are done and download precise cycles to care for your garments. The best washing machines and dryers have the perfect capacities for your laundry preferences and combine them with features that make laundry easier like automatic sensors and wrinkle control. Your laundry habits ultimately determine the features of most value to you. Take a good look at how you do your laundry and decide whether a basic machine or the most high-tech smart models suit your household needs.