Washing machines are an integral part of everyday life. Today's models offer features like Wi-Fi connectivity, steam settings, and interior sensors that make washing clothes faster and easier. If you're on a tight budget, there are also washers that may not have bells and whistles, but they have easy controls, good energy efficiency, and clean loads of laundry without a hitch.
Washing machines are designed to accommodate different washing needs. Large families may need a high-capacity washer, while apartment dwellers probably want a compact model. The best washer for you is one with the right combination of features for your lifestyle and available space.
We reviewed five of the best washing machines on the market. We also included a shopping guide to help you decide if a top-loading or a front-load machine might be right for you, as well as the other features that could make a difference in wash times, energy costs, and convenience.
5 Best Washing Machines of 2020
Best Washing Machine Overall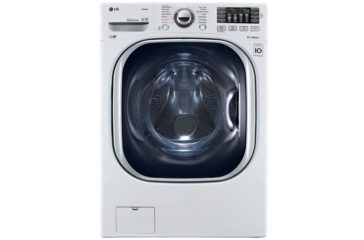 This LG includes the latest features like a turbo wash, steam features, and 6Motion™ Technology for optimal control and removal of deep-down dirt. The large 4.5 cubic foot capacity makes it a model for families, and it saves money with its high efficiency.
$1199.99 from Sears.com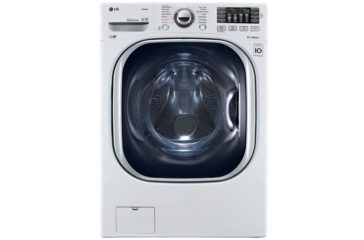 Top Pick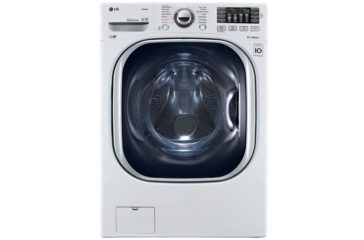 Best Washing Machine Overall
TurboWash® uses 5 spray jets to clean large loads in 30 minutes
Allergiene™ cycle ensures your clothes are free of pet dander and more
6Motion™ Technology washes 6 different ways to clean everything you put in
$1199.99 from Sears.com
Modern families get excellent options with this LG washer. The TurboWash® cycle uses five water jets to thoroughly penetrate clothing fibers. This fast wash cycle removes dirt and stains in just 30 minutes. Plus with Steam Wash and SuperStain functions, your clothes will look bright as new.
Allergy sufferers will appreciate the Allergiene™ cycle which is gentle on delicate fabrics but still able to remove pet dander and other allergens too.
The LG WM4370HWA provides six wash motions with 6Motion™ Technology to loosen stains from all directions. You can stack this model with a compatible dryer to save square footage as well. Overall, LG provides a great choice for the modern family that's both energy-efficient and cost-effective, whether you're running large or small loads.
"The LG Electronics WM4370HWA comes in white and black steel finishes to fit in with your existing appliances."
Runner Up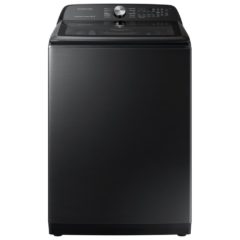 Best Large Capacity Washing Machine
Built-in water faucet to help pretreat clothes
Washes large loads, but features EZ access so you can reach the bottom of the tub
Versatile wash cycle options with 12 preset cycles and 8 optional wash addons
$899 from Samsung.com
Large families can easily do two or three loads of laundry per day. The Samsung WA50R5400AV provides the options and cleaning power to adjust cycles to different fabrics and still work hard on stains.
This model features a super speed cycle with a short cycle time of only 36 minutes. It uses a series of water jets to loosen dirt in half of the time of some standard cycles. That same water jet system acts as a pretreat feature to further reduce stains.
One of the best features on this 5.0 cubic feet tub is the EZ Access design. Some of these big tubs can swallow you as you try to get clothes out of the bottom. This design allows you to reach every last sock without getting trapped in the tub. Good design extends to the pattern on the tub, too, which extracts more water than older models.
Twelve preset washing cycles, eight extra wash options, and five temperatures provide ultimate control over laundry day. This is definitely the model for the person that likes precise temperature and agitation control for every load.
Tip: If you have a high-efficiency machine, use high-efficiency laundry detergent. High-efficiency washers use less water to clean clothes.
Best Budget Washing Machine
Best Budget Washing Machine
2-piece agitator design loosens and removes dirt even at the bottom of the tub
Late lid lock, so you can throw in last-minute shirts and socks
Energy and water-efficient, reducing the overall cost
$448 from HomeDepot.com
The Amana NTW4516FW skips the smart features and Wi-Fi access for high-efficiency and a two-piece agitator that makes sure the clothes at the bottom of the tub get just as clean as those on the top. You can do a deep water wash to add extra water during the wash and rinse cycles to really dissolve and activate detergent.
Do you find socks hiding in the laundry basket just after starting the washer? With this top-loader, the late lid lock allows you to add garments for several minutes after the washer starts. Despite the low price, this model includes automatic load sensing, so you don't have to make a decision about load sizes.
Best Steam Feature Washing Machine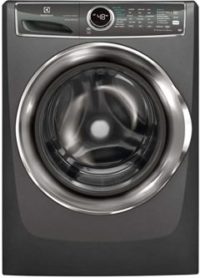 Best Steam Feature Washing Machine
Stain removal power of SmartBoost Technology with sanitizing and stain removal of steam
Works with all detergent types, including detergent pods
15-minutes quick wash
$1,073 on Homedepot.com
Steam adds stain removal and sanitization power. This Electrolux provides excellent capacity and has a dispenser specifically designed for detergent pods. But it's really the steam feature that makes it stand out. The steam rises from the bottom to reach every garment in the machine. It loosens dirt and aids the pretreatment of difficult stains.
This model goes from amazing to outstanding when you factor in the 15-minute quick wash cycle. That's a good 15 to 30 minutes less than some speed and normal cycles on other models. If you're often in a rush to get work shirts or uniforms clean in time, this is the washer for you.
"Front-loading washing machines can stack with a matching dryer to maximize the use of space in laundry rooms."
Best Compact Washing Machine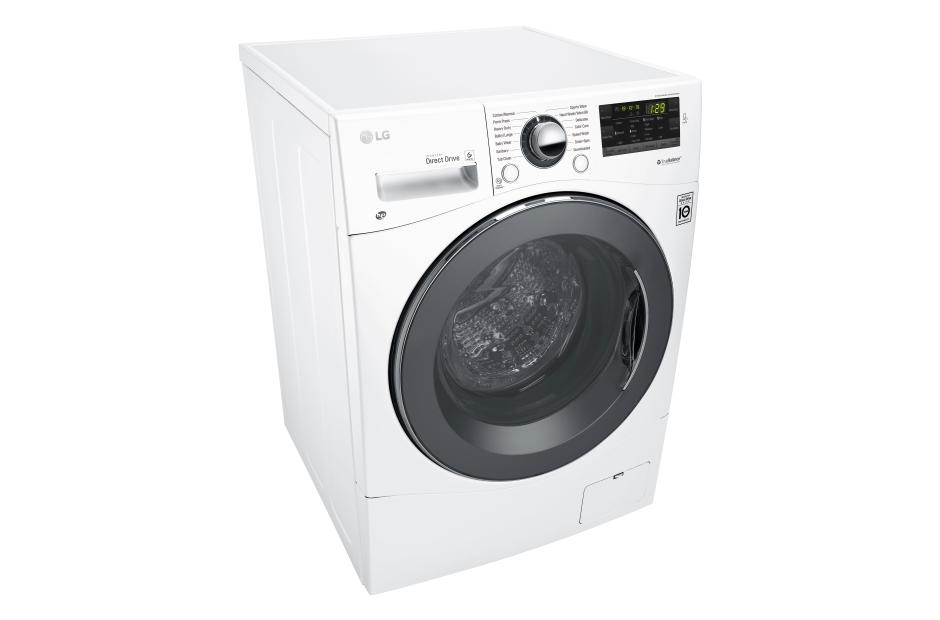 Best Compact Washing Machine
24-inch width and 2.3 cubic feet capacity
Six motion washing technology to better remove stains from all angles
9 wash cycles, including babywear and speedwash
$799 from LG.com
Small apartments, studios, and tiny homes need a compact washer that doesn't eat square footage. The LG WM1388HW measures a skinny 24 inches, in comparison to a full-size model's 28 to 32 inches. Don't underestimate the power that comes in its 2.3 cubic foot capacity. It features the same six wash motions as larger models, and it reaches deep into fibers to remove dirt from multiple angles.
This LG is Energy Star certified, so you don't use as much water or as much energy over the washer's lifetime. A front control panel makes this a great washer to go under a counter or stack with a matching dryer. Innovative features like the FreshCare option that tumbles clean laundry to keep it fresh and a digital display for easier, more visible use provides convenience that's often found on larger, more expensive models. Yet, it has a full load of wash cycles that include a gentle cycle for babywear and a speed cycle.
Types of Washing Machines
The two most basic types of washers are front-loaders and top-loaders. However, there are some subtypes within those two categories that are worth mentioning and could be the right choice for you based on your circumstances.
Front-Load Washer
Front-load washers do a good job of removing stains. They work efficiently and offer different laundry room configurations. For example, they can stack or fit under a folding counter.When these models first came on the market, they were known for growing mold and mildew at a higher rate than comparable top-loading machines. However, today's models do much better, but you should still leave the door open after running a cycle to reduce interior humidity.

Front-loaders have their cons. They're more prone to breakdowns than top-loaders. If they do need repairs, you usually need a professional to make them.

Top-Load Washer
Top-load washers don't require you to bend over, though if you're shorter in stature, you may have a hard time reaching the bottom of the washtub.

These models come with or without an agitator. Some people prefer an agitator and feel like it gets their clothes cleaner, while others don't perceive much of a difference. It's really a matter of personal preference, but models with agitators usually cost less.

Top-load washing machines include the same high-end features as front loaders. They're usually easier to repair if there is a breakdown. However, they can't be stacked.

Stackable
Stackable washers stack with a compatible dryer via a stacking kit, which may come with the washer or bought separately. Stackable models can be full-size with a complete array of wash cycles and extra rinses, or they may come in a compact size to save even more space.

Stacking works well if you're working with tight spaces. Some models can be used with a pedestal and stacking kit for extra storage.

Compact

Typical washing machines are 28 to 34 inches wide. Compact models are 24 inches or less. Obviously, they work best in small spaces.

Depending on the model, they may have many high-end features like a digital touchscreen display, steam, or Wi-Fi capabilities. Other compact models are more bare-bones, with only a few cycles and basic rinse options. Obviously, these models are a good choice for tight spaces, but just because they're smaller doesn't mean they always cost less.

Portable
Portable washers connect to a faucet or bucket of water rather than a washer hook up. They're made in both manual and electric models. They take less energy and space, but they don't often have the same spin cycles, wash cycles, or cleaning power of compact or full-size washing machines. However, if you're very limited in space, one of these washing machines might be perfect for you.
What to Look for in a Washing Machine
Capacity
Compact: under 3 cubic feet

Standard: 3 to 4.5 cubic feet

High capacity: over 4.5 cubic feet

A small washer with a three cubic foot capacity or less works for one or two people. Families of three or four will have enough space in a standard size model, while large families of five or over and people who want to wash a king-size comforter at home will probably be happier with a high capacity model. However, it all depends on how much laundry you wash and how often you wash it on a regular basis.

Agitator
There's debate surrounding whether or not center agitators provide better cleaning than non-agitator models. Today's agitator-less washers are much better than the models that first appeared on the market. Most of these washing machines have just as much cleaning power as a model with an agitator with higher capacities while being gentler on clothes.

However, if you have heavily stained clothes, you may like the extra abrasion an agitator offers. And models with agitators are usually less expensive.

Wash Cycles
Most people don't need a lot of wash cycles. Gentle, normal, and denim or a heavy-duty cycle are all many people use. However, as fabric types have expanded over the years, you might have need of extra wash cycles, like a speed wash that cuts washing times in half, or a towel or bedding cycle to wash a heavy comforter.

Extra cycles add to the price of the washing machine, so make sure you're not paying for cycles you'll never use.

Steam Features
Steam is the latest feature to get added to high-end washers. Steam functions pretreat ground-in stains and sanitize at the end of wash cycles. How much cleaner steam gets clothes is not widely known, but if you want that added cleanse, it's available on higher priced models.
Water Temperature
The days of cold, warm, and hot being your only water temperature options are over. Some washers come with up to six water temperatures for precise temperature control that protects clothing.

If you like the precision extra temperature controls offer, a model with several temperature options makes sense for you. However, if you just want to wash and go, you can save money on a model with fewer water temperature settings.

Smart Features
Smart washers connect to your phone via an app. From there, you can check the status of a cycle, start a load that's ready and waiting, or stop a load mid-cycle. Wi-Fi connectivity usually includes online troubleshooting and/or automatic notification to the manufacturer if you're having a problem. Smart features also streamline your access to the manufacturer's customer services.
High Efficiency
High-efficiency washers use less water and reduce your energy bill because they use less power. These models must be used with high-efficiency laundry detergent.

Regular laundry detergent may create more suds, which the washer then has to work harder to remove. In some cases, a high-efficiency washer may not use enough water to dissolve and remove all of the detergent.

Automatic Load Sensors
Automatic load sensors automatically adjust the water level. They take another step out of the laundry, making it easier for you.
Tub Material
Washing machine tubs are made of stainless steel, porcelain, or plastic. Stainless steel is the most durable, lasting longer than delicate porcelain or limited-life plastic.

Porcelain has good durability, but it can chip, which makes it more vulnerable than stainless steel. There are a few mixed material tubs that include plastic. These models are inexpensive, but the tub won't last long.
Frequently Asked Questions
How do you clean a washing machine?
Some washing machines have a self-cleaning cycle that can be run with or without a cleaning pod or white vinegar to clean the machine. For machines with an auto-clean cycle, you can pour a cup or two of white vinegar directly into the machine and run a wash cycle without any clothes in it. You should also periodically clean the washing machine's seals with a soft cloth or Q-tip.
If I get a new washing machine, do I need to get new connector hoses?
Most of the time, the answer is yes. In fact, some retailers won't hook up the washer for you unless you buy new hoses. Chances are the hoses have worn out along with your old washing machine. They're not expensive, and they make sure your washer starts out on the best footing.
How can I make my washing machine quieter?
First, many washing machines come with vibration reduction technology that reduces noise levels. If noise is an issue for you, a newer model will already put you ahead of the game. Second, make sure the washer is level. If the washer wobbles while spinning, it can rattle around. That's not only noisy but hard on your washer, wearing out parts faster than if it was balanced.
Final Advice
Whether it's bulky items you need to wash or fine delicates, there's a high-quality washer and dryer out there with the right cycles to do it. If you've already got a smart home, a smart washer can keep you fully connected. However, if you're limited on space, a compact model loaded with a speed cycle, gentle cycle, and automatic load sensing might make more sense.
It's a matter of finding a new washer at an affordable price that includes the right wash cycles, temperature controls, and convenience features. Your available space, laundry habits, and family size will help you determine which features will be the most valuable. After that, you can happily wash away stains and keep your clothes smelling clean and fresh.