A bright smile does more than say good health; it makes a first impression everywhere you go. However, many of your favorite drinks and foods like coffee, tea, and fruit juice can discolor your pearly whites. Tooth whitening products contain hydrogen peroxide, chemical polishing agents, and other stain destroying ingredients to whiten and brighten your teeth.
These products come in a wide range of types, from gels and rinses to toothpastes and pens. Of course, the best products are approved by the American Dental Association, remove surface stains, and give you the whitening power of the dentist's office at home. We've found products that turn tooth enamel from yellow to white. We've also provided a shopping guide to help decide the best home tooth whitening product for you.
7 Best Tooth Whitening Products of 2023
Best Tooth Whitening Product Overall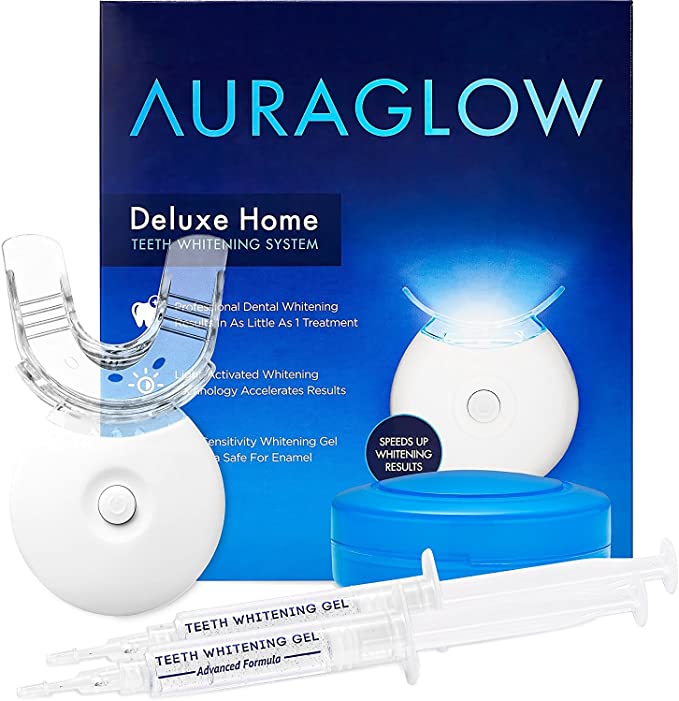 Skip the dental office with this all-inclusive kit that includes a whitening gel, an LED light device, and vegan-friendly ingredients.
$60 on Auraglow.com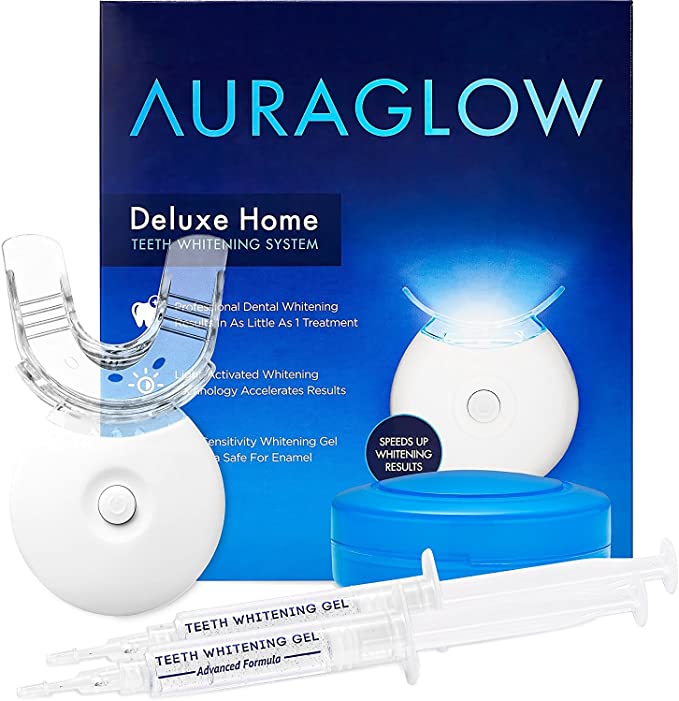 Top Pick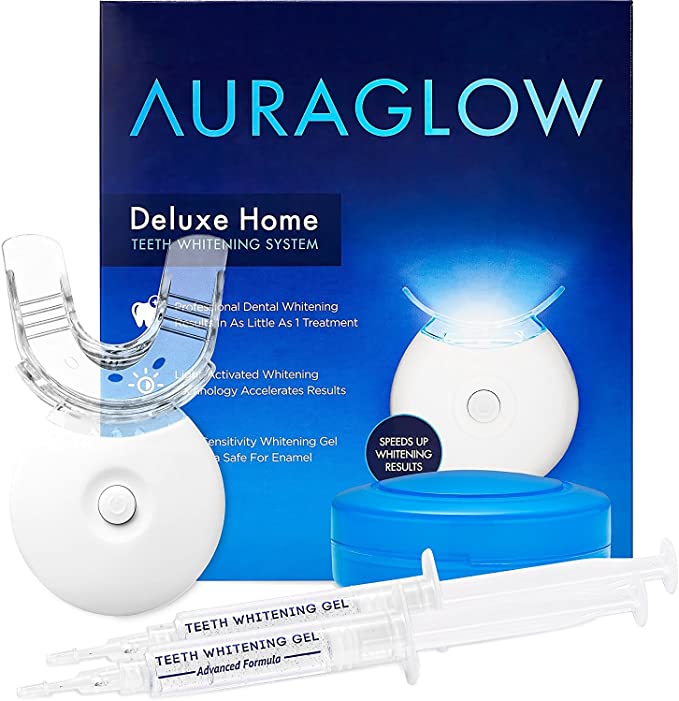 Best Tooth Whitening Product Overall
LED accelerator light whitens teeth faster
Enamel-safe ingredients to prevent tooth sensitivity
One-size-fits-all mouth tray doesn't need to be boiled or molded
$59.99 from Auraglow.com
Auraglow makes a home whitening kit that rivals expensive in-office whitening treatments. With a 35 percent carbamide peroxide content, yellow stains don't stand a chance. It rivals professional treatments but also includes minerals to reduce painful tooth sensitivity.
Unlike other kits, Auraglow's one-size-fits-all tray works for almost everyone. Load it with the gel, attach it to the blue LED light, and you've got a fast whitening treatment in just 30 minutes. The blue light speeds up the whitening process, so you spend less time in a tray, and you're more likely to notice results after only a few treatments.
"The Auraglow Teeth Whitening Kit includes enough gel for 20 treatments."
Runner Up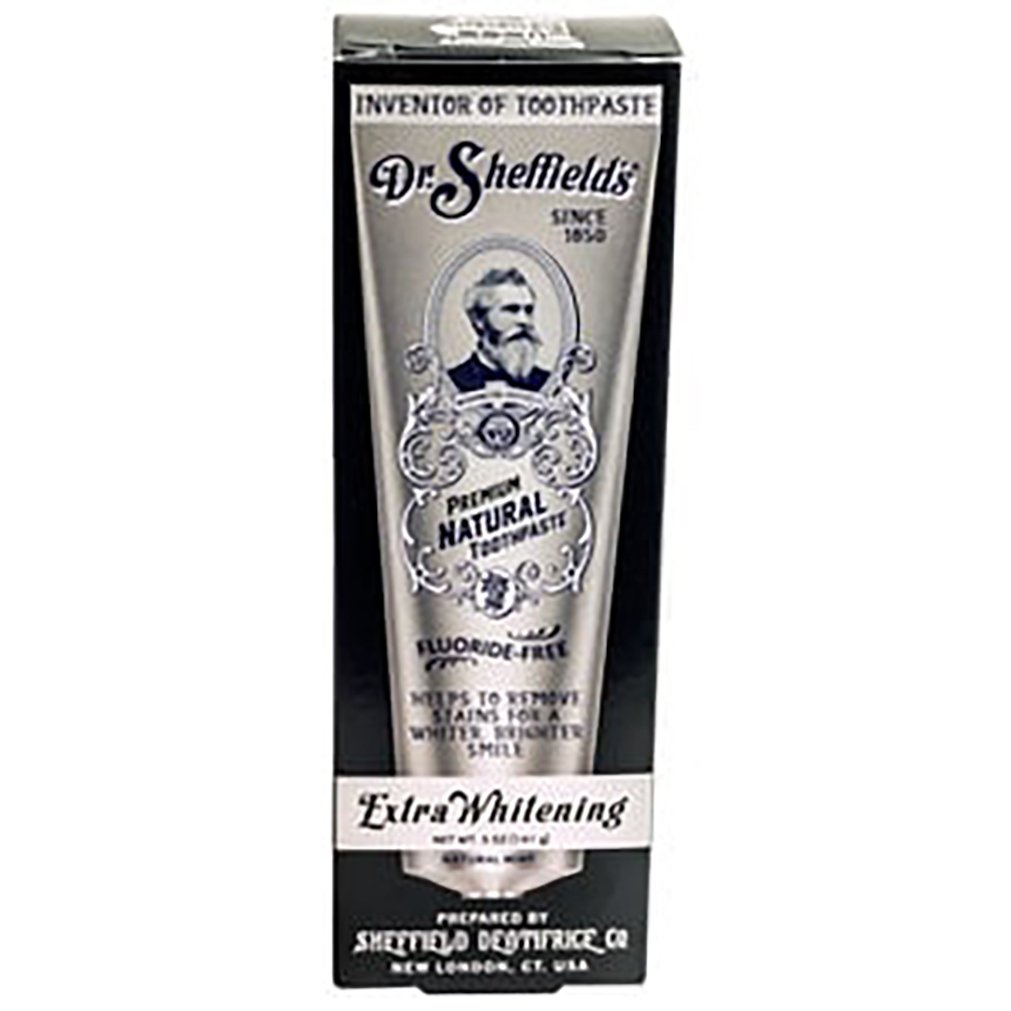 Best Whitening Toothpaste
Natural, gentle ingredients certified by the Natural Products Association
Free of fluoride
Great taste with no artificial sweeteners
$13 on Amazon.com
Whitening toothpastes can sometimes be unpalatable, but Dr. Sheffield's leaves gagging behind. This formula focuses on natural ingredients. In fact, Dr. Sheffield's has been certified by the Natural Product Association to ensure the natural sourcing of all ingredients.
Many people like the taste, and the fact that this product is free of fluoride, synthetic detergents, synthetic foaming agents, and artificial dyes, flavors, preservatives, and sweeteners adds peace of mind.
However, it's the total effect of those ingredients that really make this toothpaste rise above other brands. Simply put, it works. Those natural gradients come together to remove stains and discoloration for a smile that's at least full shade whiter.
"Dr. Sheffield's was the first brand to sell 'toothpaste in a tube."
Best Sensitive Tooth Whitening Product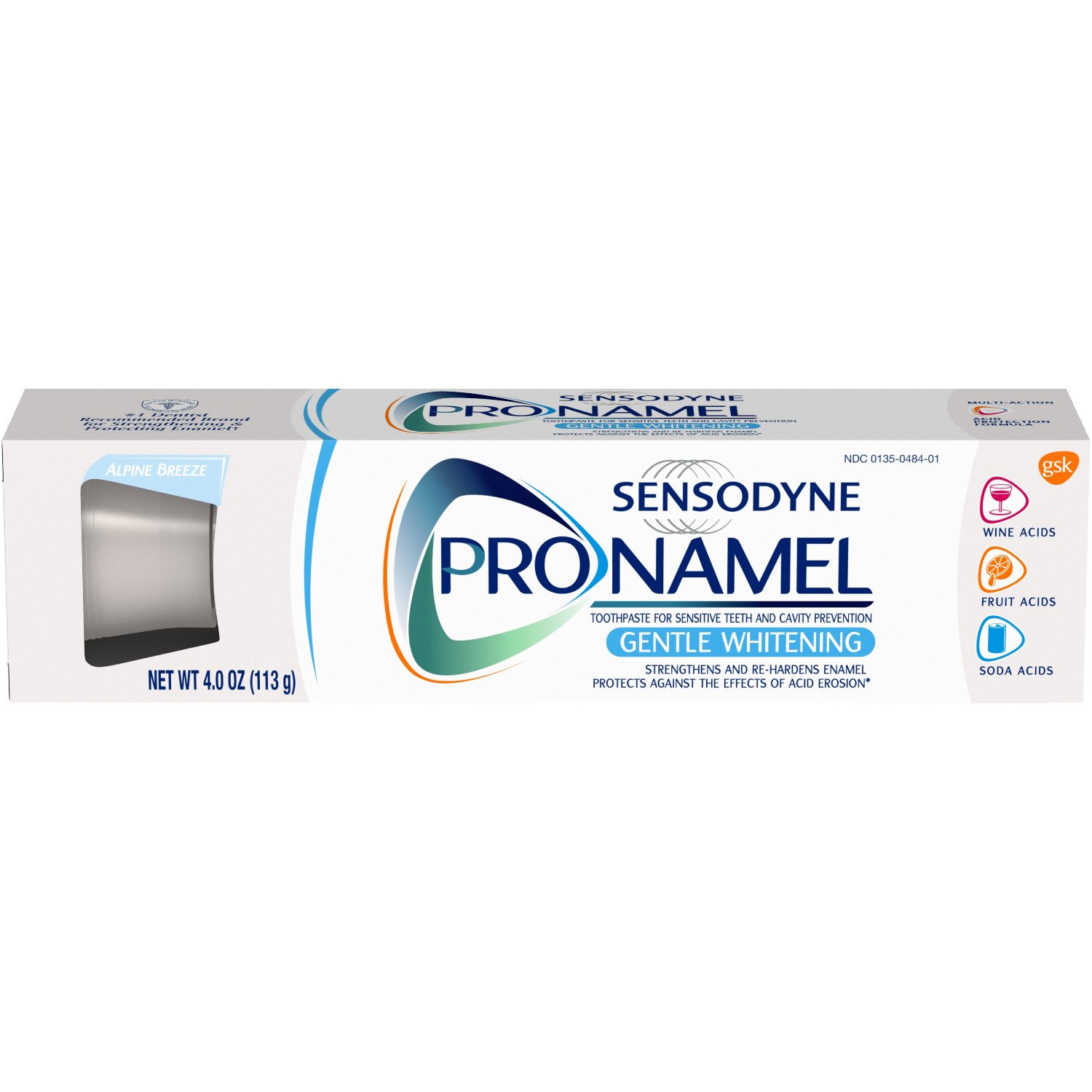 Best Sensitive Tooth Whitening Product
Gently whitens without irritating sensitive teeth and gums
Includes fluoride to strengthen and harden teeth
Creates a protective layer to prevent acid erosion
$15.36 from Amazon.com
Sensitive teeth need extra care when it comes to whitening, since whitening peroxides can wear down enamel. However, Sensodyne Pronamel contains whitening ingredients that don't strip away the protective layers of the teeth. Rather, it supports, builds, and strengthens enamel to protect the teeth from acids and stains.
This formula deposits minerals to build the protective layer and prevent future acid erosion while decreasing sensitivity. Less acid erosion means that staining foods won't penetrate as deeply into the teeth. With regular use, Sensodyne can reduce sensitivity to temperature, sugar, and acids by continually renewing the teeth every time you brush.
Best Tooth Whitening Rinse

Best Tooth Whitening Rinse
Alcohol-free, so it won't sting
Strengthens tooth enamel
Freshens breath by killing germs
$5.49 from Amazon.com
Act Anticavity + Whitening Rinse plays a pivotal role in oral healthcare from several different angles. First, and the reason it's on our list, it whitens teeth. The ingredients help remove stains, while at the same time, strengthening the teeth with fluoride. Fluoride replaces minerals to protect and enhance the outer layer of the tooth, preventing both stains and cavities.
If you've ever had a mouth rinse sting, it's because of alcohol. This alcohol-free rinse kills bacteria and freshens breath at the same time. There's no uncomfortable sting, only whitening power that builds and whitens teeth.
Tip: For the best results, swish the mouth rinse throughout the mouth for 30 seconds, then gargle to clean the teeth and tongue fully.
Best Tooth Whitening Strips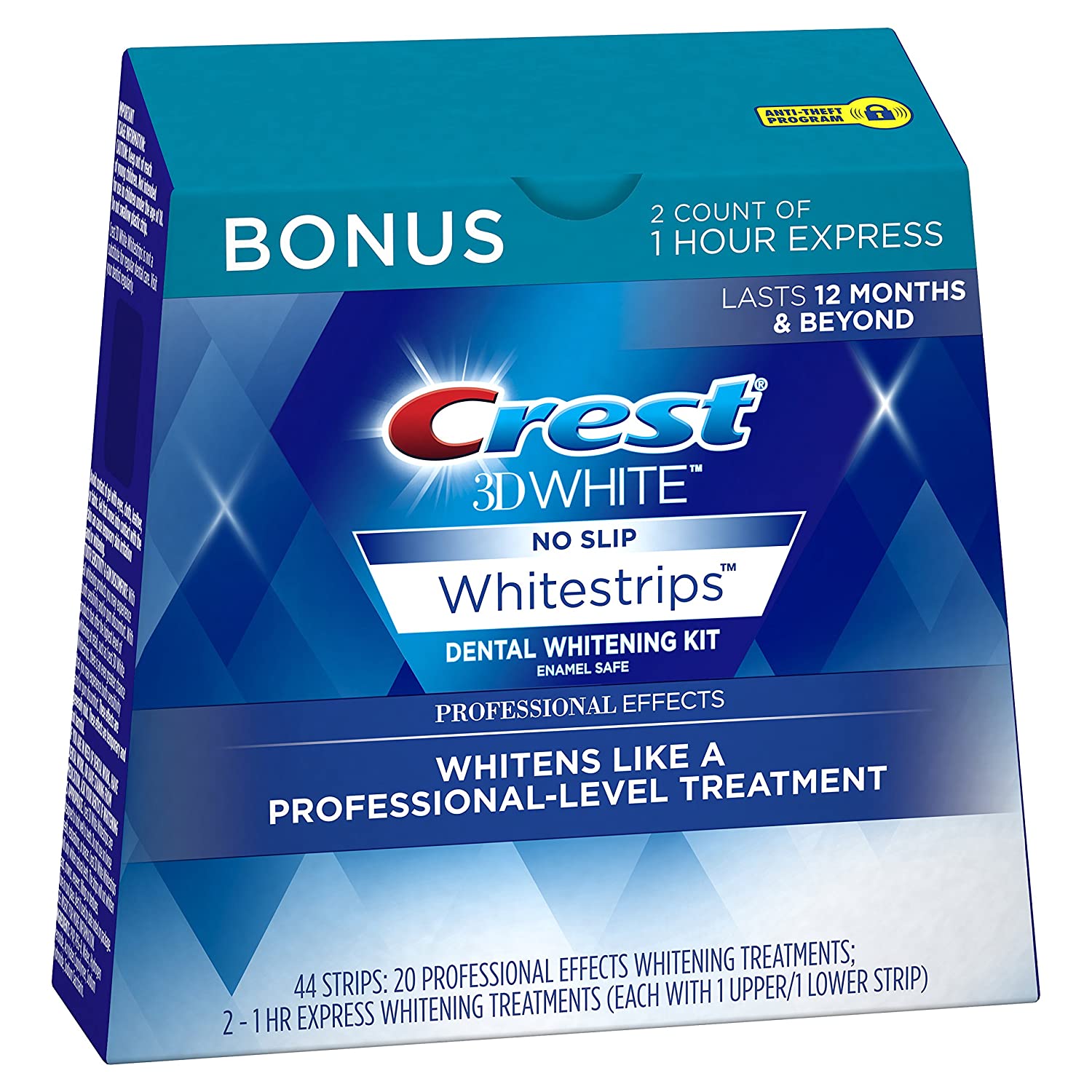 Best Tooth Whitening Strips
Simple to apply and use
Whitens with hydrogen peroxide
No-slip designs in place while you drink water or talk
$45 on Crestwhitesmile.com
Whitening strips wrap onto the teeth and apply a whitening gel while you go about your daily business. The Crest 3D Whitestrips stay in place with a no-slip grip design that applies directly to the surface of the teeth. You can drink water, talk, and go about your day for the 30 minutes of treatment without the strips shifting out of place.
A mix of ingredients that includes hydrogen peroxide gets to work, removing years worth of stains. This particular formula offers quick effects from home that compete with more expensive professional treatments.
Best Tooth Whitening Pen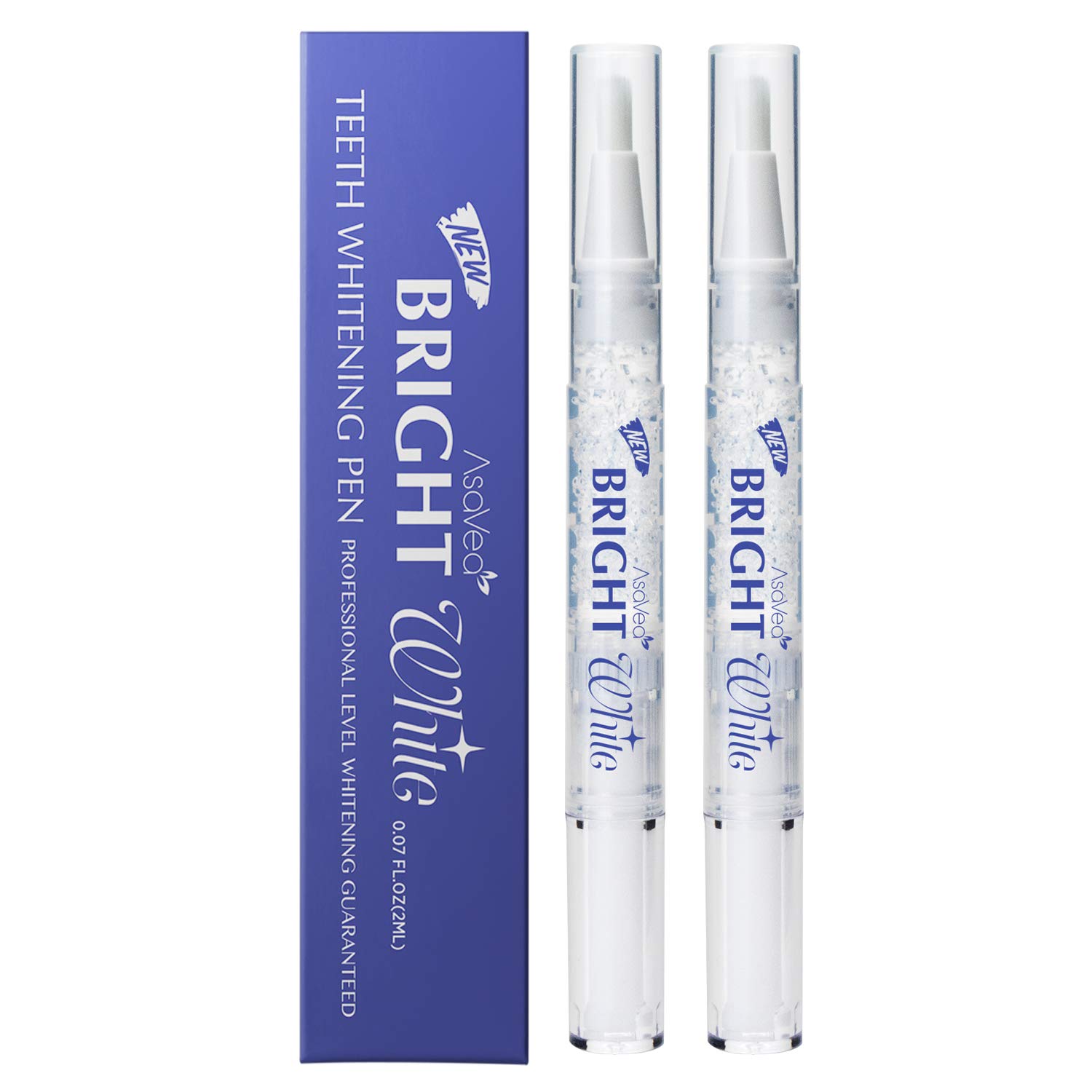 Best Tooth Whitening Pen
Carbamide peroxide gel whitens teeth in one hour
Gentle mint flavor
Travel-friendly size, so it's easy to use almost anywhere
$20 from AsaVea.com
If you want to whiten your teeth while on the go, a whitening pen like the AsaVea is for you. Loaded with a mix of ingredients that include carbamide peroxide, this pen delivers whitening gel directly to the teeth. You simply leave it on for an hour, and you're done. It's simple, fast, and the mint flavor is far better than many of the gels out there. Gels like AsaVea typically whiten teeth by four to eight shades.
The pen easily stashes in a carry-on or purse for quick application before an event. These pens are also easy to store at home in a drawer or linen closet.
"The AsaVea Teeth Whitening Pen removes stains from coffee, tea, and soda."
Best Activated-Charcoal Tooth Whitening Product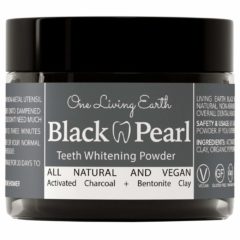 Best Activated-Charcoal Tooth Whitening Product
Whitens and deodorizes the mouth with activated coconut charcoal
Paraben and sulfate-free
Works on sensitive teeth and gums
$15.99 from Amazon.com
Activated charcoal has impressive cleaning and deodorizing powers. In this powder form, it gently removes stains without damaging enamel or irritating the gums. At the same time, it absorbs odors for fresher breath. The powder goes directly on the toothbrush and can be used in addition to or in place of regular toothpaste.
Black Pearl uses natural ingredients free of harmful parabens or sulfates with the rest of the ingredients grown and harvested through eco-friendly practices. The charcoal freshens breath by removing odors, but the powder also contains mint to freshen the breath after those odors are gone.
Tip: Activated charcoal whitening products are best for removing surface stains rather than stains below the tooth enamel.
Types of Teeth Whitening Products
Whitening Toothpaste
Whitening toothpaste contains mild abrasives, chemicals, and polishing agents that remove surface stains. They're best for everyday use, but they only whiten the teeth by about one shade. For brighter results, you'll need to use a product with carbamide peroxide or hydrogen peroxide.Pairing a whitening toothpaste with a high-quality electric toothbrush can also improve teeth and gum teeth.
Whitening Strips
Whitening strips apply directly to the tooth's surface and contain an active ingredient like carbamide peroxide or hydrogen peroxide-containing gel to whiten surface and beneath-surface stains.

The strips may slip, and you may be limited in what you do while wearing them. However, treatments usually only last 30 to 60 minutes. Strip treatments are typically used several days in a row. Then, you wait several weeks before doing another round of treatments until you reach your desired whiteness level.

Whitening Gels
Whitening gels contain carbamide peroxide or hydrogen peroxide to remove surface and beneath-surface stains, much like whitening strips. When whitening gels are purchased alone, they are applied to the teeth using a tray and/or a UV light to speed up the whitening process.
Whitening Rinses
Whitening rinses and mouthwashes work in conjunction with whitening toothpastes and other products. Because they don't spend a lot of time in contact with the tooth enamel, they really only work on surface stains. They're better at preventing than removing stains, especially formulas that contain fluoride because it strengthens and builds tooth enamel.
Over-the-Counter (OTC) Whitening Kits
OTC whitening kits contain a whitening agent, usually a gel and tray and maybe a UV light. There are several treatments per kit. Once you've bought the kit, the tray can be used over again, so you may only need to buy replacement gel after you've run out of the gel that originally came with the kit.Whitening kits provide the most professional results of all the at-home options, and they're incredibly affordable. However, they still may not be as effective as treatments used at your dentist's office.
Whitening Pens
Whitening pens contain a whitening gel that's applied directly to the teeth through the pen's tip. Treatments usually take anywhere from 30 to 60 minutes.

Pens are a great option when you're away from home, or if you want a simple way to store a whitening treatment at home.
Features to Consider
Professional vs Over-the-Counter
Professional whitening treatments typically contain 35 to 40 percent carbamide peroxide or hydrogen peroxide. There are some kinds of treatments that you can only do at the dentist's office, and many of these treatments cost anywhere from $400 to $800.

Some home whitening treatments contain up to 35 percent whitening ingredients. These treatments are incredibly effective and cost a fraction of a professional treatment. However, many products contain 10 percent hydrogen peroxide or less, which reduces their effectiveness significantly.

Some are OTC, while others may only be bought at a pharmacy. However, the results may not last as long as a treatment you'd receive at the dentist's office, and you'll need to take care that you use the products correctly. Common side effects are sensitive teeth and gums, even if you use the products correctly. If your teeth hurt or become sensitive to sweets and temperature, discontinue use of the whitening product.

Fit
Stains reach into the cracks and crevices of your teeth, so a good fit with the whitening product is imperative. Of course, for rinses and toothpastes, it's not much of an issue. But for strips, kits, and gels, proper fit makes sure you cover all of the teeth, including in between. Some kits require the tray to be heated or boiled then molded to the mouth. Others are one-size-fits-all. The more customized the fit, the better your results are likely to be.
Ingredient Concentration
Key whitening ingredients are carbamide peroxide and hydrogen peroxide. These two ingredients reach stains beneath the surface but can cause gum and teeth sensitivity.

If you only need to remove surface stains, opt for whitening products without peroxides. Surface stains respond to mild abrasives like baking soda and activated charcoal.

You can use more powerful whitening treatments like kits and gels along with whitening toothpastes and rinses. Just be mindful of how your gums and teeth feel.

Ease-of-Use
Consider how much time you have to spend whitening your teeth, and how messy you're willing to get. Gels and kits can get a little goopy. If you want simple, stick with toothpastes and rinses.
Taste
People who are sensitive to tastes may have trouble with whitening products. They're not known for their delicious flavors. Rinses and toothpastes are often the most palatable because they have minty flavors.
Frequently Asked Questions
Should I use a tooth whitening product if I have sensitive teeth?
If you have sensitive teeth, use whitening products designed for sensitive teeth. A product with a high percentage of hydrogen peroxide, for example, could easily irritate sensitive teeth, making the problem worse. Opt for whitening products that contain fluoride, which builds enamel to strengthen teeth and reduce sensitivity while whitening.
Can tooth whitening products damage my fillings or other dental work?
Whitening products shouldn't damage fillings, crowns, or other dental work. However, these products are designed for natural teeth, so they won't change the color of your dental work. Fillings or a crown may stand out after a whitening treatment because they were chosen to match the color of the surrounding teeth.
How often can I use tooth whitening products?
That depends on the whitening product you're using. Toothpastes and rinses are designed for daily use, while kits and gels should only be used for a specified time frame. They also include a recommended time before doing another treatment. Follow all manufacturer recommendations and directions to get the best results from the product and protect the health of your teeth.
Final Advice
Your pearly whites deserve special treatment if eating habits have gotten in the way of your best smile. Sometimes your genetics just make you more prone to staining, but rest assured that there are whitening solutions available. Follow directions, and be careful if you have sensitive teeth. Before long, your smile will be a sparkling source of confidence that makes the perfect first impression.