Whether it's slick and sleek or beach waves you're after, the right hair dryer is a key factor in the look and feel of your hair. Hair dryer technology and materials make more of a difference in the look and health of your hair than you may realize.
A cool shot button, diffuser attachment, or ionic technology could be ke to more manageable hair. But what about when you're on the road? Or when you want to change up your look?
There are features that give you versatile styling options and models that fold to fit into your suitcase. We've picked six of the best hair dryers on the market and provided a shopping guide to help you find the right one for your hair type.
6 Best Hair Dryers of 2023
Best Hair Dryer Overall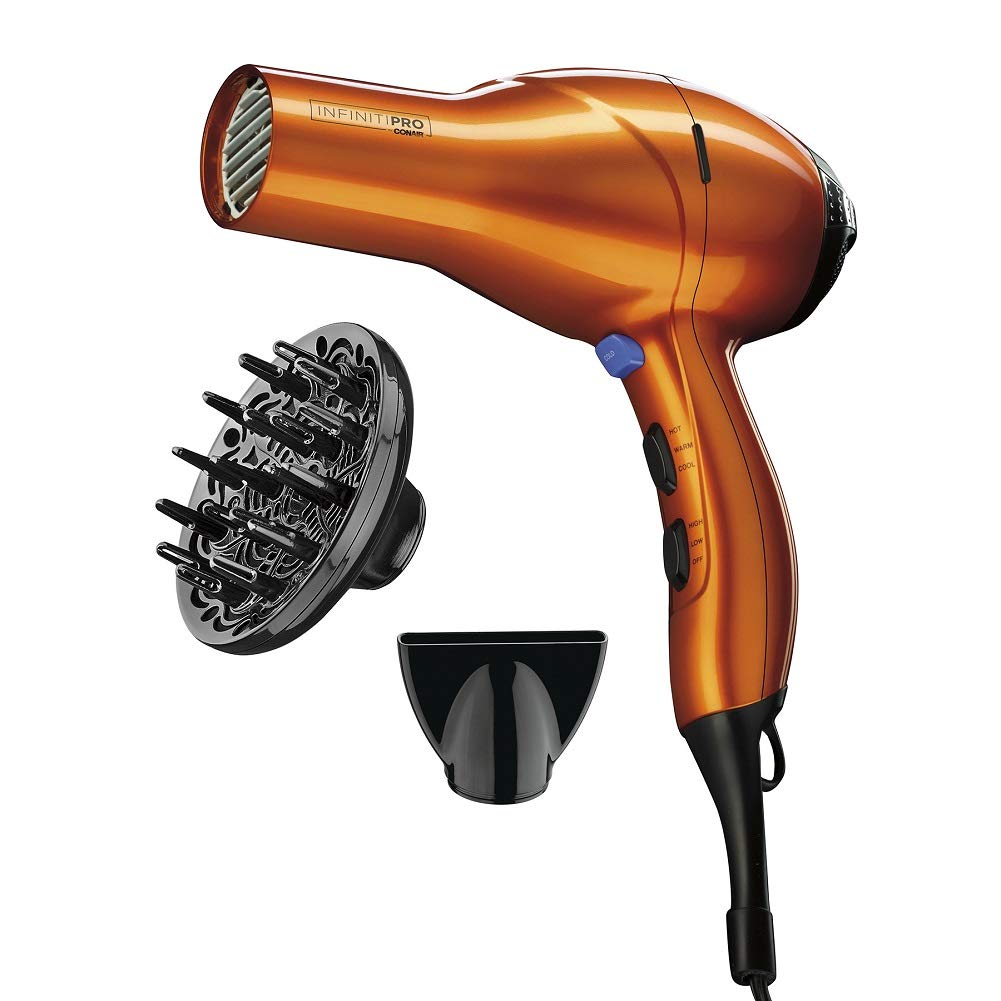 Tourmaline and ceramic materials combine with ionic technology and a concentrator attachment to give you everything you need to sleek those flyaways for shiny, healthy hair.
$32.00 from Conair.com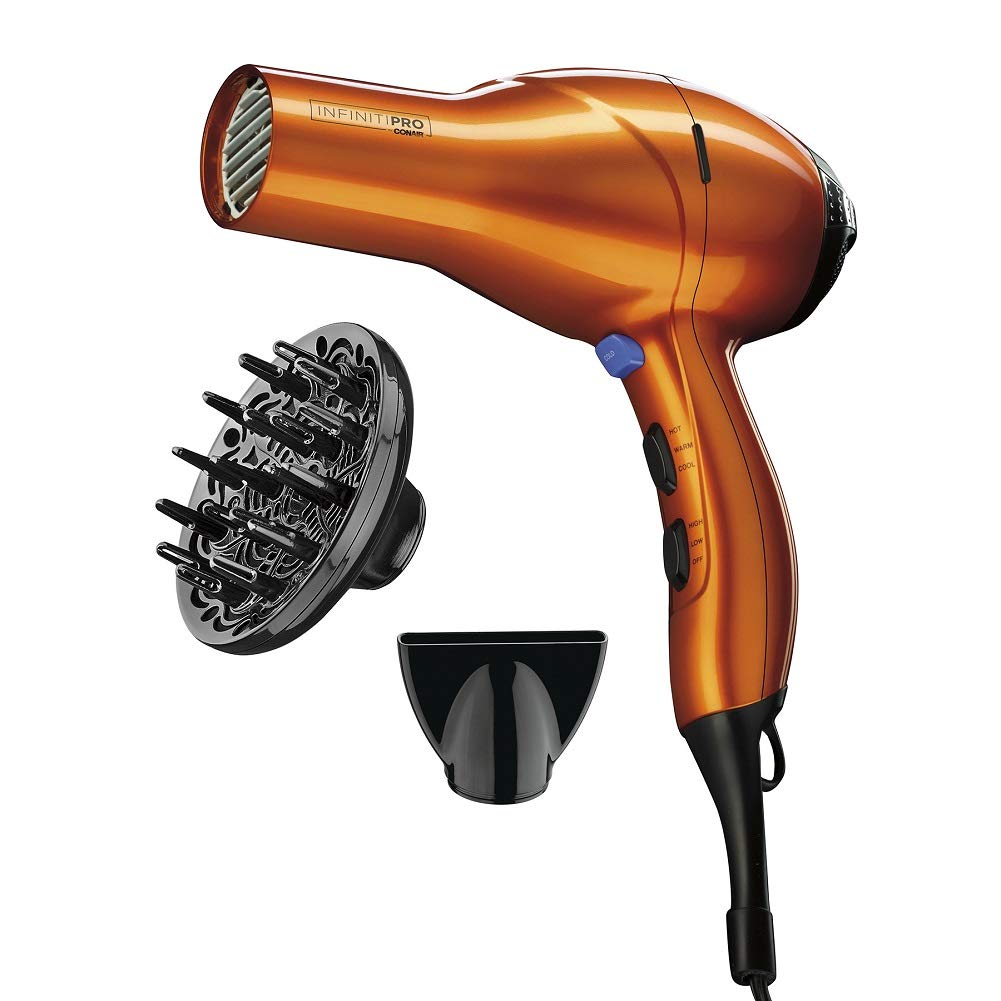 Top Pick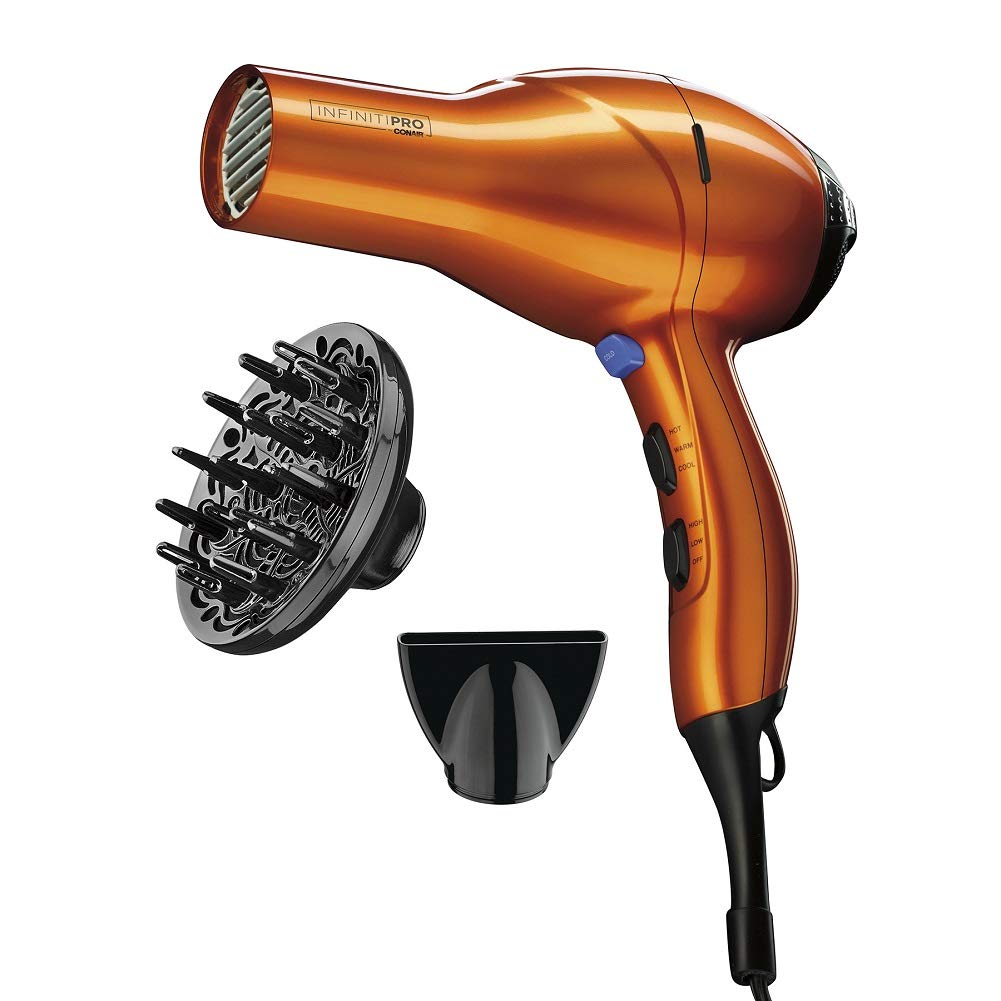 Best Hair Dryer Overall
Uniform heat from tourmaline ceramic design
Ionic technology works with tourmaline to maximize the release of negative ions and  reduce frizz
Cool shot button locks in style
$32 from Conair.com
The Conair 1875W combines three materials and technologies — ceramic, tourmaline, and ionic — to maximize heat distribution and reduce frizz. Tourmaline, a semi-precious metal, can be ground down and used to make or coat any number of hair dryer components. In this model, both tourmaline and ceramic contribute to quick and even heat distribution.
Tourmaline also releases negative ions that break apart water molecules. The water then sinks more deeply into the hair shaft before it evaporates, leaving behind sleek, shiny hair.
With two speeds and three temperatures, you can adjust it to your hair type and the style you're trying to achieve. To further enhance your styling, the Conair 1875W comes with a concentrator to target and smooth the cuticle. This model does all of that at a highly affordable price.
"After you're done styling, the Conair 1875W has a cool shot button to lock in the hairstyle."
Runner Up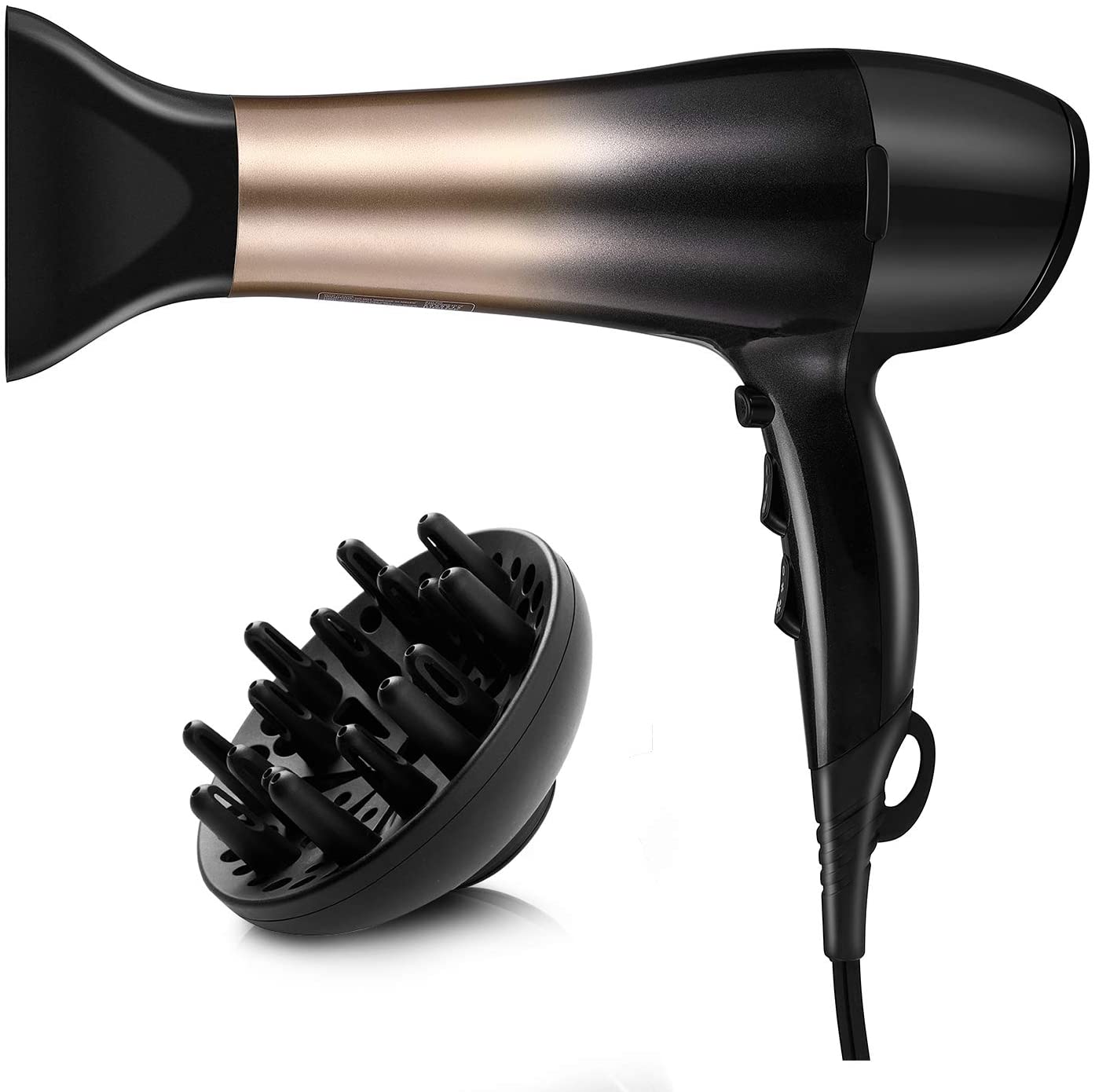 Best Hair Dryer for Curly Hair
Includes both a concentrator and diffuser attachment for greater style variety
Quiet, but powerful motor
Ionic technology cuts down on frizz
$35.06 from Kipozi.com
The KIPOZI takes on drying with the anti-frizz power of ionic technology. And, while this model has powerful airflow, it includes a relatively quiet motor.
The three heat and two power settings allow you to customize the airflow and temperature to your hair type and style. Plus, the KIPOZI comes with both a concentrator and diffuser attachments. Curls stay frizz-free and smooth with the diffuser, while the concentrator adds an extra dose of shine no matter your hair's texture.
Tip: Don't put up your hair until it's completely dry. Hair is naturally more flexible and sensitive when wet and, consequently, more prone to damage if it's pulled or stretched.
Best Lightweight Hair Dryer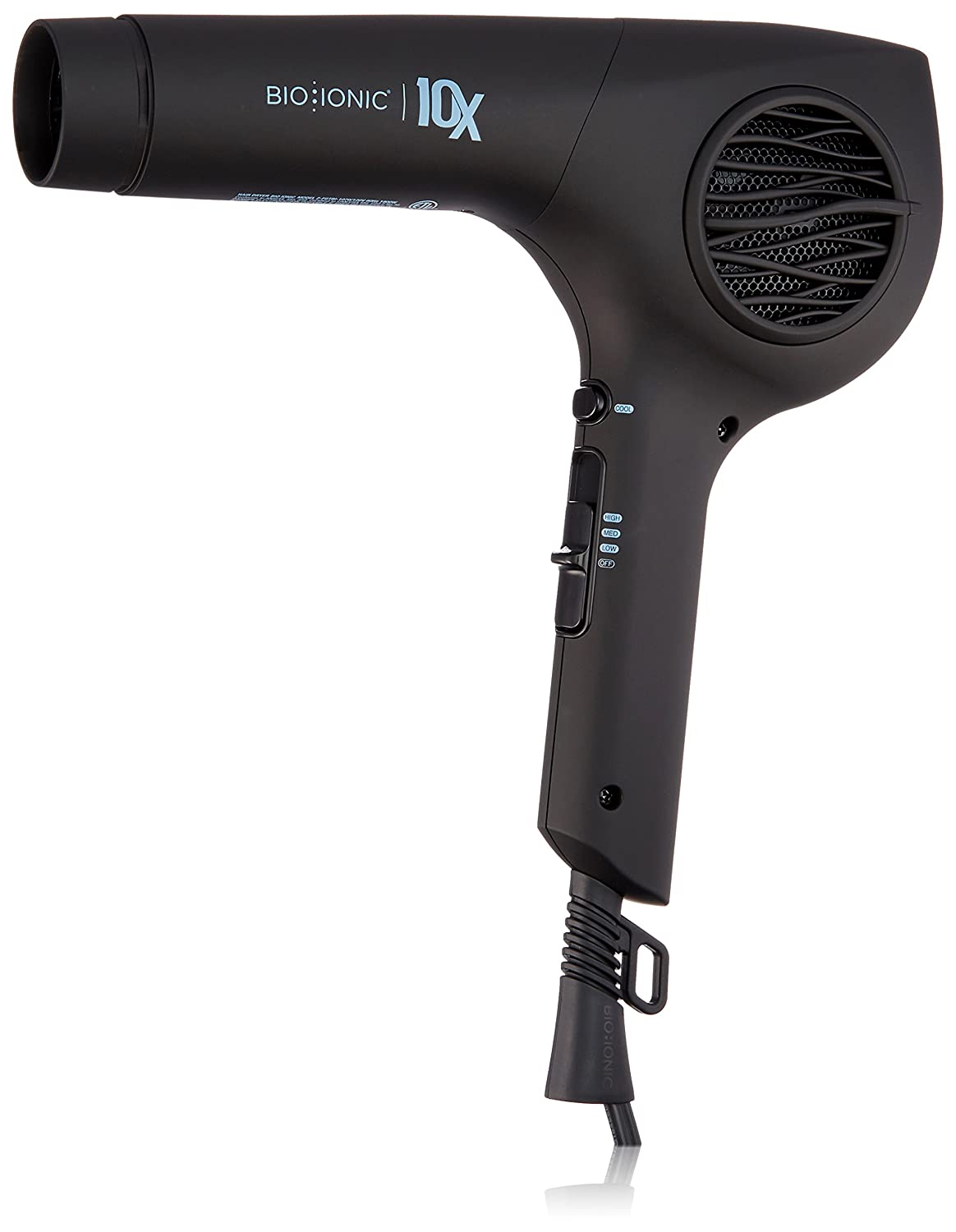 Best Lightweight Hair Dryer
Weighs 1.1 pounds
Unique Volcanic MX design dries hair in 10 minutes or less
Energy-efficient motor uses less power than the average hair dryer
$295 from Sephora.com
You can tell when you look at the 10X Ultralight that this model is different from other hair dryers. It weighs in at only 1.1 pounds, so even if you're low on arm strength, you can manage this household appliance. However, you're not going to have to wield it for long.
A mix of volcanic minerals lines the barrel to help the heat penetrate the hair and shorten drying times to ten minutes or less. These same minerals release negative ions that break down water to tame frizz and flyaways.
The 10X Ultralight has one speed and three heat settings. If you count the cool shot as a heat setting, it actually has four heat settings. Considering how fast this model dries hair, the combination of heat and power works beautifully.
Best Professional Hair Dryer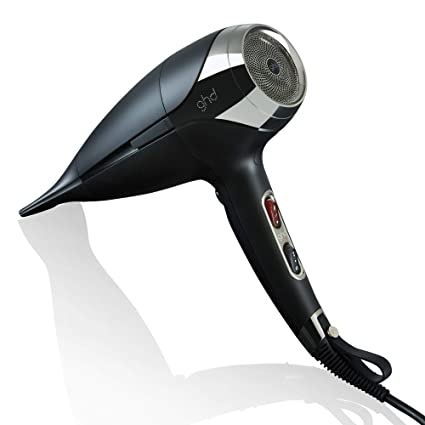 Best Professional Hair Dryer
Streamlined design to maximize airflow
Powerful but minimal noise
Contoured nozzle focuses airflow to reduce frizz
$249 from ghdhair.com
The ghd Helios comes with a high-tech design that maximizes airflow to an impressive 75 mph. ghd calls it their Aeroprecis technology. The interior of the hair dryer funnels the air through a contoured concentrator nozzle, so it comes out hot and fast.
Popular with hairstylists, this model works for fine or frizzy hair with its two heat and speed settings. But it's more than the Helios' functionality that attracts professionals.
The high-quality, brushless motor extends the life of the hair dryer by nearly twice as much as the average model. It may be pricey, but it's built to last.
"The ghd Blow Dryer comes with a 9ft power cord and a bespoke acoustic system to reduce noise."
Best Blow Dryer with Diffuser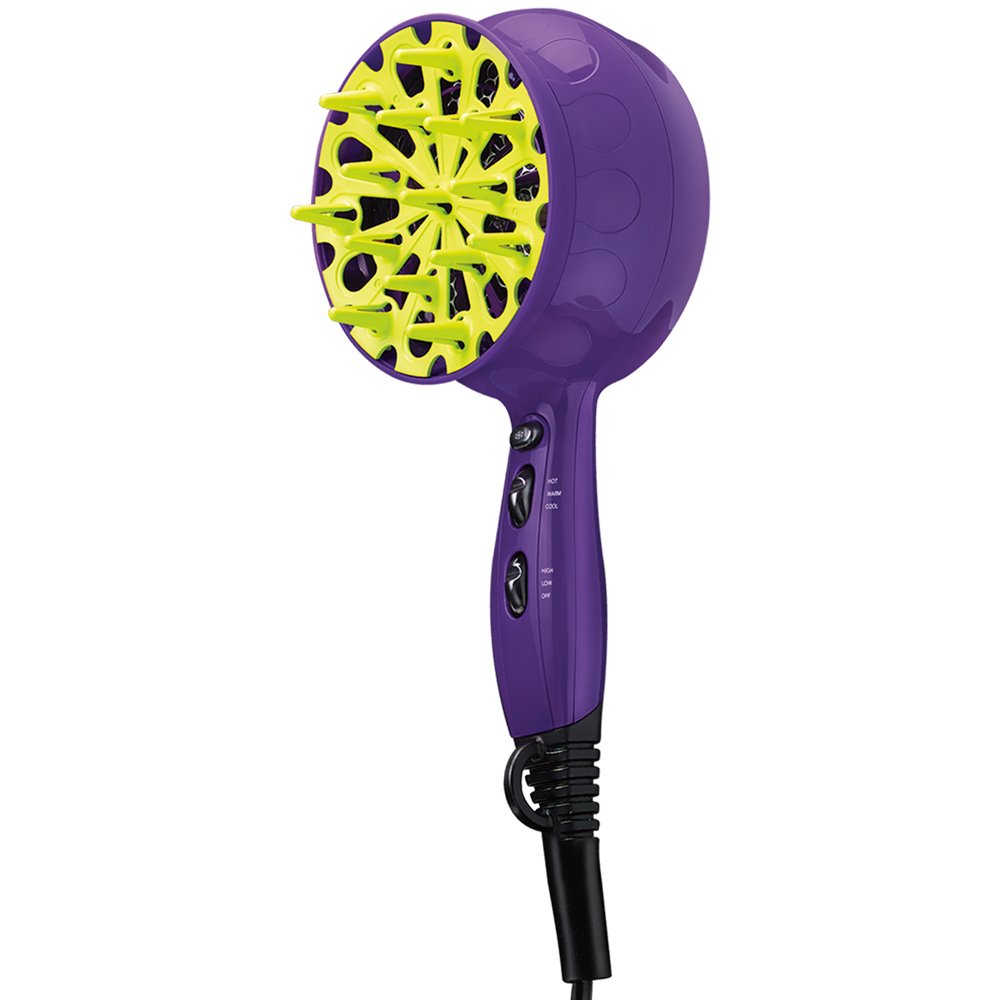 Best Blow Dryer with Diffuser
Unique design amplifies removable diffuser
Large dryer surface to shorten drying times
Tourmaline and ceramic technology emit negative ions, reducing frizz
$35 Bedheadstyling.com
Sometimes you have to think outside the box to find the perfect hair dryer. The Curlipops gets straight to the point by shortening the dryer to focus solely on the diffusion attachment. Diffusers prevent airflow from breaking up curls, which maintains the hair's integrity and reduces frizz.
However, that doesn't mean the Curlipops can't be used without the diffuser. Once removed, you've got a wide hair drying surface that's perfect for thin or thick hair alike. It's also light weight, so you won't tire out creating the perfect style.
Tip: To add volume to your hair, apply a volumizer to the roots before blow-drying.
Best Luxury Blow Dryer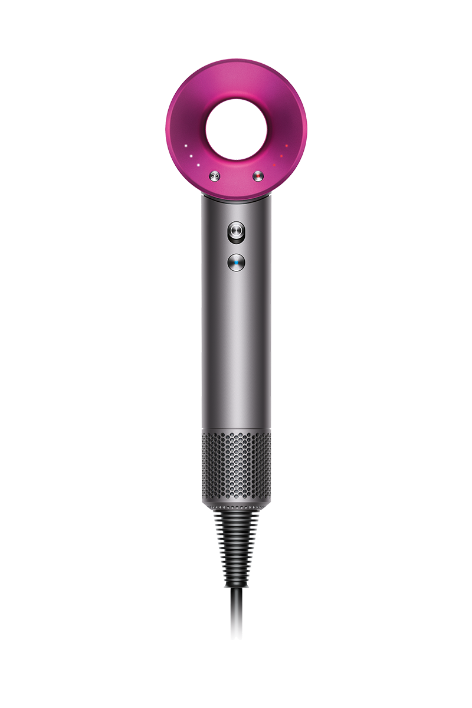 Best Luxury Blow Dryer
Incredibly fast drying without causing heat damage
3 available attachments to create a variety of styles
4 heat settings for more precise heat control based on the hair's texture
$399 from Dyson.com
No matter your hair's texture, the Dyson Supersonic™ has you covered. Four heat settings give you more precise control to protect thin hair, manage long hair, and use the three different speeds to create unique styles. The Dyson gives you the ultimate power to smooth and dry hair quickly and efficiently. Part of that comes from Dyson's intelligent heat control that continuously measures heat to reduce the chances of heat damage.
This luxury hair dryer comes with three magnetic attachments — a smoothing nozzle, styling concentrator, and diffuser. Reach deep into your curls with the diffuser, or style your hair in sections with the smoothing nozzle. This model is for those who know how to work their hair for salon perfect precision and styling at home.
Types of Hair Dryers
We've listed the five most common hair dryer types. However, there's some crossover between them. For example, an ionic hair dryer can also be ceramic and/or tourmaline. You'll have to decide the combination for you based on your hair type and styling needs.
Infrared
Ionic Infrared hair dryers have infrared heat created by ceramic, tourmaline, or both. Infrared heat penetrates the hair shaft, drying it from the inside out. Because it penetrates the hair, it dries the hair at a comparatively lower temperature than conventional heat. Consequently, it's a gentler heat that's less likely to damage the hair.
 Ionic
Ionic hair dryers create an electromagnetic field that releases negative ions. Negative ions break up water molecules into smaller parts that soak into the hair and evaporate faster, leaving behind sleek, smooth locks.

Ionic hair dryers can be used on any hair type. However, because they leave the hair more moisturized than other designs, they can leave fine or thin hair lifeless and limp. The best ionic hair dryers allow you to turn off the ionic elements when needed. These models give you an ionic boost yet provide a way to pump up the volume, too.

Ceramic
Hair dryers may contain ceramic in the body, heating element, or as a coating on various components. It can be combined with tourmaline, titanium, and other materials in the hair dryer's body. Ceramic creates infrared heat to better penetrate the hair shaft and shorten drying times.Ceramic hair dryers heat quickly and evenly, so you get better control from the moment you flip on the switch.
Tourmaline
Tourmaline is actually a semi-precious mineral that can be used to make hair dryer components or crushed and used to coat components. Depending on how much tourmaline the hair dryer has, it can be pricey.

The reason it's used — ions and heat distribution. Tourmaline produces negative ions that break down water molecules for faster yet moisturized drying. It also evenly spreads heat.

Titanium
Titanium hair dryers heat fast, evenly distribute heat, and weigh less than other materials. The combination of power and heat distribution shortens drying times. However, titanium heats so quickly that it can damage the hair. Consequently, it works best for thick rather than fine or damage-prone hair.
Best Hair Dryer Features to Consider
Heat Settings
You need at least two heat settings, but three or four give you better control over styling. Take into account your hair type. Thin, fine hair needs low heat settings, while thick hair may need high heat to dry quickly.
Cool Shot
Heat makes hair soft and supple. But once you've styled your hair, you need it to stay in place. That's where a cool shot comes in. A cool shot button blasts the hair with cool air to maintain its shape.
Attachments
Some hair dryers come with attachments, while others require you to purchase them separately. Diffusers and concentrators are the main two. Diffusers spread the air and heat, so it surrounds curls and preserves their structure. Concentrators focus the air for straightening and smoothing.
Ionic Control
Ionic hair dryers are incredibly effective. However, there may be times you don't want those extra ions, like when you need a boost of volume. Look for a model that allows you to turn the ions on/off based on your style.
Size and Weight
Drying your hair can be exhausting for the shoulders, arms, and back. Lightweight models can weigh around one pound, saving your arms from fatigue.

As far as size, base the hair dryer size on your storage space. Of course, if you want the ultimate in compact, opt for a foldable travel hair dryer. These models don't have all of the features of a full-size dryer, but they're perfect for road trips.

Cord Length
When you're juggling a hair dryer and round brush while trying to check the back of your hair, your bathroom turns into a balancing act. A hair dryer with a long cord gives you extra space and allows you to maneuver. You need at least five feet, but some of the longest cords are up to nine.
Hair Dryers and Hair Type
Your hair type plays a pivotal role in the type of hair dryer that will work best for you. Thick curly hair has different needs than thin, short hair, for example.
Thin hair: Most people with thin hair try to add volume while drying. If your hair is thin, the trick is to find a hair dryer that doesn't get too hot and cause damage. Yet, a lengthy drying process can evaporate moisture and leave the hair dry and brittle, too. Ceramic hair dryers with their even heat distribution are a great option for thin hair. Those with controllable ion technology are even better because you can either add volume or moisturize as needed.
Thick hair: Thick hair takes longer to dry. Models with ion technology that breaks up water molecules and shortens drying times are at the top of the list for this hair type. Thick hair also benefits from ceramic's infrared heat that penetrates the hair shaft.
Curly hair: Curly hair needs moisture for frizz control. That puts ion technology and a diffuser at the top of the list. You also want something that evenly distributes heat like ceramic and tourmaline.
Fine hair: Fine hair gets damaged more easily. Look for a hair dryer with multiple heat settings, so you can make adjustments to prevent breakage. Ceramic and tourmaline models with low heat settings are excellent options. While everyone can benefit from less frizz, it can leave fine hair limp and lifeless, so skip the ion technology or make sure you get a model that lets you turn it off.
Frequently Asked Questions
Is a ceramic or ionic hair dryer best?
The answer to this question depends on your hair type. Thin or fine hair benefit from a ceramic hair dryer because it heats quickly and creates even heat distribution. However, an ionic model zaps these hair types of much-needed volume.
On the other hand, someone with thick curly hair can definitely appreciate the smoothing properties of ion technology. If your main goal is to tame flyaways and maintain curl definition, ion technology is a better bet. For the best of both worlds, look for a ceramic model with controllable ion technology.
Are expensive hair dryers that much better than inexpensive models?
Some hair dryers are a beauty investment. Depending on your hair type, personal style, and preferred hair care routine, a high-end hair dryer might be a worthy investment. High-end models may have more powerful motors, higher tourmaline or ceramic content, and provide more heat settings. These hairdryers make a good investment for those devoted to their hair health and beauty routine. Expensive models are also beneficial if you know your way around hair care products.
For those who aren't as devoted to their hair and just want to avoid end of the day frizzies, there are many inexpensive models with just enough tourmaline and ceramic content that do an excellent job of drying hair quickly while reducing flyaways.
What should I look for when buying a hair dryer?
There are a few things everyone should look for, like at least two heat and speed settings and a cool shot to lock in your style when you're done. Beyond that, many of the other features depend on your hair type and style needs. Ceramic and tourmaline provide quick, sleek results for any hair type. If reducing frizz is at the top of your list, ion technology will make a big difference. Last, look at weight and cord length. Lightweight models save your shoulders, and a long cord gives you more room to maneuver.
Final Advice
The right hair dryer can enhance the look of your hair and shorten the time it takes for you to get ready for the day. Know your hair type and shop for a hair dryer with the right materials and features to help you achieve your beauty goals.