Hair straighteners have become a foundational tool in many people's beauty arsenal. Of course, they straighten hair, but these styling tools can add waves and curls, too. Curly hair, straight hair, and other hair types put different demands on their straighteners. The flat iron's heat settings, plate type and size, as well as the extra boosts like ion technology all make a difference in how well it will work on your hair.
We looked for hair straighteners that leave hair sleek and shiny after a single pass. We also considered how the straightener's features affected coarse or fine hair along with heat distribution and consistency across the plates. There are some excellent models on the market, but the trick is finding the right one for you. We've included our top five picks and a shopping guide to lead you to the perfect hair straightener.
5 Best Hair Straighteners of 2022
Best Hair Straightener Overall:
This straightener's titanium-coated ceramic plates quickly heat and release infrared heat that sinks deep into the hair shaft. Penetrating heat reduces the time it takes to straighten hair and causes less damage, so the hair stays looking healthy and sleek.
$140 from Crocusa.com
Best Hair Straightener Overall
Best Hair Straightener Overall:
Quick, even heating with titanium-coated ceramic plates
17 heat settings
40-minute automatic shut off
$140 from Crocusa.com
The Croc Classic has an excellent mix of technologies. Titanium-coated ceramic plates have the quick, even heating of both ceramic and titanium. Ceramic also produces infrared heat that penetrates the hair shaft, heating it from the inside out. That means less time spent with heat on your hair, which reduces damage.
Seventeen heat settings that range from 280 to 450 degrees Fahrenheit give you plenty of options based on your hair type. Whether you're on low or high heat settings, there's even heating across the full 1.5-inch plate surface. As far as safety goes, the Croc Classic has you covered with a 40-minute automatic shut off feature.
Tip: The Croc Classic's even, fast heating usually takes a single pass to straighten most hair types. However, you may need to find the right heat setting for your hair before one pass does the trick.
Best Hair Straightener for Fine Hair
Best Hair Straightener for Fine Hair:
Natural minerals coat the heat plates to moisturize as it straightens
Silicone speed strips prevent tugging on the hair
Heat settings ranging from 240 to 400 degrees
$199 from QVC.com
The Bio Ionic's moisturized heat sinks deep into the hair shaft, straightening hair at lower temperatures. A special blend of minerals conducts heat while reflecting moisture back into the hair as it straightens. The extra moisture leaves a smooth, sleek look.
Silicone speed strips help the hair slide through the plates without snagging or tugging for a gentler straightening experience. This model comes with a low temperature of 240 degrees Fahrenheit and a high temperature of 400 degrees Fahrenheit. It's not the hottest straightener on the market, but the way it utilizes moisture makes it more effective than other models even if they're on higher heat settings.
Tip: Wait until the hair straightener has reached temperature before touching your hair. If you start to use it before it's fully heated, it takes longer to heat.
Best Hair Straightening Brush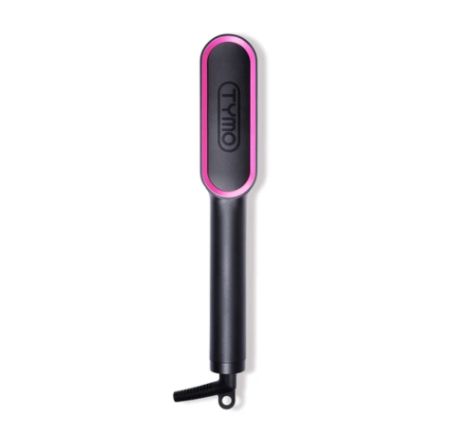 Best Hair Straightening Brush:
5 heat settings for multiple hair types
Fast, 60-second heating
Combs the hair as it straightens
$59.99 from TYMO
For those who prefer to do two things at once, the TYMO RING might be for you. This straightener combines the grooming features of a brush with the heating element of a hair straightener.
Five heat settings provide different options based on your hair type. For example, thick wavy hair may need the full 410-degree maximum heat, while fine hair may straighten at the low of 266 degrees. There's no waiting around with this straightener. It reaches temperature in a quick 60 seconds, so it's a great option for those who style on the run. Please note that this brush isn't designed for use as a hairdryer. It's meant for use on dry hair only.
Tip: Tip: Product build-up requires that hair straighteners be cleaned occasionally. Start by heating the straightening iron to loosen any product. Unplug the straighter, and wipe off debris with a soft, damp cloth. If that doesn't work, you may need a professional cleaner, rubbing alcohol, or nail polish remover to remove all of the build-up.
Best Hair Straightener to Curl Hair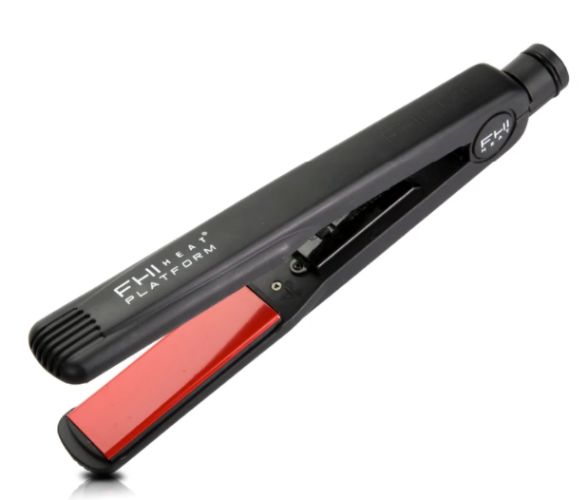 Best Hair Straightener to Curl Hair:
Ion technology smooths the hair as it straightens
Floating plates for better control at any angle
Long, professional length 12-foot swivel cord
$140 from FHIheat.com
FHI's tourmaline-coated ceramic technology plates combine technologies for sleek hair. The ceramic interior heats quickly and evenly, while the tourmaline produces negative ions that smooth the hair cuticle. The results are smooth hair with a single pass, even on thick, curly hair.
The floating plates adjust to your grip angle, so the hair always stays in contact with the plates as you create a straight style, beachy waves, or structured curls. An automatic 60-minute shut off turns off the straightener in case you forget. Finally, you can get your hair from every angle with this straightener due to the professional length, 12-foot power cord. Move around the room, check from behind, or twist and turn to your heart's desire because you'll have enough cord to do it.
Tip: Apply a heat protection product to your hair before straightening to prevent heat damage. Never iron wet hair.
Best Luxury Hair Straightener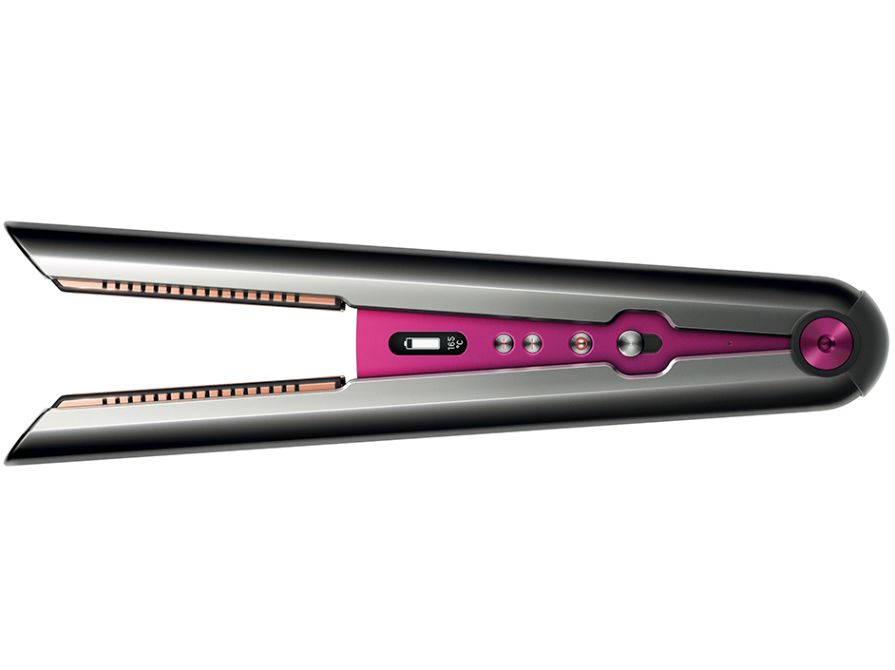 Best Luxury Hair Straightener:
Flexing plates that mold to the hair's shape between the plates
30-minutes of cord-free use
Integrated sensor system prevents the temperature from rising above designed setting
$499 from Dyson.com
Dyson does everything with more style, power, and design, but you pay for it. The Corrale's unique manganese, copper flexing plates mold to the shape of the hair section as it passes through the plates. That reduces cool or hot spots and comfortably holds the hair through the entire pass. It's especially helpful for even heat coverage with thick hair, which more easily bunches in the straightener.
An integrated sensor system continually monitors the temperature to keep it regulated throughout every pass, so the plates don't overheat or cool while you're using it. There's no cord to wrestle, and you've got a full 30 minutes before you need to recharge. To extend the use time, place the Corrale in the charging station in between straightening sections.
Tip: Dual voltage hair straighteners can be used in either the United States or Europe, though most are single voltage.
Common Types of Hair Straighteners
| | |
| --- | --- |
| Ceramic | Tourmaline |
| Ceramic flat irons are the most common and affordable models on the market. Ceramic's consistent heat evenly spreads across the heat plates. It's so effective at holding and dispersing heat that it's often used as the center of tourmaline or titanium-coated plates. However, it wears out faster than either tourmaline or titanium. | Tourmaline is a mineral compound that releases negative ions. Negative ions neutralize positive ions found on the hair shaft, which smooths and seals the hair cuticle. While tourmaline plates are more expensive than ceramic, they're a great option for curly or frizzy hair because they tame flyaways. |
| Titanium | |
| Lightweight titanium can be used to make the flat iron plates or used to coat the plates. Titanium heats incredibly fast, so titanium plates are often a favorite for people with coarse or thick hair. People with fine hair need to be careful with titanium because it's easier to burn the hair within the first few passes. | |
Hair Iron Features to Consider
Plate Width and Length
Plate sizes vary in width from .5 to 2 inches. Narrow plates work best for short hair like pixie cuts. A narrower plate provides easier control and access to the hair's root. Longer, thicker, and coarser hair does better with wide plates. The wide plates stay in contact with more hair for longer, speeding up the straightening process. However, they can make it tough to reach close to the roots.
As far as length, longer plates contact more hair at once. Extra-long plates are best for thick, curly hair.
Plate Material
Materials make all the difference in the ability to create beautiful styles and maintain healthier hair. The main plate materials are ceramic, titanium, and tourmaline. However, ceramic plates are often coated in tourmaline to add their ionic technology into the mix.
Pick a material that's within your budget (ceramic straighteners are usually the most economical) and that has qualities that accommodate your hair texture and type. For example, tourmaline releases negative ions that smooth the hair cuticle, making it ideal for coarse or frizzy hair.
Heat Settings
The best hair straighteners offer multiple heat settings for precise temperature control. The highest setting for most flat irons is 450-degrees Fahrenheit and minimum heat around 240 to 260-degrees Fahrenheit. Models with a greater temperature range give you more control over styling and protecting your hair from damage.
Some models offer variable heat control, while others may only have five or six heat settings. In general, it's best to start at the lowest possible heat and slowly work your way to higher settings until you find a temperature that works for your hair.
Power Source
The vast majority of hair straighteners are electric with an electrical cord that ranges from seven to twelve feet in length. Swivel cords offer better mobility and prevent damaging twists and kinks in the cord.
Battery-powered straighteners offer the benefit of maneuvering the straightener without getting tangled in the cord. However, rechargeable models have a limited battery life of 15 to 30 minutes. Disposable batteries are used in some travel straighteners, but these models usually don't reach very high temperatures.
Additional Technologies
Infrared technology, anti-static coatings, and ionic technology are the three most common technologies found in flat irons. Infrared heat penetrates the hair shaft, heating it from the inside out. It speeds through the straightening process, so you spend less time fixing your hair. However, it must be used carefully, especially if you have fine hair that's easily damaged.
Anti-static technology moisturizes as it straightens to reduce flyaways, leaving hair frizz-free.
Ionic technology releases negative ions that bond with positive ions on the hair's shaft, which smoothes the cuticle. It often helps soften and smooth hair faster.
Control Type and Display
Manual dials and power indicator lights make hair styling simple and easy. However, today's manufacturers incorporate the latest in digital displays with bright LCD screens. These models typically show precise temperature readings, whereas manual dials often only show the heat level but not the temperature in degrees.
Know Your Hair Type and Style
Everyone's hair is unique. That means there's no one hair straightener or hair iron that will work for everyone. We've put together some special considerations based on certain hair types.
Fine
Coarse and/or Curly
It takes less heat to straighten fine hair, making it particularly susceptible to heat damage. Hair straighteners with several different heat settings, including one that's around a low 240 to 260 degrees often works well. Start on the lowest setting and slowly work your way up to the mildest heat setting that successfully straightens the hair.
Coarse and curly hair tend to have thicker shafts that respond well to the penetration of infrared heat and smoothing technologies offered by tourmaline. Higher temperatures also tend to work better. Use a heat protection product before straightening because of the high temperatures necessary to tame unruly hair.
Thick
Short
Thick hair, by its mass alone, poses a styling challenge. Long, wide plates help capture and tame as much hair as possible. Flexible plates, like those found on the Dyson hair straightener, can also help control thick hair because the plates curve around the hair as it straightens. Thicker hair also responds well to the quick, high temperatures reached by titanium models.
Thick hair can be fine or coarse, so you'll still need to adjust the temperature to find the setting that maintains the health of your hair.
Short hair can be just as easily damaged as long hair, so start on the lowest heat setting possible. Short hair may be difficult to capture in a flat iron with wide plates. Narrow .5 to 1-inch plates better reach to the hair's root, offering improved styling control.
Frequently Asked Questions
Can you straighten your hair when it's still wet?
While you can use a straightener while your hair is still wet, it's not recommended. There are even straighteners designed to take your hair from wet to dry, but the chance of damaging your hair goes up significantly. The hair can actually steam and sizzle, causing it to split and crack. Completely dry your hair, and apply a heat-protective product to the hair before straightening to reduce damage.
Can you curl your hair with a flat iron?
Flat irons curl with excellent results. Depending on the technique, you can create slide waves, "S" waves, or wrap waves. You'll have to do a little research and practice to find a technique and style that work for you. But, many people find that curls created with a flat iron last longer and produce glossy hair.
What is the healthiest hair straightener?
By default, the healthiest hair straightener will be the one that allows you to straighten your hair at the lowest possible temperature. The healthiest hair straightener will depend on your hair type and texture. For someone with thick curly hair, that will be a different model than someone with thin, fine hair. Make sure the hair straightener has an adjustable temperature so you can find the perfect setting for you.
Final Advice
The right hair straightener can cut minutes off of the time it takes you to get ready each day. It can also open the door to different techniques and styles. Start your search by considering those qualities that make your hair unique — the texture, thickness, and cut. They'll guide you to the right technologies. From there, you'll want a wide range of temperature settings, swivel cord that gives you freedom of movement, and plates in the right width and length. You can find models in every price range, so no matter your hair type, there's a hair straightener to give you the lustrous hair you have always wanted.