Anyone who spends all day at their desk knows the shoulder, neck, and back pain that comes from too much sitting. As such, standing desks have become a new standard in work stations, home offices, and CEO offices. The best standing desks come in adjustable height desks for multiple users, converters that transform an existing desk, and high-quality electric models with up to two motors for easier (and quieter) height adjustments.
These adjustable desks battle sedentary lifestyles, relieve back pain, and give you more comfortable work options. We reviewed seven of the best standing desks on the market. These models offer a variety of styles and work space options with exceptional quality in their manufacturing and durability. Our shopping guide will help you decide which features you need and what type of standing desk will work best for you.
7 Best Standing Desks of 2023
Best Standing Desk Overall: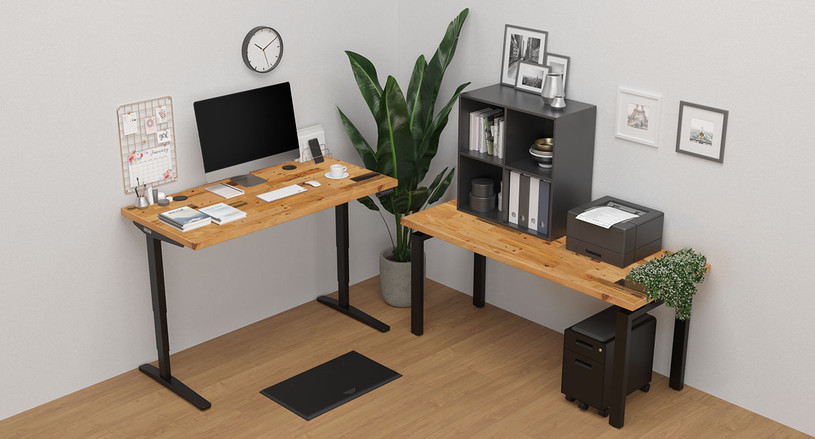 The Uplift standing desk motors through heights ranging from 25.3 to 50.9 inches, ergonomically fitting people up to 6'1" tall. Easy controls, multiple desktop options (from laminate to solid wood), and a quiet motor make this one of the top standing desks available.
$599 from Upliftdesk.com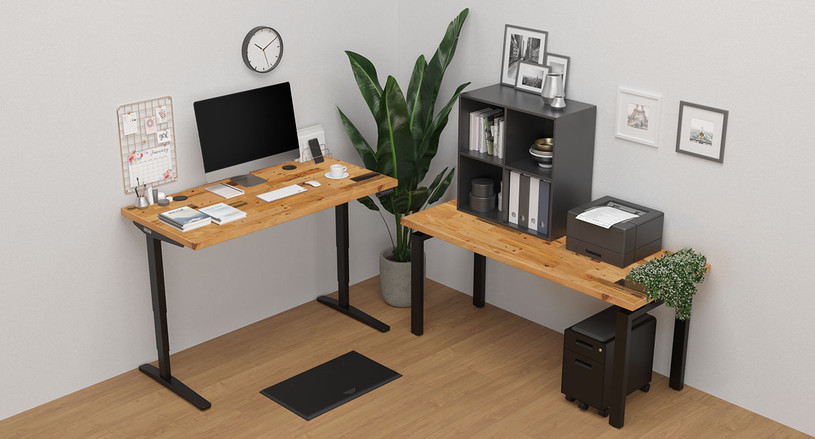 Best Standing Desk Overall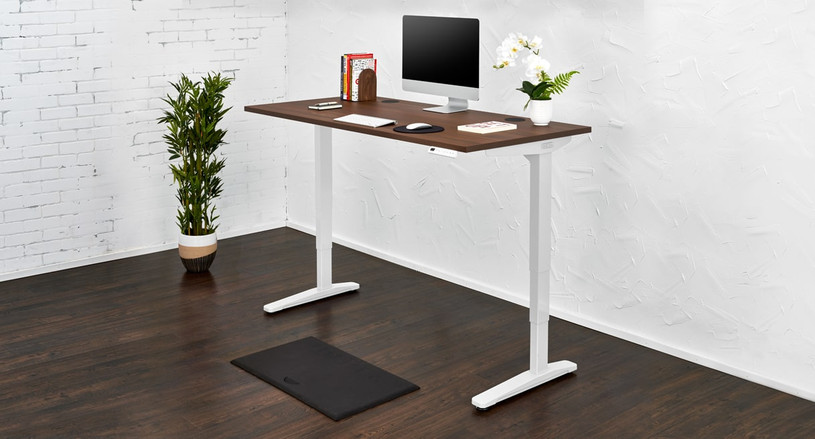 Best Standing Desk Overall:
Can be used as a sitting or standing desk
Moves 33% percent faster than similar adjustable standing desks
25.3-inch to 50.9-inch height adjustment range
Maximum weight capacity: 355 pounds
$599 from Upliftdesk.com
The Uplift v2 standing desk is the best overall standing desk pick due its sturdy construction, adjustability, and sleek look. This sit/stand desk has a dual motor lifting system, one in each leg, that provides a 25.5-inch height adjustment range that works for people from 5'4″ to 6'9″ tall. The width of the desk is also adjustable: The frame expands to fit desktops 42 to 80 inches wide, so you'll have more than enough room for all your work-from-home gear.
This Uplift desk is fully customizable. You can choose from more than 200 desktop options, from a simple white laminate to a thick walnut solid wood surface, 400 desktop accessories and four frame colors. It also has a patented accessory mounting system that lets you attach weight-bearing items like an under desk hammock so you can sneak away for a nap on your lunch break. Note: The price does go up if you upgrade any of the features.
Tip: Sitting or standing for too long can be hard on your back. An adjustable standing desk or standing desk converter gives you the option of sitting or standing based on how you feel and the work you're doing.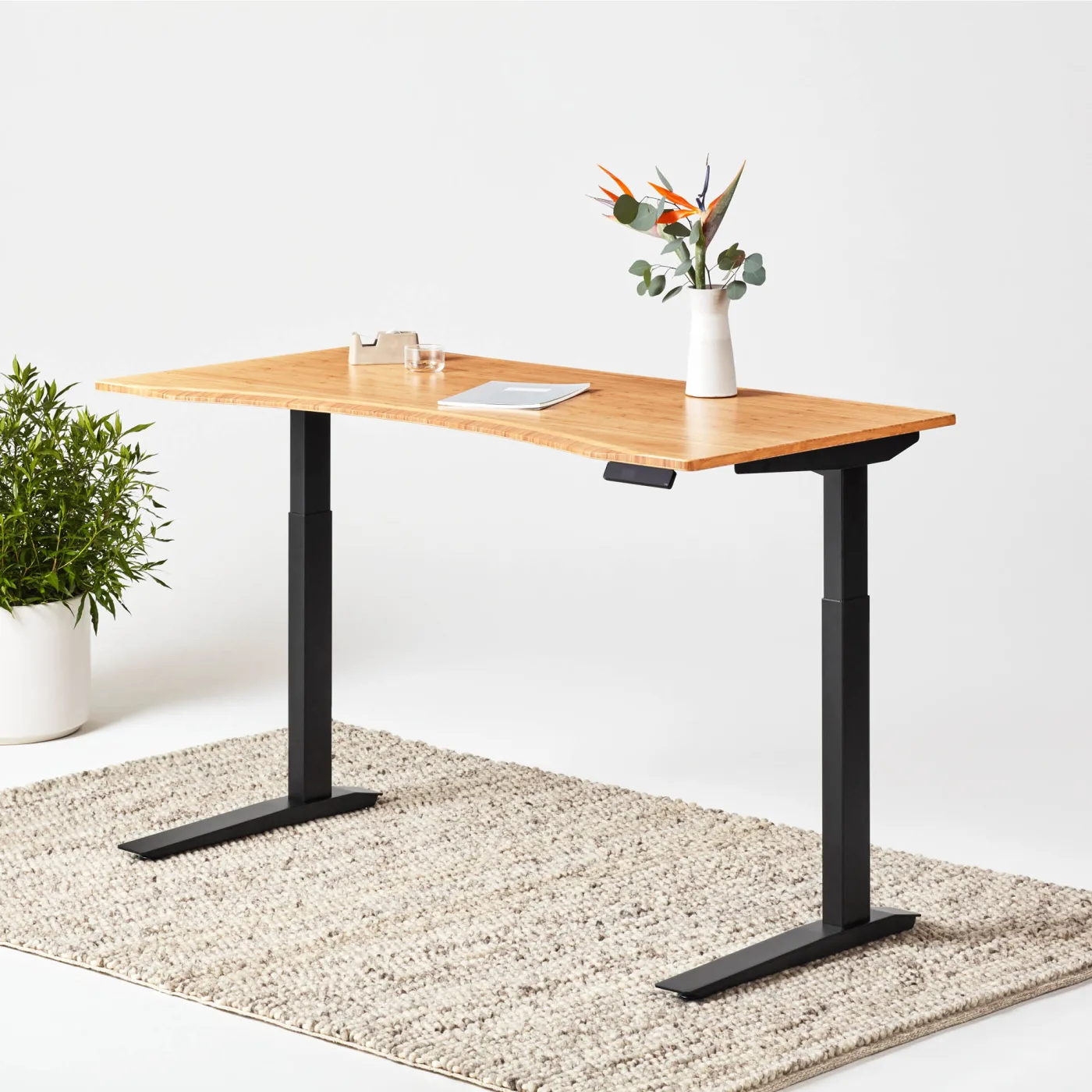 Best Customizable Standing Desk:
Top is made of solid wood
Comes in three height range options
Can add various accessories, drawers, and lights
Maximum weight capacity: 350 pounds
$599 from Fully Jarvis
The Fully Jarvis Bamboo Desk is a premium standing desk that allows for several customizations. You can choose your top size—they range from 30 by 24 inches to 72 by 30 inches—as well as the shape, frame color, and height range. There are three standing height options that range from 43.2 inches to 49.3 inches and can accommodate most people.
The Fully Jarvis desk also has optional accessory options, like a standard up/down switch or a programmable one, cable management trays, desk casters, hooks, integrated drawers, lights, and even a bottle opener. You can add monitor arms and laptop stands, as well as unattached accessories like a standing mat. Of course, there's an extra cost for these upgrades, but you can really turn this desk into your personalized standing workstation.
Best Portable Standing Desk
Best Portable Standing Desk:
Durable but classy unfinished bamboo
4 heights: 9, 12, 14, and 16 inches
3 pieces fold down for easy portability
Maximum weight capacity: N/A
$89 from Standstand.com
As more and more people work from home, they're looking for ways to add an affordable standing desk to their workspace. The StandStand's beautiful, unfinished bamboo solid wood construction looks amazing in a home office, coffee shop, or while on the road. Three interlocking panels combine for a sturdy work surface but break down for easy portability. Bamboo makes the perfect material because it's durable and sustainable. Because of its design, it's also easy to stash in your desk or backpack when you need a change.
The StandStand comes in four heights — 9, 12, 14, and 16 inches. The right height depends on the height of the user. With the right one, the StandStand should be at an ergonomic-supportive height. Don't have to worry about lugging around another piece of equipment because the StandStand ranges from 1.6 to 2.8 pounds, which is light enough to take in a briefcase or backpack.
Tip: The StandStand is designed to hold a laptop only. The company also offers a larger StandStand Grand with multiple levels and a more permanent configuration.
Best L-Shaped Standing Desk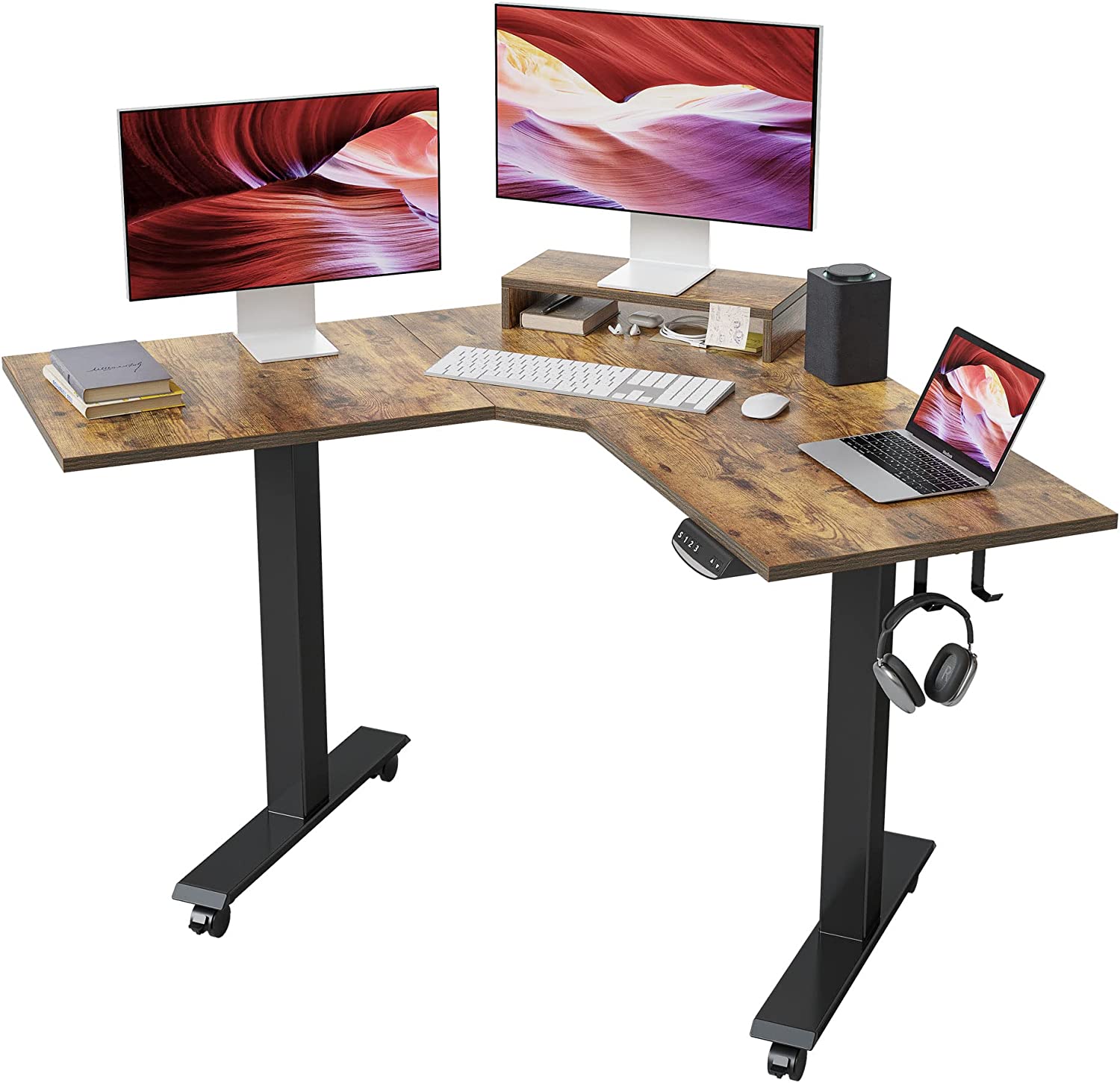 Best L-Shaped Standing Desk:
Adjusts from 27.6 inches to 47.3 inches
Comes with a wooden riser
Sit stand desk design
Maximum weight capacity: 176 pounds
$284 from Amazon
If you need more space to spread out, this Fezibo L-shaped desk provides plenty of desk space for a printer, scanner, and files. The desk surface works as a sitting or standing desk that adjusts from 27.6 to 47.3 inches, and it has three memory presets that allow you to save your favorite heights so you can easily return to them with the push of a button.
Unlike other standing desks, it also comes with a wooden stand that can be used as a laptop stand or storage shelf. This standing desk has a sturdy steel frame, but the weight capacity is a bit lower than others. However, it can safely support up to 176 pounds which should be plenty for your office necessities.
Tip: Standing burns more calories than sitting, which is why a sedentary lifestyle is often associated with obesity. Standing desks work the heart and muscles in a way that keeps you fit and healthy.
Best Hand Crank Standing Desk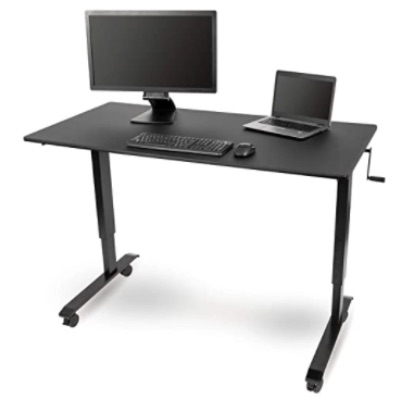 Best Hand Crank Standing Desk:
Adjusts from 32 to 48.5 inches in height (sit stand desk design)
6 color combinations and 3 widths
Rolling base with locking casters
Maximum weight capacity: 154 pounds
$419 from Amazon.com
The manual S Stand Up Desk cranks through height transitions quickly and quietly, saving you money on an expensive electric model. The crank can be placed on the right, left, or front to accommodate walls and other office furniture. You have plenty of options with six colors and color combinations and three widths to customize this affordable desk to your workspace.
Locking casters allow you to move the S Stand Up Desk or adjust it as needed, so you're never stuck with a height or position that doesn't work for you. A sturdy steel frame supports the desk, which can hold up to 154 pounds. The manufacturer offers a number of additional accessories that can be purchased separately, like a sliding pencil drawer, desk dividers, and a sit-to-stand desk chair.
Best Mobile Standing Desk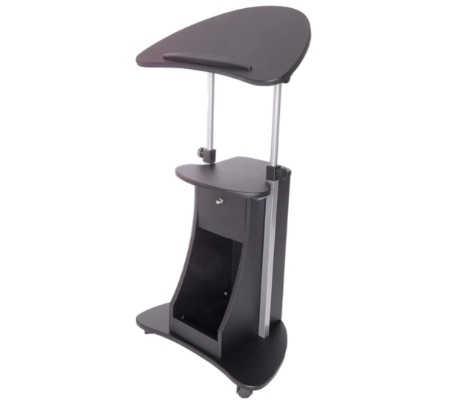 Best Mobile Standing Desk:
Wheeled base smoothly glides
Offers storage space
Adjustable height desk riser
Maximum weight capacity: 22 pounds
$70 from Amazon.com
Dental and doctor offices often need mobile standing desks, and the Techni Mobili fits the bill to a tee. It's small enough to fit in a corner with the mobility to move throughout the room or from room to room. All that mobility wouldn't be as useful if it weren't for the brakes that hold it in place once you get to your destination.
The height-adjustable desk riser offers a range of adjustments, including the laptop platform's height and tilt angle. This model also comes with much-needed storage space with a small drawer and open cupboard space. Keep in mind the weight capacity isn't as high as other desks so this won't work for a full office setup, but it's an excellent portable option.
Tip: The Techni Mobili adjusts between 31.5 to 45.5 inches, which also makes it usable as a sitting desk if needed.
Best Treadmill Standing Desk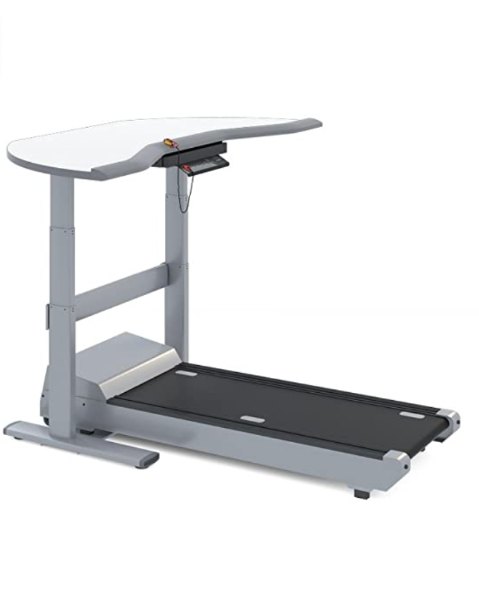 Best Treadmill Standing Desk:
Digital display console that shows distance, time, calories burned, and speed
Dual motors to control the treadmill and desk height
Monitor mount options for optimal viewing
Maximum weight capacity: N/A
$4566 from Amazon
The Steelcase Walkstation is a premium treadmill standing desk that adds exercise to a busy workday. A walking-speed motor with a maximum speed of 2.0 mph quietly lets you burn calories and strengthen muscles while you work. The steel frame and sturdy desk support the monitor, keyboard, and treadmill/desk controls and allow the desk to adjust to different heights. Rubber covers the edge of the desk as a protective aid. The Walkstation also includes a body clip that turns off the treadmill if you fall.
This is the perfect desk for someone who needs to add cardiovascular exercise into a demanding schedule. It keeps the blood pumping but at a safe level that allows work to move forward. The manufacturer makes some additional accessories that are sold separately like a monitor arm, cable management system, and slat rail to mount accessories.
Common Types of Standing Desks
Standing Desk Converter
Fixed Standing Desk

If you already have a desk you love, a standing desk converter, also called a sit-to-stand adapter, is a a great way to make your own budget standing desk. The converter sits on top of your existing desk, where risers lift the converter's platform so you can comfortably stand and type.
Some models have a keyboard tray and storage space, while others only consist of a laptop platform. There are models designed for near-permanent attachment and those that fold down for easy, out of the way storage.
Standing desk converters cost a fraction of full size standing desks, but they use up valuable desk surface area.

Unlike sit stand desks, a fixed standing desk has a set height with no crank or electric motor to change the desk's height. These models are generally less expensive than either a hand crank or an electric standing desk. However, you don't have any way to adjust the desktop so that the monitor is at eye level.
These models have more diverse leg designs because the legs don't have to be adjustable. If you're the right height and like the desk's look, a fixed standing desk can make a great addition to a home or office.

Hand-Cranked Standing Desk
Electric Standing Desk

Physical therapists, doctors, and dentists often have hand-cranked standing desks in their exam rooms. The height of these models adjusts using a manual crank on the front or side of the desk. They're less expensive than an electric standing desk, but typically cost more than a fixed standing desk or converter.
These models are great for homes or offices where multiple people will use the desk. The user can simply adjust the height based on their needs and comfort.
The only downside, manual cranks are loud and can be disruptive in an office setting.

Electric standing desks have one or two electric motors that raise or lower the desktop. The control box is typically on the front or side of the desk, making quick and easy adjustments. These desks are a better alternative in workspaces where noise disrupts co-workers, customers, or the general flow of business.

Some standing desks have pre-programmed memory settings so instead of searching for your ideal height every time, you can save it exactly where you want it and return with the touch of a button.
Electric standing desks are expensive, but the smooth transition to different heights proves invaluable in homes or offices where they're used extensively by multiple people.

Exercise Desk
Corner Desks

These premium-priced, high-quality desks have a standing desk attached to a treadmill or exercise bike. They do more than relieve back or joint pain. They provide a cardiovascular boost and can reduce the adverse effects of sitting.
Most of these models have a motor that goes no more than 2 to 2.5 miles per hour. These stand-up desks have adjustable platforms, displays, and electric motors that raise and lower the desktop.
However, these are not a budget-friendly option. Exercise desks are pricey, and some require professional installation. For the right person/office, an exercise desk can be a great way to get healthy and stay strong but make sure that's a financial commitment you're ready to make.

Corner standing desks, sometimes called a standing L desk, have a curved desk frame that seamlessly fits into corners. They're a great way to maximize the use of office space and have just as much, if not more, surface area than traditional rectangle standing desks.
Standing Desk Features to Consider
Adjustable Height Range

Height adjustable standing desks allow you to take full advantage of a standing desk's health benefits. You can set it to your preferred height to reduce stress on the wrists, shoulders, and back.

Before buying, make sure the desk adjusts to a comfortable standing height for you. Above or below average height people may need to check height ranges more carefully to make sure the desk meets their needs.

Assembly Process

Standing desks range in assembly ease from DIY to professional installation. Premium desks look beautiful, but may come with a complicated assembly process that takes a couple hours.

Desks with simple, straightforward designs may not even need the use of additional tools. If you're not particularly handy, a model with easy assembly should be at the top of your list.

Finish/Color Options

While some standing desks only have a single finish, others have five or six (or even more), giving you more flexibility in your office design. Some less expensive standing desks have laminate or vinyl finishes, while premium standing desks often have solid wood desktop options.

Size (Desktop Length and Depth)

Measure the available space carefully. Factor in what, if any, you need to store on the desk to determine an appropriate surface area. Is it only a monitor, keyboard, and mouse? Or, do you need to store office supplies, a printer, and manuals?
Some manufacturers make the same desk in several lengths and depths, while others only make a single size per model. Usually, those designed for professional offices offer more options in size, but you're more limited in interior design aesthetics.

Desktop Thickness

Desk thickness affects durability, mobility, and aesthetics. Most premium standing desks support up to 350 pounds, since thicker desktops, as long as they're supported by a sturdy steel frame, can support greater weight and heavier use. More budget-friendly options may have thinner tops with a much lower weight capacity.
The thickness may affect the kind of accessories you can use with the desk too. Monitor arms, slats, and other add-ons may only fit on a specific desk thickness or be too heavy for thin desktops. If you have an idea of how you'd like to use the desk, you can better determine the desk thickness that's best for you.

Storage

No man is an island, and often, neither is a laptop. Most people have a keyboard, mouse, pens, and a few pencils in their workspace. Some standing desks have a keyboard tray, extra shelves or closed cupboards in which to store office supplies. Others coordinate with shelves or drawers that can be purchased separately. However, many standing desks offer little to no storage, so you may have to get creative in organizing supplies.

Keyboard Tray

Keyboard trays put the keyboard at a comfortable level and make it easier to raise the monitor to eye level. Some standing desks come with them; others have them as optional upgrades.

Cord/Cable Management Systems

Cables and cords quickly clutter up workstations. Standing desks with cable management trays have holes through which you can pass cables, keeping everything organized and hidden.

Memory Settings

High-end electric desks may have memory settings for several users, saving time when making height adjustments.
Standing versus Sitting: Work Life and Your Health
The alarming rise in diabetes and heart disease has led to numerous studies that point to a sedentary lifestyle fueled by unhealthy eating habits. As people exchange physical work for an office job, they're prone to spend most of their waking hours sitting. All of that sitting takes a toll on the body. It puts pressure on the disks in the spine, promotes poor posture, and can put the joints in unhealthy positions that contribute to carpal tunnel syndrome and other health issues. However, studies have shown that excessive hours spent standing puts equally painful, but different, pressure on the spine, knees, and feet.
Standing desks are a great option to mix up your work position, especially models that work as both a sit or stand desk. The act of standing also burns more calories, 170 more over the course of a day. Consequently, standing or varying your work position helps you keep a trim waistline and encourages healthy habits.
Frequently Asked Questions
Do I need a footpad if I have a standing desk?
If you're standing for most of the day, footpads are worth considering. You don't necessarily need a footpad, but they add another dimension to your long-term health. First and foremost, footpads strengthen and support the feet, reducing fatigue and foot pain. They also stimulate the feet, requiring them to balance and move. Finally, they cushion the feet from hard floors, making standing more comfortable.
Should I pay extra for an electric standing desk?
The best standing desk option for you depends on your work style, work environment, and how many people use the desk. Do you bustle from your desk to other offices or a lab? Do several people use the desk throughout the day? If you're always on the go, but someone else uses and adjusts the desk in your absence, an electric standing desk quickly adjusts to your height, especially if it has a memory feature.
Electric standing desks are also quieter. A crowded office environment could quickly get overrun with noise if you're cranking a standing desk several times a day. For those who share a desk and are frequently up and down, an electric standing desk is a great choice. You don't have to get the most expensive standing desk you can find, but the money will be well worth it when you can quietly adjust the desk in a minute or two.
Do standing desks have a maximum weight limit?
Most standing desks do have a maximum weight capacity, but it can vary widely depending on which one you get. Some budget models may only hold 30 pounds, whereas a sturdier desk frame can hold up to 700 pounds. If you have multiple monitors and various accessories, like a printer or mini bookshelf on your desk, it's especially important to have a stable standing desk. Be extra mindful of the desk's weight capacity and respect those boundaries.
Final Advice
Standing desks are a good fit for many people. They offer a change of pace that keeps your body strong and heart healthy. Your work style and environment will help you narrow down the right desk for you. From there, it's about finding one in your budget and getting ready to make a choice that saves your back for years to come.