There's something deliciously relaxing about floating in the water. An above ground pool provides that relaxation in your own backyard. These pools range from simple inflatables to metal-framed behemoths with filter pumps, hydro aeration technology, pool covers, removable ladders, and ground covers. Some are surprisingly affordable, while others are an investment in the future of your at-home entertainment.
We reviewed seven of the best above ground pools, including a semi-permanent model, kiddie pool, and everything in between. We've also included a shopping guide with information about the different types of above ground pools and what you need to look for to make sure you get a model that will keep you swimming.
7 Best Above Ground Pools of 2022
Best Above Ground Pool Overall:
The Ultra XTR's sturdy steel frame offers excellent durability and comes as a set with everything you need to get swimming, including a ladder, cover, and filtration system.
$1,379 from Amazon.com
Best Above Ground Pool Overall
Best Above Ground Pool Overall:
Powder-coated rust-resistant steel frame
Unique shape of the frame pieces strengthens the structure
Includes liner, ladder, sand filter pump, debris cover, and ground cloth
$1,379 from Amazon.com
The Intex Ultra XTR Frame Pool Set is one of the bigger pools on our list and comes with everything you need to get the pool set up within an hour. That includes many accessories like a liner, removable ladder, sand filter pump, debris cover, and ground cloth. With many pools, one or all of those accessories must be bought separately. The Ultra XTR may be an investment, but it does save money on common pool extras.
The Ultra XTR's unique triangular tube structure adds strength to the powder-coated, rust-resistant steel frame. Each joint is made with an easy lock system for push-button connection. No tools are required for set up. It also features dual suction outlet fittings to enhance water circulation. A 20-foot diameter and 48-inch depth allow adults, children, friends, and family to enjoy a day in the pool.
Tip: If you're planning to DIY, round pools are easier to install than oval models. Oval pools require a buttress system to support the rounded ends as they meet the straight sides.
Best Inflatable Above Ground Pool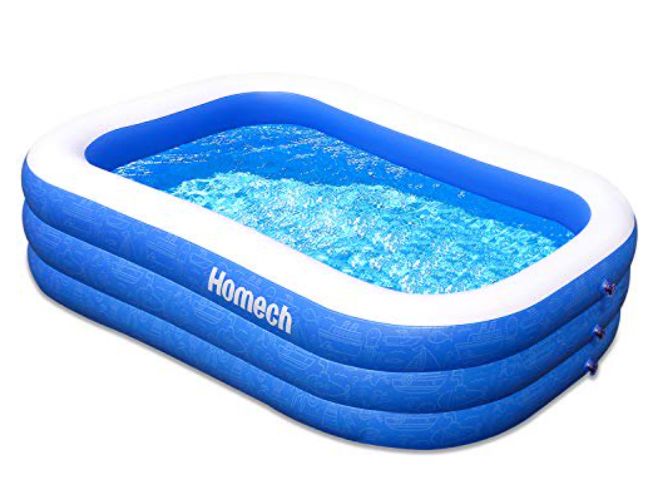 Best Inflatable Above Ground Pool:
Triple air chambers add height and strength
Thick PVC walls
Fits 2 adults and 3 to 5 kids
$39 from Walmart
Inflatables get the prize for the easiest pool set up. The Homech has ease of setup plus thick, durable materials, and a size that's big enough for a surprising number of people. Three individual air chambers give the pool its height, while the thick PVC of the walls adds strength.
It's eight feet long by four and a half feet wide, leaving room for two adults and three to five kids. Of course, if you want to stay out of the water, you can pack a few extra kids in there instead. The walls come in at just under two feet high, tall enough for some good splashing but shallow enough for younger kids. When it's time to put the pool away, two built-in water valves nearly double the drainage speed. If you have young children, a small backyard, and want quick setup and takedown, the Homech might be the pool for you.
Best Steel Frame Above Ground Pool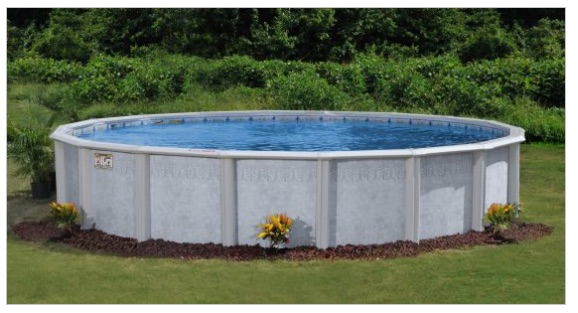 Best Steel Frame Above Ground Pool:
Hot-dipped galvanized steel frame resists rust
Comes in two shapes (round and oval) and 16 sizes
Attractive above ground pool that's strong enough for in-ground installation too
Priced by Quote
The Palm Shore walks (or should we say swims) the line between an above ground and inground swimming pool. It's fully designed for above ground installation. However, the structure and materials are sturdy enough for inground installation, too.
Seven-inch steel verticals give the frame its sturdy build. The hot-dipped galvanized steel has extra protective coatings to help it resist rust and corrosion. While the frame is steel, many of the other components are resin, a highly durable plastic that fully resists water and sun damage.
The Palm Shore comes in either a round or oval shape and between the two shapes, 16 sizes. Doughboy offers ultra-durable liners, including one that adds a "deep" end to the pool. This isn't an inexpensive option, but it's a good choice for those who want the durability and option of an in-ground pool.
Tip: Pools that don't go into storage during the winter need to be winterized when the temperatures drop. That includes cleaning the pool, adding pool antifreeze to the water once it's been lowered to a level that's below the skimmer, and running the filter for one hour before disconnecting it.
Best Aluminum Above Ground Pool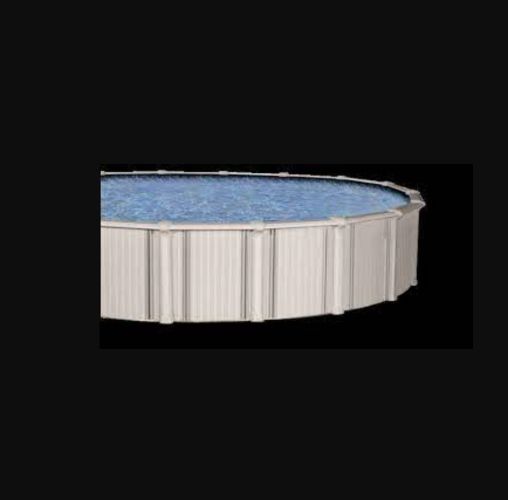 Best Aluminum Above Ground Pool:
Strong, lightweight aluminum frame resists rust and corrosion
Tall, 54-inch walls
Round or oval options with 9 sizes
Priced by Quote
Fifty-four inch walls create a swim area and water volume that rivals an in-ground pool. The aluminum frame offers strong construction with a material that's highly resistant to rust and corrosion. Aluminum is used to make the top ledge, uprights, wall slats, and stabilizers. That frame supports a steel top plate and resin bottom plate for a pool design that's incredibly durable.
The manufacturer offers a selection of liners made specifically for their pool models. The liners provide an in-ground look but create an impenetrable barrier to protect the frame.
Tip: The Barron's frame and liners are both manufactured in the United States.
Best Semi-Inground Pool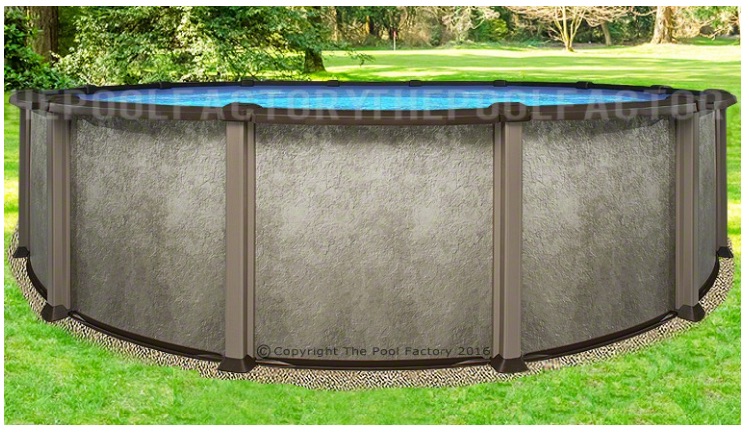 Best Semi-Inground Pool:
Can be used with fresh or saltwater
Installs above ground or semi-inground
Steel uprights covered in polyester anti-corrosive resin
$2,695 from ThePoolFactory.com
Semi-inground pools like the Saltwater LX are the next best thing to a fully inground pool. This model has the strength and durability for either complete above ground or semi-inground installation. The heavy-duty metal frame features steel uprights coated in anti-corrosive resin. That provides the strength and durability for the temperatures and humidity above or below ground.
Resin topped ledges and caps give it a classy look that resembles a traditional inground pool. Resin tracks further strengthen the structure so that it can withstand inclement weather and the corrosive environment of inground installation. Finally, protective paint on the walls allows use with either a fresh or saltwater system.
Best Kiddie Pool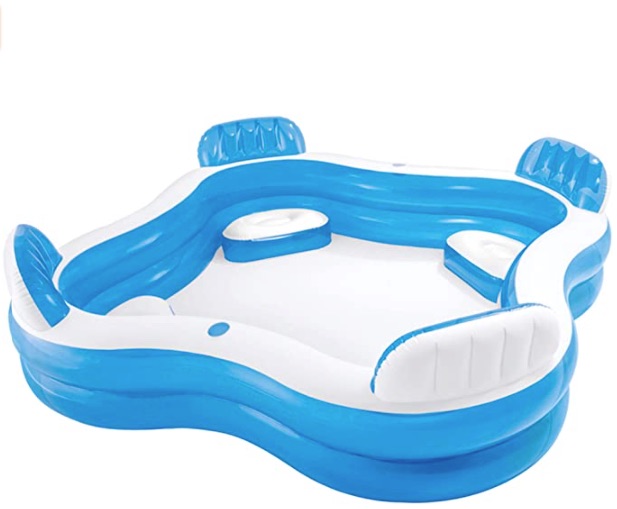 Best Kiddie Pool:
Seating for adults
Built-in drink holders and backrests
90-inches wide by 90-inches long
$79.99 from Amazon.com
Kiddie pools are for the kiddies, but why can't they be comfortable for adults too? This Intex pool offers a large play area for kids and comfortable seating at each corner for parents. Two built-in cup holders let you sip a cool drink while you're at it.
When you've got kids ready to jump in the water, you're going to appreciate how fast you can get this model blown up and filled with water. The entire structure is inflatable, making this one of the best options for easy setup. The walls hold water to a 14-inch height. That's plenty of water for parents to sit and relax while kids splash and play for an afternoon.
Types of Above Ground Pools
Above ground pools come in several types, from those that are nearly indistinguishable from an inground model to tiny kiddie pools for the youngest of children. The right type of pool should fit your yard and family's lifestyle.
Inflatable
Resin
Inflatable pools offer some of the best value options and easiest pool setup, maintenance, and storage. There's no frame to store or rust, and some come with an air pump.
Most inflatable pools have several air chambers to strengthen the structure and give the pools their height. They come in bright colors and may have seats or sprinklers built into their design.
Inflatables range in size from 18 inches in diameter to 8 feet in diameter, length, or width. Depth wise, there are models that only hold two or three inches of water and are meant for babies and toddlers and those that hold two to three feet of water.
Air pumps are the easiest way to inflate these pools. Other perks to watch for are drain valves and filter fittings in case you want to leave the pool up for a while.
At its most basic, resin is a hard, durable plastic. It's found in everything from furniture to airplanes. High-quality resin resists rust, oxidation, sun damage, and corrosion better than metal. Resin also stays cool in the sun, unlike steel and, to an extent, aluminum.

However, this long-lasting, durable material costs more than a metal frame pool.

Semi-Inground
Metal Frame
Semi-inground pools, also called radiant pools, have the durability and look of an inground pool, but with easier installation and simpler customization options to challenging landscaping. Because they're designed for partial inground installation, they're ideal for hills, slopes, and uneven ground.
Unlike an inground pool, they arrive in a kit that you can assemble yourself. Most are more durable than other above ground pool types, and it shows in their price. However, they often include an extended or lifetime warranty.
Steel and aluminum are the most common metal frame above ground pool types. Steel offers incredible durability, but it's more prone to rust and corrosion than aluminum or resin. It's usually galvanized or powder coated to add water and weather resistance.
Aluminum pools resist rust better than steel, and it's lighter weight. Steel and aluminum are comparable in price, however. Though steel is more popular.
Metal frame pools are more affordable than resin or semi-inground pools. But they come with a higher risk of rust and corrosion.
Hybrid
Hybrid pools have a mix of resin and metal in their frame. These models have become more common because they're not as expensive as a resin pool but have resin components at points susceptible to rust.
As far as price, they fall between a metal frame and a resin pool.
What Makes a Good Above Ground Pool?
Pool ownership comes with some serious and sometimes annoying responsibilities. However, some maintenance is necessary to maintain a pool's pristine condition. The best pool for you is the one that fits within your lifestyle, budget, and backyard.
Frame Type
Pool frames are made of metals like steel and aluminum, resin, or a mix of both. Metals offer durability and better affordability than resin. However, resin is still a good option because it resists weather, water, and sun damage better than metal.
If you want to store the pool in the winter, some frames are easier to store than others. Models with panels rather than large single molded pieces can be taken apart for storage.
Pool Size and Depth
The smallest kiddie pools are 18 inches wide and only hold two or three inches of water. The largest above ground pools measure 43 feet long and 54 inches deep.
Before you decide, measure the space in which you want to place the pool. That should give you a good estimate on the right pool size. Leave a couple of feet around the pool for clearance.
The right pool depth should be based on the age of those who use it. Young children need a shallow pool, while teens and adults can safely swim in a 54-inch deep pool.
Pool Shape
Pools come in various shapes, including round, oval, rectangle, and square. The shape of your yard and the amount of available space may limit the shape options. However, a couple of things to think about—a pool's dimensions can be somewhat misleading. For example, a 24' round pool can hold more water than a 15' x 30' oval model. Sometimes you get a better water capacity within a given space with a round or square pool versus an oval one.
Another issue to consider—round, square, and rectangle pools offer easy installation in comparison to oval pools. Oval pools have a buttress at the point where the straight sides meet the curved ends. They're complicated to set up, and the buttress often becomes a weak point where the pool is prone to breaking. Most of the time, you're better off with a round, square, or rectangle model that fits within the available space.
Ease of Installation
Inflatable pools, even large ones, are the easiest to install by far. All it takes is an air pump or compressor to set them up. Drain the water, deflate the chambers, and they're ready to be folded for storage. Some of the larger inflatable pools come with a ground cloth and may even have a filter port.
Some steel pools have a minimal frame that suspends a PVC fabric to hold the water. These models offer easier and less permanent installation than a hard-sided above ground pool.
Of the hard-sided pools, oval models are the most difficult to install, while round pools are typically the easiest.
Storage
Do you plan to store the pool in the winter? If you do, really think about how much storage space the pool requires. A large inflatable model will be far easier to store and maintain than one with a hard-sided frame. However, if you want a larger pool, a model with a metal frame that suspends a PVC material is easier to store than a hard-sided model.
Maintenance Requirements
Skimmers and sand filter pumps, chemicals and nets—above ground pools include many of the same maintenance requirements as an inground model. Think long and hard about how much maintenance you want to put into the pool.
Maintenance is simplest with inflatable models. However, if you're ready to commit to daily and weekly maintenance, most of the above ground pools require pumps and filters to circulate and clean water, regular pH tests, sanitizing chemicals, and debris/leaf nets to remove bugs, leaves, and sticks. The sides and bottom of the pool will need to be scrubbed weekly to prevent algae build-up, too.
Accessories
The price of some pools includes the frame only. You'll get the best deal with manufacturers who include almost all the necessary equipment to get the pool swim-ready. These pools come with accessories like a removable ladder, skimmer, pumps, filters, a liner, ground cover, and debris cover.
A pool that includes many of the needed extras will save you money in the long run, even if they cost more upfront. Some manufacturers also throw in liners specifically designed for their pool models, offering a better fit and often an extended warranty on the liner and pool.
A Few Things to Consider
Location: You probably aren't considering a pool without already knowing where you'd like to place it. Keep in mind that easier maintenance comes if the pool isn't placed directly underneath or near trees and foliage that could drop leaves, sticks, or attract bugs. The pool should also be located in a place that has a foot or two of clearance around the pool's edge.
Permits: Some cities require a permit for pools over a certain size. Check your city ordinances to see if there are specific guidelines that limit how close you can put a pool to a property line or easement.
Level Ground: Install the pool on even ground. Uneven ground can cause water to put extra pressure on certain parts of the frame, prematurely wearing them down. You may need to do some minor excavating to level the ground first, but it's worth it for the pool's longevity.
Frequently Asked Questions
Do I need a pool liner?
Pools with a frame need a pool liner. The pool liner creates a barrier between the frame and the water. It's even more important for metal frames, which are more susceptible to rust and corrosion. There are several types of liners, including unibead, overlap, beaded, and expandable. The pool's design and location affect which type is best. Talk to the manufacturer for liner recommendations if they don't carry liners of their own.
How often should I clean my pool?
Above ground pools should be brushed and vacuumed once a week to remove any algae growth. You also need a leaf net to remove any debris daily, including leaves and bugs, floating on the pool's surface.
Are there above ground pools that don't require chemicals or a pump?
Any pool that sits with water in it for several days requires water circulation and sanitization for safety reasons. You don't have to use chemicals, but you do need to circulate the water somehow. A pump is the easiest way, but a shop vac or siphoning hose can circulate water in a pinch.
Even an inflatable pool can benefit from a chlorine tablet or two to kill germs and bacteria if it's been filled for a couple of days. However, check the pool's PH balance before letting anyone get in the water.
Final Advice
Pools, above ground and inground, come with a lot of maintenance. They're worth it for the cool hours you can spend outside in the summer heat. No matter what kind of pool you buy, be ready to stay on top of maintenance for a safe summer.