It's hard to beat the beauty of fall colors, but when dead leaves fill the yard, it's time for them to go. Of course, hours of back-breaking work is hardly how you want to spend a Saturday afternoon. Then, there's the bagging and filling the yard waste bin. However, with a leaf vacuum, sometimes called a lawn vacuum, you can cut down on raking, bagging, and disposing of leaves, saving your back in the process.
In truth, the vast majority of leaf vacuums are actually leaf vacuum mulchers or leaf vacuum blowers. Some even perform all three functions. There are considerations to be made like do you want the mobility of a battery-powered model or the sheer force of a gas-powered motor? We've picked five of the best models on the market and include a shopping guide to help you make your decision.
5 Best Leaf Vacuums of 2023
Best Leaf Vacuum Overall: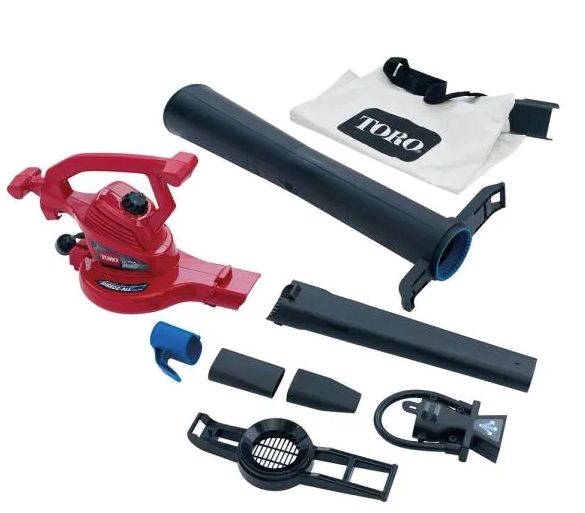 Toro does it right in this leaf blower/vacuum/mulcher combo that provides solid performance in all three functions. It easily transitions from blower to vacuum without extra tools, so you can instantly switch settings for different areas of your yard.
$99.99 from Amazon.com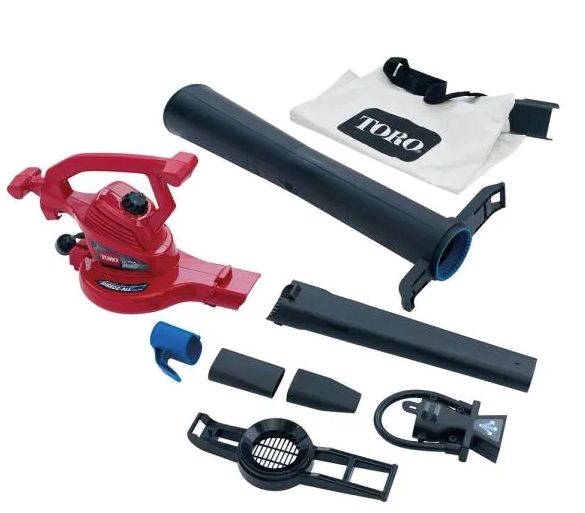 Best Leaf Vacuum Overall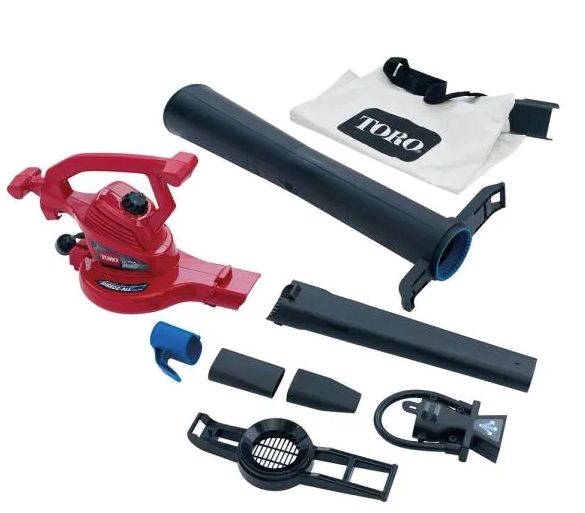 Best Leaf Vacuum Overall:
Quick-release latch that switches the blower to a vacuum and back again
Variable speed control for adjustability while in use
Collection bag has a zippered opening on the bottom for easy emptying and can also serve as a storage bag
$99.99 from Amazon
The Toro UltraPlus is a corded electric leaf blower that eats through leaves with efficiency. Toro includes a Shredz-All Shred Ring that turns leaves and sticks into a fine mulch. For you, that means emptying the bag less often and the option of using the mulch in your garden.
To help you navigate through varying leaf weights and moisture levels, there's variable speed control for both the blower and vacuum mode. A favorite feature on the Toro is the collection bag's bottom zipper. All you have to do is hold the bag over your yard waste bin and unzip to empty it.
Vacuuming and mulching aren't all the Toro UltraPlus can do. It's also a blower. This model makes the switch between a blower and vacuum with a simple quick-release latch. It also comes with a whole host of other convenient features like an oscillating nozzle that creates a wide blowing path, a built-in cord lock, and a collection bag that can store all of the components.
Tip:The Toro UltraPlus includes a two-year full coverage warranty.
Best Budget Leaf Vacuum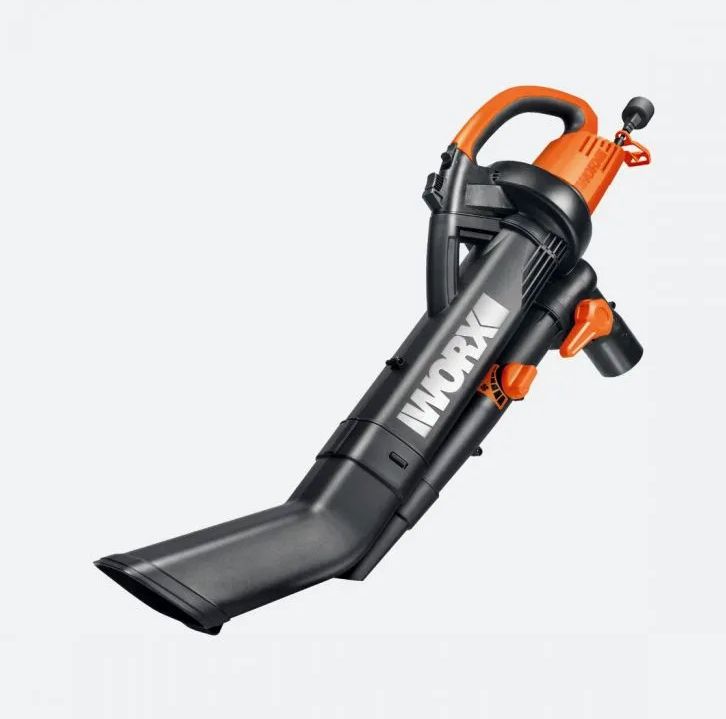 Best Budget Leaf Vacuum:
High mulch ratio for fewer bag emptyings
Lightweight for one-handed operation
Unique blow tube design to get under and around objects
$79.99 from Worx.com
The WORX WG505 may be inexpensive, but it doesn't cut corners on performance or design. One of its best features is its relatively light 9.5-pound weight. In both vacuum and blower mode, you can control it one-handed. And with the angled tube design, you can reach under porches and decks without bending over. It gives you a good angle for standard blowing, too.
As far as vacuuming and mulching, it comes with a large collection bag, but it's the metal impeller's effectiveness that stands out. It has a 16:1 reduction ratio. When that's combined with the large collection bag, it holds 1.2 bushels of leaves.
Finally, adjustable airspeed gives you more control in wet conditions, in corners, and around obstacles in the yard. Overall, the WORX WG505 provides excellent performance at an affordable price.
Best Gasoline-Powered Leaf Vacuum
Best Gasoline-Powered Leaf Vacuum:
Powerful 28cc gas motor
Smart Starter for easy start-up
Handle and nozzle design reduce rotational forces on the wrist
$199.00 from Amazon
Husqvarna makes hardcore yard equipment, and their leaf blower with vacuum kit meets their high quality standards. This powerful machine is a little different from the others on our list because it comes with a vacuum conversion kit. So unlike some of the others that convert with the flip of a latch or button, this one requires some additional pieces for use as a vacuum.
However, for someone who needs a powerful blower with the option of a leaf vacuum, the Husqvarna is a good choice. The handle and nozzle are designed to reduce rotational forces on the wrist. That allows for one-handed control in either blowing or vacuuming mode despite the powerful 28cc gas motor.
This model also has a Smart Start starter that makes starting easier, cutting the frustration and muscle power it takes to manage a gas motor. Finally, the blowing tube is adjustable in length, providing some flexibility for user height and varying yard obstacles.
Best Electric Leaf Vacuum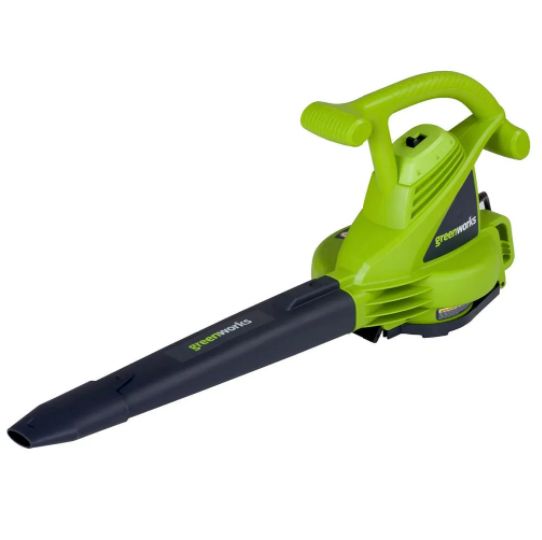 Best Electric Leaf Vacuum:
Switches from blower to vacuum without tools
Lightweight design that reduces fatigue
Powerful as both a vacuum and blower, but quieter than a gas model
$69.99 from Greenworks
The Greenworks Corded Leaf Blower comes with a 12-amp motor that provides impressive power but without the noise of a gas motor. It offers a 10:1 reduction ratio and quickly transitions from blower to vacuum and back again without tools.
Electric leaf vacuums, like this one, are a great option for smaller yards, where you're always within reach of an outlet or power source. Use the blower for the open areas and the vacuum for corners, narrow spots, and tight areas. Two speed settings provide some extra air speed for wet conditions.
Finally, electric motors like the Greenworks' tend to run quieter than the average gas-powered motor. This model is not only quieter, but there's less vibration, reducing user fatigue, whether it's on the electric blower or vacuum function.
Tip:Electric leaf vacuums work best for small areas. They're great for getting into corners, under porches, or the base of fences.
Best Cordless Leaf Vacuum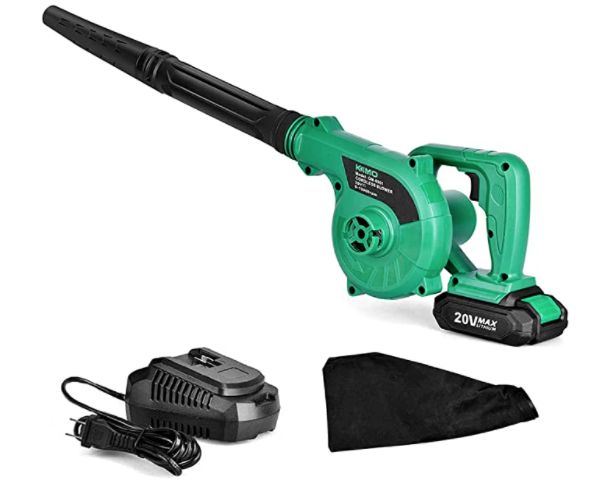 Best Cordless Leaf Vacuum:
Ultra-lightweight at only 2 pounds
Compact size creates versatile uses, including as an engine vacuum
Takes only 60 minutes to charge the battery
$79.99 from Amazon.com
The Kimo's small size and low weight – only two pounds – make it a versatile blower and vacuum that sometimes functions like a handheld vacuum. However, when it comes to removing leaves, that small size also means it's best used in small areas like a porch or garden. With thirty minutes of run time, there's enough time to do quick clean-ups or detail your car.
A short blower tube allows the Kimo to vacuum dry leaves or clean out a car engine with ease. It's not quite as efficient with wet, heavy leaves, however. When in blower mode, the tube attaches to the front of the Kimo. When it's vacuuming, the tube attaches to the air intake on the side.
This lightweight blower includes a small collection bag to hold and dispose of leaves when you're done. It's best for vacuuming small amounts of leaves that you can't blow out of tight corners.
Tip: Leaf vacuum cleaners with narrow blower tubes let you clean your yard and car with the same vacuum.
Types of Leaf Vacuums
Gas-Powered
Electric
Gas-powered leaf vacuums are powerful and most useful in large yards. However, the actual vacuuming function of these machines is still better used in specific areas like places where leaves are easily trapped between landscaping or in corners.
They're a good option if you'd like a powerful leaf blower with the option of vacuuming. Since they tend to be larger, they often come with bigger collection bags and a shoulder strap to reduce fatigue.
Gas-powered models may require a vacuum conversion kit, which may mean you need extra tools to make the conversion. Whereas, some electric and cordless models can switch between a blower and vacuum with a flip of a switch. Gasoline blowers and vacuums are also on the heavy side, noisy, and require more maintenance than either electric or cordless models.
Electric leaf vacuums cut down on noise levels and weigh less than their gas-powered counterparts. If you have limited strength or live in a neighborhood with noise restrictions, an electric model might be right for you.
Some electric models easily transition from blower to vacuum with a single switch. That allows you to change back and forth as needed throughout your yard for quicker cleaning.
Electric leaf vacuums must be used near an electrical outlet or power source. You can always use an extension cord, but that may still limit your mobility and reach.
Cordless
Cordless leaf vacuums are the lightest and most portable of all of the leaf vacuum cleaners. If you have limited strength, they're an excellent option.
However, they come with some drawbacks. Their runtime is limited to 15 to 45 minutes of uninterrupted use. Once the battery dies, It takes anywhere from one to four hours to recharge.
This type of leaf vacuum works well on small yards or for someone who just needs to remove leaves or pine needles on the porch or patio. They're not powerful enough for large yards.
Features to Consider for the Best Leaf Vacuum
Not all leaf vacuums or leaf blowers are made the same. There are definitely some features that add convenience and ease of use. Your circumstances and preferences can help you narrow down the ones most important to you.
Motor Specs
Leaf vacuums vary in their power input. However, most leaf vacuums have at least a 12-amp motor. Those that come in at only 10 amps may lack the power to suck heavy leaves, and if they mulch, they'll be slow and with a low reduction ratio.
Speed Settings
Multiple speed settings controlled with a variable speed dial give you the ability to adjust the blower according to the conditions. For example, you may use slow speeds when the leaves are dry and light. But if they're heavy with moisture, higher-speed settings provide enough suction to keep the leaves moving.
Impeller Material
Impellers are only found on models that mulch because the impeller does the actual mulching. Look for a leaf vacuum with a metal impeller. They're more durable, strong, and efficient.
Some less expensive, lightweight models may have a plastic impeller. Plastic may be fine if you only use a mulcher once in a while. However, if you want to mulch for a garden or to reduce waste, you'll definitely want a metal impeller.
Reduction Ratio
The reduction ratio tells you the size of the leaf pieces after they've passed through the impeller. For example, a 10:1 ratio means that you'll be able to fit ten times as many leaves in the bag as you would have had the leaves not been mulched. A high reduction ratio means smaller pieces and less bag emptying.
Nozzle Design
Nozzle design makes a difference in how well the vacuum handles leaves. Models that include different attachments of various shapes and sizes tend to work better than those that are a one-size-fits-all solution to leaf removal.
For example, a narrow nozzle focuses the vacuum's power and suction, but it can easily get clogged by wet leaves. Wide nozzles work better for blowing because they create a wider path.
Weight
Leaf vacuums weigh anywhere from two to twelve pounds or more for gas-powered models. If you have mobility or strength issues, a smaller electric or cordless model will weigh less than a gas-powered leaf vacuum.
However, when you're looking at weight, also consider the leaf vacuum's design. Leaf vacuums designed for one-handed use usually reduce rotational forces and engine vibration. The design and weight together can reduce fatigue, so you get the work done and still have some energy left.
Versatility of Use 
You can cut down on the number of power tools in your garage if you purchase a leaf vacuum that's multi-functioning. In fact, you rarely find a leaf vacuum wherein vacuuming is the only function. They're usually combined with a blower and/or a mulcher. Some of the smaller handheld models may even work as a car vacuum or for home use, too.
If you're considering a blower, check to see if you can buy a vacuum or mulch kit to add functionality and save on storage space.
Other Important Considerations
Budget
Leaf vacuums typically cost between $50 to $250. That's a fairly wide range, with small, cordless models at the bottom end of the price range and heavy-duty gas-powered models at the top. Electric leaf vacuums with blowing and mulching features usually fall in the middle range between $75 and $125. Know how much you're willing to spend, and balance out your needs with the vacuum's ease of use, weight, and collection bag size in relation to your yard size. That should give you a balance of features for the best price.
Yard size
The size of your yard plays a big role in the type of leaf vacuum you need. Leaf vacuums of any type aren't particularly useful in a large yard unless you have narrow spots, a fence line, or a patio/deck where leaves often get stuck. It's small yards that benefit the most.
Blowers may simply spread the leaves around the yard in circles. But a vacuum plus mulcher can capture them where they are and prevent a leaf tornado come clean-up time.
Leaf density
By leaf density, we mean the size and number of leaves in your yard. If you can't see the grass under the leaves, a strong blower with a vacuum feature is a more efficient way to remove leaves than a vacuum alone. In general, leaf vacuums are a better choice for small yards with light to moderate leaf density/coverage.
Frequently Asked Questions
Should I get a leaf blower or leaf vacuum?
For the most part, you don't have to choose one or the other. Almost all leaf vacuums also have a leaf blowing setting. Simply choose a model that does both, and you get the best of both yard-cleaning worlds.
Will a leaf vacuum pick up pine needles?
Pine needles are light like leaves, so yes, a leaf vacuum will pick them up. A leaf vacuum is a great way to get pine needles out of hard to reach nooks and crannies around the yard.
Can rocks ruin a leaf vacuum?
Leaf vacuums have the suction power to pick up leaves. Most rocks are too heavy. However, gravel is the exception. Picking up a few pieces of gravel isn't a problem unless the vacuum has an impeller to mulch leaves. While a pebble or two won't ruin the impeller, avoid rocks and other hard debris when mulching. And, if you are near gravel, it might be best to turn the impeller off until you're clear of anything that could be potentially harmful.
Final Advice
Leaf vacuums almost always come with a second function like blowing or mulching. Multi-functional power tools like this are your best option because they save on storage space and provide more choices when the leaves start piling up. Take a good look at your yard size and where the problem areas are in relation to leaf clean-up. From there, your budget, strength, and personal preferences will help you gauge which type of leaf blower, vacuum, or mulcher you need to determine the best leaf vacuum for you.