Strollers have become an almost indispensable part of life with children. Today's baby strollers feature lightweight aluminum frames, impressive storage capabilities, and compact folding mechanisms. Some baby strollers come as part of a travel system with a coordinating infant car seat and a convertible design to adapt and grow with your child. Other models won't be usable until your baby weighs at least 12 to 15 pounds.
We reviewed seven of the best baby strollers, from jogging strollers with high-tech suspension systems to a sit-and-stand model for families with toddlers or preschoolers. We also included a shopping guide to give you the rundown on different types of strollers and the features that will make life easier.
7 Best Baby Strollers of 2023
Best Baby Stroller Overall: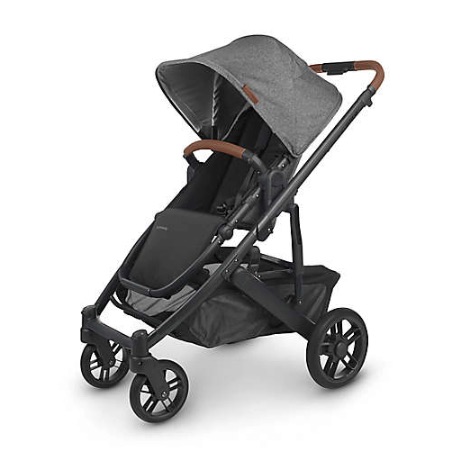 Luxury, fashion, and convenience meld together in the CRUZ V2, a stroller that's durable, ergonomic, and gorgeous. It's a full-size stroller that's lightweight and can hold your baby from infancy through toddlerhood.
$649.99 from BuyBuyBaby.com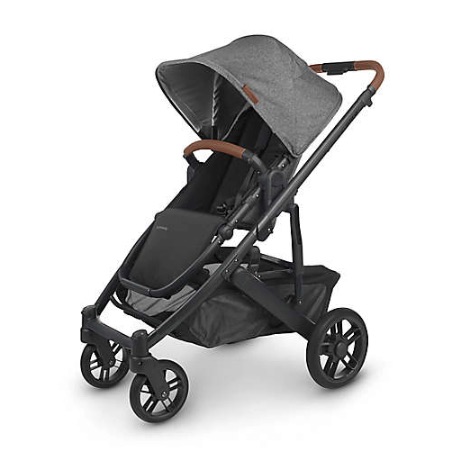 Best Baby Stroller Overall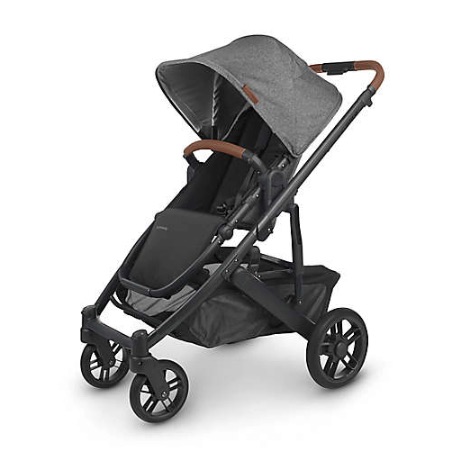 Best Baby Stroller Overall:
For use with infant seat through toddlerhood
1-step folding mechanism and stand-alone feature
All-wheel suspension
$649.99 from BuyBuyBaby.com
UPPAbaby makes impressive strollers from the UPPAbaby Vista to our top pick, the CRUZ V2. This model features a lightweight aluminum frame with water and stain-repellent fabric that's impeccably made to withstand a baby and toddler.
It's packed with parent-friendly features like a no-thread harness, one-hand adjustable recline, one-hand adjustable telescoping handlebar, and one-step folding. Even better, once it's folded, it stands independently, so you don't have to lay it down in a dirty parking lot or rest it against the car while you get your baby situated.
Big, all-terrain wheels supported by all-wheel suspension give your baby a smooth ride over sidewalks and walking trails. What's a good stroller without storage? The CRUZ has an extra-large, easy-access storage basket that holds an additional 30 pounds.
Tip: The UPPAbaby CRUZ V2 includes a full-size reversible seat and a toddler seat with a rain and bug shield.
Best Jogging Stroller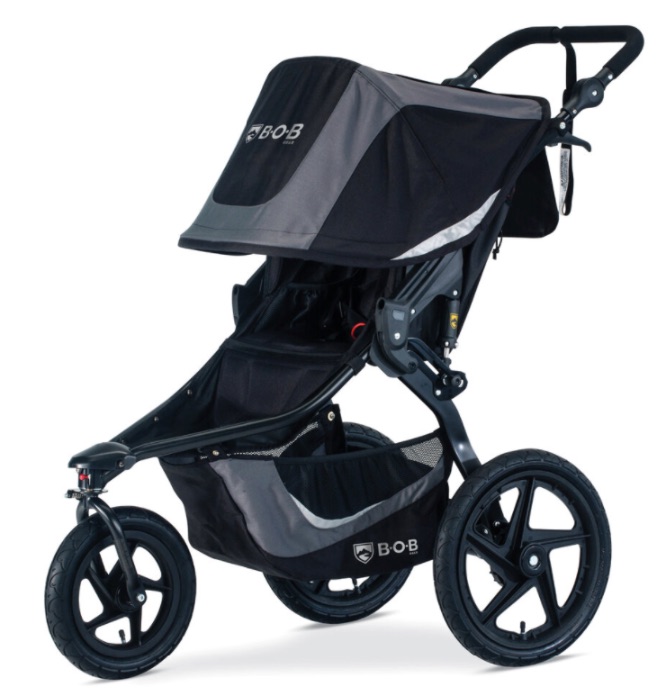 Best Jogging Stroller:
Mountain-bike style suspension for a smooth, comfortable ride
Excellent storage space includes under-carriage basket and extra pockets
Adjustable handlebars with 9 positions
$499.99 from BobGear.com
Adventurous parents who want comfort for their baby and convenience for themselves will find it in the Revolution Flex 3.0. The three-wheel design features mountain-bike style suspension for a comfortable ride on 10k's, trails, and anywhere a stroller can go.
It's not easy to push a stroller, especially if the handlebar isn't in the right place. This model includes nine handlebar positions, so parents both short and tall can get a comfortable fit. Parents get a long list of other performance and convenience options like a locking front swivel wheel, adjustable front wheel tracking, and a peek and chat window in the large canopy.
Jogging strollers sometimes skimp on storage to reduce weight. However, the Revolution Flex 3.0 maintains a light weight but features a large storage basket and six extra storage pockets for diapers, toys, snacks, and blankets. An adjustable stroller seat goes all the way from upright to lying nearly flat. This model is also compatible with many infant car seats, including models not made by the manufacturer.
Best Lightweight Stroller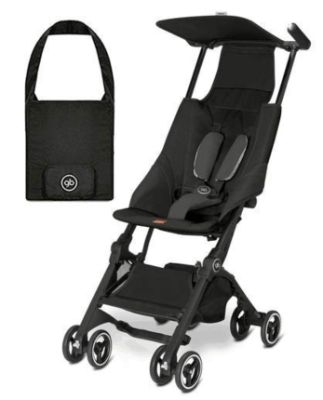 Best Lightweight Stroller:
Folds down to a small 12 x 7 x 20-inch size
Weighs less than 10.6 pounds
Stands alone when folded
$219 from Amazon
They call this stroller the Pockit for a reason. It's incredibly lightweight, weighing only 10.6 pounds and folds down to fit in an airplane overhead bin. This model made the Guinness Book of World Records back in 2014 for the most compact stroller. Their designs have only gotten more innovative since then.
The two-step folding process isn't the fastest, but if you're tight on space and want a portable stroller, the Pockit is probably a good choice for you. Once folded, it stands alone, so parents can take care of the baby, other kids, and all the gear that comes with them before putting the stroller in the car trunk.
There's a small storage basket and canopy, though you don't get as much coverage or storage space from either one in this tiny stroller. However, this model is sturdy enough for children six months and older until they reach 55 pounds.
Tip: Newborns and infants can't support their heads until they reach about six months of age. Babies that young need a stroller with a reclining seat that folds flat, so the head doesn't fall at an angle that restricts airways.
Best Double Stroller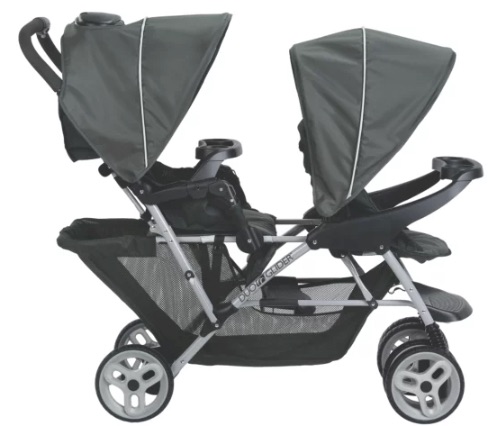 Best Double Stroller:
One-hand folding with latch
Extra-large storage basket
Compatible with Graco infant car seats
$169.99 from GracoBaby.com
Whether multiples have you hopping or you've expanded your family from one child to two, the Graco DuoGlider Double Stroller has features that let you be a family on the move. Both seats are compatible with all Graco infant car seats for easy transitions from car to stroller and back again. Both seats also recline, with the back seat reclining to a flat position for a newborn or use with an infant bassinet.
Twice the kids means twice the baby gear. An extra-large storage basket gives you a huge amount of space for toys, snacks, and diapers. The stroller folds with a simple one-handed folding system that locks into place. Once folded, it stands on its own, so that caregivers can take care of the kids.
Tip: Double strollers come in inline or side-by-side designs. If you choose an inline model, look for one with stadium seating that puts the child in the back of the stroller higher than the child in front. They (and you) will appreciate the view.
Best Sit-and-Stand Stroller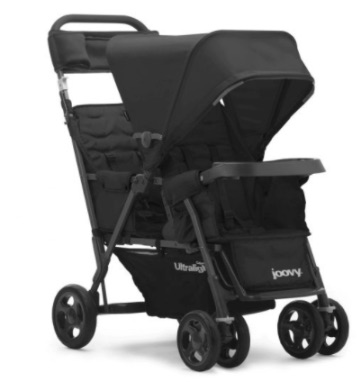 Best Sit-and-Stand Stroller:
3 second seat configurations — seat, bench, or standing platform
90-pound (total) stroller capacity
Includes a car seat adapter so it can be used with infant car seats
$279.99 from Joovy.com
Wiggly toddlers reach a stage where sitting in a stroller just doesn't work. The Joovy Caboose gives parents and kids options that make everyone happier. The front seat can hold babies over three months old or infants if used with the car seat adapter.
But it's the rear seat that makes this model a hit with toddlers and preschoolers. This seat offers three configurations — a platform, a bench, or a seat. You can make adjustments as you go, or set it up how your child prefers. Kids can climb in and out or stay strapped in the second seat in a five-point harness.
The sturdy aluminum frame's design takes the pulls, pushes, and jumps of young children. Each seat has a maximum capacity of 45 pounds for a stroller total of 90 pounds. There's even a storage basket underneath.
Best Travel System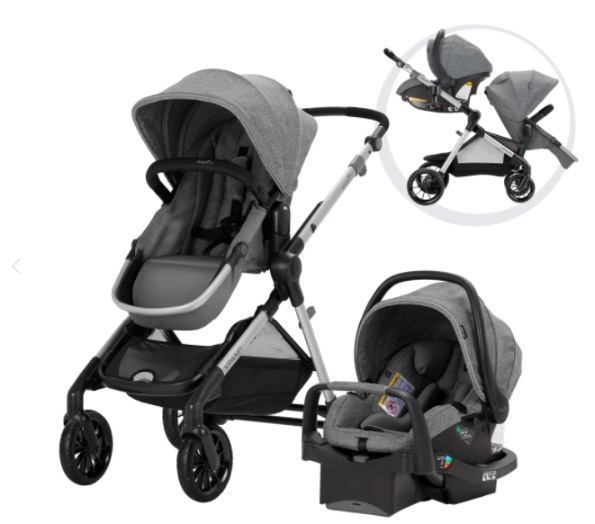 Best Travel System:
Compatible with 2 infant car seats
Functions as a single or double stroller
Offers 22 configurations
$399.99 from Evenflo.com
The Evenflo Pivot Expand is a travel system with a long list of options to take baby from car to stroller and vice versa. It's one of the few strollers that functions as either a single or double infant stroller without adding length or width. This model takes one baby or a family with two children from infancy through toddlerhood, holding a total of 55 pounds.
One of its most important features is the frame's design, which holds an infant car seat on the handlebars and/or in the lower seat. But the configurations don't stop there. Both seats offer upright, reclined, facing each other, facing away from each other and more for 22 total configuration options. It also features expandable underneath storage that reaches a total of two feet.
A combination of large tires, including swiveling front wheels, and rear-wheel suspension provides a smoother ride than many other strollers. Once folded, it stands alone, so parents can focus on taking care of kids before loading the stroller.
Tip: All configuration adjustments of the Evenflo Pivot Xpand are done with a slide and lock system that moves along the frame. Seats can recline or be adjusted after they've been locked into place.
Baby Stroller with Best Storage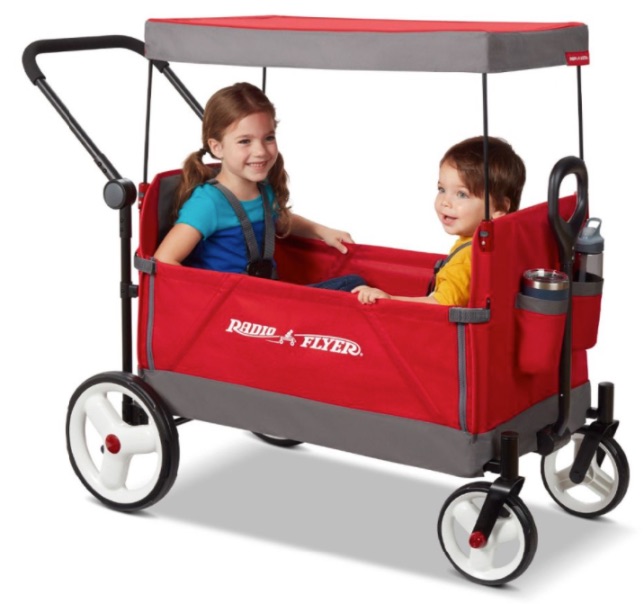 If you have memories of a little red wagon as a kid, you'll love the Radio Flyer Convertible Stroller Wagon. Whether you have one kid or two, this model provides ample room for kids to stretch their legs or parents to pack everything for a beach trip.
A five-point harness on both ends safely holds two children. That lets the parents of little climbers relax while on the go. The flip-up push handle easily telescopes back into the frame, so you can switch to the pull handle attached to the other side. Zippered side openings drop one side, allowing the wagon to be used as a bench seat.
It's all covered under a UV protectant canopy that rolls up and fits in one of the side storage pockets when it's not in use. Whether you've got kids in it or not, this little stroller wagon gives you lots of options and storage space for every adventure.
Tip: The Radio Flyer Convertible Stroller Wagon is designed for children over one year old and holds up to 120 pounds.
Types of Baby Strollers
The number of kids you have, the way you travel, and the kind of adventures you want to go on help determine the stroller you need. City dwellers may focus on space-saving designs, while fitness-focused families may want a jogging stroller's stability. We've listed the different stroller types, so you can get an idea of what you really need.
Traditional
Travel System
Traditional strollers hold one child and weigh approximately 20 to 40 pounds. These models come in entry-level designs with few extra features and little storage to deluxe versions with lightweight aluminum frames, extra-large storage baskets, cup holders, and adjustable footrests.
Traditional strollers can take heavy, everyday use. They may have all, rear, or front-wheel suspension for a smoother ride and extra accessories like detachable cup holders and snack trays.
Look for easy fold designs that stand alone when folded and offer enough storage space for your typical outing.
Travel systems feature an infant car seat, car seat base for the car, and a stroller into which the car seat snaps into place. New parents love these systems because they make transitioning from the car to the stroller fast and easy.
Pricey though they may be, travel systems can be used well beyond infancy and into toddlerhood.
The downside is they usually only work with the brand's infant car seats and vice versa. Sometimes either the stroller or the car seat is better than the other, so one part of the system may be great, but the other part might not meet all of your needs and wants.
Umbrella Stroller
Combination/Modular Stroller
Lightweight umbrella strollers have come a long way in the last 20 years. There are tiny (and flimsy) $20 models that hold only a toddler, and models that could pass as a full-size stroller except for their lightweight frames and minimal designs.
The lightest strollers have easy fold features, compact fold configurations, and sturdy wheel construction with good handle control so you can push your way through a crowd.
However, you usually have to give up onboard storage space and extra features like handbrakes, a large canopy, child trays, and front or back-wheel suspension. Most of them cannot be used by babies under six months old because the seats don't recline to a flat position.
Combination or modular strollers have adaptable configurations to grow with your child. They often hold a compatible infant car seat, but can then be adjusted to hold a toddler or older child.
Combination strollers feature many of the same perks as traditional strollers like an adjustable canopy and footrests, cup holders, and storage baskets.
These models tend to be expensive because of their complex frames and configuration accessories. However, most of them can be used from infancy until the child outgrows the stroller.
Car Seat Stroller
Car Seat Carrier Stroller
These models are a two in one deal. The stroller frame is completely integrated into the car seat. You fold down the stroller's handle and wheels and then click the car seat into the car's base.
They can only be used as long as your child fits in the car seat, however.
Car seat carrier strollers are more of a lightweight, portable frame than a full stroller. A compatible car seat snaps into and out of the frame.
However, like car seat strollers, they only last as long as your baby fits in the accompanying car seat. The stroller frame cannot be used without the car seat.
Double Stroller
Jogging Stroller
Families with several children or multiples will love double strollers. They're made in either a side-by-side or inline design. Inline designs fit through store aisles and checkouts easier, but they can be hard to control. Some of them work with one or even two infant car seats to transition from baby to toddler. Inline designs may or may not have the back seat raised higher than the front so the rider can see more than the front canopy's back.
Side-by-side models have seats next to each other. They're often easier to push, but some are too wide to fit through store aisles.
Jogging strollers are the workhorses of the stroller world. They often include rubber tires, three-wheeled frames, and suspension systems that handle rougher terrain and higher speeds than the average stroller.
The front wheel of a jogging stroller doesn't usually swivel. There are models with front wheels that can swivel or lock in place to make them more maneuverable for street use.
Jogging strollers may also include hand brakes to help slow the stroller on hills or before a stop. Look for models with wheel locks to make sure the stroller doesn't roll away on hills.
Convertible Stroller
Convertible strollers function much like a travel system, in that they have an accompanying car seat. They differ in that they also work with a bassinet for infants. Otherwise, they can have all of the same features as other strollers.
What Makes a Good Stroller?
Restraint System
Stroller restraint systems consist of either a three or five-point harness. Obviously, a five-point harness is safer than a three-point, but both are safety approved. However, if you have a child that's a climber, a five-point harness stands a better chance of holding him in.
Folding Mechanism
One-handed folding mechanisms are every parent's dream because you can hold your baby or diaper bag while folding the stroller for easy multi-tasking.
Multi-step folding mechanisms aren't bad, but they usually require both hands. Also, look for a lock that keeps the stroller closed once it's folded. Things can get a little crazy if the stroller pops open while trying to load it or your baby into the car.
Finally, models that can stand alone once they're folded can be lifesavers. These models don't fall on the ground or need to be leaned against the car while you take care of your baby.
Canopy
Large, adjustable canopies are perfect for new babies. Sun or rain, they keep baby dry and safe.
Some canopies have peek-a-boo windows, so you can check on your little one while you walk.
Wheels and Suspension Systems
Most strollers have plastic wheels, except for jogger strollers. Jogging strollers usually have rubber wheels like a bicycle. However, there are some exceptions in both cases. Bike wheels are more durable and provide a smoother ride over rough terrain at higher speeds. However, they're not easy to control.
Swivel wheels provide better maneuverability, but they're not as stable as bicycle wheels on rough terrain. Some models have bicycle wheels that swivel or lock into place, making them a good option for families who want a single stroller that works for jogging and navigating through stores.
Keep in mind that large wheels provide a smoother ride, and luxury strollers may have front, rear, or all-wheel suspension to make the ride even more comfortable. Suspension systems aren't an absolute must, but these shock absorbers do make for a more comfortable ride for your baby. If you'll be going for long walks or runs, a model with suspension is worth considering.
Finally, strollers need wheel locks. Wheel locks keep the stroller in place while you get your baby in and out. They're also nice on hillsides. The last thing you want is to chase a runaway stroller down a hill.
Storage
If you have a place to store all your baby gear, outings become easier and you won't have to carry everything. Extra-large baskets, side pockets, cup holders, and treat trays are all forms of storage that keep things organized. Parents may want a model with a parent tray to hold car keys, a phone, and a drink.
Adjustable Handlebars
Strollers with adjustable handlebars save your back. If you're unusually short or tall, check to see if there are set positions or variable adjustments. The more options you have, the more people will be comfortable when pushing the stroller.
Weight
Baby strollers aren't always lightweight. Some of the luxury models or double strollers weigh over 50 pounds.
City dwellers may want to consider the lightweight frames of umbrella strollers because they're easy to carry on and off public transportation. Umbrella strollers are also the lightest strollers, weighing less than 15 pounds.
Size
How much storage space do you have at home? How big is the trunk of your car?
Some strollers, especially jogging strollers, can fill a car trunk. Get out your tape measure and make some calculations, so you don't end up with a stroller that's too big for your car or storage closet.
Brakes and Wheel Locks
Have you ever seen a shopping cart roll away in a parking lot? The same thing can happen to strollers. Brakes are a safety feature worth every penny.
For those who use jogging strollers, look for a model with hand brakes. They give you better control on hills and before stops.
Frequently Asked Questions
Can newborns go in strollers?
Newborns can go in strollers as long as the stroller has a seat that fully reclines, holds an infant car seat, or can be used with a bassinet. Newborns can't hold up their heads. If they're on too much of an incline, it can cause the head to flop to the side or forward and block the airways.
Can babies sleep in a stroller overnight?
A stroller with full recline allows a baby to safely sleep as long as there aren't blankets, toys, or other items in the stroller that could pose a suffocation hazard. Older children may wake up during the night, but sleeping in the stroller won't hurt them. Many parents walk to put their babies to sleep, and there's nothing wrong with letting your baby stay there as long as the seat reclines to a safe angle for the baby's age.
Are expensive strollers worth it?
That depends on what you need and what features matter most to you. Expensive baby strollers may be convertible or have advanced suspension systems. If you want to invest in a stroller that will last ten years while you raise multiple kids, it's worth investing in a model that's durable enough for the long haul. A parent training for a race, for example, might need a stroller with all-wheel suspension to keep their child comfortable. Basically, expensive strollers are worth it for the right person.
That doesn't mean you need an expensive stroller to get a comfortable stroller with a few convenience features. There are plenty of reasonably priced models that are durable, have great storage, and fold down easily.
Final Advice
Strollers will be such an integral part of your life with your baby that it's worth taking the time to really think about what you need and what features will matter the most. Decide on a budget. From there, you can look for a mode of transportation that will let both of you go for miles.