When it comes to setting up a bed, most people focus on finding the perfect mattress. However, the bed frame plays a crucial role in mattress height, stability, and overall comfort. One popular option that offers both style and functionality is the platform bed. In this guide, we will explore everything you need to know about platform beds, including their components, different types, platform bed ideas, materials, and the option to purchase or build a modern bed of your own. So, let's dive in!
What is a Platform Bed?
A platform bed is the kind of bed frame that provides a flat foundation for a mattress without the need for a box spring. Traditionally associated with a minimalist design, modern platform beds come in a range of styles, materials, and features. They are especially popular for their under-bed storage space, making them a great choice for bedrooms in small apartments.
Components of a Platform Bed
Several components make up a platform bed. The two essential elements are the easy DIY platform bed and the legs supporting it.
Platform
The platform is the part of the frame that holds the mattress. It provides a sturdy surface and eliminates the need for room for a box spring. There are different ways to construct the platform, each with its own benefits and considerations:
Platform Build
Material
Benefits
Downsides
Solid/Flat
Wood, plastic, metal,
bunkie board
Consistent surface
Reduced ventilation;
maybe heavier
Slats
Wood, plastic, metal,
bunkie board
Better ventilation;
lighter weight
Less consistent support;
Slats must be secured
Lattice / Grid
Metal
Fixed support structure;
better ventilation
May be heavier
Legs / Supports
The modern platform bed cannot sit directly on the ground, so it requires additional support in the form of legs. The minimum requirement is four legs, one at each corner of the frame. However, many platform beds also include additional legs in the center for added support and to prevent sagging.
Optional Components of a Platform Bed
Discover extra elements beyond the base and supports to elevate a platform bed's functionality, interior design, and visual appeal.
Headboard: A headboard adds style to the bed and prevents pillows from falling off when placed away from a wall.
Footboard: Similar to a headboard, a footboard adds style and comes in various designs.
Drawers: Some platform beds include drawers in the space beneath the platform, providing additional storage.
Canopy: You can make a canopy for a platform bed by adding tall posts at the corners and connecting them to form a rectangle over the bed.
Types of Platform Beds
Platform beds come in various styles, but no standardized terminology describes them. Here are some common ways to categorize low-platform beds and beds:
Number of Legs: Platform beds can have 4, 5, or 6 legs, depending on the design and desired stability.
Type of Platform: Platforms can be solid, made with slats, or use a metal grid/lattice structure.
Floating: Some platform beds have supports placed further underneath the platform, giving the illusion of a floating bed.
Low-Rise or High-Rise: This categorization refers to the height of the platform to the floor.
Storage Platform Bed: These beds incorporate one or more drawers into the frame, providing extra storage space.
Materials for Platform Beds
Platform beds can be constructed from various materials, each with a price and its own advantages and considerations:
Wood: Wood is a popular choice for platform beds due to its stability and versatility. Different types of wood and stains offer a range of styles. However, wood can be heavy, making the bed difficult to move.
Metal: Metal is commonly used in platform beds for its strength and sleek look. Metal platform beds can use metal or wood slats or a grid of metal supports as the platform.
Plastics and Composite Materials: Although less common, plastics and composite materials can be used to construct platform beds. These lightweight materials may not offer the same support and durability as wood or metal.
Bunkie Boards: Bunkie boards are pre-made platform pieces that can be solid or slatted. They are available in various materials and offer a low-cost option for creating the platform layer.
Reused Materials: Resourceful DIY builders often use recycled or repurposed materials, such as old wood pallets, cinder blocks, or particle boards, to create unique and budget-friendly platform beds.
Platform Bed Ideas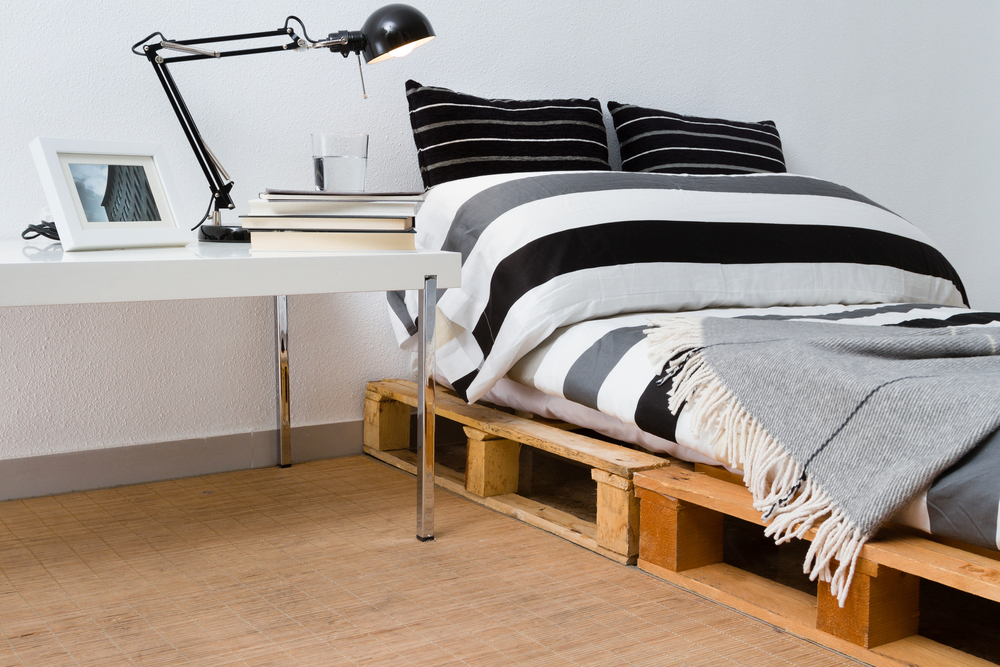 Are you looking to upgrade your bedroom with a stylish and functional bed? Look no further than DIY platform beds. These versatile and cost-effective bed frames are perfect for any home. Whether you're a fan of rustic or modern styles, there's a DIY bed frame that will suit your taste.
Wood Raised Platform Bed
If you prefer a standard-height bed that looks like a typical one, this wood-raised platform bed is the perfect choice. This bed combines functionality and style seamlessly with beautiful wooden legs supporting the platform. You can find detailed instructions for building this bed here.
Platform Bed with Bookshelves Underneath
For those living in smaller homes, maximizing storage space is crucial. This platform bed with bookshelves underneath is a fantastic solution. The wider platform doubles as a bookshelf, providing ample storage for your beloved books.
Easy DIY Platform Bed
If you're intimidated by the idea of building a platform bed, don't worry! This easy DIY platform bed is beginner-friendly and comes with detailed plans and pictures to guide you through the process. You can download the plans and get started on your own project here.
DIY Ikea Kitchen Cabinet Bed
Looking for a platform bed with extra storage? This unique DIY bed utilizes Ikea kitchen cabinets as the base, providing plenty of storage space for your belongings. The tutorial for this innovative bed is available in video form, making it even easier to follow along. You can watch the tutorial here.
Strong and Tough Platform Bed
If you have energetic kids who can be tough on regular beds, this strong and tough platform bed is the solution. The step-by-step tutorial walks you through the process of building a durable platform bed that can withstand the antics of rambunctious little ones. You can find the tutorial and materials list here.
DIY King Size Platform Bed
If you have a spacious master bedroom and want a king-sized bed, this DIY platform bed is perfect. With detailed plans and instructions, you can build your own king-sized platform bed and enjoy a luxurious night's sleep. The plans for this bed can be found here.
Platform Bed with Floating Nightstands
If you're short on space in your bedroom but still need nightstands, this platform bed with floating nightstands is the perfect solution. The tutorial provides step-by-step instructions for building a platform bed that incorporates both a bed and nightstands, making the most of limited space. You can find the tutorial here.
DIY Shanty-2-Chic Queen Platform Bed
If you're a fan of country farmhouse style, this DIY Shanty-2-Chic queen platform bed is the perfect addition to your bedroom. With legs that elevate the platform to a regular height, this bed combines rustic charm and functionality. The detailed tutorial for this bed can be found here.
Platform Bed with Drawers
If you want to save space and have more storage in your bedroom, this platform bed with drawers is a great option. With built-in drawers, you can have both a bed and a dresser in one piece of furniture. The tutorial for this space-saving bed can be found here.
Low-Waste Platform Bed Plans
This low-waste platform bed is the perfect solution if you're working with limited carpentry skills, time, and budget. With simple construction and minimal materials, you can build this bed in no time and for a fraction of the cost. The plans for this budget-friendly bed can be found here.
Platform Bed with Added Storage
This platform bed with added storage is perfect for those who need extra space to store their belongings. While it doesn't have built-in drawers, you can easily place baskets under the bed to hold any excess items. The tutorial for this storage-friendly bed can be found here.
Easy King DIY Platform Bed
If you're in the market for an easy-to-build king-sized platform bed, this tutorial is for you. With clear instructions and a detailed tutorial, you can create a beautiful and sturdy bed for your bedroom. The tutorial for this king-sized platform bed can be found here.
Platform Bed on Wheels
If you love the idea of rearranging your bedroom frequently, this platform bed on wheels is the perfect choice for you. With an easy-to-move design, you can effortlessly change the layout of your room. Additionally, the rustic appearance of this bed adds a touch of charm to any bedroom. The tutorial for this versatile bed can be found here.
The Toddler House Bed
This toddler house bed is the perfect project for parents looking to create a fun and functional bed for their little ones. With a playful design, this bed will make bedtime exciting for your child. The tutorial for this adorable bed can be found here.
DIY Modern Wood Platform Bed
If you're a fan of modern aesthetics, this DIY modern wood platform bed is the perfect choice for your bedroom. This bed offers style and comfort with a headrest as part of the design. The tutorial for this sleek bed can be found here.
Building Your Own Platform Bed
Building your own can be rewarding if you're feeling creative and want a customized platform bed. Here's a step-by-step guide to help you get started:
Step 1: Get Inspired
Before you begin, gather inspiration from online platforms and social media. Explore different ideas, read about others' experiences, and view their photos to determine your DIY platform bed's overall style, features, and budget-friendly options.
Step 2: Plan Your Design
Once you know what you want, create a detailed plan for your platform bed. You can find free construction plans and diagrams of modern wood platform beds online or draw your own. Pay special attention to measurements, connections, and support to ensure the structural integrity of your platform bed.
Step 3: Gather Materials and Tools
Collect all the materials needed for your platform bed, ensuring they align with your design and budget. You can save on additional costs if you already have the necessary tools. Make sure you have a suitable workspace to handle the materials and tools safely.
Step 4: Build Your Platform Bed
Follow your plan and diagrams to construct your platform bed. Take your time and double-check each step to ensure accuracy. Pay attention to the wood platform bed's stability, support, and overall aesthetics as you assemble it.
Step 5: Position and Test
Once your platform bed is complete, carefully move it into your desired location in the master bedroom. Place your mattress on the platform and test the stability and comfort. Make sure to adjust or reinforce as needed for a safe and comfy sleeping area.
Special Considerations for DIY Platform Beds
While building your kids' own platform bed offers customization and cost savings, there are a few important considerations to keep in mind:
Mattress Warranty: Check the fine print of your mattress warranty to ensure that your DIY platform bed meets the required characteristics. Improper support may void the warranty.
Mattress Weight and Use: Consider the weight of your mattress and how it will be used. Heavier mattresses or specific usage scenarios may require additional reinforcement in the platform bed frame.
Mattress Dimensions: Double-check your bed dimensions to ensure a proper fit within your chosen design and the desired height of the bed.
Tools and Workspace: Assess whether you have the necessary tools and a suitable workspace to complete the project safely and efficiently.
Buying a Platform Bed
If the DIY route isn't for you, numerous options are available for purchasing a platform bed. Here are some popular brands and their platform bed offerings:
These platform beds can be purchased directly from the manufacturer or from third-party retailers, such as Amazon. Additionally, you can find platform beds at mattress showrooms, furniture stores, and department stores.
How Much Does a Platform Bed Cost?
The cost of a platform bed varies depending on factors such as design, materials, and size. Simple, light platform beds can be found for around $100 or even less during sales, while more elaborate or heavy-duty options can cost $1,000 or more.
Buying vs. Building a Platform Bed: Which Option is Right for You?
Deciding whether to buy or build a platform bed depends on several factors. Consider the following:
Lean Toward Buying a Platform Bed If:
You have limited experience with DIY projects and prefer a proven and reliable option.
You require a sturdy bed frame due to factors such as body weight, mattress usage, or warranty considerations.
You want to make sure of the validity of your mattress warranty, as some warranties require specific frame characteristics.
You lack the necessary tools or workspace to build a platform bed.
You need a bed frame quickly and prefer the convenience of online or in-store purchasing.
Lean Toward Building Your Platform Bed If:
You are skilled and experienced in DIY projects and enjoy customizing your furniture.
You already own the required tools and have a suitable workspace for construction.
You want complete control over the design and features of your platform bed.
You are on a tight budget and want to save money while creating a unique piece of furniture.
FAQs
How can I choose the right platform bed for my bedroom?
Choosing the right platform bed involves considering factors like your room's size, decor style, and storage needs. Measure your space, determine your design preferences, and select a bed that aligns with your requirements.
Are platform beds comfortable without a box spring?
Yes, platform beds are designed to support a mattress directly, eliminating the need for a box spring. However, investing in a high-quality mattress is essential to ensure comfort and proper spinal alignment.
Can I build my own platform bed?
Absolutely! Building your own platform bed can be a rewarding DIY project. There are numerous online tutorials and plans available to guide you through the process, allowing you to customize the design to your liking.
Do platform beds require any special maintenance?
Platform beds are generally low-maintenance. Regular cleaning and occasional tightening of screws or bolts, if applicable, will help keep your bed in excellent condition. If the bed has storage compartments, ensure they remain organized.
What's the ideal mattress thickness for a platform bed?
The ideal mattress thickness for a platform bed typically ranges from 10 to 12 inches. Thicker mattresses might obstruct the headboard or footboard design, so it's essential to choose a compatible mattress height.
Can I use a platform bed in a small bedroom?
Yes, platform beds are an excellent choice for small bedrooms due to their space-saving design. Opt for a platform bed with storage options to further maximize the use of your limited space.
Conclusion
Platform beds offer a stylish and practical alternative to traditional bed frames. With a variety of designs, materials, and options to purchase or build, there is a platform bed to suit every taste and budget. Consider your needs, preferences, and level of DIY expertise to determine the best approach for you. Whether you choose to buy or build, a platform bed can transform your bedroom into a comfortable and inviting space for restful nights of sleep.