Paring, chef's, cleaver — kitchen knives come in a wide variety of types and styles, each with a different specialty and use. Some knives function as an all-purpose kitchen tool, while others are better used for cutting meat from the bone or peeling vegetables. The right kitchen knives make a huge difference in food prep. They glide through tomatoes, chop onions, slide across the edge of a steak, and reduce general fatigue when you spend hours in the kitchen.
Most people only need three basic knives for kitchen success. However, more serious chefs may need a few more options to enhance their cooking experience. We've reviewed five of the best kitchen knives. Some of which are appropriate for gourmets and others for those who want a general-purpose knife for daily use. We've also included a shopping guide to help you wade through the growing sea of kitchen knives on the market.
5 Best Kitchen Knives of 2023
Best Kitchen Knife Overall: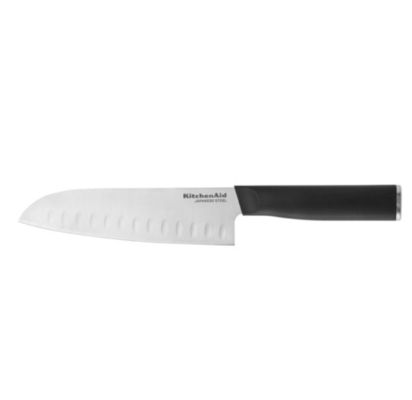 German stainless steel made through a nitrogen cooling process gives this knife excellent flexibility, hardness, and corrosion resistance. A scalloped, hollow edge lets it glide through vegetables and meats with equal precision. The ergonomically-designed handle comfortably fits the hand, so you've got the agility to prepare both daily and gourmet meals.
$14.99 from Walmart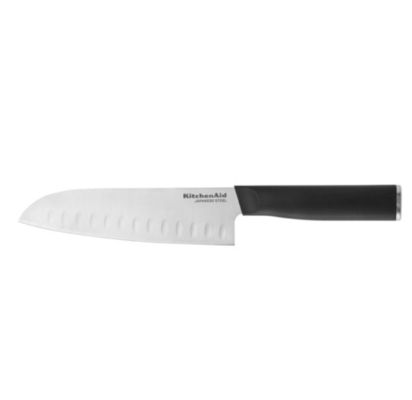 Best Kitchen Knife Overall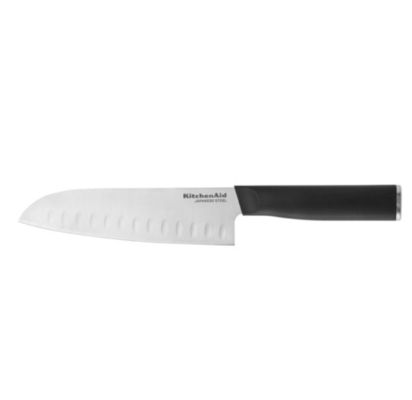 Best Kitchen Knife Overall:
Scalloped, hollow blade to better glide through meats, vegetables, and cheeses
Excellent handle/blade balance for better control
Nitrogen-cooled German stainless steel holds an ultra-sharp edge
$14.99 from Amazon
The Japanese Santoku knife has replaced the traditional chef's knife for many home and professional chefs alike. They're similar in form and function, but some prefer one over the other. The Sky Light Classic brings everything you want and need from an all-purpose knife. The German-made stainless steel goes through a nitrogen cooling process to create harder steel and extra flexibility.
Those important properties are enhanced with the scalloped, hollow edge that allows this knife to glide through thick meats as well as it does through delicate vegetables. An ergonomic handle not only perfectly fits the hand, but it also balances with the blade for an intuitive feel as you work your way through the kitchen.
Tip: Santoku knives have a thinner blade than most chef's knives. When made with a lightweight wood or plastic handle, they can reduce wrist and hand fatigue and create incredibly precise cuts.
Best Budget Kitchen Knife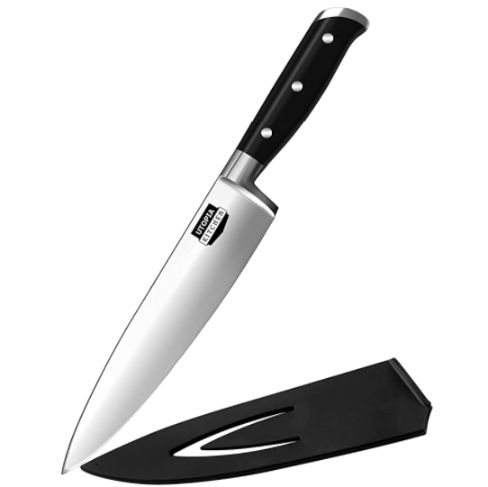 Best Budget Kitchen Knife:
Tarnish and rust-resistant stainless steel blade
Ergonomically designed and balanced handle for better overall control
Bolster protects fingers from accidental cuts
$10.99 from Amazon.com
Utopia Kitchen makes the perfect knife for tight budgets. A stainless steel blade resists corrosion and rust and offers an edge that responds to regular sharpening. Home cooks will find this knife perfect for a little bit of everything – slicing vegetables, preparing meats, and dicing fruits.
Inexpensive knives often lack the balance of their more expensive counterparts, but the Utopia Kitchen Chef's Knife has an ergonomic handle design that balances the blade. The results are precise cuts with every stroke.
Tip: The handle design of the Utopia Kitchen 8-Inch Chef's Knife minimizes finger cramps and hand fatigue so you can use it longer.
Most Versatile Kitchen Knife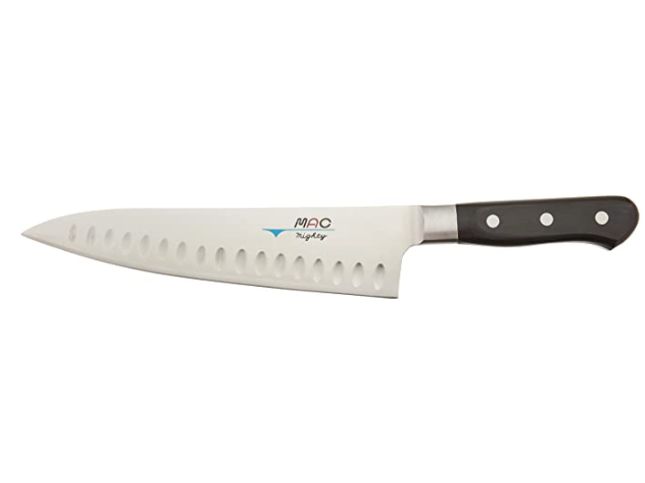 Most Versatile Kitchen Knife:
Scalloped, hollowed blade to eases the knife's path through sticky foods
Thin, 2.5mm blade reduces fatigue
Incredibly sharp blade easily cuts through delicate foods
$144.90 from Amazon.com
The MAC MIGHTY rivals other high-end brands in quality and durability. The Japanese stainless steel blade has a scalloped or dimpled edge that creates air pockets so the knife can slide through with greater ease. That makes chopping potatoes or thick cuts of meat that much easier. When that's coupled with its razor-sharp edge, you're looking at a knife that cuts as expected every time.
MAC knives are known for their high-quality steel that holds a sharp edge even with heavy use. This model competes with other professional knives, slicing through notoriously difficult foods like butternut squash and potatoes with no problems.
Tip: To maintain the blade's edge, hand wash your knives. Dishwashers may cause the knife blade to come into contact with silverware or other items that dent or nick the blade. Dishwasher detergents can also dull blades with time or cause handles to separate from the tang.
Most Ergonomic Kitchen Knife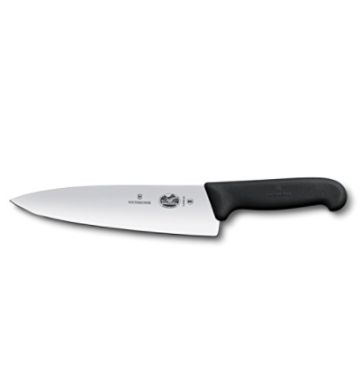 Most Ergonomic Kitchen Knife:
Lightweight, ergonomic, thermoplastic elastomer (TPE) handle
Extra-wide blade perfectly balanced by the handle
Non-slip grip helps maintain control through each cut
$35.15 from Amazon.com
Victorinox is known for the Swiss Army knife, so it makes sense that their kitchen knife lines would be just as effective and worth owning. The Fibrox brings everything together — lightweight, ergonomic handle, tough Swiss stainless steel, and perfect balance.
The non-slip grip handle adds the perfect touch to an already well-balanced design. It's easy to hold, which makes maintaining consistent, even cuts that much easier. It also has a nice curve to the blade, creating a rocking motion that moves you through food prep faster.
Tip: To preserve your knives, they need proper care. Wash and dry the knife after each use. Depending on how often you use it, you'll need to regularly sharpen your knife to maintain a sharp edge.
Best Paring Knife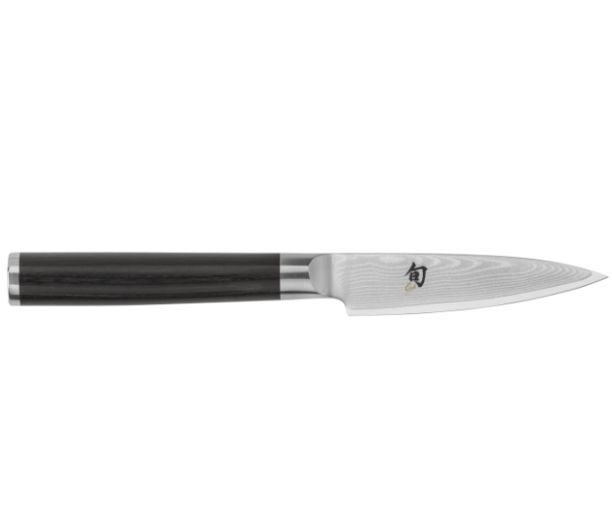 Best Paring Knife:
Beautiful Damascus steel blade
Pakkawood handle works for both right- and left-handed people
Full tang for better balance and control
$113 from Shun.kaiusa.com
Paring knives are typically used to peel and pit fruit, but they're handy enough that they often get used for cutting smaller foods like grape tomatoes or garlic, too. The short 3.5-inch blade on this Shun knife makes it easy to handle for topping strawberries or even pitting cherries.
A full tang extends through the handle, which feels almost luxurious in the hand. It's also designed for use by either right- or left-handers. One of the best features is the composite Damascus steel blade. The forging of Damascus steel brings together multiple layers of steel for a stronger blade with a unique, almost watery look.
Types of Kitchen Knives
The list of kitchen knife types gets pretty long. We've included eight of the most common ones. But the truth is most people only need three or four different knives. The most popular being a chef's or Santoku, paring, bread, and maybe a fillet or boning knife. That's not to say that all the other types aren't great, but not everyone needs them. You can always start with the basics and add what you need later. However, for those gourmets out there, you might just be looking to acquire the perfect specialty knife to your collection.
Chef's
Paring
A chef's knife is a versatile knife that functions as the kitchen workhorse. They do a little of everything like slice, dice, chop, and more. A slightly curved blade creates a rocking motion as you cut to build momentum and speed up food prep.
Blade lengths, widths, and weights vary, with heavier knives working better for larger, heavier cuts of meat. They generally have a seven to eight-inch blade, and most people prefer the seven to eight inch models because they're easier to handle. But, if thick cuts of meat are frequently on your table, a longer ten or twelve-inch model might work better for you.
A short, sharp blade makes paring knives perfect for the peeling, coring, and mincing of smaller foods. Their narrow, thin blades have a pointed tip that lets you break through the skin of fruits and vegetables. Their ease of use makes them a favorite, but watch out for their exceptionally sharp blades.
Carving
Utility
The long slender carving knife slices meat from the bone, although it's not meant to cut through the bone. The extra length moves through thick cuts of meat with less resistance, creating thin, even pieces of meat. This is the knife for carving thin slices, deli-style.
A utility knife falls somewhere between a paring knife and a chef's knife in size. And it's meant for those jobs not suited for either of those knife types.
Mid-sized vegetables, cheese, and meats are easy work for this knife. However, peeling and coring are better left to paring knives, while chef knives work better for the bigger chopping and cutting jobs.
Boning or Filleting
Bread
Though boning and filleting knives are different, with boning knives having thicker blades, they look very similar. Their long thin blades let you reach near the bone or create thin, beautifully cut fillets.
Bread knives are one of the basic three knives every kitchen should have. These serrated knives break through crusts without smashing the bread. They're great for cutting through pastries, bagels, and basically any other bread-like foods.
Santoku
Cleaver
The Santoku knife comes from Japan and falls somewhere between a chef's knife and a cleaver in design. Many professional chefs choose between a chef's knife and a Santoku knife. Santoku knives work for cutting vegetables or meat. The only thing it doesn't do well is cut meat away from bones.
The infamous cleaver cuts through thick, large meats that smaller knives can't handle. Meat lovers definitely need a good cleaver, while everyone else only needs one if large cuts are a regular part of life.
Kitchen Knife Features to Consider
From the type of steel to the handle materials, a lot of factors go into determining the perfect kitchen knife. Quality matters, and different materials affect the knife's durability and use. However, much of it comes down to the knife that feels best in your hand.
Blade Material

Stainless Steel: High-carbon stainless steel is one of the most popular knife blade materials. It's an alloy that resists rust and corrosion, making it ideal for an all-purpose blade. However, the quality varies based on the mix of metals, with inexpensive alloys corroding fairly quickly. The right environment can stain stainless steel, and it loses its edge faster than carbon steel or ceramic. But its durability tends to make it an ideal choice.
Carbon Steel: Carbon steel blades predated stainless steel, but it doesn't contain the chromium that protects stainless steel from corrosion. However, high carbon steel is a hard steel that creates blades that hold a sharper edge than most other knives. With the proper maintenance, namely drying them after each use, carbon steel makes an excellent choice. They're also easier to sharpen than a stainless steel blade.
Titanium: Titanium's dark color makes it easy to identify. It resists rust, but it's softer than other materials and tends to lose its edge faster.
Ceramic: Ceramic knives are popular for their sharp edge and corrosion resistance. Ceramic blades hold their edge for a long time, too. However, ceramic cracks easily if dropped due to its brittle nature, and they require special knife sharpeners.
Damascus steel: Damascus steel is made by forging two different types of steel together. A Damascus forged knife has a unique, wavy appearance, but it also makes tough harder steel.

Handle Material
The handle serves a dual purpose of providing control of the knife and balancing the blade. Metal, wood, and plastic are the most common handle materials. Lightweight knives often have plastic or wooden handles, making the knife lighter and easier to manage. Single piece knives, where the blade and handle are made of the same piece of metal, are more durable, but they tend to be heavier. Wood and plastic may not hold up as well in a dishwasher, but they're light and often have ergonomic, comfortable handles. High-quality materials make a difference in handle longevity, so don't sacrifice quality.
Blade Quality
Blades come made of various qualities of steel, titanium, and ceramic. Stainless steels with a higher chromium content, between 10 to 12 percent, are a great choice because they resist corrosion better than blades with lower chromium content. German manufacturers and Japanese manufacturers are known for their high-quality stainless steels. Higher quality stainless steel holds its cutting edge longer. German knives tend to be heavier and easier to manage, while Japanese knives are lighter and require more precise handling. Either type works well, but it comes down to personal preference.
Weight
Heavier knives are more work to use, especially if you have small hands and limited mobility. But they can make it easier to cut through large cuts of meat and thick cheeses as the weight helps force the knife through. Generally, the knife should feel heavy enough that the weight helps you cut and chop. However, it shouldn't make you tired after five minutes of food prep. The right weight will vary from person to person and depend on how you intend to use the knife.
Balance
A blade that drastically outweighs the handle and vice versa can be difficult to manage. Most people prefer more weight in the blade to help with each cut, but what feels right will vary from person to person.
Full Tang
The tang is the piece of the blade that extends into the handle of a two-piece knife. A full tang extends the entire length of the handle, making a sturdier, more durable knife that's easier to use.
Frequently Asked Questions
What is the best way to store kitchen knives?
The best way to store kitchen knives depends on what's most important to you. Is it easy access? Blade protection? Or organization?
The most common storage methods are a wooden block (either on the counter, under-counter, or wall-mounted), magnetic wall rack, or drawer tray. Wooden blocks are the classic method and typically come as an option with knife block sets. Wood can dull the blades, so store them with the blade facing up. Magnetic wall racks work well if you want quick access while saving space. However, they won't work for titanium or ceramic knives. Drawer trays are great if you have the drawer space. You may also want to have a cover or sheath for each knife to prevent nicks in the blades.
What's the difference between a Santoku and a Chef's knife?
A chef's knife ranges in length from six to fourteen inches with an angle of 20 to 22 degrees.  The curved blade creates a rocking motion that helps develop a cutting rhythm, and the blade ends with a sharp tip. Santoku knives are shorter at five to seven inches with a thinner, straighter blade. The blade usually has a 12 to 15-degree angle. They both function much the same in the kitchen. If you prefer a lighter knife and don't mind the extra precision it takes, a Santoku is best for you. However, if you like the extra length, heft behind your knives, and appreciate easy maneuvering, a chef's knife could be perfect instead.
Are kitchen knife sets worth buying?
Kitchen knife sets often come with knife types you'll never use. Most people don't need more than a chef's knife, paring knife, and bread knife, which makes a 12-piece set overkill. However, if you'll use a boning, fillet knife, utility knife, and several sized paring knives, a set of high-quality knives is worth it. You may also want a matching set that includes a knife sharpener, serrated knife, and kitchen shears. Otherwise, you're better off investing in higher quality but a fewer number of knives.
Final Advice
A dull knife with a nicked blade could make even simple tasks difficult and mean the difference between cutting the food and cutting your finger. Consider the type of cooking you do most and where your personal preferences lie. From there, balance your choice with blade quality and handle style so that you end up with the best knife for your cooking needs. When you find the right one, you'll know because it will become your best friend in the kitchen.