The best password managers allow you to create, store, and manage passwords, while also securely storing other data like banking and shipping information. A reliable password manager should let you auto-fill your data across multiple devices and browsers and will have exceptional security, but will still allow you to safely share select passwords with your roommate, partner, or family members.
In addition to helping people to keep track of their passwords in a secure vault, a password manager helps promote overall online security. In this day and age, consumers have as many as 100+ accounts that require passwords, and having the same one or two passwords for your online banking accounts, social media accounts, Wi-Fi networks, smart home devices or appliances, streaming subscriptions, shopping accounts, and other accounts is just asking for trouble.
It's easy to resort to using the same password over and over again out of convenience. But if you have too few passwords or too little variation across your different account passwords, a hacker can get into your accounts simply by figuring out one small piece of data. A password manager can help to ensure your safety and security by creating new and unique passwords for each account you create, and some password managers can also remind you to change your password or even change it on its own automatically.
We round up the best password managers on the market today. To further narrow down the list, we break the best password managers down into different categories like the best free password manager, the best password manager for families, and the best password managers for those who work at home.
The Best Password Managers of 2023
Best password manager overall: Bitwarden
Pros
Excellent free and paid tiers
Open-source
Multifaceted
Cons
Some features are unnecessarily complicated
Bitwarden offers an exceptional free and paid tier and an open-source application, making it the best password manager currently available.
Starting at $0 from Bitwarden
Best password manager: Bitwarden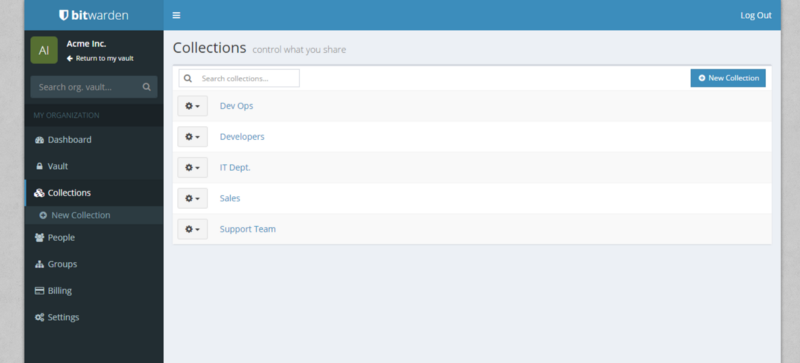 Best password manager overall: Bitwarden
Pros
Excellent free and paid tiers
Open-source
Multifaceted
Cons
Some features are unnecessarily complicated
Starting at $0
We chose Bitwarden as our pick for the best password manager for its phenomenal free tier service, its affordable paid tier services, its compatibility across multiple browsers and devices, and its high level of security.
Bitwarden offers something for everyone. If you want a free password manager, Bitwarden's free tier gives you unlimited logins on as many devices as you want. Unlike LastPass, which only lets you use its free tier on mobile or desktop, you can use Bitwarden's free password manager on all of your PCs, Macs, Apple mobile devices, Android phones, and it even works on Linux.
Bitwarden has browser extensions for just about any browser you can imagine—even Brave and Tor—so the extension can pop up whether you use Chrome, Safari, or something more uncommon. With the free version, you get the core features like a random password generator and a secure vault for your passwords, but you can also share the data in your vault with one other user. This means you have everything you need without paying a dime if you just want the basics.
The premium tier costs only $10 a year ($40 per year for families), and going premium gives you access to additional features and perks like Bitwarden's authenticator, authentication via YubiKey, U2F, and Duo, 1GB of encrypted file sharing, and emergency access. The $10-per-year premium subscription is only for one user, while the $40-per-year family subscription supports up to six users.
Best free password manager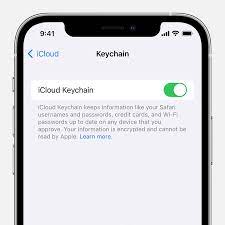 Best free password manager: Apple iCloud Keychain
Pros
Intuitive
Password security alerts
Free to use
Cons
Designed primarily for Apple devices
If you're someone who only uses Apple devices, Apple's iCloud Keychain is one of the better free password managers available. There's no installation to worry about, no downloading, and no setup. Apple's password manager works inherently and immediately at the touch of a slider button.
It has end-to-end encryption that protects your passwords, the ability to auto-fill data like credit card numbers, and the ability to detect compromised passwords. You can share passwords directly in the settings menu via the share icon, as well as add notes, set up a verification code, or change your password.
A secure, yet barebones password manager, iCloud Keychain is a good option for anyone who wants a basic option for their Apple devices. There's a browser extension for Windows available, but we wouldn't recommend this free option for people who use a variety of different device types. If you use a Windows gaming PC, an iPhone, a Chromebook, and an Android Tablet, for instance, you'd probably be better off using Bitwarden's free tier.
Best password manager for families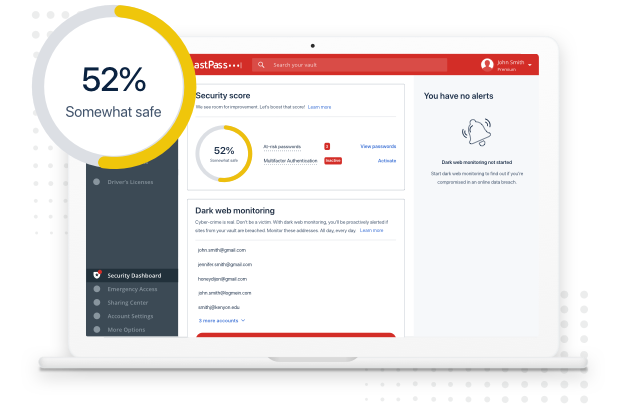 Best password manager for families: LastPass
Pros
Offers a free and paid tier
Paid tier is affordable
Very easy to use
Cons
Free service only available on desktop or mobile, but not both
Starting at $0 from Lastpass
LastPass is perhaps the most well-known name when it comes to password managers, and for good reason. Although the free tier of LastPass isn't ideal if you want something you can use across multiple device types, the family tier is second to none. It's extremely user-friendly and intuitive, and an older child or teen can absolutely navigate this $48-per-year family password manager.
LastPass offers 256-bit AES encryption, zero-knowledge security, and other features like the ability to safely share passwords. With the paid versions, you get 1 GB file storage, advanced multi-factor authentication, dark web monitoring, automatic password updates, and a family manager dashboard if you opt for the family tier.
The family dashboard lets you assign family roles, where individuals can be family managers or members. Each member has their own password vault, but family managers are more like administrators who can invite members and manage access.
If you constantly have kids or roommates coming up to you and asking "what's the Amazon password?" LastPass's family tier might be an ideal option. You can share passwords like the Netflix and Amazon password with your family or roommates, but keep your social and banking passwords safely locked away in your digital vault until you need them.
Best password manager for working at home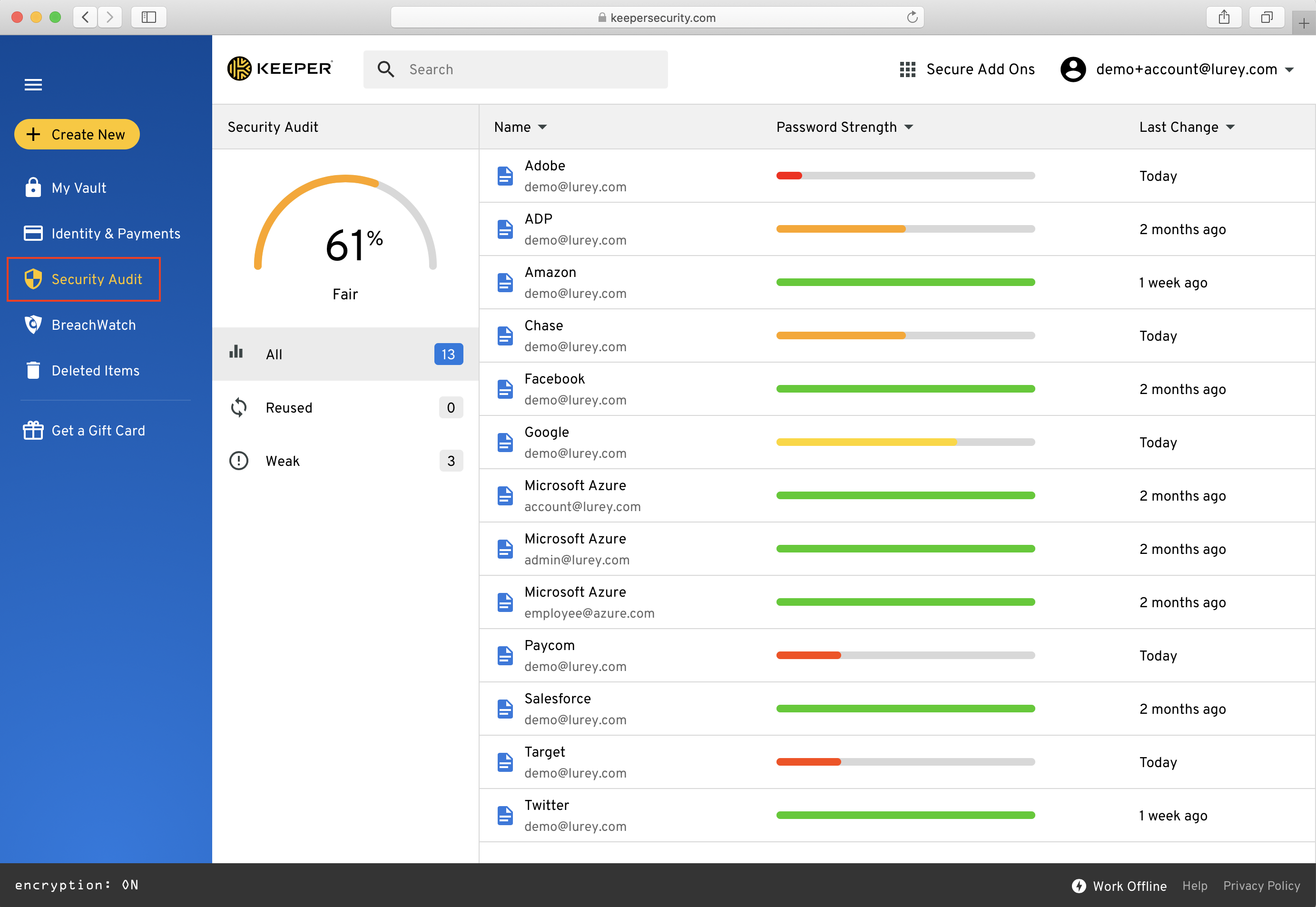 Best password manager for working at home: Keeper
Pros
Has an offline mode
Secure password management
Cross platform syncing (paid version)
Cons
A lot of setup required to get the most out of Keeper
Starts at $35 annually
Password security is essential for anyone, but it's even more vital for those who are accessing business sites and databases from home. Keeper is perhaps one of the most secure password management platforms available, making it the best option for those who work from home.
Not only does Keeper have zero-knowledge security, it also uses custom security questions to further protect your data. Keeper has a comprehensive walk-through to show you how to use the password manager, but this is one of the more involved applications out there.
The browser extension, called KeeperFill, is available on most browsers (think Chrome, Edge, Firefox, Explorer, Opera, and Safari), and it gives you a lot of control over what info you include for which sites. If you only want to fill in the username and password for one site, yet fill in the credit card and shipping info for another, you can achieve this. You choose how much information you want to auto-fill on each different site, and you can also ensure each site's validity via domain matching.
The password generator creates a 20-character password, and that makes each of your passwords tough to crack. You can share passwords and choose when the sharing link expires, giving you complete control.
Keeper is one of the more expensive offerings, priced at $35 annually for the personal plan, $75 per year for the family plan, and $55 per year for the password manager and dark web monitoring. There is a 30-day free trial available if you want to try Keeper though, so you don't have to shell out money before testing out the service.
Best premium password manager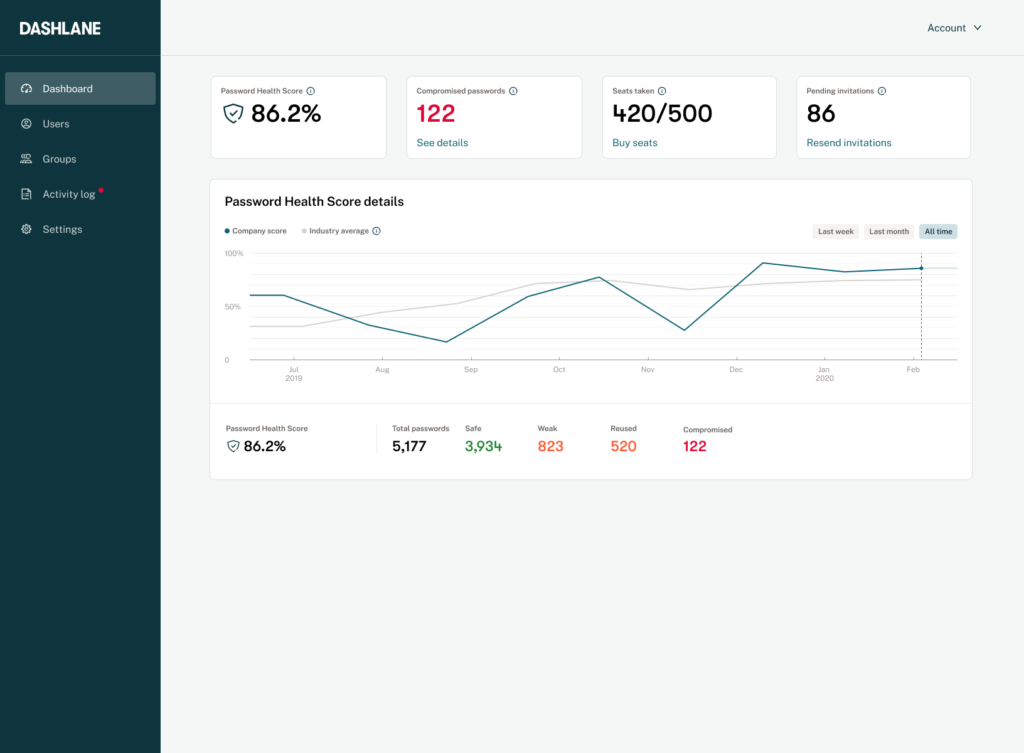 If you want a password manager that offers extra bells and whistles, Dashlane might be worth a look. Its paid and family plans are more costly than most of its competitors, priced at $60 and $90 per year, respectively, but its paid versions offer premium features like a VPN, dark web monitoring, and an automatic password changer to ensure your passwords stay secure.
Like many of its competitors, Dashlane uses zero-knowledge security so no one except you can access your encrypted passwords or data. It supports the major platforms and devices, so you can use Dashlane on your Windows 10, MacOS, iOS, or Android devices and use browser extensions on Safari, Edge, Chrome, or Firefox.
The addition of a VPN allows you to securely browse the web in public or privately browse the web anonymously. This adds an extra security feature under one subscription umbrella, making it so you don't have to subscribe to another VPN service.
Best free-trial password manager
NordPass isn't the best option if you're looking for a long-term free solution, but if you want to try out a password manager to see if you like the idea, NordPass's free trial offers a lot during the 30-day trial period. Like many of its competitors, NordPass uses zero-knowledge security to help promote data safety. It has one of the better random password generators we've encountered, as it can create passwords of up to 60 characters in length (although the default setting is 12 characters).
The free trial lets you save and auto-fill passwords, import and export passwords, maintain notes and auto-fill forms, take advantage of multi-factor authentication, and sync across multiple devices.
You can even stay logged in when switching between devices, as well as give access to passwords in an emergency. It also allows you to check your password health by scanning the web for data leaks and identifying old or reused passwords. An offline mode even lets you view and copy NordPass entries when you're already logged into your account.
The mobile and desktop applications are intuitive, making this password manager convenient and easy to use.
Before deciding on the best password manager for you, consider the following information.
FAQ
How does a password manager work?
Most modern password managers are web-based (cloud) applications that store your encrypted account data on a server. Your password storage is often referred to as a vault. To access your vault, you typically have a master password that's protected by two-factor authentication or biometrics to help reduce breaches by key-logging malware.
Are password managers safe?
As long as the password manager has good encryption and different layers of security (like biometrics or multi-factor authentication), password managers are generally safe. That is, they are generally much safer than re-using the same password over and over.
What does zero-knowledge encryption mean?
The best password managers have zero-knowledge policies. This means only you can access your encrypted data, and not even the people who work for the company can access it.
How do I choose the best password manager?
Choose the best password manager for you by finding the application that best fits your needs and budget. There are free options from brands like Google and Apple, which allow you to get many of the benefits of a password manager without paying a monthly cost, but a paid password manager is a better option if you want to use the service across multiple devices and browsers and you want the latest and greatest features available.
What's the difference between a paid password manager like LastPass vs. Apple iCloud Keychain?
Apple iCloud Keychain natively works on Apple devices, so it's best-used on Apple products. On the other hand, most paid managers like Bitwarden work on just about all devices. Paid services are also usually more feature-rich.
Most paid password managers offer a free tier, allowing you to get service without paying a subscription free. Many of the best password managers also offer free trials on their paid plans, making it possible for you to try out the monthly paid plan before you commit.
What features do I get with a password manager?
A basic password manager will pop up and ask if you want to automatically create or save a password when you create a new account. The best password managers have random password generators that create passwords that are very difficult to crack via a brute force attack. A good password manager also offers a secure vault where you can store your account data, like credit card and banking information.
It depends on the service, but many password managers let you do things like scan for data leaks, identify reused passwords, and access a security dashboard. Some password managers offer additional perks like a built-in VPN as well.