Shoes may not make the player, but they make a difference in reaction times, responsiveness, and the power of every rebound and jump shot. Basketball shoes come in high-top, low-tops, and everything in between. Player position, body type, and injury history come into play when picking a shoe. Someone prone to ankle sprains needs a high-top's added ankle support, while a point guard may prefer lightweight low-tops with added stability during quick lateral movements.
Basketball shoes grow more technical every year, and each new feature can impact how the shoe fits, cushions, and stabilizes the foot. We reviewed five of the best basketball shoes on the market. These models stand out for the durability of their construction and the technology and materials that give them their signature characteristics. We've also provided a shopping guide to give you inside information about basketball shoe design and how it can affect your game.
5 Best Basketball Shoes of 2023
Best Basketball Shoes Overall: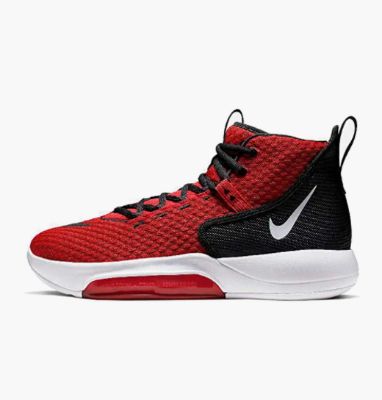 Outstanding traction gives the Zoom Rize a superior grip on both inside and outside courts. A translucent rubber pod through the forefoot provides extra control for fast cuts and lateral movements. The 10mm Zoom air unit cushions the foot through jump shots, fast-breaks, and powerful rebounds.
$140 from Nike.com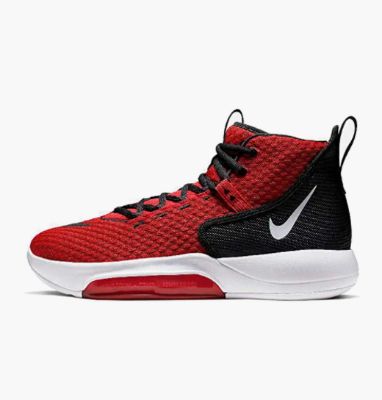 Best Basketball Shoe Overall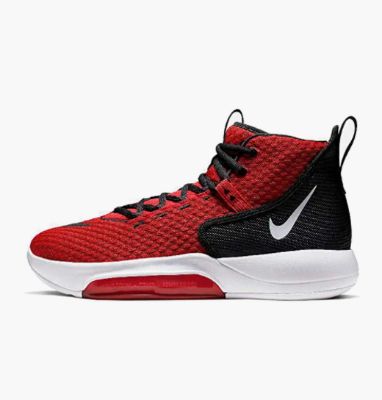 Best Basketball Shoe Overall:
Responsive forefoot cushioning for quick recovery and response to movement
Mid-top design provides ankle support but maintains ankle mobility
Grippy traction for precise court movement
$160 from Amazon.com
The Nike Zoom Rize came onto the market as a paired down version of the AlphaDunk. However, it's proven itself to be a formidable shoe on the court. For this basketball shoe, it almost always comes down the traction. A durable rubber outsole and circular tread pattern grip outdoor courts and indoor courts (dusty or not) with equal precision.
Cushioning is another of the Zoom Rize's top features. The Zoom pod cushioning in the forefoot cradles the foot on landing. That extra cushioning affects the sneaker's court feel, but for big players, centers, and power forwards who battle for rebounds, that extra cushioning keeps the feet going until the last buzzer.
Tip: The Nike Zoom Rize has a padded inner collar to prevent chafing and maintain a snug fit.
Best Classic Basketball Shoes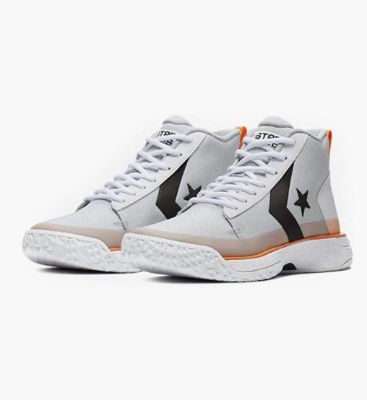 Best Classic Basketball Shoes:
Classic look with modern design and technology
Minimal support for players who prefer freedom of movement
Snug fit that conforms and moves with every change in foot position
$120 from Amazon.com
What is basketball without a nod to Chuck Taylors? Converse hails back to their classic look in a shoe that qualifies as a minimal basketball shoe. The design favors textiles in the upper over extra padding, cutting weight and maintaining a close fit. The snug upper enhances the court feel throughout the shoe.
The heel gets locked in place, yet it's fully cushioned for a springy response during rebounds and tight cuts. Players that stay on their toes will appreciate the unique traction pattern that's highly focused in the forefoot. The All Star Pro BB shortens reaction times, but it's definitely meant for indoor courts.
Tip: Basketball shoes are designed to withstand the tension and pressure of a typical basketball game. Their design structure supports tight cuts, explosive speeds, and the forces of rebounds and jump shots.
Best Outdoor Basketball Shoes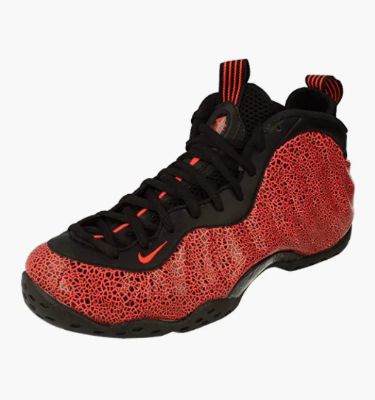 Best Outdoor Basketball Shoes:
Foamposite sole conforms to the unique shape of the foot
Translucent sole maintains grip on textured outdoor courts
Three layers of support to prevent injury in the midsole and arch
$230 from Amazon.com
The Foamposite 1 brings the extra support needed for rougher, harder outdoor courts. A translucent rubber on the outsole provides excellent grip on the texture of outdoor courts. The cushioning comes from full-length Zoom Air technology, with two layers in the heel. The powerful cushioning can feel stiff at first because it takes time to break-in.
The stiff foam molds to the foot as it's warmed by body heat, conforming to the player's unique foot shape. Finally, Foamposite is known for durability, which any basketball player who hits the outdoor courts knows is absolutely necessary. Otherwise, those rough, outdoor courts can chew through a pair of basketball sneakers within a few games.
Best Low-Top Basketball Shoes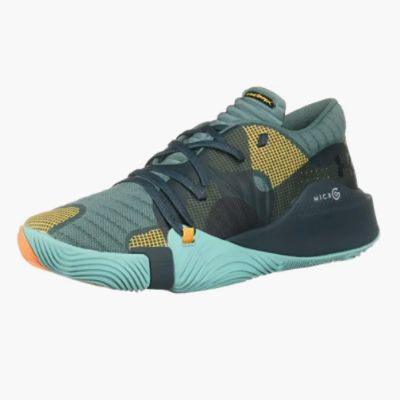 Best Low-Top Basketball Shoes:
Superior traction that bites into dusty courts
Soft but responsive cushioning
Midfoot shank offers foot and ankle support
$80 from Amazon.com
The Anatomix Spawn Low grips the basketball court, even dusty ones, so you can sprint, cut, and jump with greater responsiveness. The traction wraps around the side and front of the shoe, giving you control through every move from start to finish.
The traction is supported by soft but responsive cushioning. It never feels mushy, like you're stuck in your pivot. The Anatomix protects the foot and supports explosive power.
Some players are hesitant to wear low-top basketball shoes because they don't offer the same roll protection and support as a mid or high-top sneaker. However, the Anatomix features several layers of TPU film and PU coated mesh for a breathable but highly-supportive design. This model also contains a midfoot shank to stabilize the foot and prevent rolled ankles.
Tip: A grippy shoe like the Anatomix can take some getting used to, especially if your previous pair of basketball shoes were worn out. Before you jump into a game, break-in the kicks. Once you're on the court, take some time to shoot, sprint, and make a few cuts before you're at game speed. A little practice could save your ankles..
Best Women's Basketball Shoes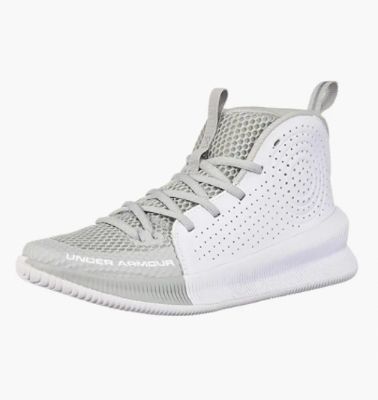 Best Women's Basketball Shoes:
Internal heel counter locks the foot in place through explosive moves
Extra support of a midfoot shank
Well-cushioned EVA midsole that doesn't take long to break-in
$75 from Amazon.com
The UA Jet offers simple comfort with excellent support and good traction. An internal heel counter locks the foot in place, so you're not sliding around in the shoe. That's an important feature for a women's shoe because women tend to have narrower heels prone to slipping.
Under Armour developed an internal heel bootie to keep the fit snug and responsive. To further support the ankle, the UA Jet contains an internal midfoot shank. The shank prevents the foot from rolling when under pressure. Finally, this shoe offers comfortable cushioning that doesn't take long to break in.
Tip: Break-in your basketball shoes before wearing them in a competitive game. Wear them around the house in incrementally longer periods of time, starting at about 10 minutes. They should be ready for a game after a week or two of steady breaking-in..
Types of Basketball Shoes
Basketball shoes can be categorized based on the height of the ankle support. Of course, each shoe type has its pros and cons. Your position, weight, and style of your game play influence the type of shoe that's best for you. Your ankles' strength and whether or not you're prone to sprains should also weigh heavily in your choice. When it comes down to it, it's about what feels comfortable to you. Don't sacrifice comfort for a brand or type of sneaker that doesn't fit well.
Low-Top
Mid-Top
Low-top basketball shoes offer the least ankle support, but that does not mean they don't have features to protect the foot. These shoes are typically the lightest weight and have the same traction and high-quality materials as any high-top. Some manufacturers make a single model in both a low and high-top version.
Low-top sneakers are a good option for players who prefer maximum ankle mobility and don't want a heavy, clunky shoe holding back their speed. Some players who wear an ankle brace may also find a low-top model more comfortable.
Mid-top shoes fall between low and high tops when it comes to their ankle rise. Some players may find them more comfortable than a high-top because the shoe does not rise as high on the ankle. There's also less chance of rubbing and stiffness through the ankle.
High-Top
High-tops used to be pushed as the best way to prevent ankle sprains. While high-tops help support the ankle, they won't completely prevent rolling an ankle.
However, players prone to ankle problems often find the extra support of a high-top to be comforting. High-tops can also add an additional layer of support to an ankle brace.
Make sure the shoe fits your ankle and foot anatomy. It shouldn't rub on the ankle bone or back of the heel.
What Makes a Good Basketball Shoe?
Traction
Basketball requires quick moves, direction changes, jumps, and landings that rely on excellent traction. Different traction patterns may work better for you based on the kind of game you play. Power players might need heavy forefoot traction while a point guard may need all-around traction to break through a full-court press or make fast-breaks.
Where you play your game makes a difference in the traction you need as well. On an indoor court, dust is your biggest issue. Translucent rubber outsoles tend to collect dust and work better on clean courts, while opaque rubber maintains the same kind of grip no matter the court's condition.
On an outdoor court, you need more aggressive traction made of harder rubber. Even smooth outdoor courts are harder on new basketball shoes than an indoor court. However, traction effectiveness depends on the rubber compounds in the sole combined with the traction pattern.
Support and Stability
Support comes from a number of places. In the shoe's upper, support comes from the closure techniques. Straps or hook and loop closures provide more lacing options to support the ankle through any injuries. Some design teams create layers at varying angles in the upper to further support the foot and ankle. Keep in mind that extra layers bring extra weight too.
Shanks, a firmer piece of material through the arch of the shoe, in the midsole support the arch and help prevent a rolled ankle.
A relatively wide outsole, the portion of the shoe that provides traction, can also offer more support and stability than a narrow design.
Cushioning
Most of a shoe's cushioning comes from the midsole. Lightweight shoes contain EVA or compressed EVA foam midsoles, while heavier but more durable shoes may have polyurethane midsoles.
Each brand has different cushioning techniques like Nike's Zoom air cushion or Under Armour's Micro G mid-foam. Some offer more cushioning in the heel while others focus on the forefoot. It comes back to the kind of cushioning you need based on your foot anatomy, game style, and personal preferences.
Heel Counter
A heel counter is a plastic piece that surrounds and supports the heel. Heel counters can help correct pronation and lock the foot in place so it doesn't slide or slip in the shoe.
Fit
The best shoe for you should always come down to fit. It doesn't matter how many rave reviews it gets. If it doesn't feel good on your foot, it's not worth it. There should be wiggle room around the toes, but a generally snug fit through the forefoot. The heel should stay tucked into the shoe without slippage.
If you have a foot that's difficult to fit, look for a model that offers different lacing options like extra holes, hooks, and straps. Different lacing techniques can help you adjust the fit. However, everything else about the shoe should already be comfortable. Don't rely on laces to make an uncomfortable shoe work for you.
Know Your Position
The position you play makes a difference in what you need from your basketball shoes. For example, big men fighting it out underneath the basket may require more cushioning and responsiveness. Point guards need traction and stability to support quick changes in direction as they bring the ball down the floor. Shooters may want a combination of cushioning, stability, and traction so they can pop off a shot in seconds. An honest analysis of how you play the game can help you pick a better shoe.
Frequently Asked Questions
What kind of shoe should a heavier player wear?
Bigger, heavier players tend to play in the key, where they need to rebound, block out, and grapple for the ball. Shoes with plenty of cushioning will prevent foot pain after a long game. Most ankle sprains come from landing on another player's foot, which means centers and forwards may need extra support and stability in the midsole to prevent ankle sprains. You may also want to consider high-tops to support ankle stability.
What's the difference between men's and women's basketball shoes?
In some respects, there's no difference. Any basketball player, man or woman, needs excellent traction, cushioning, and support. However, there are differences in how and where that support best serves the player. Men tend to have wider, more uniform feet from the toe all the way to the heel. Women, on the other hand, have a wider forefoot and narrow heel.
Men's basketball shoes accommodate the larger size and weight of the average man as well as the general shape of man's foot. Women's basketball shoes are tailored to a narrower foot with internal heel counters and support that factors in a women's lower center of gravity due to wider hips.
How often should you replace basketball shoes?
First, it's important to understand why you should replace your basketball shoes before they are worn out. A sneaker's cushioning and support wear down with time. Every mile you put on the shoe pushes it closer to break down. Once the sneaker's support and cushioning begin to go, you become more susceptible to ankle, knee, and hip pain or injuries.
The frequency with which you replace the shoes depends on how often you play basketball. If you're playing an hour a day five days a week, your shoes may wear down within a couple of months. But, if you're playing for 30 minutes once a week, they could last six months or more. Keep an eye on how frequently you play, and don't let your shoes get to the point that your feet hurt. By then, your chances of injury dramatically increase.
Final Advice
Great shoes can make a big difference in how you play and how you feel after a game. Factor in your position, the type of game you play, and the surface of the court as you make your decision. From there, a basketball shoe that fits and feels comfortable is the perfect companion for your game.