A solid pair of gym shoes can make the difference between slipping and sliding through aerobics class and improving your running times. Gym shoes for women have narrower heels and more stability features to prevent inward rolling of the ankle and foot. Differences in traction, outsole design, and lacing systems make certain sneakers more appropriate for certain gym activities over others.
We reviewed six of the best workout shoes for women on the market. Some are specialized for specific types of training, while others are great all-around picks. We've also provided a shopping guide to help you through the ins and outs of women's gym shoes.
6 Best Gym Shoes for Women of 2023
Best Gym Shoes for Women Overall: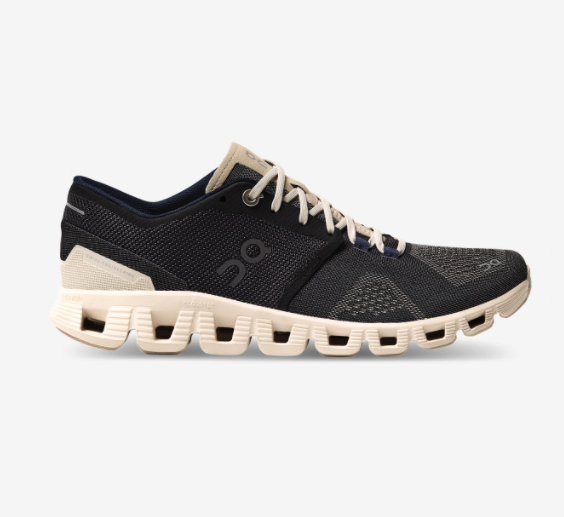 The Cloud X's unique traction pattern with deep lugs combines with molded cushion pads that improve energy return with every step. They're a well-cushioned, responsive shoe that supports the stress and impact of multiple sports.
$139 from On-Running.com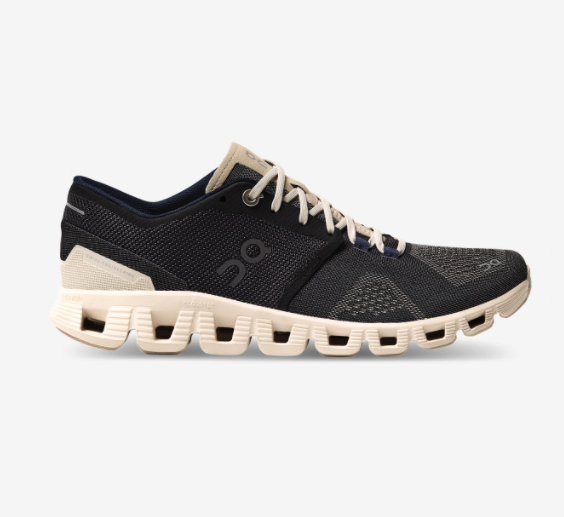 Best Women's Gym Shoes Overall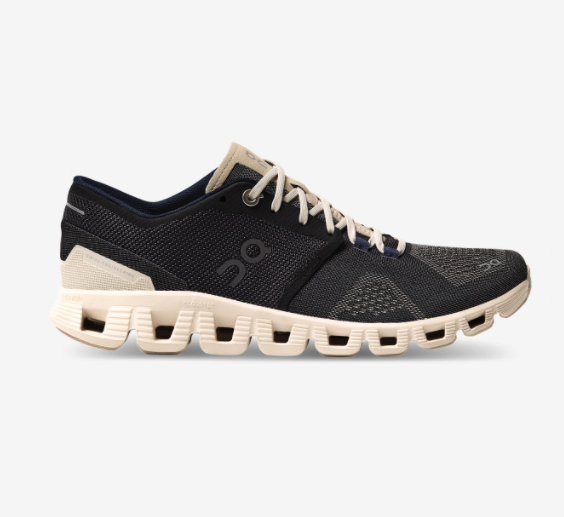 Best Women's Gym Shoes Overall:
Helion superfoam outsole provides good cushioning and energy return for explosive movements
Molded heel cushion pads enhance the fit and keep the heel in the pocket
Deep traction pattern works well in multiple sports, including running, HIIT training, and cross-training
$139 from On-Running.com
The ON Running Cloud X doesn't look like an everyday gym shoe. The unique outsole, made of Helion superfoam, combines the foam's cushioning with a columned design that further absorbs impact. That cushioning is supported by deep lugs that grip the road or gym floor with equal precision.
On the inside, molded heel cushions adapt to the wearer's foot and keep the heel snug in the pocket. ON Running also uses a Speedboard in the midsole to improve energy return, propelling the foot forward with each step. The raised sidewalls and durable mesh upper are tough enough for intense cross-training sessions or weightlifting workouts. The high reactivity and light weight of the Cloud X make it a favorite for athletes who regularly do a mix of activities in each workout.
Tip: The Cloud X comes in five colors and half sizes.
Best Cross Trainers for Women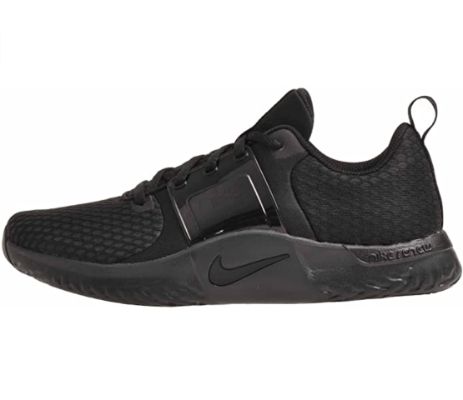 Best Cross Trainers for Women:
Midfoot strap locks in the foot during fast-paced workouts
Strategically placed rubber tread in high wear areas
Enhanced cushioning and energy return for functional fitness and aerobic classes
$79 from Amazon.com
The best cross-training shoes keep you comfortable during short runs, aerobics classes, and functional fitness workouts. The Nike Renew In-Season TR 10 provides a lightweight option that locks the foot in place to boost response times and prevent a sluggish feeling.
It features rubber tread strategically placed in high wear areas to improve the shoe's longevity while providing the grip for explosive bursts. To reduce the shock of those quick moves, a deep foam footbed cushions the foot, but springboards energy back into the body. Overall, the Renew puts a spring in each step of your workout.
Tip: Different types of aerobics classes put different stresses on your body. For example, cardio classes require flexibility and support to allow the foot to twist, turn, and pivot. On the other hand, HIIT training puts more lateral stress on the foot and shoe, making wider outsoles and stability features more important. Matching the shoe to the activity will improve your performance and protect you from injury.
Best Multipurpose Training Shoes for Women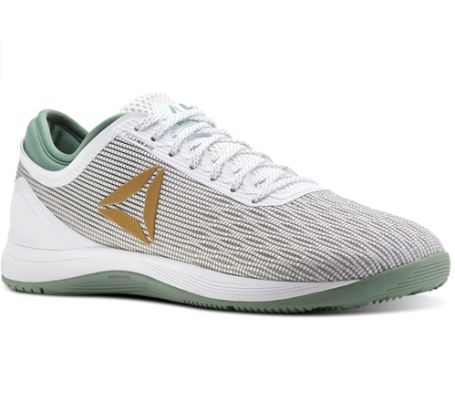 Best Multipurpose Training Shoes for Women:
Snug, flexible fit with the figure eight Flexweave upper
Heel bootie cushions and holds the heel in place during dynamic moves
Flexible forefoot and low cut provide more mobility
$200 from Amazon.com
If you're doing box jumps, jump rope, and kickboxing in a single workout, the Reebok Nano 8 Flexweave can keep up. A figure-eight Flexweave material in the upper keeps the foot snug yet moves with the foot for a comfortable, responsive feel. It's also incredibly durable for the kind of workouts that could have you scraping your toe or pushing through a rope climb.
The rubber outsole provides excellent grip with a traction pattern designed to enhance flexibility in the forefoot. These are some of the best shoes for high-intensity interval training (HIIT), functional fitness classes, and athletes who get bored sticking to one sport.
Best Lightweight Gym Shoes for Women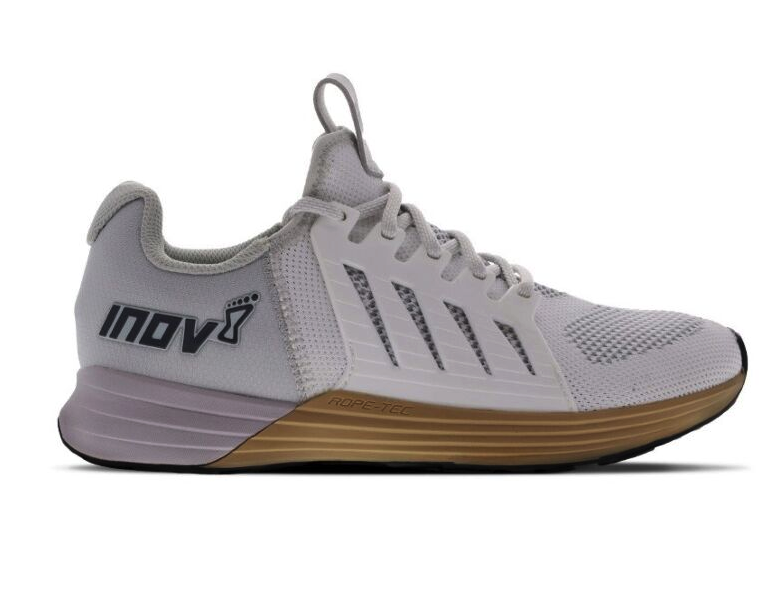 Best Lightweight Gym Shoes for Women:
Weighs 10.5 ounces
Graphene-infused midsole stabilizer to protect and support the foot
Provides support and stability without adding weight to the shoe
$150 from Inov-8.com
The Inov8 F-Lite G 300 has a unique mix of materials and technology packed into a lightweight, 10.5 ounce shoe. Lightweight shoes usually have to compromise on support or cushioning to stay light and responsive. The F-Lite G 300 bucks the trend. A graphene-infused midsole lifting stabilizer supports the foot through runs, heavy lifts, and explosive moves. The graphene adds durability as it resists abrasion, wear, and tear.
A flexible thermoplastic cage further supports the foot through intense training sessions. Not many lightweight shoes have the goods to protect the foot during runs and weightlifting, but this one does. It's a cross-trainer designed to handle a broad range of activities, protecting the foot the entire way.
Tip: The average woman's narrow heel and wide hips put them at greater risk for overpronation, a rolling inward of the foot and ankle. Stability features in the midsole help prevent this rolling, protecting the foot and ankle from injury.
Best Stability Gym Shoes for Women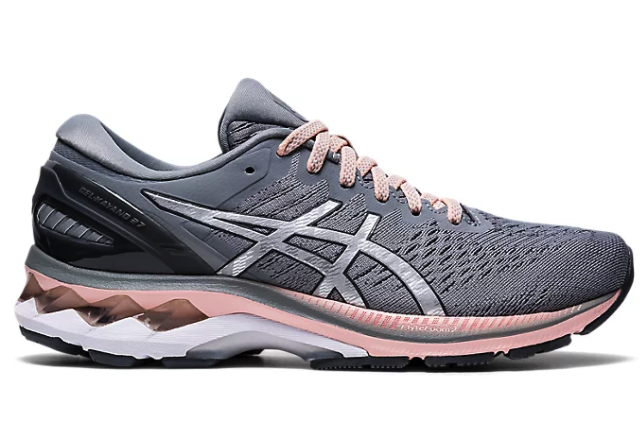 Best Stability Gym Shoes for Women:
SPACE TRUSSIC technology eases the foot through the gait for a smoother transition from foot strike to toe-off
DYNAMIC DUOMAX technology reduces inward roll upon foot strike
External heel counter locks the heel in
$160 from Asics.com
The Gel-Kayano's 27th version builds on a long series of excellent stability shoes. The Gel-Kayano 27 features DYNAMIC DUOMAX technology in the midsole that absorbs impact and reduces the inward roll of the foot and ankle. It's supported by a trussic design adjusted to a woman's gait that guides the foot through a smooth transition from foot strike to toe-off.
Even the outsole gets involved in the stability features. Flex grooves under the heel and an external heel counter stabilize the heel and hold it in place upon the foot strike.
Tip: The Asics Gel-Kayano 27 contains gel cushioning in the heel and forefoot to absorb shock and help the foot move through each phase of the gait.
Best Eco-Friendly Gym Shoes for Women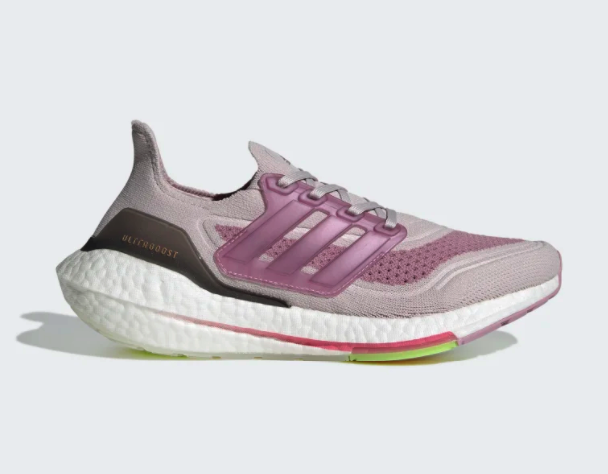 Best Eco-Friendly Gym Shoes for Women:
Upper made with Primeblue fabric (composed of recycled plastics)
Knit upper adapts to and moves with the foot for a consistently snug fit
Stabilizing torsion system to support the foot through a healthy, neutral gait
$180 from Adidas.com
Adidas takes their responsibility as a global shoe manufacturer seriously. The entire Ultraboost line contains at least some recycled materials. In the Ultraboost 20, the Primeblue fabric in the upper is made from ocean plastic. The knit fabric molds and adapts to the foot for a snug fit even as you move through dynamic, multiplanar moves.
There's no compromise on support or cushioning with a stabilizing torsion system that provides full foot support. An ultra-responsive midsole improves energy return, so you get an extra bounce in your step and leave a smaller carbon footprint.
Types of Gym Shoes for Women
Cross Trainers
Minimal
Cross trainers are the shoe for women who like to vary their workout and training routines. These shoes have broader forefoots with outsoles that often wrap around the side of the shoe to provide stability and traction for intense lateral moves. They're not necessarily for long-distance runs, but they provide enough cushioning for short to mid-distance workouts. The cushioning and stability of a cross-trainer usually work for strength training, aerobics, and HIIT classes.
If you vary your routines and want a sneaker that will work for most activities, a cross trainer is a good pick for you.
Minimal shoes have an offset – the difference between the heel height and the toe height – that's less than three millimeters. They protect the foot from the ground but provide little cushioning.
Some runners love a good minimal sneaker, as do some weightlifters. However, if you haven't used them before, it takes time for the foot to strengthen and adapt to them. It's recommended to only wear them for a few minutes a day, gradually increasing the time until you can do a regular, full-length workout.
Minimal shoes are not a good choice for those with a low or high arch as they don't provide enough cushioning or stability to protect the foot and ankle.
Weightlifting
Running
You might get away with a cross-trainer when lifting low to medium weights. However, if you're lifting heavier weights regularly, a good weightlifting shoe can improve your form and performance.
Weightlifting sneakers have a low profile with firm cushioning and a flat sole. That firmer foam doesn't compress as much under heavy weight, allowing you to use the force of the weight to help you lift.
Weightlifting shoes also feature straps that lock the foot in place and excellent rubber outsoles for better grip.
Runners know the value of a good running shoe. The best running shoes have adequate cushioning for your typical distance. If you go for long runs, over four miles per day, you may need extra cushioning to protect the foot from the stresses of repeated footstrikes. However, if you only do short distances during warmups, a cross-trainer might be all you need.
Running sneakers have narrower outsoles than a cross-trainer but more cushioning. Many women's running shoes are made with stability features like guard rails and medial posts to prevent side-to-side motion caused by overpronation.
If your primary workout is running on the treadmill, a women's running shoe is probably the right shoe for you.
Lightweight
Every type of shoe comes in a lightweight version. Cutting weight, no matter the workout, reduces the energy it takes to run, jump, and do anything else.
You may want a lightweight shoe for speed workouts or races. A lightweight cross trainer can improve box jump heights, the speed of your double jumps, or sprints. Just make sure the shoe has comfortable cushioning and the right support features.
What Makes a Good Gym Shoe for Women?
Stability
Women tend to have more stability issues due to the biomechanics of the female body. Wide hips are more likely to cause overpronation. Consequently, many women's shoes have extra stability features like medial posts in the shoe's arch and guard rails to guide the foot through a neutral gait. Stability features may add a few ounces to the shoe, but they're worth it to protect the health of your feet.
Cushioning
The type and amount of cushioning you need in a shoe depend on the type of activities you do. If your workouts involve a decent amount of running, you'll need extra cushioning to absorb the impact. Sneakers with soft foam can provide relief for conditions and injuries like plantar fasciitis and shin splints.
Weightlifting workouts, however, require less cushioning to keep the heel closer to the ground and a firmer cushioning system to prevent too much compression. A cross trainer is a good option for workouts that involve a mix of running and weightlifting.
Offset/Heel to Toe Drop
The offset is the distance between the height of the shoe's heel and toe. A high offset of 9 to 12 mm causes you to land more on the midfoot and toe, where runners like to strike. However, a high offset is the opposite of what you want when lifting weights. A mid to low offset of under 5 or 6 mm works better because you can use your body's force to propel through the lift.
Like all of the other shoe features, it's best to determine what kinds of activities you want to do so the shoe complements the forces you put on your body.
Weight
Lightweight shoes typically weigh somewhere between 8 to 11 ounces. They're made with high-quality but lightweight EVA foams for a well-cushioned midsole. Many times, these shoes can cut seconds off of your sprint or distance times. However, they can sometimes skimp on stability and cushioning. Shoe weight isn't as important in workouts that don't involve speed. For example, a lightweight weightlifting shoe won't make much of a difference in your max weight but could leave you less supported.
Traction
Where do you do your workouts? If you're in the gym, a traction pattern that grabs from all directions will keep you stable when doing box jumps or aerobics classes. Even weightlifting shoes require a good grip in the forefoot and heel, so you can ground your feet during weight training.
Frequently Asked Questions
How often should I replace my gym shoes?
A shoe's life gets measured in miles and hours. Runners generally replace their shoes after 300 to 500 miles. For some women, that could mean replacing the shoe every three to four months. For others, it could be a year.
But if you're not a runner, how do you know when it's time to get another pair of shoes? Another rule of thumb to consider if running isn't your preferred sport is the number of hours worn. Most exercise shoes need replacing after 50 to 70 hours. That may be in a better indicator for someone who does cross-training or weightlifting.
Also, look for general signs of wear and tear like worn tread, a floppy sole, or a peeling outsole.  Any of these can be a sign that your shoe has seen better days and probably isn't providing enough support anymore.
Can I use a running shoe for cross-training and weightlifting?
These different activities put two different kinds of stress on the body and the shoe. Running is a high-impact sport that requires extra cushioning to absorb repeated footstrikes. Weightlifting puts heavy forces on the feet and requires stability. The extra cushioning of a running shoe quickly compresses under heavy weight and can make you less stable. Consequently, you may not be able to reach a deep squat or similar positions when lifting in a running shoe.
Running shoes are a little more appropriate for cross-training since cross-training usually involves running. However, you won't get the lateral support and traction that a cross-trainer offers. That could make you more prone to rolling an ankle or slow your overall performance.
Why do I need a lower offset for weightlifting?
The mechanics of weightlifting uses your body's force, the weights, and the ground in tandem to lift the most weight possible. A high offset shoe's foams compress and absorb rather than support and allow you to use force to push back against the weight and propel through the lift. They can also put you too much on your toes when you need to sink into your heels.
Final Advice
The right gym shoes for women can help you run faster, jump higher, and avoid injury. They should support the forces and stress that your chosen activities and workouts put on your body. Finally, the best women's workout sneakers should feel as good on your feet at the end of your routine as they do at the beginning.