The best sneakers provide good traction, support, stability, and it doesn't hurt if they look good too. There are sneakers meant for the gym, the road, and even the boardroom. To get the right pair, you'll have to determine what exactly you need from your sneakers.
Casual sneakers may only need to be comfortable and fashion-forward. However, gym sneakers need to stabilize and support the foot while providing cushioning for high-impact exercises. Others straddle the line between sneaker and sandal for better foot protection with maximum flexibility and minimal support.
We reviewed seven of the best men's sneakers, including classic styles and low-tops to elite running shoes and retro-inspired casual pairs. We've also included a shopping guide to help you up your sneaker game from functional to sleek and stylish.
7 Best Men's Sneakers of 2023
Best Men's Sneakers Overall: Nike Joyride Run Flyknit Sneakers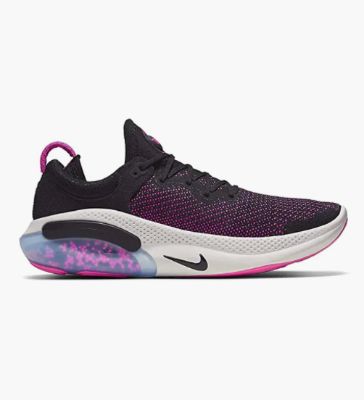 The Joyride's foam beads mold to the foot and ground, providing an adaptable foundation to take the impact and pressure out of every step. The flyknit upper keeps the shoe snug but lets air circulate for a breathable ride.
$140 from Amazon.com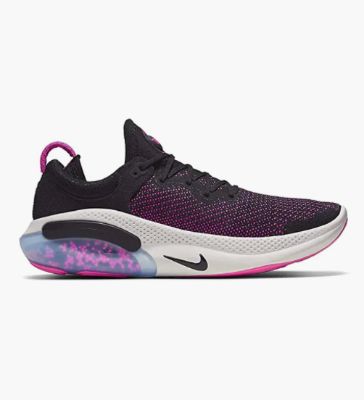 Best Men's Sneakers Overall: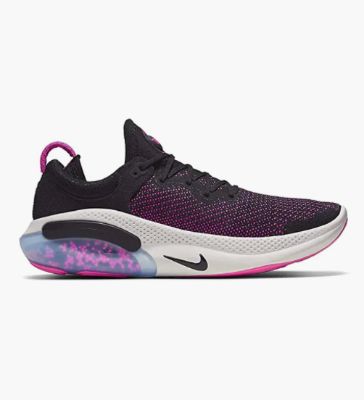 Best Men's Sneakers Overall:
Custom impact absorption from four pockets of foam beads
Breathable, lightweight mesh upper for a snug, adaptable fit
Nobbed rubber soles provide added durability and traction
$140 from Amazon
The Joyride's unique look comes from the customized cushioning of foam beads located in four strategically placed pockets. The beads conform to both the foot and ground to reduce the shock of impact. Yet, the beads provide a strong, stable platform on which to build your performance.
Then there's the lightweight, flyknit upper. Flyknit provides a close, snug fit but lets the foot breathe, preventing heat build-up. Comfort is further enhanced by a one-piece foam collar that cuts low around the ankle, making the shoe easier to take on and off. On the outside, durable rubber placed in high wear areas gives you the grip to make quick cuts, stops, and high-energy jumps. Overall, it's a shoe that looks unique and sporty with high-performance features.
Tip: Without good breathability, a shoe can build up heat and moisture, causing chafing, blisters, and other skin problems.
Best Men's Elite Running Sneakers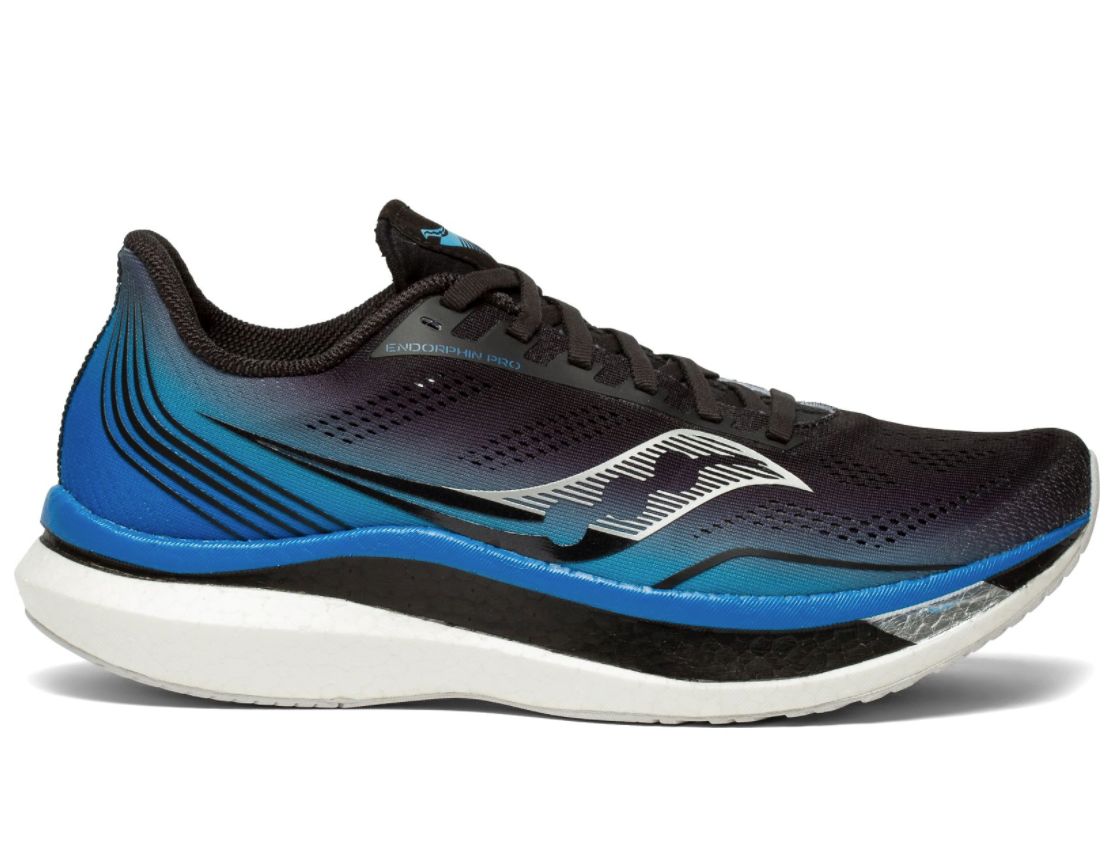 Best Men's Elite Running Sneakers:
Carbon plate enhances energy return, giving the shoe a bouncy feel
PWRRUN foam creates a plush but responsive ride
Speed Roll technology propels the foot forward for a quick landing and toe-off
$200 from Saucony
Carbon plating has changed the running world, and Saucony jumped in with their own take in the Endorphin Pro. This sleek, highly responsive shoe provides the stability and bounciness for pros but the cushioning for mere mortals. Saucony uses a unique PWRRUN foam in the midsole that looks like large, interconnected beads. Incredibly lightweight, the beads border on plush but don't feel mushy. Instead, there is balance and responsiveness with every step.
Saucony includes Speed Roll technology that gives the shoe a slight curve from the midsole toward the toe. The Speed Roll leans the runner forward in the stride. However, a slightly stiff, S-shaped carbon plate embedded in the midsole supports the runner's weight. The plate spans the entire length of the shoe and enhances energy return, so the runner uses less energy on each stride. This is the type of shoe that cuts seconds off your PR and reduces fatigue, especially on long-distance races.
Tip: The Saucony Endorphin Pro is made entirely of vegan-friendly materials.
Best Men's Basketball Sneaker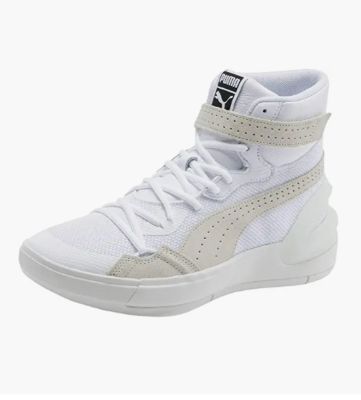 Best Men's Basketball Sneaker:
Excellent energy return from the lightweight PROFOAM midsole
High-abrasion grip outsole provides excellent traction and dynamic court movement
TPU heel clip and sidewall add stability
$138 from Amazon.com
Puma's retro-inspired Sky Dreamer Basketball Shoe puts modern spin and technology on Puma's great 80s styles. A midsole made of PROFOAM provides cushioning and enhanced energy return but keeps the shoe's weight relatively low. This cushions the foot and reduces overall fatigue.
On the outside, high-abrasion rubber strategically placed in high wear areas provides traction for dynamic, multi-dimensional moves. The mid-top design doesn't lack ankle support. A thermoplastic polyurethane (TPU) heel clip and sidewalls add stability where it's needed most. The Puma isn't as flashy as some of the other basketball shoes on the market. However, it's packed with technology that supports the foot and enhances performance.
Best Men's Retro-Inspired Sneaker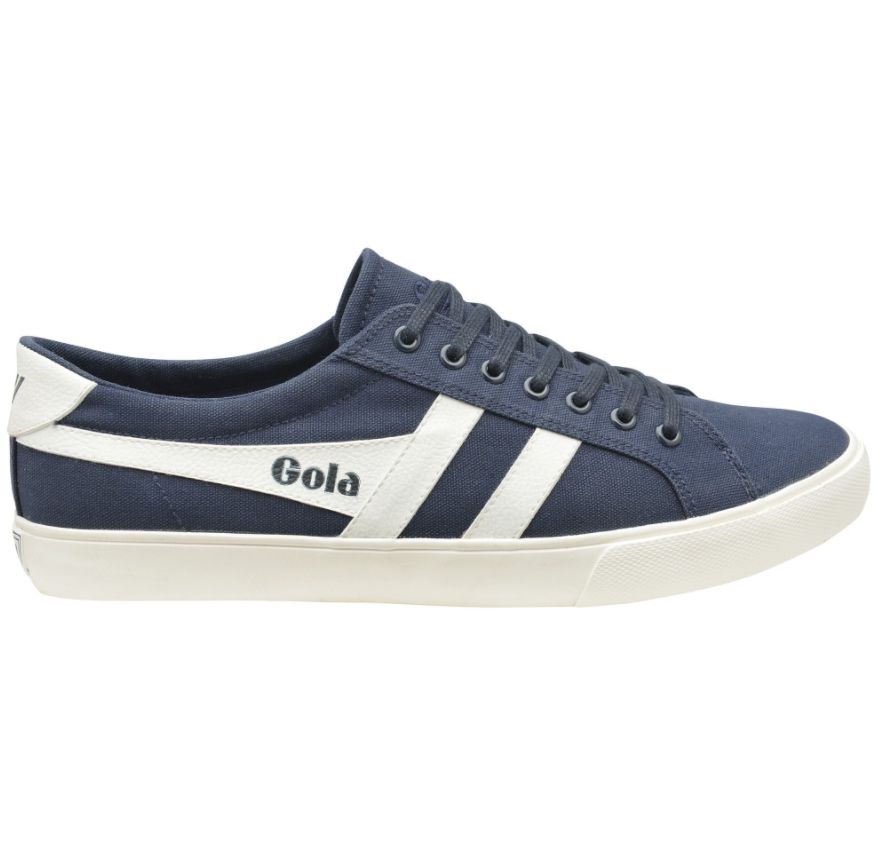 Best Men's Retro-Inspired Sneaker:
Classic canvas upper
Vegan materials
Wingflash design adds a touch of style
$55 from Golausa.com
Gola's Classics Men's Varsity Sneakers are what's called a plimsoll, which is an athletic shoe with a canvas upper. Gola keeps things simple and classic with two side strips and a wingflash design that hint at retro styles but maintain a modern twist.
Tough canvas in the upper and a low, rubber heel put a laid back, comfortable edge on the shoe. Two color options and a simple lace-up closure complete the look. For casual weekends and weeknights with friends, the Gola looks polished and put together but completely comfortable and chill at the same time.
Tip: Plimsoll is a British word that means a rubber-soled canvas shoe. However, a sneaker by any other name is still a sneaker.
Best Men's Casual Minimalist Sneaker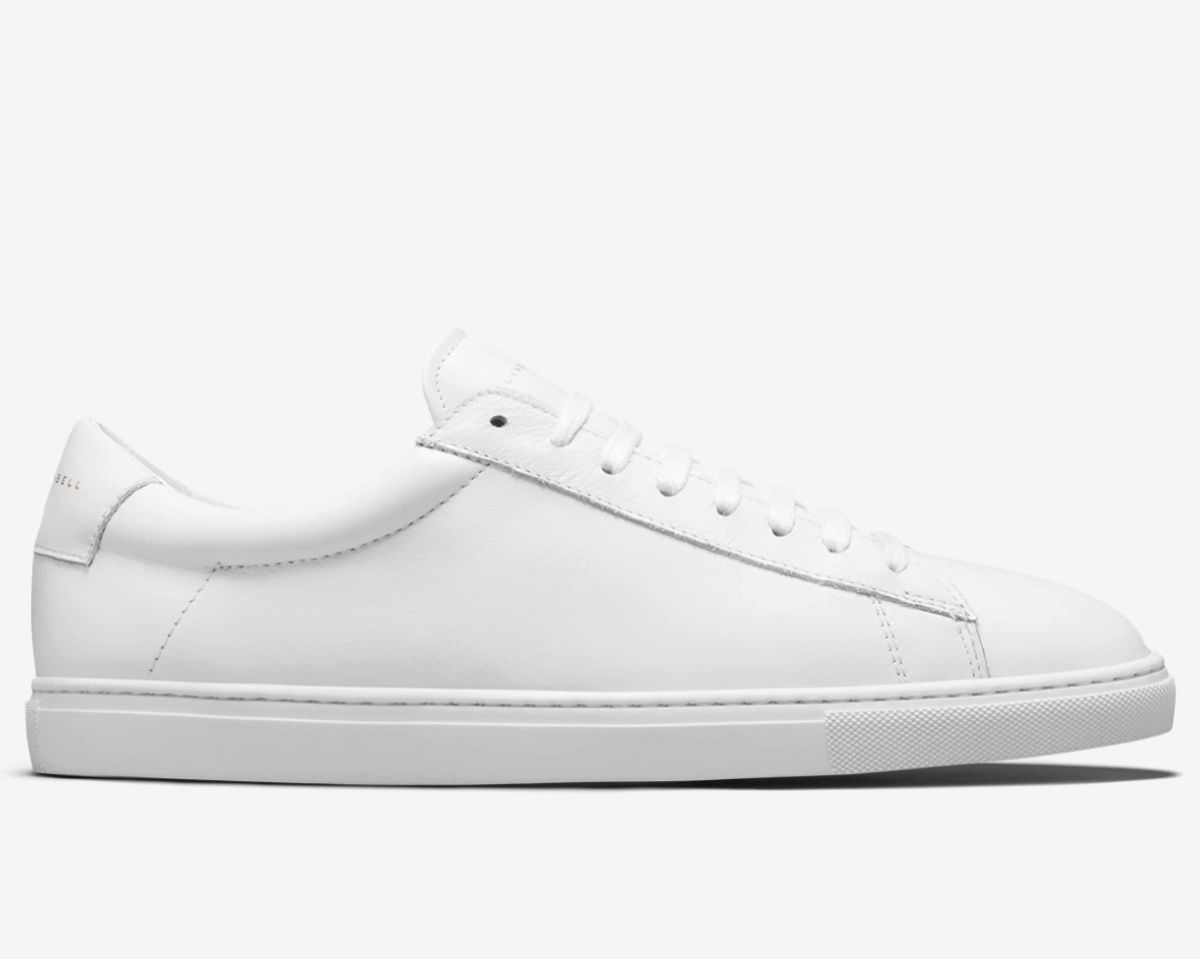 Best Men's Casual Minimalist Sneaker:
Simple, clean design and coloring
Full-grain calfskin leather upper
Lightweight rubber outsole
$205 from Olivercabell.com
Minimal does not mean cheap. The Oliver Cabell Low 1's take the prize for quality, looks, and simplicity, a mix that doesn't often make it in shoes. Oliver Cabell keeps design to a minimum, letting the materials and construction speak for themselves.
A full-grain calfskin leather upper gives these white sneakers incredible durability, good looks, and comfort. The leather actually molds to the shape of the wearer's foot as it reacts to body heat.
A lightweight rubber outsole brings durability to the table but reduces the shoe's overall weight. For even better comfort, a removable insert lets you use custom or pre-made orthotics. These shoes are an investment, but they're one that will stay with you for years while keeping your footwear clean and simple.
Best Men's Business Casual Sneaker: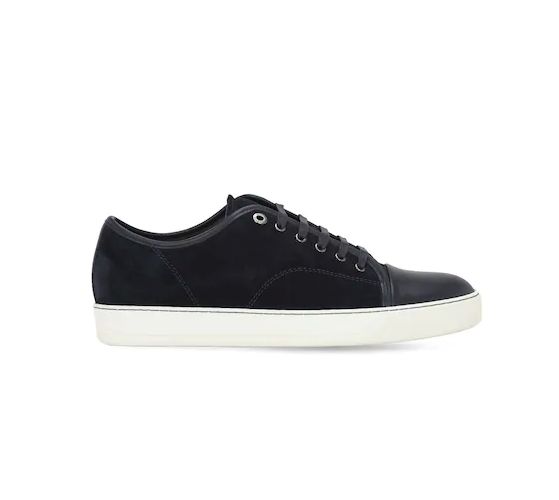 Best Men's Business Casual Sneaker:
Formal suede upper
High-quality leather trim
Leather insole conforms to the foot with wear
$490 from Luisaviaroma.com
A sneaker in the boardroom? Maybe not in the past, but the Lanvin luxury sneakers take sneakers places they've never been before. The 100 percent calfskin suede upper with a matte toe cap looks like a (comfortable) tuxedo for your feet. Trimmed with leather and reinforced eyelets, not a detail gets left out.
Leather insoles mold and conform to the feet with wear and time, eventually providing a custom fit. The shoe type may say casual, but all of the materials and the construction say sophisticated comfort. These shoes look at home with a suit, slacks, or jeans, depending on how you dress them up or down.
Tip: The softness and fine grain of calfskin leather make it a premium shoe material. As body heat warms the leather, it molds itself to the foot's shape for a one-of-a-kind, custom fit.
Best Men's Sandal/Sneaker Hybrid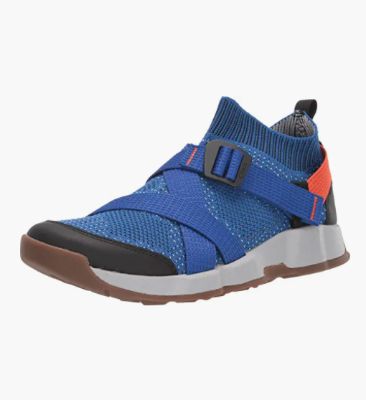 Best Men's Sandal/Sneaker Hybrid:
Comfort of a sandal with the protection and support of a shoe
Protective, synthetic overlays on the toe
Extra arch support
$80 from Amazon
Men's Z/Ronin gives you both. This hybrid shoe features sock-like ankle support with straps and synthetic overlays for structure and protection. At the toe, a common weak point in a typical sandal, there's extra support in the knit material with a synthetic overlay. The overlay keeps out rocks, sticks, and other debris on rugged terrains.
The ChacoGrip outsole provides sneaker traction for added stability on rough trails. You'll also find extra arch support to brace the foot when wearing a pack. That arch support also helps prevent foot fatigue on long hikes or days on the feet. The Ronin definitely has a specific purpose, but for the right person, it's sneaker support with the comfort of a sandal.
Types of Men's Sneakers
Running
Court
Running sneakers are made to cover miles. They come in a range of colors and color combinations, letting you stand out or blend in with the crowd, depending on your style.

Men's running shoes typically have extra cushioning to absorb the impact of the road. The angle of a running shoe's outsole typically rolls the foot forward for a faster gait.
While running shoes are great for running, they aren't always the best for other activities. For example, unless you're wearing trail runners, the running shoe traction is fairly minimal. Running shoes also tend to have a narrower outsole that's less stable when doing lateral movements.

Sneakers were first invented for court sports like tennis and basketball. However, today they've expanded well beyond the limits of the courts.
Court sneakers feature traction patterns designed specifically for each sport. For example, clay court tennis shoes have a full herringbone pattern to grip a slippery court. Basket shoes feature multi-angled traction with extra-durable rubber in high wear areas. Both work together to enhance the variety of dynamic moves used on the court.
With court sneakers, it's important to get a pair that are designed for your sport. Each sport has a unique blend of movements and patterns that put different stresses on the shoes. The support and stability of the shoe will better support the kinds of movements and forces inherent to the sports.
Casual
Weightlifting
Casual sneakers have an athletic shoe's looks but without the expensive technology needed for intense workouts and training. However, they can still be highly supportive and stable for everyday wear. Casual sneakers may also include premium materials like leather that make them as expensive, or more so, than high-end sports shoes.
Weightlifting sneakers feature low, firm heels, so you can ground the heel through each lift. They lack the cushioning needed for high impact activities like running and jumping, but if your feet will stay on the ground and you'll be hoisting heaviness, they'll work great.
Business Casual
Cross-Trainers
In recent years, sneakers have snuck from the gym to the office. Business casual sneakers can pass muster at the office or in the boardroom. They're made of premium materials like full-grain leather, suede uppers trimmed with leather, and reinforced lacing. You won't find bright color patterns on these shoes. Instead, expect more conservative color combinations that include white, gray, and black.
Cross-trainers are multi-purpose athletic sneakers. They have cushioning that borders that of running shoes but also contain wider outsoles with extra stability and support that running shoes may lack. They're great for functional fitness workouts, short to mid-distance running, and limited court sports. Some have a low heel for use when weightlifting.
What Makes a Good Men's Sneaker?
A good sneaker usually comes down to fit, but you'll also need to ask yourself how and where you'd like to wear the sneakers. For example, a casual sneaker doesn't necessarily need the latest running technology. Go into your sneaker search with a general idea of what you need from the shoe to support your chosen activities.
Cushioning
The right level of shoe cushioning protects your feet and prevents injury. It's also an important factor in comfort. Activities like running, basketball, tennis, and other high-impact sports require more cushioning to absorb the shock caused by hard surfaces.
Casual, everyday shoes don't necessarily need the same level of cushioning. In fact, you may be more comfortable and stable if you can feel the ground through your shoes. However, even an everyday shoe should have enough cushioning that your feet aren't tired at the end of the day.
Stability and Motion Control
Stability and motion control features like medial posts, guardrails, and internal frames within the shoe correct overpronation, an inward rolling of the foot and ankle. Stability and motion control features add weight to a shoe, and you probably don't need them unless you have an issue with overpronation.
Even if you overpronate, you may not need stability or motion control features unless you're doing high-impact sports and training. Otherwise, a shoe with an arch that fits the natural curves of your foot could keep you comfortable.
Upper Materials
The upper's materials make a big difference in the breathability and formality of the shoe. Sneakers used for athletics usually have some kind of synthetic mesh that lets heat and air pass through and away from the foot. However, these materials have a decidedly casual appearance.
Casual, and especially formal, sneakers may have durable canvas uppers or full-leather uppers. Let how you want to use the shoe and the vibe you wanted to get off determine the style and material of the upper.
Traction
Traction prevents embarrassing slips and falls and keeps you upright in inclement weather. The shoe's traction level should fit your chosen activities.
Hiking shoes, for example, have large, deep lugs to grip rocks and roots. Running shoes typically have fairly minimal traction because they're used on roads and running trails.
If you're using the sneakers for a sport or workouts, look for traction patterns designed specifically for your activity. Traction designed for a particular sport usually has thicker rubber or reinforced traction designs in high-wear areas. Traction is less of an issue with casual sneakers. As long as there's enough traction to keep you from slipping and sliding, they'll do.
Design and Style
Design and style play an important role in sneaker choices these days. Many brands put out a new iteration of their most popular sneakers each year.
Keep in mind that some sneakers are designed for street style and not athletics or workouts. They may look good, but they could leave you hurting if you try to use them in the gym.
At the same time, some running shoes or cross-trainers look goofy outside of a weight room. Keep style and design in mind, so you feel good about how you look. However, when it comes down to it, the fit should always be your first concern.
Frequently Asked Questions
Some sneakers are designed for the gym and casual wear. They have a street style with the cushioning, support, and durability for workouts.
However, make sure the shoe fits that description before using them for box jumps, jump roping, or rope climbs. A casual shoe may not stand up to the wear and tear of intense training. They might also lack the support and stability needed to protect your body from injury.
How often should I replace my everyday sneakers?
Shoes stop supporting the feet long before noticeable wear and tear. If there's peeling on the outsole or holes in the opera, it's definitely time for something new.
If you're unsure, follow the 300 to 500-mile rule. What you do in those miles can shorten or lengthen the shoe's lifespan. Runners may put on 500 miles in a few months. If those miles are on rocky terrain, the shoes could wear out even faster. The 300 to 500-mile rule is only a guideline.
Are sneakers appropriate for the office?
In the past, the answer would have been no. However, sneaker designs push the envelope on casual and business. Many high-quality, luxury brands now produce their own sneaker lines with full-grain leather, suede, or durable canvas uppers that can pass at work. Of course, it depends on your employer's dress policies, but many sneakers will not only pass in the office but look good doing it.
Final Advice
Sneakers are a staple in many closets. Decide on a budget and know what you need the shoe to do before you shop. From there, they should be appropriate for your activities and feel comfortable enough on your feet that you forget you're even wearing them.