The perfect running shoes can help you forget your feet and let your mind drift into your running zone. The feel of the road and the rhythmic fall of your feet put miles behind you for a tranquil experience on long runs.
Running sneakers for women's feet cater to the unique physiology and characteristics of a woman's body. For example, women tend to have a different foot shape than men, in particular a narrower heel. They also have wider hips that can cause overpronation or a turning in of the ankles on the landing. For that reason, many women's shoes have stability and motion control features.
We reviewed six of the best running shoes for women. These sneakers offer support, smooth transitions, and sleek designs. We've also included a shopping guide with the different types of running shoes and key features to help you make an informed decision.
6 Best Running Shoes for Women of 2023
Best Running Shoes for Women Overall: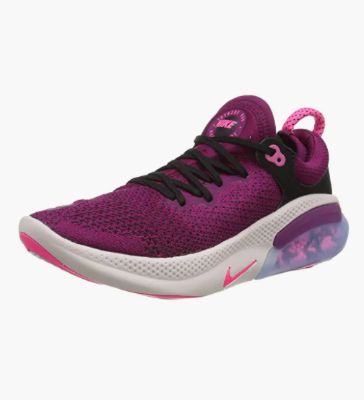 An innovative design with strategically placed foam beads compresses and adapts to each step. The flyknit upper adds breathability while hugging the foot for a comfortable ride.
$100 from Amazon.com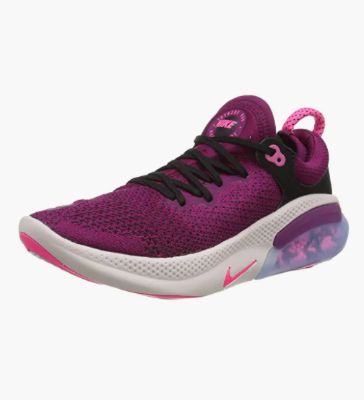 Best Women's Running Shoes Overall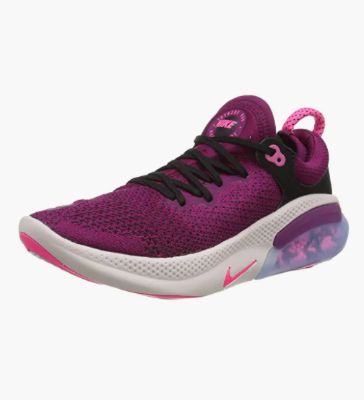 Best Women's Running Shoes Overall:
Foam beads strategically placed through the footbed cushion and absorb impact
Lightweight, breathable flyknit upper
Tough rubber placed in high wear zones on the outsole along with nobs for extra traction
$100 from Amazon.com
The Joyride Run Flyknit combines a mix of unique technologies to deliver a well-cushioned ride that adapts to each runner's foot and stride. Four pods containing foam beads are strategically placed throughout the outsole to absorb impact and cushion every step. Over time, the beads conform to the foot for a custom fit. The beads are covered with a highly durable rubber that's shaped with nobs to provide extra traction.
The upper contains Nike's flyknit material, which is lightweight and highly breathable. It hugs the foot for a snug fit that relaxes as you break in the sneaker. This model gets high marks for the low-cut entry design that stays clear of the ankle bone and makes the sneakers easy to slip on and off.
Tip: The feet swell during a long run. If you run 3 to 4 miles per day or 15 to 25 miles per week, buy your shoes ½ a size larger than normal to leave room for swelling. If you run 5 or more miles per day or over 25 miles per week, you may need to buy your shoes a full size larger to prevent rubbing and chafing as the feet swell.
Best Long-Distance Running Shoe for Women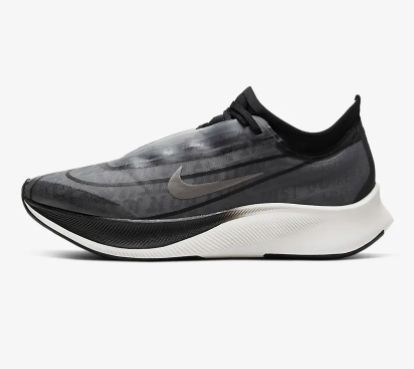 Best Long-Distance Running Shoe for Women:
Carbon fiber plate in the midsole adapts to impact pressure to maximize the flexibility during the gait cycle stride
Full-length Nike React midsole provides lightweight cushioning
Unique arch and heel support to protect the foot's arch and the Achilles
$160 from Nike.com
The Zoom Fly 3 Premium has all of the latest Nike technology, which can cut seconds off of your times. It starts with the unique carbon fiber plate in the midsole. The plate shrinks and expands to maximize the flexibility of each step, propelling the runner forward. It's effective enough that there's been talk of banning it from competition.
But that's not the only high-tech feature in this shoe. It also contains a full-length Nike React midsole, which is a lightweight foam that cushions the foot and enhances responsiveness. You get a good feel for the road, so each toe-off comes quickly and efficiently. This model also supports the arch with an arch band and a lacing system that pulls pressure off of the arch. It also reduces tension on the Achilles by turning the angle of the heel away from the ankle.
Tip: The inner sleeve and low collar of the Zoom Fly 3 Premium conform to the foot and provide a snug fit throughout long runs.
Best Cushioned Running Shoe for Women: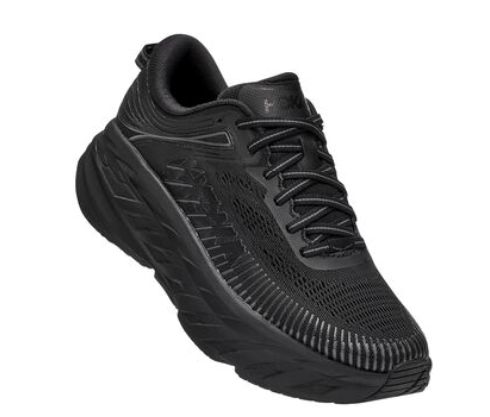 Best Cushioned Running Shoe for Women:
Lightweight EVA midsole
Plush, conforming memory foam collar
Meta-rocker to provide a smooth transition through each stage of the gait cycle
$150 from HokaOneOne.com
Hoka One One is known for their well-cushioned shoes. The Bondi 7 offers their plushest cushioning, so your feet can comfortably go for miles. A full, lightweight EVA midsole absorbs the impact of the road and conforms to the foot with time. To soften the transition from landing to midsole and toe-off, it contains a meta-rocker for a smooth running action. A beveled heel further smooths every footstep and provides another layer of cushioning.
Memory foam in the collar hugs a woman's narrower heel without rubbing or chafing. With all that cushioning, it would be easy to have a heel slip or lose the feel of the road. However, an internal heel counter offers a closer fit in the heel, locking it in place.
Tip: The Bondi 7 also received the American Podiatric Medical Association award, meaning the shoe has been recommended as healthy and foot supportive by and to medical professionals.
Best Supportive Running Shoe for Women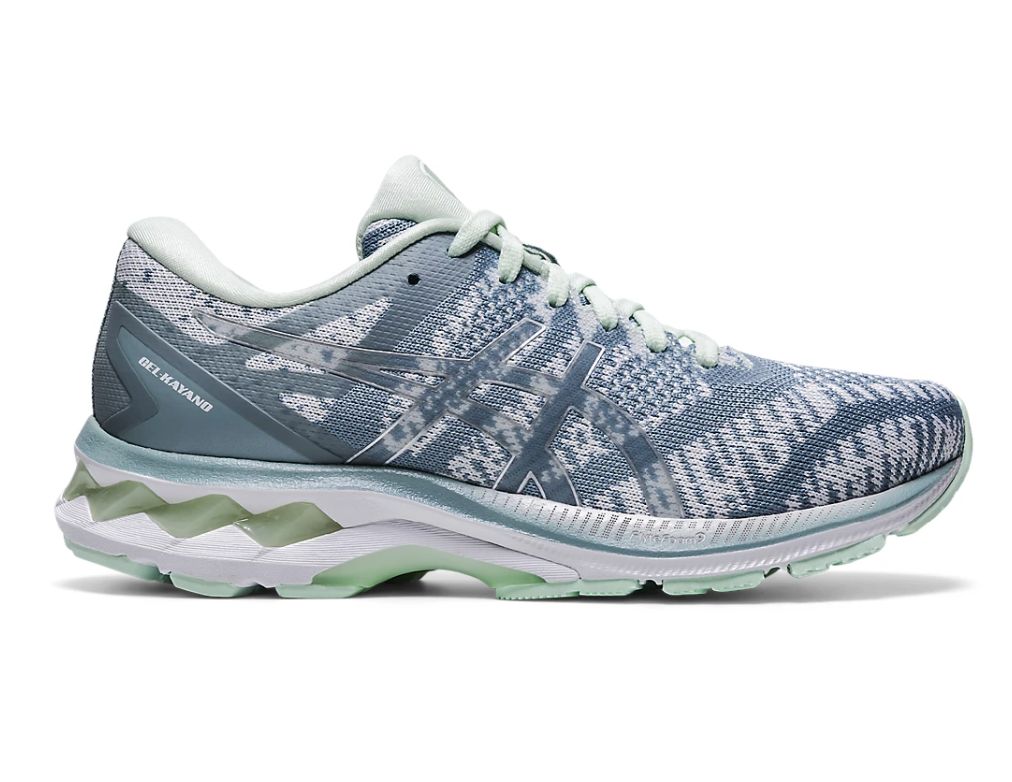 Best Supportive Running Shoe for Women:
Designed specifically for the biomechanics of the female body with support to manage overpronation
Gel shock-absorbing cushioning system that improves movement through the full gait cycle
Dual-density midsole provides support for the arch and overall stability
$160 from Asics.com
The Asics Gel-Kayano is in its 27th model for good reason. This latest version takes everything from the previous versions and improves it with new technology. A Dynamic Duomax technology in the midsole plays a major role in the Kayano's support and stability. It prevents the foot from overpronating after the strike on the way to the toe-off. That's coupled with a trussic technology that provides extra support and stability but doesn't add significant weight.
The Kayano also contains a bouncy elastomer in the foam that increases the responsiveness and recovery after the footstrike. To improve the overall fit, an external heel counter helps hold the heel in place. This sneaker targets the overpronation to which women are more prone and keeps the fit stable from start to finish.
Tip: The extra features found in stability shoes often add weight. However, the Gel-Kayano 27 weighs in at only 8.8 ounces.
Best Trail Running Shoe for Women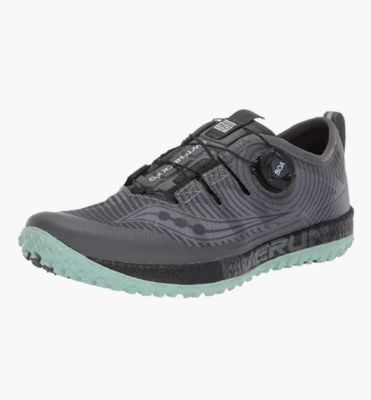 Best Trail Running Shoe for Women:
Grippy traction for rough and wet terrain
Quick fit lacing system
EVERUN midsole provides support, flexibility, and good energy return
$140 from Saucony.com
The Switchback ISO's predecessor was the Freedom ISO, a road shoe with an EVERUN midsole that runners loved to take on the trail. Saucony added extra features to make the Switchback ISO a true trail shoe. It has the full-length EVERUN midsole that protects the foot while providing responsive adaptability to rough, unpredictable trails. The Switchback doesn't have the most aggressive tread on the market, but it's made with a rubber that has a stickiness to its grip. The traction covers an outsole with two carbon pockets integrated into it for better strength and flexibility.
All running sneakers need an incredible fit, but that's even more important with a trail runner because you can't slip and slide when running over rocks and roots. The Switchback's unique BOAFIT lacing system lets you adjust the tension before you start for that snug fit. Even when the foot moves across rocks and roots, the laces stay tight and supportive.
Tip: The foams need time to return to their original shape after each use. Let your running shoes rest for as long as possible before using them again.
Best Minimal Running Shoe for Women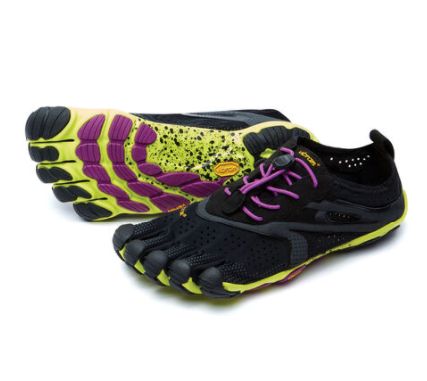 Best Minimal Running Shoe for Women:
Breathable upper keeps the feet secure and cool
Thin, protective sole provides a good feel for the road
Excellent transition shoe to ease beginners from traditional footwear to a minimal shoe
$130 from Us.Vibram.com
Vibram's distinct footwear designs are easy to spot from a distance. The V-Run FiveFinger is an excellent transitional pair of shoes to take runners from a traditional sneaker to one with minimal support and cushioning. Be sure to take your time as you transition to this type of minimal shoe. Start by wearing the sneakers for a few minutes a day. Slowly build up your strength by increasing the amount of time you wear the shoes. With patience, they'll be your go-to runners within a couple of weeks.
The V-Run's thicker sole provides a relatively good amount of support, yet you can feel the ground to develop your barefoot stride. With time, the muscles and ligaments of the feet strengthen until the V-Run feels natural. For that perfect fit, there's a breathable upper that keeps the heat moving and Bungee cord laces so you can tighten and go.
Types of Running Shoes for Women
Running shoes come in a wide variety of types. The type that's best for you will depend on the type of running you do, the length of your runs, and your personal preferences.
Minimal
Trail Runners
Minimal shoes have a low offset between zero to three millimeters. Thinner soles give you a better feel for the ground, but they also lack protection and cushioning from rocks and road debris.
Some minimal sneakers have individual toes while others look more like a traditional shoe. These shoes take time to get used to because the feet have to adapt and strengthen to tolerate the lack of cushioning and support. Runners who heel strike should avoid these sneakers. However, there's definitely a runner subset that loves the natural feel of these shoes.
If you're running over the river and through the woods, trail runners are your best friend. These shoes have thicker midsoles to protect the foot from roots, rocks, and debris. They have aggressive, sticky traction to help these runners maintain their grip on wet rocks.
Some trail runners have waterproof uppers that keep the foot dry but trap heat, making them a better option in cooler temperatures.
Spikes
Neutral
Track and cross country runners use spikes or pins for extra traction and grip during competition. These shoes have spikes of varying lengths and arrangements, depending on the surface and course distance.
Cross country spikes aren't as aggressive as sprinting spikes, and they have extra traction through the rest of the outsole to grip the various surfaces encountered during a typical cross country race.
Track spikes are more aggressive. The spikes can be removed and replaced with shorter or longer spikes depending on the event and track conditions.
Neutral running shoes have the cushioning and support to promote a healthy gait cycle for someone whose foot does not overpronate (roll inward) or supinate (roll outward).
Neutral shoes are made with different levels of cushioning and various materials to reduce weight. Unless you know you've got an issue with overpronation or supination, a neutral sneaker that feels comfortable to you is probably the best option.
Stability
Motion Control
Stability shoes are designed to support and neutralize mild to moderate overpronation. A woman's wider hips cause more cases of overpronation than in men, so there are more women's stability shoes on the market.
These sneakers have higher, stiffer arch supports and lacing systems that prevent the foot from rolling inward.
Motion-control shoes cater to those with mild to severe overpronation. These shoes contain posts in the arch and side or guard rails to guide the foot through the gait cycle without the ankle rolling towards the inside of the foot.
Motion-control sneakers are on the heavier side, so usually only runners who have overpronation issues need a shoe with this much support.
What Makes a Good Running Shoe for Women?
Cushioning
Comfort often comes down to cushioning. The more cushioning a shoe has, the softer you'll land. Long-distance runners need more cushioning than someone who runs one or two miles per day.
The cushioning, in part, protects the foot from road debris and absorbs the high impact of running. EVA midsoles offer lightweight, responsive cushioning. Heavier polyurethane midsoles offer the most durable cushioning, but they weigh more. Opt for EVA if you're looking to cut your time, but polyurethane if you need to go the distance.
Stability Features
Women tend to need more stability features in their shoes because they're more likely to overpronate. Stability features include posts in the arch and guard rails to guide the foot through the gait cycle in a neutral position. Some lacing systems can also add stability, as can internal and external heel counters that hold the heel in place.
Traction
Your running shoe's traction should be appropriate for the terrain and running surface. Road runners need less traction than trail runners, who need more aggressive traction with deep lugs and high-grip rubber.
Lacing Options
Lacing patterns can help the sneaker fit better. Running shoes with extra holes and hooks provide versatile adjustment options. Some shoes have special features to lock the laces in place, reducing lace flexing and loosening.
Offset/Heel to Toe Drop
The offset or heel to toe drop of the shoe is the distance between the heel height and the toe height. Low offsets between zero to three millimeters are found in minimal shoes. These models promote a mid to forefoot strike.
A high offset that's between nine and twelve millimeters promotes a midfoot to heel strike, depending on the runner. High offset sneakers often, but not always, have extra cushioning in the heel. However, for some runners, that added height causes them to heel strike or push the foot forward in the toe box on the landing.
The optimum offset comes down to personal choice. Most people find a mid-range offset between four to eight millimeters to be comfortable.
Weight
Less weight means less work and fatigue for the runner. Features like posts and guard rails add weight, as do waterproof materials and the deep lugs on trail runners.
Lightweight shoes contain advanced materials that support and cushion the foot like EVA foams and lightweight breathable mesh. Minimal sneakers are lightweight, but they don't have as much cushioning, which may or may not work for you.
Distance runners may need to balance weight with cushioning and support. Long runs put a lot of stress on the foot. Extra cushioning can keep the foot healthy even when the miles pile up.
Carbon Fiber Plates
Several manufacturers use carbon fiber plates in the midsole to support the foot and increase energy return. These plates reduce fatigue and help propel the runner with each toe-off.
Width/Toe Box Size
Your toes should comfortably fit in the toe box with a little wiggle room. Leave a thumbs width of distance between the end of the longest toe and the end of the shoe to give room for swelling, too. Women's feet sometimes have a narrow heel with a wide forefoot. If that sounds like you, look for a running sneaker that has a wide toe box.
Check Your Arch
Low: A low arch, also called flat feet, causes the foot and ankle to roll inward as the foot hits the ground and transitions to the toe-off. Support or motion control shoes with heel counters, posts, or guard rails can help correct the gait for a more comfortable run. However, some runners don't have any problems even though they have a low arch. If that's the case with you, look for a running sneaker with a supportive but low curve to the shoe's arch.
Neutral: Neutral runners have an average arch height. Choose a shoe that feels comfortable and provides the preferred cushioning level. These runners don't need stability or motion control features, which will only add weight and provide few benefits to a neutral gait.
High: High arches have a hard time absorbing the high impact of running, which can cause pain and injury. Look for sneakers with plenty of arch support, like a stability shoe. Some runners may need an orthotic insert to add extra arch support.
Frequently Asked Questions
How often should I replace my running shoes?
Most experts recommend replacing your running sneakers every 300 to 500 miles. However, some types of shoes like minimal or low-cushion sneakers wear out faster.
Some runners keep using their running shoes until the tread is gone, and the sneaker is falling apart. However, a shoe loses its cushioning and support long before visible wear and tear. Running without the right cushioning and support opens the door for injury, so keep a rough estimate of your miles to protect your feet.
What does a heel counter do?
Internal and external heel counters perform a number of functions, including supporting the heel, correcting overpronation, and locking the heel into place within the shoe. Heel counters are flexible but firm, and they can help the shoe feel more secure through the gait cycle.
Should I have two pairs of running shoes?
Pro runners may have several pairs of running shoes, switching them out based on the running conditions and their training plan. Runners who hit the pavement every day can prolong the life of their sneakers by rotating their footwear. A rest day in between uses gives the foam time to return to its original shape and provide the best cushioning on every run.
Final Advice
A new pair of running shoes feel amazing. Whether you're taking a tempo run or just stretching your legs, with the right runners, you can feel your best and keep your feet healthy and strong.