Trails, pavement, the grocery store — walking shoes take you to the most important places and adventures of your life. Whether you're stepping out to get some exercise or running errands, a solid pair of walking shoes keeps you moving, and your feet supported and cushioned.
However, not all shoes fit the same. Comfortable walking shoes vary in style and purpose. Some are designed for trails and others for everyday wear. Others are meant for long-distance walking, while casual shoes may be designed more for fashion than support.
Your feet's arch, width, and structure affect the type of shoes you need and the ones that feel good to you. We've reviewed five of the best walking shoes for women. We've also included a shopping guide to help you find the best shoe for your foot type.
Best Walking Shoes for Women of 2023
Best Walking Shoes for Women Overall
The Oofos name and minimalistic design of the Oomg make this pair of shoes unforgettable. Oofoam technology absorbs the impact of every step, so you can wear these shoes all day, every day.
$129.95 from Oofos.com
Top Pick
Best Walking Shoe for Women Overal
Lightweight design reduces fatigue
Machine-washable foam to get rid of odors
High shock absorbency to reduce tension and stress on the joints
$129.95 from Oofos.com
If you're looking for a shoe that reduces stress on your feet and joints, you've found the right pair with the Oomg. These shoes contain a proprietary foam called Oofoam with a high absorbency rate that reduces pressure and stress on the body. Less stress also reduces fatigue and, potentially, pain.
This model's footbed design promotes a natural gait and motion while supporting the contours of the foot. A breathable, 4-way stretch fabric upper further contours to the foot for a customized, snug fit.
This company opts for a minimalist design, resulting in a lightweight shoe that reduces fatigue. If you've ever dealt with stinky shoes, you never have to worry about that again with the Oomg. They're entirely machine washable, so odors stay under control.
"Oofos are only made in whole sizes. If your foot measurements fall between sizes, Oofos recommends sizing up."
Runner Up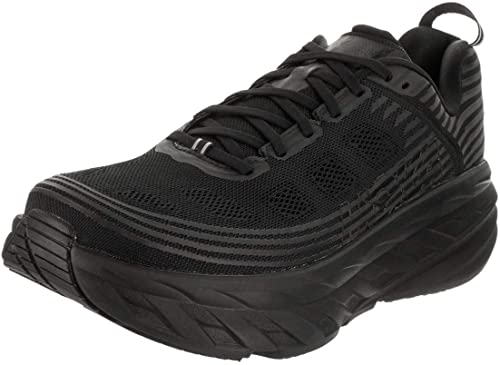 Best Cushioned Walking Shoes for Women
Received the American Podiatric Medical Association (APMA) seal
Plush cushioning for long distances
Internal heel design that locks the foot and support structure in place
$120 Hokaoneone.com
Hoka One One came onto the footwear scene with impressive designs and shoe performance. The Bondi 6 has everything Hoka is known for including incredible comfort, reliable stability, and materials that come together for a lightweight but durable shoe.
As far as Hoka One One goes, this shoe gets a plush rating for its cushioning. That means you get the ultimate in comfort. Though these shoes are designed for running, the cushioning provides a stiffer feel that works well for walking too.
A breathable mesh upper keeps air circulating. The insole heel design locks the heel in place while providing extra stability to prevent rocking motions within the shoe. With all that cushioning, it would be easy for these shoes to weigh you down. However, they're made with a rubber outsole that cuts weight, reducing fatigue on long distances. You'll get all-day comfort whether you're taking long walks or using them for a job that keeps you on your feet all day.
Best Trail Walking Shoes for Women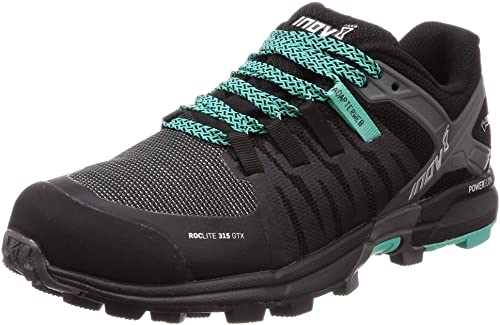 Best Trail Walking Shoes for Women
Lightweight and waterproof
Well-cushioned and stable for uneven terrain
Claw-shaped cleats and G-Grip outsole grip wet surfaces and uneven ground
$150 from Inov-8.com
Wet rocks and steep slopes require shoes with extra traction and some waterproofing. The Inov8 Roclites are a great choice for those who like to go off-road. What really makes these one of the best shoes for hiking are the cleats (or lugs) and the graphene grip (G-Grip) slip-resistant outsole.
Claw-shaped cleats allow these shoes to better grip uneven surfaces like rocks, roots, and trail debris. The G-Grip outsole gives the shoe an almost sticky feel, providing stability on uneven ground.
A meta-plate shank provides protection from the rocks you're likely to find on trails. However, the shoe is still flexible enough to reduce foot pain, fatigue, and keep you moving when things get steep.
A gore-tex upper protects the foot from water, but the shoes' construction provides excellent breathability, so they work as trail runners or general hiking shoes, too.
Tip: Replace your walking shoes after 300 to 400 miles. Shoes lose their stability and impact protection after that many miles, even if they're in good shape.
Best Arch-Support Walking Shoes for Women
Best Arch-Support Walking Shoes for Women
APMA approved seal
Includes removable orthotic
Increased stability from a thermoplastic heel counter
$110 Vionicshoes.com
Vionic's high-quality shoes target those who need orthotic support. Whether it's flat feet or plantar fasciitis, these shoes support healthy foot mechanics. It starts with Active Motion System (AMS) technology. AMS includes an orthotic that works in conjunction with a cushioned outsole to promote a healthy gait and provide arch support.
The removable orthotic is covered in an antibacterial material to reduce foot odor. A firm heel counter made of thermoplastic provides stability by reinforcing the heel cup with every step.
These comfortable shoes come in medium and wide widths for those who need support along with extra space in the toe box. Some people find they can leave out their custom orthotics and simply use the built-in Vionic support system.
"Vionic recommends, at first, wearing the Walker Classics for a few hours per day. As your body and feet get used to them, you can wear them for longer periods of time."
Best Walking Shoes for Women with Wide Feet
Best Walking Shoes for Women with Wide Feet
Excellent cushioning for a comfortable ride
Pronation support built directly into the shoe
Wide width provides excellent space in the toe box for swelling, bunions, corns, and wide feet
$75 from Saucony.com
Saucony knows shoes from entry-level models to spikes. The Integrity ST 2 provides great shock absorption and cushioning throughout the shoe. There's plenty of space in a wider toe box, making these a good walking shoe for everyday use.
The Integrity ST 2 also has a big impact on the wearer's gait. The HRC impact zone through the heel contains XT-900 carbon rubber at the precise points needed to support the foot through the transition from heel to toe. A large 12mm offset puts you on your toes, making these a better choice for people who need a little extra cushioning and relief through the Achilles tendon.
Tip: Walking shoes tend to have a stiffer sole than running shoes to better support the foot. Running shoes require greater flexibility for the greater range of motion needed when running.
Know Your Arch and Foot Type
| | |
| --- | --- |
| Low/Flat | People with flat feet or a low arch often experience more movement through the foot as they walk. Shoes that provide extra stability with guard rails and motion control keep the foot's motion smooth through each step. Those with flat feet may also benefit from a shoe with a straighter insole that fits the natural arch of the foot. |
| Neutral | A neutral arch is neither too low nor too high. Mid-range support, stability, and a semi-curved insole provide the best comfort. If you have a neutral arch, you probably won't need extra cushioning or stability features to maintain a healthy gait. |
| High | High arches don't always absorb shock as well as neutral arches, leading to joint and muscle pain. High arches need excellent arch support to prevent that extra strain. Look for shoes with a curved insole that promotes stability and correct alignment of a high arch. |
| Narrow | Women often have narrow feet in comparison to men. They need less room in the toe box and a smaller heel pocket for narrow heels. Some walking shoes come in narrow widths, while some manufacturers have a last that caters to a narrower foot. The last is the general foot form to which the manufacturer fits their shoes. |
| Wide | Many walking shoes come in wide sizes, and some brands have wider shoes than others based on their last. If you can't find a wide enough shoe in women's sizes, you may want to try men's shoes in an equivalent size because they're slightly wider to accommodate the average male foot. |
| | |
Features to Consider
Every shoe has various characteristics that set it apart from other brands, makes, and models. The anatomical makeup and structure of your foot and your personal comfort preferences all come into play as you search for the right walking shoe.
Flexibility
Walking shoes have a stiffer sole than running shoes to accommodate walking's shorter range of motion. While running shoes can make great walking shoes, they may not be the best choice for your foot health in the long run since they may not provide adequate support.

Check the shoe's flexibility by bending the toe area toward the entry. There should be some stiffness and resistance. If the shoe bends easily, it has too much flexibility to protect your foot and could lead to foot problems.

Weight
Heavier shoes bring on muscle fatigue faster than lightweight shoes. Be particularly careful of weight when looking for hiking shoes. Any extra weight could significantly affect your energy level.
Stability
Shoes come in three stability levels — neutral, stability, and motion control. Neutral shoes don't have any extra stability devices in their design, since they're meant for those with a neutral arch. Stability shoes have extra features like guide rails to prevent too much side-to-side motion. Their extra stability works well for those with mild pronation (inward rolling of the ankles). Motion-control shoes can be hard to find, but they may have a medial post in the arch, dense foam, and a stiff heel to limit side-to-side motion and correct overpronation.
Breathability
Sweaty feet need to breathe. If they don't, you're looking at some uncomfortable side effects like peeling skin and painful tears. Uppers (the portion of the shoe that goes over the top of the foot) may have a blend of leather, synthetic leather, and different types of mesh. Breathable uppers made of mesh and moisture-wicking fabrics allow the free flow of air.

However, the more mesh on the shoe, the less water resistant it becomes. If you live in a wet climate, you may want to look at hiking shoes or trail runners because they often have Gore-Tex and combine breathability with waterproofing.

Tread
The tread on the bottom of the shoe gives you traction to reduce slippage. Walking shoes have tread patterns to provide grip. In general, the deeper the tread, the better the grip of the shoe. Lugs, also called cleats, offer more aggressive gripping power.

You don't necessarily need aggressive tread if you mainly walk on roads, in stores, or on paved paths. The exception would be wet or uneven surfaces. Deep tread with large lugs is really only needed if you're going off-road on trails or live in a wet climate where slick pavement is the norm.

Width/Toe Box Size
There's no one standard toe shape or size. Foot and toe size can even vary between the two feet of the same person. When you're looking for a good fit, make sure you have enough room in the toe box. Narrow shoes that squish the toes can do damage and be uncomfortable after long hours on your feet.

There should be about ⅜ to ½ inch of space between your longest toe and the tip of the shoe. For most people, that's about the width of your thumb. Your toes should have room to wiggle, too. Anything less and long days may result in sore feet.

Foot Issues
Corns, bunions, and plantar fasciitis are only a few of the common foot issues that affect fit and comfort. Corns and bunions can change the shape of your foot. If they trouble you, look for shoes in wide widths that won't rub on your foot.

Painful plantar fasciitis requires extra support throughout the shoe. This foot condition needs help from features like a supportive upper that comfortably holds the foot in place and anatomical arch support.

If you have a tight Achilles tendon, look for shoes with a high offset. An offset of ten or over takes pressure off of the Achilles. Minimalist shoes, on the other hand, stretch and put more tension on the Achilles, which can result in heel pain.

Heel-to-Toe Drop or Offset
The heel-to-toe drop or offset tells you the difference in millimeters between the height of the heel and the height of the toe. A high offset, a distance over ten mm, causes the foot to strike heel first. These types of shoes often have a lot of cushioning to protect the heel.

Minimalist shoes have a low offset of four mm or less. A lower offset promotes a mid-foot strike rather than a heel strike.

A mid-foot strike may not be the most comfortable for walking, so walking shoes tend to have a high offset. You'll have to decide what offset feels most comfortable to you. Sometimes a high offset makes it feel like you're walking on your toes. In some cases, so much so that it can put too much pressure on the toes and cause numbness or pain as the foot slides to the front of the shoe.
Tips for Getting the Right Fit
Measure your foot length from the tip of the longest toe to the back of the heel and at the widest part of the foot.
Measure at the end of the day when the feet are at their largest.
You should have room to wiggle your toes in the toe box.
Leave at least ⅜ to ½ inch of space between your longest toe and the tip of the shoe.
Frequently Asked Questions
What should you look for in a shoe you want to use for long-distance walking?
Walking is a great form of exercise. It's low impact, and all you have to do is step out of the front door. However, if you're going the distance, you need a shoe that supports you the whole way. The right walking shoe may vary from person to person, but there are definitely some features you want to look for in a long-distance walking shoe, the most important — cushioning.
A well-cushioned heel, supportive foam midsole, and a toe box with plenty of wiggle room are essential. Supportive walking shoes with an arch that fits your foot shape prevent premature fatigue, so you can walk longer. Also, consider that the longer you're on your feet, the more your feet will swell. Long distance walkers may need to size up half a size to accommodate swelling without the feet rubbing painfully on the shoe.
What are orthopedic walking shoes?
Orthopedic shoes are designed to support the structure of the foot, ankle, knee, and hip. Basically, they have special features like medial posts or guard rails built into the shoe to support the arches or a firmer heel cup to relieve pain from various foot ailments. They're often suggested by doctors for patients with poor foot mechanics to smooth transitions from the heel to the toe and correct pronation or supination (outward ankle rolling). Orthopedic shoes can, in some cases, replace the use of custom orthotics.
What should I look for in a women's walking shoe?
Fit is your number one concern. Since no two feet are the same, including on the same person, what's comfortable to one person may not be for another. The toe box should be snug but not restricting, while a snug heel cup should prevent your heel from slipping. Your toes should have some wiggle room but shouldn't slide around in the shoe.
Look for arch support that matches your arch — flat/low, neutral, high. Make sure the shoe has tread designed for the surfaces you walk on most often. If that's trails, you'll need larger, deeper lugs than someone who mainly walks on sidewalks.
From there, it's about what feels good to you. That could be a padded tongue, low offset, or a motion control sneaker. Take some time to decide what you need most for your comfort. It will be worth it when you start putting on the miles.
Final Advice
Women's walking shoes come in a variety of styles, widths, and designs to accommodate the wide range of foot types, sizes, and shapes. Don't be tempted to compromise on comfort. Walking shoes take you where you need to go, and they should do so in a manner that you can forget that you're wearing them at all. Know your feet, and look for a shoe or sneaker that caters to your specific comfort needs.