Tennis shoes take a different kind of stress than basketball or running shoes. Men's tennis shoes cater to a man's wider heel and forefoot, for a close fit that moves with and accentuates the player's skill and precision.
Tight cuts and explosive moves require traction designed for the court's surface and player's game style. We reviewed six of the best models available, with shoes designed for clay and hard courts as well as models that are lightweight, well-cushioned, and highly durable. We've also included a shopping guide that details tennis shoe key features, so you can choose a pair that enhances your game.
6 Best Tennis Shoes for Men of 2023
Best Tennis Shoes for Men Overall: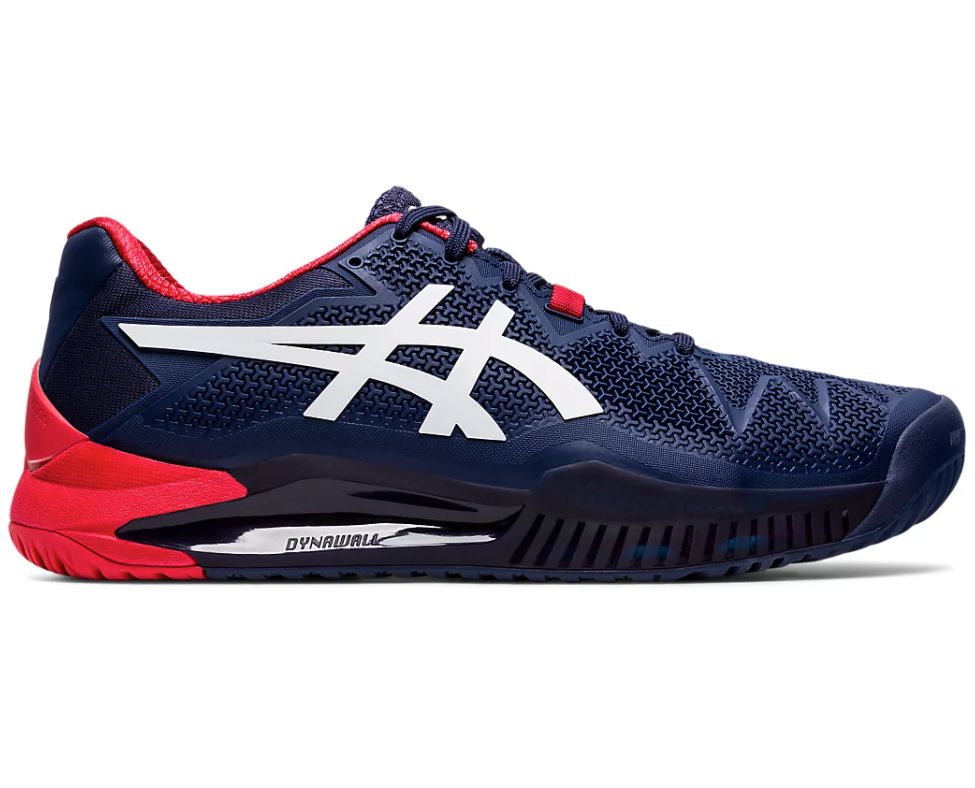 The Gel Resolution 8 works for players of all levels, including pros who enjoy its grippy traction and lateral support. A flexible upper further supports the foot but provides a snug fit, so the shoe moves with every turn, slide, and cut.
$140 from Asics.com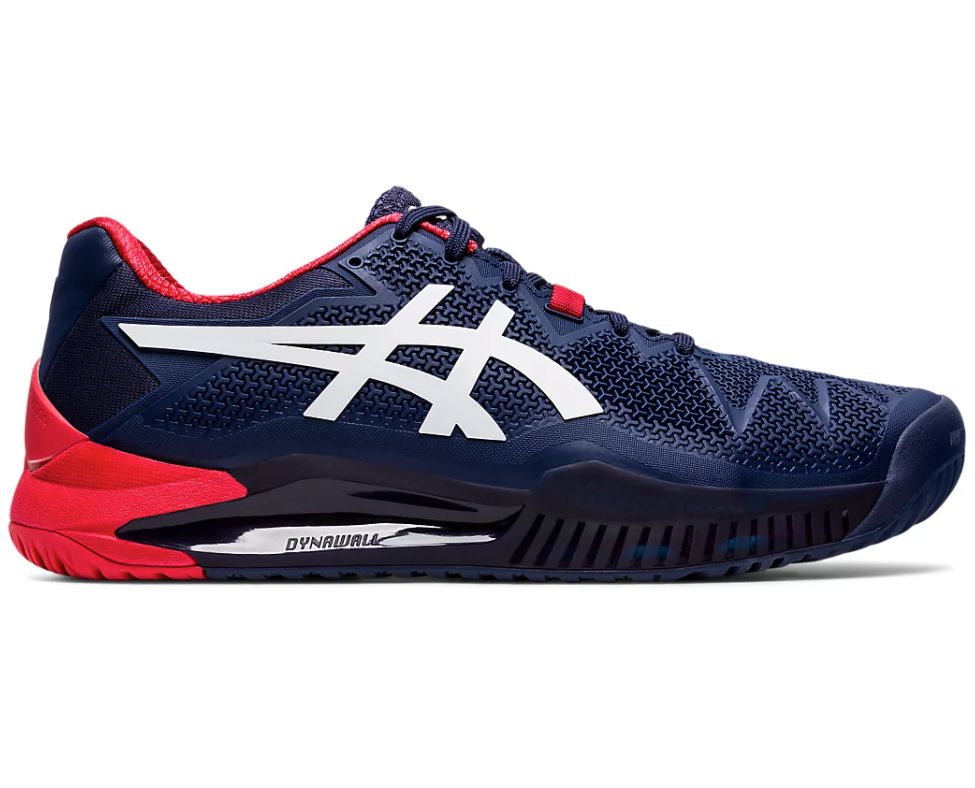 Best Tennis Shoe for Men Overall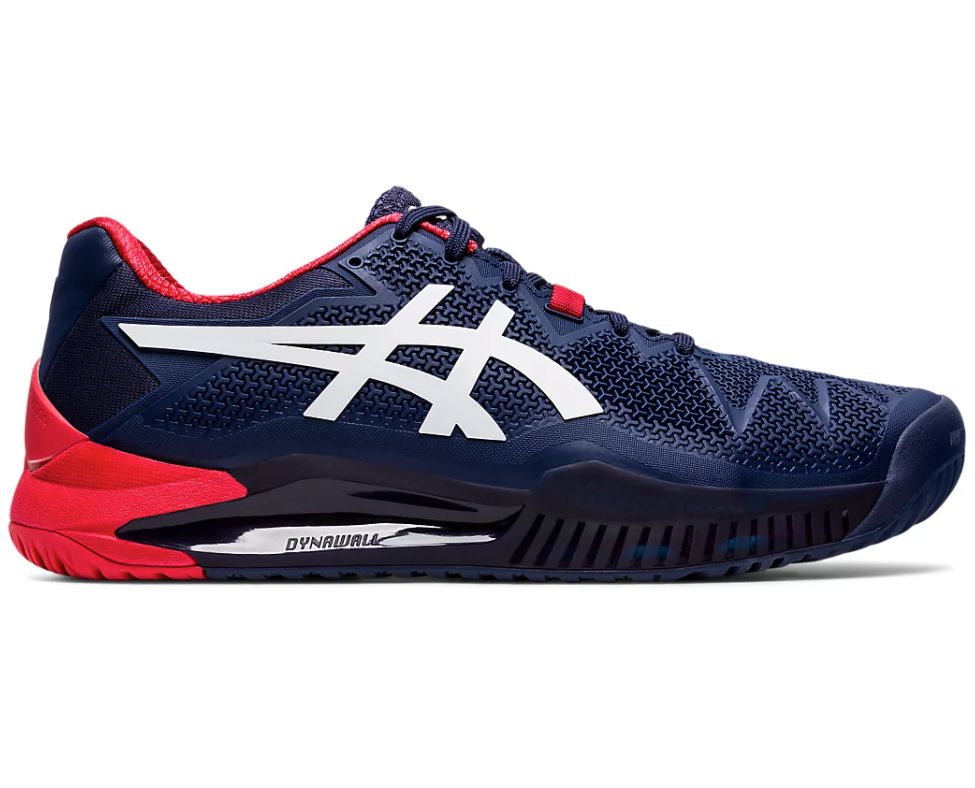 Best Tennis Shoe for Men Overall:
Flexible, supportive upper
Rear and forefoot gel cushioning
Collar lining that molds to the player's foot for a custom fit
$140 from Asics.com
The ASICS Gel Resolution 8 is a favorite among pros and amateurs alike. Every player gets a custom heel fit with two layers of memory foam in the collar. As the shoe gets broken in, the memory foam sculpts to the heel, creating a comfortable fit and enhancing quick moves.
The outsole contains areas of AHAR Plus, a material that's 50 percent more durable than a standard rubber outsole. The AHAR is positioned in high pressure, high impact areas, so that the shoe can withstand the dynamic, explosive forces of advanced moves. To protect the foot from injury, gel cushioning in the rear and forefoot absorb the shock of impact.
A lightweight trussic technology in the upper gives the shoe structure and support. And since it's lightweight, you're not dragging extra ounces. The trussic structure is surrounded by supportive but flexible materials that move with the foot to maintain a snug fit.
Tip: You should have at least a thumb's width of space between the end of your longest toe and the end of the shoe. If your toes are touching the end of the toe box, you could end up with blisters or chafing during game play, especially when the feet start to swell.
Best Clay-Court Tennis Shoes for Men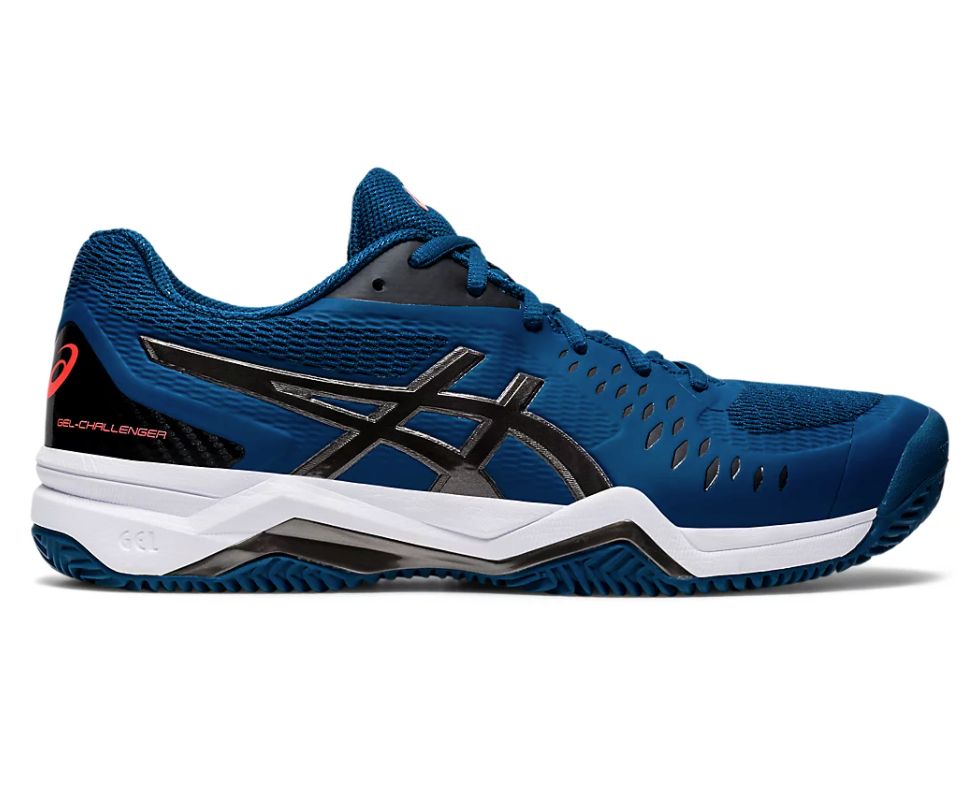 Best Clay-Court Tennis Shoes for Men:
Full-length herringbone traction
SOLYTE midsole cuts weight but absorbs high impacts
Absorbent gel cushioning in the heel and forefoot
$100 from Asics.com
The Gel Challenger 12 Clay features a full-length herringbone traction pattern to provide the best grip on clay courts. It maintains control during slides and grips for tight lateral moves. A SOLYTE midsole replaces the traditional EVA for an even lighter weight foam that absorbs shock without adding any ounces.
The heavy impact of a competitive game needs heavy shock absorbers. ASICS uses gel cushioning pockets in the heel and forefoot to disperse impact and prevent it from passing into the foot and joints. That reduces injury and fatigue, so you stay on top of your game until match point.
Tip: The ASICS Gel Challenger 12 Clay has a removable sock liner to make room for a custom orthotic insert.
Best Hard-Court Tennis Shoes for Men: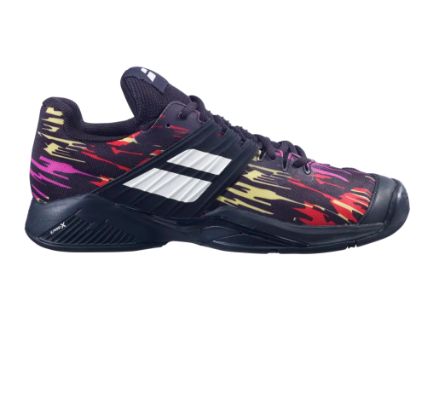 Best Hard-Court Tennis Shoes for Men:
Active flexion supports 9 pressure points for support through a full range of motion
Michelin outsole grips hard and clay courts with a mix of traction patterns
High collar that offers extra protection and stability in the ankle
$110 from Babolat.com
The Propulsion Fury keeps the foot supported with a wide range of technologies. Active flexion in the midsole hits nine key pressure points, so the shoe can fully respond to every movement. A Power Belt strap keeps the shoe snug at the ankle and heel to reduce slipping and maintain a tight fit even when the pressure and tension get high. However, a well-cushioned heel lets the shoe take the heavy stress of a long match.
Michelin performance rubber makes up the outsole and curls over the forefoot and toe for added protection during slides. The Propulsion Fury's design requires minimal break-in time, so you can hit the court relatively quickly.
Best Lightweight Tennis Shoes for Men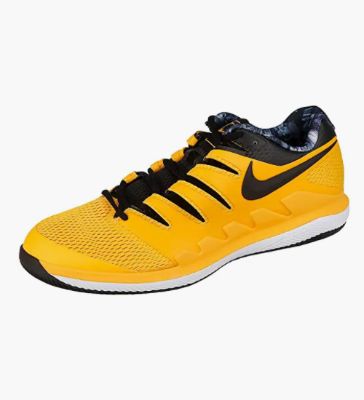 Best Lightweight Tennis Shoes for Men:
Traction pattern minimizes weight but maximizes grip
Full-length foot frame to support lateral movement
Midfoot shank supports the arch through hard turns and cuts
$109 from Amazon.com
Nike built a lightweight shoe that doesn't skip any of the support or cushioning needed to play on hard courts. The Vapor X features a traction pattern that's deeper and heavier in high wear areas and shallower in low wear areas to cut the shoe's overall weight. A breathable mesh upper further cuts weight and provides a snug fit, so the shoe supports and moves with the player's movements.
Nike's signature Zoom Air unit in the heel absorbs the shock of impact but maintains the player's feel for the court. It also enhances responsiveness to reduce lag time. The combination of targeted traction and supportive but lightweight cushioning creates a shoe that elevates the moves of all styles of players.
Tip: Tennis shoes take extra stress from explosive lateral movements. Consequently, they have guard rails, internal frames, and other lateral support structures to add durability and protect the foot and ankle.
Best Cushioned Tennis Shoe for Men
Best Cushioned Tennis Shoe for Men:
Agilitybolt technology maintains flexible support
Power cushioning technology provides 25 percent more shock absorption
Enhanced energy return to reduce fatigue
$99.95 from Amazon.com
The Yonex contains a power cushioning system with 25 percent more shock absorption than previous iterations. It keeps that impact from traveling through the feet to the legs and knees, reducing fatigue and joint wear and tear. The same system maximizes energy return so that each step takes less effort on the player's part.
All that cushioning doesn't go to waste. Agilitybolt technology in the midsole supports the arch and vulnerable areas of the foot but flexes with every step. That lets players move freely in a shoe that enhances the feel of the court.
Most Durable Tennis Shoes for Men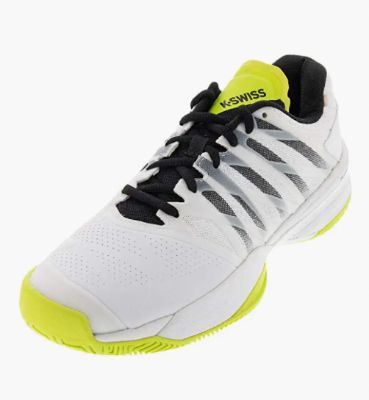 Most Durable Tennis Shoes for Men:
Surgelite midsole supports the foot but moves with it to fully support every move
Draguard protects the toe on slides
High-density outsole resists wear and maintains traction pattern with heavy use
$99 from Amazon.com
The Ultrashot 2 combines support and stability with an outsole that takes heavy wear and tear. The Aosta rubber outsole comes with a six-month guarantee. That tells you what kind of durability you can expect.
Further contributing to the longevity of this shoe is the draguard that protects the shoe's vulnerable toe on slides. High wear areas on the upper and in the sole hold up to heavy use because of strategic support placement. If you're the kind of player who tears through a pair of shoes in a season, the Ultrashot 2 might be the right choice for you.
Types of Tennis Shoes for Men
Clay Court
Hard Court
Clay-court shoes typically have a herringbone pattern from toe to heel. The herringbone provides grip from all directions and digs into a clay court's surface.
Clay shoes often contain extra lateral support to enhance the shoe's durability and protect the foot and ankle. Lateral support could come in the form of guardrails, full-length internal frames, or stiff but lightweight materials in the upper.
Slides are also a key part of a clay court game. Toe caps or guards maintain the structure of the toe through long, sliding matches.
Cement and asphalt put heavy stress on the feet and joints. Consequently, hard-court shoes have extra cushioning to absorb the shock of each footfall.
Traction usually comes in the form of at least a partial herringbone pattern. However, hard-court shoes have more diverse tread patterns, with deeper tread at high wear areas for more explosive toe-offs.
All Court
Grass Court
All-court shoes work on either clay or hard courts. They have more cushioning for the hard court's heavy impact but feature a mixed tread pattern for either court type.
If you're playing on both types of courts and don't want to use separate pairs of shoes for each, an all-court shoe will save money.
There aren't many grass courts, especially in the United States. However, if you do find yourself heading off to a Wimbledon-esque court, there are grass court tennis shoes. The shoes have cleats to provide grip and prevent slipping.
What Makes a Good Tennis Shoe?
Lateral Support
Baseline players, those who like to hug the court's backline, use hardcore lateral moves. Extra lateral support like guardrails or an internal frame improve the durability of the shoe and offer stability during gameplay.
Lateral support may also come from the shoe's upper. Some tennis shoes have lacing systems or layers of supportive materials weaved throughout the upper to offer lateral support, too. A supportive shoe maintains the shoe's responsiveness by creating a snug fit that moves with the foot.
Traction
A herringbone tread pattern is the most common. It grips from all angles. Clay shoes typically have a full-length herringbone pattern, while hard-court shoes usually only have partial.
Some tennis sneakers feature deeper traction in high wear areas to enhance grip with shallower tread in low wear areas. This design provides good traction while cutting the shoe's weight.
Stability
Stability in tennis shoes often looks like medial posts in the arch, support frames, and lacing systems that lock the foot in place. These features prevent overpronation, an inward rolling of the ankle. This kind of dynamic support may add weight but protects athletes from injury while enhancing responsive movements.
Durability
Tennis shoes have to hold up to heavy wear and stress. However, they also have to be high-performance, lightweight shoes. Lightweight but high-performance foams in the midsole and tough, flexible rubber in the outsole improve overall durability. Outsoles that wrap around the sides of the shoe at strategic high wear points can further enhance durability. Serve and volley players, those who charge the baseline, need toe caps to protect the forefoot.
Cushioning
Cushioning prevents the shock of impact from injuring the foot and joints. Tennis shoes tend to have firmer cushioning throughout the shoe so that the foam doesn't break down, especially hard-court shoes. Some tennis sneakers have extra cushioning in the form of gel or beads in the forefoot and heel. These foams and gels also maintain the responsiveness of the shoe, so you don't lose the feel of the court.
Arch Type
Low: A low arch, also called a flatfoot, causes overpronation. Flat-footed players need premium stability features like medial posts to prevent the foot from rocking side to side in the shoe. The extra stability protects the foot and ankle from injury.
Neutral: A neutral arch is neither too low nor too high. These players don't need to worry as much about arch support because the average tennis shoe is designed for them. With a neutral arch, you can focus on a shoe with the right tread pattern for the type of court you play on as well as what feels comfortable to you.
High: High arches get injured from the shock of impact more easily than neutral or low arches. If this is your arch type, extra cushioning and plenty of arch support protect the foot from injury. Shoes with a removable liner are also a good option because you can easily insert an orthotic support if needed.
Frequently Asked Questions
How often do you need to replace your tennis shoes?
A running shoe's life is measured in miles, but a tennis shoe's life is measured in hours. Most tennis shoes' support and cushioning lasts 45 to 50 hours before it starts to break down. Once you pass that mark, the shoe's foams and cushioning don't return to their normal shape, which could compromise their ability to protect the foot.
What do stability shoes do?
Stability shoes prevent the foot from rolling side to side within the shoe. Features like medial posts, guard rail, and supportive inner frameworks help stabilize the feet. However, stability features add weight. If you don't need that extra stability, you're better off with a lightweight tennis sneaker.
Should I have a different pair of shoes for different court surfaces?
Competitive tennis players often have different shoes for different court surfaces. If that's you or if you prefer to use a specialized shoe, it's common practice. However, if you'd rather have a one-and-done shoe, an all-court model will save you money.
Final Advice
The best tennis shoes for men are the ones that let you focus on the ball and let your feet do their work. Look for shoes that feel comfortable, are designed for your preferred surface, and have features that support the unique physiology of your foot.