Tennis shoes take a beating during the course of a single match, but throughout the season, you still need them to absorb the shock of hard courts while keeping you upright on clay. The dynamic movements required to play a solid game of tennis requires quick stops and tight lateral moves. To stay on top of your game, the shoe has to be able to take the stress and provide superior traction, too.
These specialty athletic shoes let you forget about the court's surface and focus on your game. We reviewed seven of the best tennis shoes for women on the market. As far as women's athletic shoes go, these models get top marks for the support and cushioning they offer through intense games.
7 Best Tennis Shoes for Women of 2023
Best Tennis Shoes for Women Overall: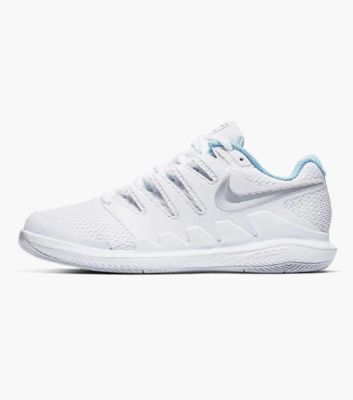 Nike's Vapor X's full-length foot frame supports and protects the foot as you make cuts and turns. It's fully supported by a traction design that maximizes the depth of the traction pattern around the perimeter of the outsole and reduces the depth in low wear areas to keep the shoe lightweight and mobile.
$109 from Amazon.com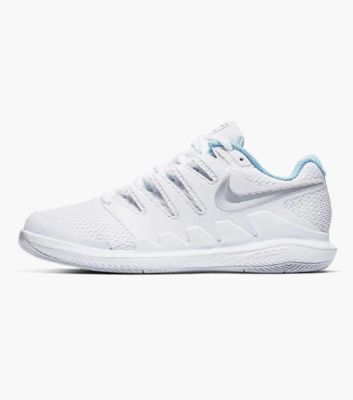 Best Tennis Shoe for Women Overall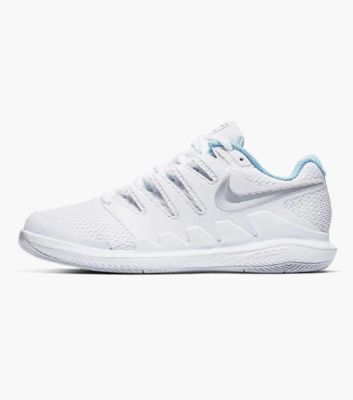 Best Tennis Shoe for Women Overall:
Traction pattern maximizes grip but keeps the shoe lightweight
Full-length foot frame supports lateral movements for improved shoe durability and foot support
Nike's dynamic fit system provides a snug fit through each move
$109 from Amazon.com
The NikeCourt Air Zoom Vapor X brings all of Nike's technology together in a shoe that protects the foot so you can focus on your hardcourt game. A big part of a good all-round tennis game is lateral movements. Those side-to-side moves put extra stress on a shoe (and the foot it houses). The Vapor X contains a full-length foot frame to power through every cut and turn. In the midfoot, a rigid shank further supports the foot to help prevent fatigue in the arch.
On the hardcourt, the traction can't be skimpy. However, Nike keeps the weight light with these shoes with deeper traction on the outsole perimeter and shallower traction in low wear areas. Through all of those movements, an Air Zoom unit in the heel cushions but helps you keep a feel for the court.
Tip: Hard court shoes have extra cushioning to absorb and protect the foot from the high impact of hard surfaces.
Best Clay Court Tennis Shoe for Women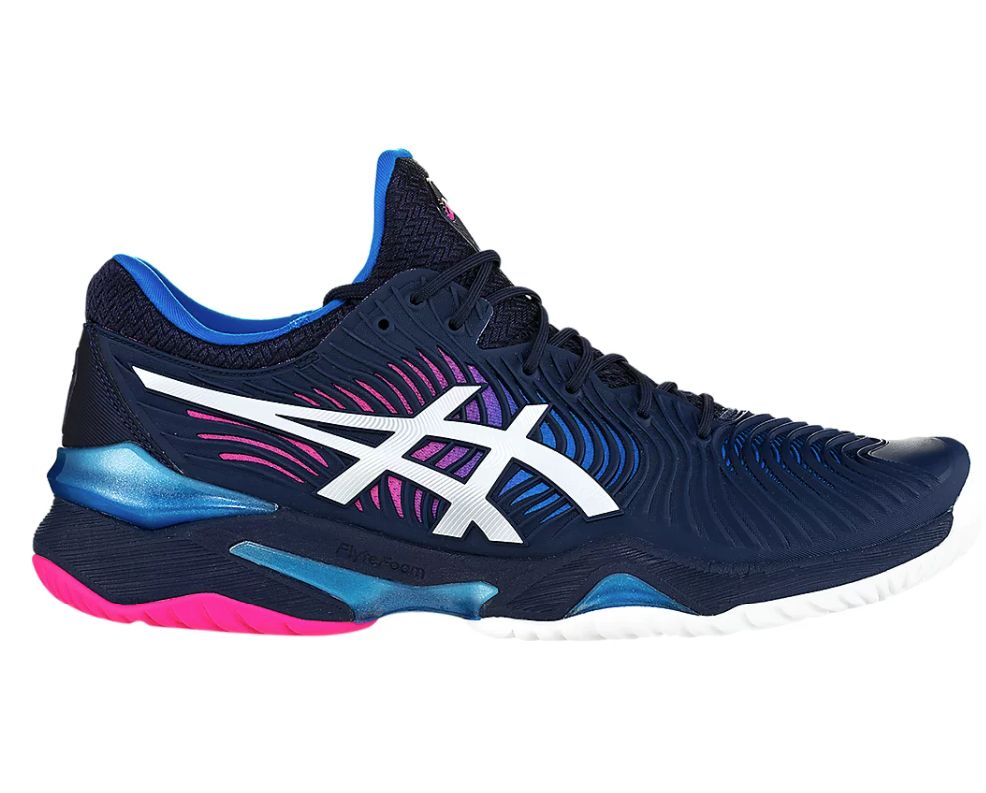 Best Clay Court Tennis Shoe for Women:
FLYTEFOAM midsole improves energy return to enhance reaction times
Removable sock liner to give the shoe a snug fit and breathability
Trussic technology to keep the shoe's weight light but strengthens the structural integrity of the shoe
$170 from Asics.com
The Court FF 2 utilizes the energy you put into every move and provides the traction needed for the clay court. With a FLYTEFOAM midsole, it enhances energy return to improve your game, but it also resists the packing down of traditional foams. The midsole also contains EVA and SpEVA foam for extra cushioning to protect the foot.
ASICS builds durability into this shoe with a lightweight trussic technology that supports the shoe's structural integrity. That keeps it from breaking down after repeated lateral moves throughout a typical season. You can't talk about tennis without mentioning traction. The Court FF 2 has a hard rubber outsole with strategically placed traction to magnify the grip on quick stops, direction changes, and lateral movements.
Tip: The ASICS Court FF 2 contains an ORTHOLYTE sockliner for a closer fit. That snug fit is not only comfortable but maintains your feel of the court, so you can focus on the ball.
Best Hard Court Tennis Shoe for Women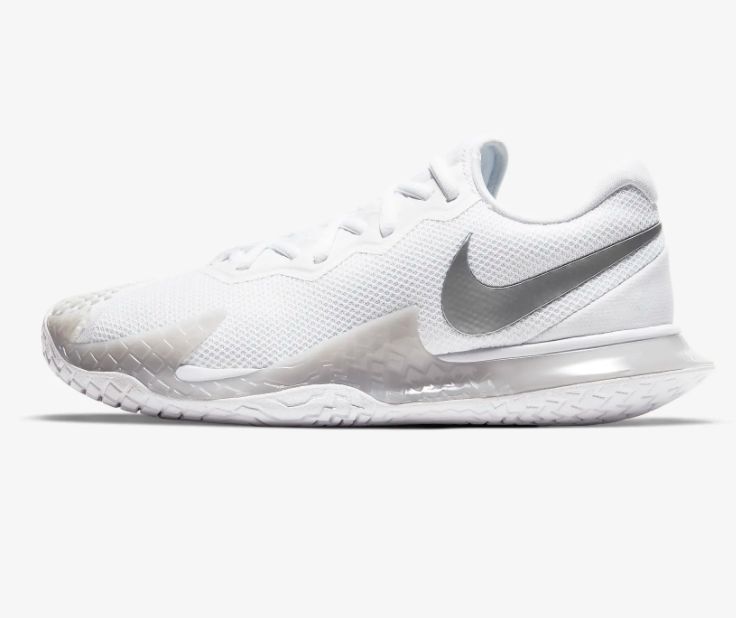 Best Hard Court Tennis Shoe for Women:
Tough, flexible upper lets the shoe move with you but withstands the forces of intense matches
Hidden eye stays and laces stay in place during slides and turns
Zoom air unit that cushions while maintaining responsiveness
$150 from Nike.com
The Vapor Cage 4 brings features to the table that protect and propel you through every match. Tennis players need as much lateral support as possible. This sneaker provides it with an outsole material that wraps around the medial side of the foot. It meets with the flexible upper material that's structurally designed to move with the foot but add support in the weak areas. 
For those tight cuts side to side, a stiff frame on the lateral side keeps the foot in place, and you in position to strike. Shoes need to provide a good feel for the court. Nike gives you that by keeping the fit close but flexible with a ½ length sleeve that almost feels like a sock rather than a liner. Overall, your hard court game will feel cushioned and supported, so your feet don't fatigue before the rest of you does. 
Tip: Nike Zoom Air sneakers give the wearer a custom cushioning, but also use the energy you put into it to spring you forward on every step.
Best Lightweight Tennis Shoe for Women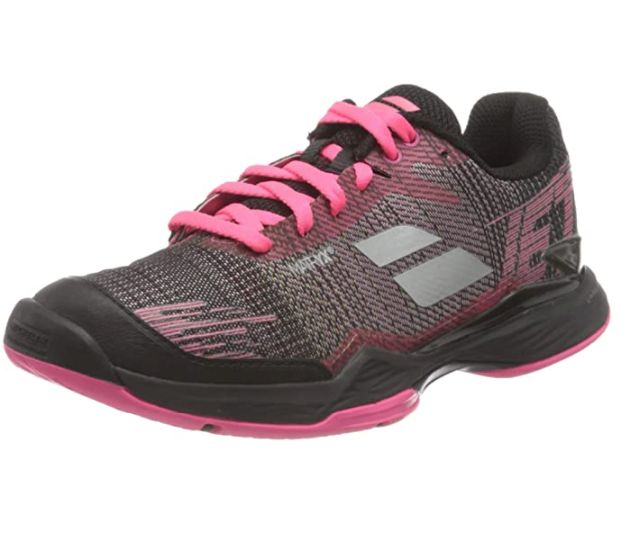 Best Lightweight Tennis Shoe for Women:
Kevlar inserts for durable support
Tire-tough Michelin outsole
Ortholite memory insole that conforms to the foot and provides cushioning on any court surface
$110 from Amazon.com
Babolat may not be a household name, but they put out tennis shoes that go the distance and then some. They use some non-traditional materials like Kevlar inserts and Michelin rubber outsoles. Kevlar is best known for bulletproof vests, but in this tennis sneaker they provide the lateral support for intense moves. This rugged material also ups the durability of the shoe to last through entire seasons without compromising the structure.
Michelin lends their tough rubber to an outsole that grips both clay and hard courts. If the rubber can withstand the road, you bet it can take a tennis court. An active flexion technology gives your foot the freedom of movement it needs but protects it from injury. The interior of this model conforms to the foot's curves and arch to keep the intense stress of dives and quick stops from prematurely fatiguing your play.
Tip: Know your arch. If you have a low arch, you'll want tennis shoes with stability features like posts and guard rails that reduce lateral rocking so you don't slow your response times.
Best Supportive Tennis Shoe for Women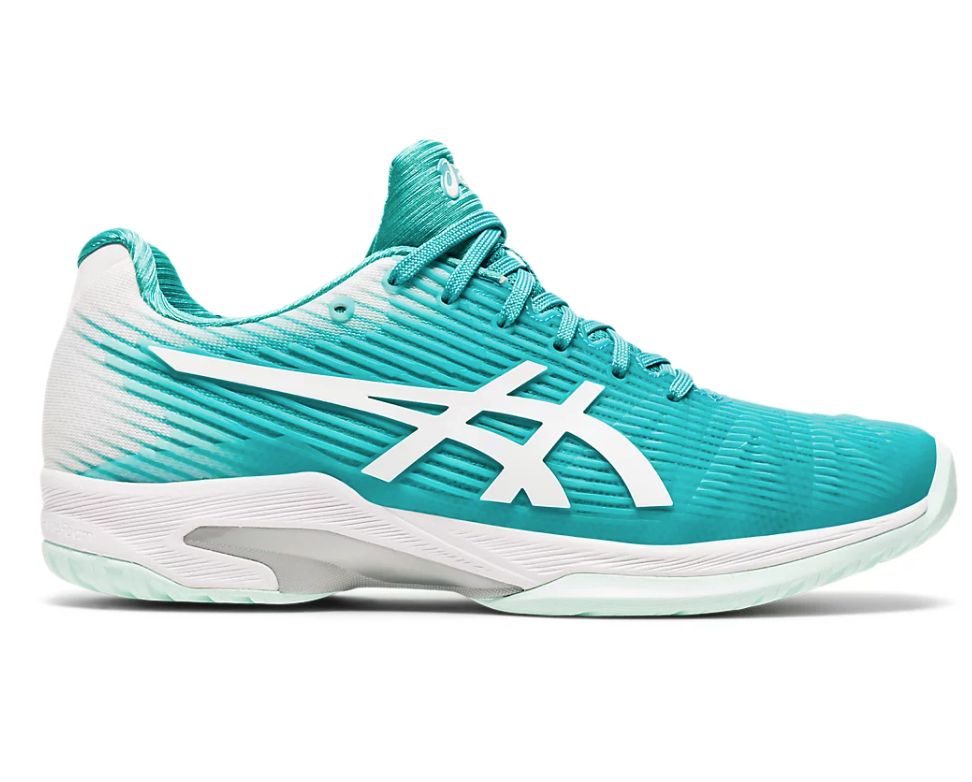 Best Supportive Tennis Shoe for Women:
Shock-absorbing TWISTRUSS system maintains a full range of motion while keeping impact from fatiguing the foot
Gel cushioning strategically placed to support the foot throughout the gait cycle
Flexible upper moves with the foot and adds extra support
$130 from Asics.com
The Solution Speed FF is all about flexible support. A stiff shoe can leave your feet sore and tired after a long match, but Asics gets around that with several unique technologies. The first is a TWISTRUSS support system that absorbs the shock of feet pounding on hard or clay courts. However, its design moves with the foot, so you don't lose any of the dynamic moves needed for an intense game.
Extra gel cushioning in the rear and forefoot absorbs more shock but also lets energy transfer back into the foot for powerful toe-off. ASICS's FLYTEFOAM reduces breakdown in the midsole, but magnifies responsiveness so you feel the court and lessen the power of the impact. Last, but certainly not least, the flexible upper does more than move with the foot, which in and of itself gives you a better feel of the court. It also creates a support system to further protect the foot, ankle, and knees.
Best Tennis Shoe for Women with Heel Support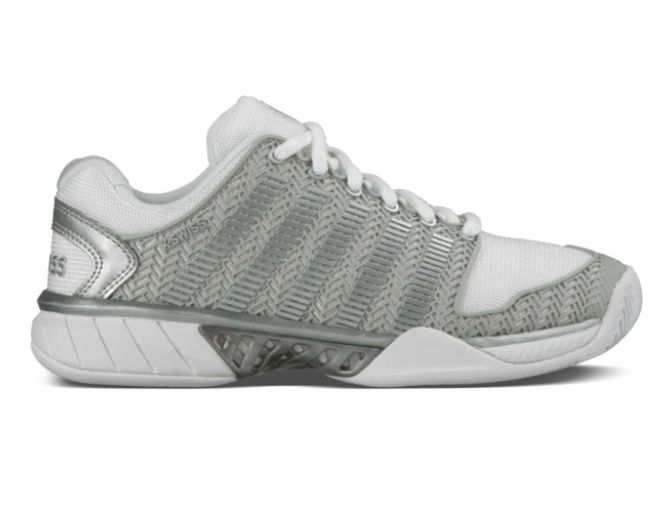 Best Tennis Shoe for Women with Heel Support:
EVA sock liner spreads support and cushioning through the heel
Strong, seam-free upper construction strengthens support and durability
Extra wiggle room in the toe box
$110 from KSwiss.com
Your heels can take a beating, but in this perfect pair of women's tennis shoes, they'll breathe a sigh of relief. K-Swiss packs in the heel support with a high-density rubber that absorbs shock while giving you a tight grip on the court. An EVA sockliner on the interior cushion keeps the fit snug but cushions throughout the foot, in particular through the heel.
K-Swiss uses a unique technology in the upper that combines layered TPU with a flexible mesh. However, it's done in a seam-free design that strengthens the shoe and builds support. On a side note, this model not only provides great cushioning in the heel, but it has a wider than average toe box for those who need a little extra wiggle room. Last is the herringbone tread that's designed for either a clay or hard court.
Tip: Herringbone patterns are the standard for tennis courts. They give you some grip in all directions to put a stop to sliding, trips, and falls.
Best Tennis Shoe for Women with Toe Cap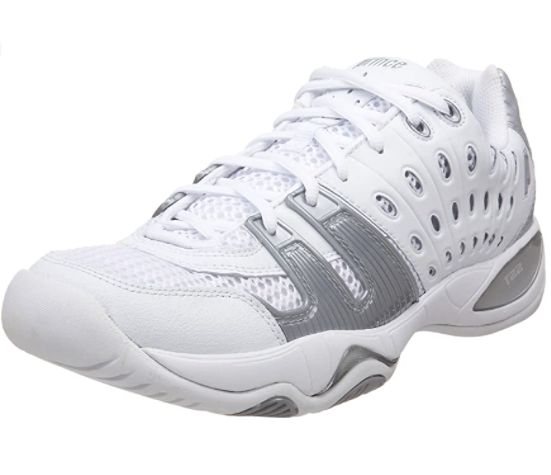 Best Tennis Shoe for Women with Toe Cap:
RASH toe cap protects the shoe from early breakdown
Improved ventilation to keep the foot cool and sweat to a minimum
Shock-absorbing midsole
$104 from Amazon.com
Are you a player that drags your toe on a stop? The one who can't help but push off with your whole self and your shoe suffers because of it? If so, the Prince T22 might be the tennis sneaker for you. For some players, toe caps aren't a necessity but for some, it's an absolute must. The T22 has a RASH toe cap that gives extra durability in a vulnerable area. Drag, push off, do what you need to do and the T22 will support your game.
However, that's not all it can do for you. A midsole shank supports the arch and the forces of heavy use that come with dynamic game play. The upper design acts as part of the support system that's meant to let the heat out. Better ventilation prevents your foot from sliding within the shoe when the sweat starts to flow. A rubber outsole with a mix of herringbone patterns reaches deep into the playing surface for better overall movement.
Types of Tennis Shoes
Clay Court
Hard Court
The surface of a clay court causes more slipping and sliding than normal. These sport shoes need a combination of superior traction and lateral support.
For tennis, the traction usually comes from a full-length herringbone pattern. Herringbone grips from all directions and digs into the sometimes slippery surface of the clay court. Guard rails, full-length internal frames, and stiffer materials in the upper that add lateral support create shoes that protect your foot but maintain a good feel for the court, so you can move where the game takes you.
Hard courts like cement and asphalt rattle your feet and joints on every footstrike. Hard court shoes have cushioning that absorbs shock. These shoes typically have at least a partial herringbone pattern to balance traction with a surface that provides better traction than clay.
All Court
Grass Court
All court shoes have more cushioning than a clay court shoe with a mix of tread patterns to work on either a clay or hard court. If you don't want a separate shoe for different courts, these sneakers will save you money.
Unless you're heading to Wimbleton, you probably don't need a grass court shoe. However, on the off chance that grass is in your future, these tennis shoes have cleats to keep you upright on the slipperiest of courts.
What Makes a Good Tennis Shoe?
| | |
| --- | --- |
| Lateral Support | Lateral support is the reason you don't want a cross trainer, running shoe, or basketball shoe for tennis. Tennis plays put some serious stress on their shoes because of the rapid lateral movements required to move around the court. Full-length frames, guard rails, and supportive uppers improve lateral support for better responsiveness and court feel. |
| Motion Control | Women's feet tend to roll inwards due to wider hips. Motion control features like posts and supportive lacing systems stabilize the foot and keep rocking in the shoe from causing injury. |
| Cushioning | The impact of quick, hard movements can send shockwaves through your joints. If you're playing hard courts, that impact can lead to injury and pain. Tennis shoes need superior cushioning, especially hard court shoes. EVA foam, gel, and other high-tech midsole cushioning absorb the shock so it doesn't put your joints at risk for injury. |
| Traction | Herringbone patterns are the tennis standard. Clay court shoes usually have a full herringbone pattern from toe to heel. Hard court shoes have a mix of patterns that include at least some herringbone. However, the grippiness of herringbone can be too much on a hard court. With a tread mix, you can stop, turn, and cut without twisting your ankle. |
| Stability | Stability features reduce overpronation (inward rolling of the foot and ankle). Posts in the arch, support frames, and lacing systems can all help reduce the side-to-side motion that comes from an overpronating low arch. These features add weight, so they're not something you really want or need unless you require the extra stability. |
Arch Types
Low: A low arch or flat-footedness usually causes overpronation. Posts, guard rails, and supportive lacing systems reduce the issues and can help prevent injury.
Neutral: A neutral arch has a standard arch curve. You can choose a tennis shoe that supports the type of game you play, whether that's aggressive, finesse, or power.
High: High arches don't absorb shock as well as low or neutral arches. Sneakers with good arch support or a removable liner so you can put in an orthotic insert are good options.
Frequently Asked Questions
How often should you replace your tennis shoe?
Running shoes get replaced every 300 to 500 miles. However, a tennis shoe's life isn't measured in miles. It's measured in hours. Plan to use your shoes for about 45 to 50 hours. After that, the midsole doesn't bounce back from heavy use and won't absorb shock as it should.
How are women's tennis shoes different from men's tennis shoes?
Women's feet are narrower than men's, especially in the heel. Consequently, women's tennis shoes have a narrower design with features like heel counters to hold and lock the heel in place.
Is it better to have an all-court shoe or a specialized shoe?
Shoe type comes down to personal preference. Some players have different shoes based on the court surface, while others would rather stay with the same sneaker for every match. If you struggle on one particular surface, it might be worth investing in a second pair of shoes. Of course, if you only play on one surface, stick with a shoe meant for that surface.
Final Advice
Tennis shoes are an integral part of your playing style. But when it comes down to it, you don't want to be thinking about your footwear when you're halfway through your backswing. The best tennis sneakers support and cushion but let you focus on the ball.