There's something wonderful about warm summer evenings. However, the joy evaporates when you come inside to a hot, stuffy house. Portable air conditioners are a solution when whole-house air conditioning or a window air conditioner aren't available options.
Portable air conditioners have casters, making them a mobile cooling machine. They vent out a window, but they don't obscure your view. Some portable AC units double as humidifiers, dehumidifiers, or heaters for twice the utility with a single appliance. We've made a list of the best portable air conditioners along with a shopping guide to help you navigate all of your options.
5 Best Portable Air Conditioners of 2023
Best Portable Air Conditioner Overall: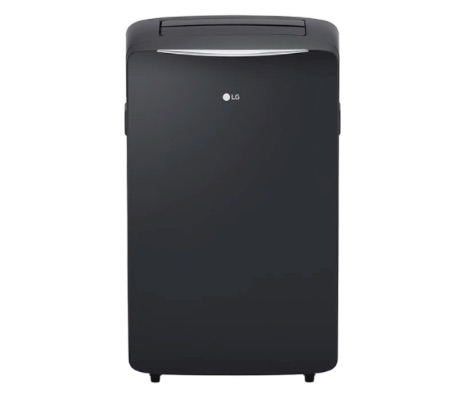 This 3-in-1 portable air conditioner circulates air through spaces up to 500 square feet, but it also functions as a dehumidifier and fan. Combine that with its quiet operation, and you've got a unit perfect for cooling day or night. 
$599 from LG.com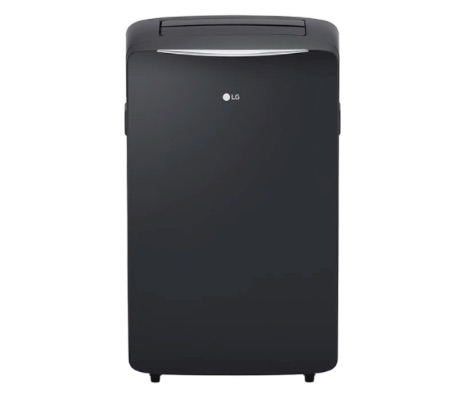 Best Portable Air Conditioner Overall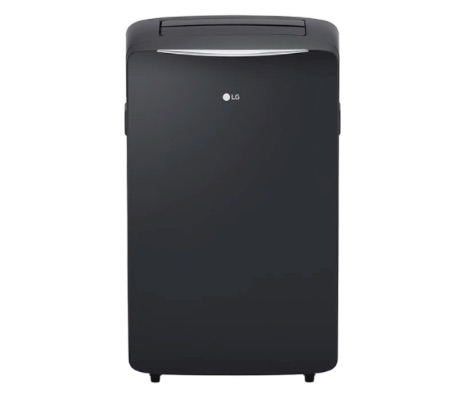 Best Portable Air Conditioner Overall:
Large coverage area of up to 500 square feet
Powerful dehumidifier helps cool in extreme temperatures
Sleep setting for quiet nighttime operation
$599 from LG.com
The LG 1417GSR powers through hot weather with a lineup of impressive features, including a timer, an auto setting, and a sleep setting. The robust 14,000 BTUs cool up to 500 square feet, making this model a great pick for large rooms.
This unit also makes a mark because it has two other functions besides air conditioning. Many portable air conditioners pull moisture from the air as part of their cooling power, but this model can do so even when the cooling function is turned off. It also provides the option of running the fan alone on days when all you need is a breeze.
The LG works on your schedule with a 24-hour on/off timer and auto restart after power outages. LG includes a remote, which lets you control it from your bed, favorite chair, or on your way out the door. Overall, it's powerful with useful features and versatile functions, making it easy to run and operate.
Tip:The LG 1417GSR weighs in at 70 pounds, creates 54 decibels (dBA) of noise, and removes up to 74.4 pints of water per day.
Best Portable Air Conditioner for Small Rooms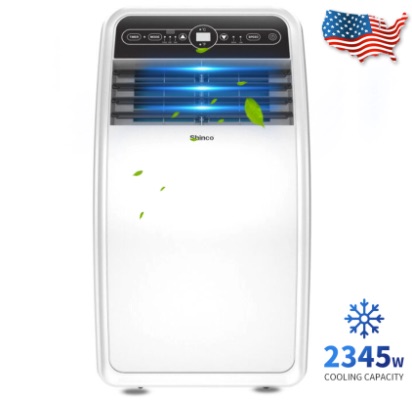 Best Portable Air Conditioner for Small Rooms:
Multiple functions — cool, fan, and dehumidify
200 square foot coverage for smaller rooms
Easy to move with casters and relatively lightweight at 55 pounds
$299.99 from Shincoglobal.com
If heat keeps you awake at night, the Shinco SPF2-08C offers excellent cooling power for rooms up to 200 square feet. While the exhaust hose has vent out of a window, the setup for this model is simple.
It cools like a dream in small rooms, but the fan works alone for days when all you need is air circulation to stay comfortable. This model dehumidifies while it cools, but the dehumidifier can run on its own, too. At some temperatures, removing humidity is enough to cool things down without using the extra energy to blow out cool air as well.
The Shinco is one of the smaller portable units at only 55 pounds. Its compact design and casters allow you to move this portable A/C from room to room without breaking a sweat. Finally, the top control panel provides easy access to adjust the two fan speeds, change the temperature, or set the timer.
Best Portable Air Conditioner for Large Rooms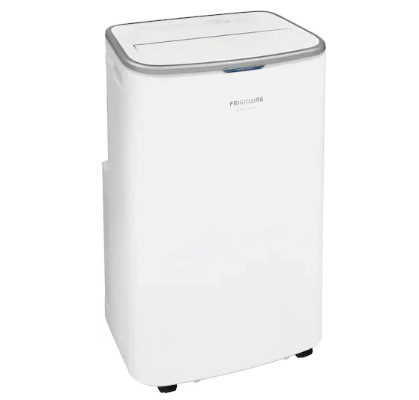 Best Portable Air Conditioner for Large Rooms:
Wi-Fi capabilities give you access and remote control from almost anywhere
Works as a dehumidifier and ionizer
Only 49 dBAs on high
$599 from Frigidaire.com
This is one of the best portable AC units for large rooms and smart homes. It pumps out enough air to cool up to 600 square feet. However, Frigidaire packed this model with smart features to give you the ultimate in remote monitoring and automated control over your AC.
The unit connects via Wi-Fi to an app where you can change the temperature, adjust the schedule, or turn it off/on while on your way home from the office or from the comfort of your bed. When you're not using the smart features, an indicator light keeps you updated on any performance issues like a filter change or Wi-Fi status.
This Frigidaire also functions as a dehumidifier or ionizer. An ionizer releases negative ions into the air that then attach themselves to allergens and dust, making the particles heavier. Consequently, they fall out of the breathable air space, where you're less likely to breathe them in. Last but not least, it's hard to beat this model's quiet 49 dBAs while on its highest setting.
Tip: Dehumidifying helps prevent mold, mildew, and related odors. Removing humidity also saves money by using less energy to cool or warm the room.
Best Portable Air Conditioner with Heater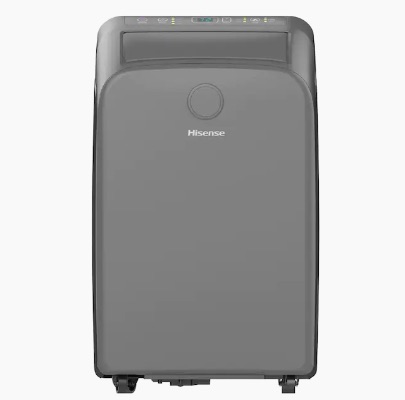 Best Portable Air Conditioner with Heater:
Easy to install with included snap window kit
Maximizes temperature drops in rooms up to 400 square feet
4-in-1 design includes cooling, heating, dehumidifying, and a room fan
$549 from Lowes.com
Before you know it, you might have extra appliances all over the house. One to cool, one to heat, one to dehumidify, but the Hisense combines four functions into a single unit. Not only that, it also does a good job at the two major uses — cooling and heating. The fan and dehumidifier maximize both cooling and heating for better energy efficiency by either circulating air or removing moisture.
This model includes a window kit that snaps together, which means no cutting and easier setup. You can program a 24-hour schedule, set a timer, or use the remote control to adjust settings for any of the functions. A centrifugal fan design keeps the Hisense quiet, running at only 49 dBA on low, so it's not likely to keep you up at night.
Tip: The Hisense's dimmable controls prevent indicator lights and the LCD display from keeping you awake.
Best Portable Air Conditioner for Humid Climates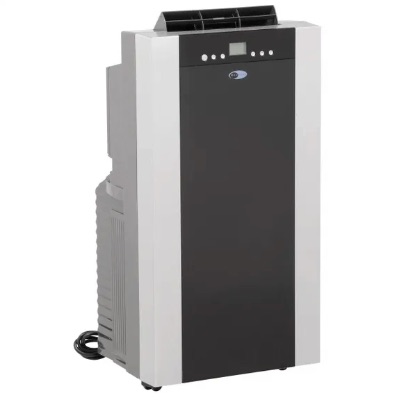 Best Portable Air Conditioner for Humid Climates:
Recycles moisture to aid in the cooling process
Removes 71 pints of water per day
Uses eco-friendly refrigerant and contains lead-free components
$520 from Whynter.com
Whynter blends advanced features with an eco-friendly design that pulls humidity out of the air with incredible energy efficiency. This dual-hose AC contains advanced drain technology that recycles moisture pulled from the air and uses it to further cool the room, taking advantage of the natural climate to cool larger spaces.
High humidity actually works in this unit's favor. Removing humidity naturally cools temperatures, and sometimes all you'll need to do is run the dehumidifier to reduce the temperature.
Whynter designed this model to use eco-friendly refrigerant and lead-free components. However, it's full of extra features like three fan speeds, an activated carbon filter to remove air contaminants, casters, and an extendable exhaust hose.
Tip: Keep the exhaust hose straight. A twisted exhaust hose can cause moisture to drip back into the AC unit, causing damage or shortening its life.
Types of Portable Air Conditioners
Single Hose 
Dual Hose 
Single hose portable air conditioners pull air from the room, pass it over refrigerant-cooled coils, and blow the cooled air back into the room. Moisture and warm air exit through a single hose that vents out of a window.
This type of system creates negative pressure within the room, which pulls hot air into the room through any cracks or non-airtight seals in the room or house. Consequently, if the air conditioner is too small for the room, it will keep working harder and harder to cool it. But because of negative pressure, it may never reach its optimal temperature setting.
This type of system is usually found on models meant for small rooms.
A dual-hose portable air conditioner typically has two intake hoses and a single outtake hose. One intake hose draws air from the room, cools it, and pushes the air back out to cool the room. This process heats up the air conditioner, so another intake hose pulls in outside air to cool the air conditioning unit. Finally, the outtake hose vents all of the moisture and warmed air outside.
These models are more efficient and cool quicker than single-hose designs. Dual-hose models don't have a problem with negative pressure either. Like a single hose AC unit, you still need an air conditioner of the right size to cool a room efficiently. Lastly, dual-hose ACs usually come with a higher price tag.
Features to Consider in the Best Portable Air Conditioner
BTU (British Thermal Units)
BTUs represent the heat needed to raise the temperature of one pound of water by one degree Fahrenheit. You'll often see BTUs listed in the product description or on the packaging of the AC unit. That's because the BTUs tell you how much energy you'll need for the air conditioner to work effectively. In general, the bigger the room, the more BTUs you need to cool it. The price of the portable AC unit usually goes up along with the BTUs.
Cooling Area in Square Footage
It's important to get an air conditioner that's the right size for the room you want to cool. Many people think buying a portable model that's bigger than what they need will cool the area faster, which is partly true but not as effective as you might think. It may bring temperatures down a little bit faster, but it will use just as much energy as though it were cooling a much larger room.

For the sake of energy efficiency and cost savings, measure the room and calculate the square footage. Look for a portable air conditioner unit that's designed for a space of that size.

Moisture Removal Capacity
Portable air conditioners remove moisture from the air as part of their cooling system. If you live in a climate with high humidity, look for units that maximize moisture removal by removing 70 to 75 pints of water per day. However, if you live in a dry climate, a portable air conditioner may not work as efficiently. You may be better off (and cooler) using an evaporative cooler instead.
Smart Features/Wi-Fi Enabled
Smart features are found in all kinds of appliances, including big and small portable air conditioners. If you have a smartphone, Wi-Fi enabled units with smart features allow you to adjust the schedule or turn the unit on or off while away from home. These models also let you monitor the temperature from anywhere in your house.
Night/Sleep Mode
A night or sleep mode keeps the AC noise down at night. Look for this feature if you're a light or sensitive sleeper.
Timer
Timers save energy (and money) and keep the room cool when you need it most. You can set the timer to turn off after a few hours, so the AC isn't running constantly. Some models allow you to set a schedule, so the unit only runs in the afternoon and evening when temperatures are highest.
Noise Level
Portable AC noise levels range from 45 to 65 dBA. To give you a frame of reference, 45 to 50 dBA is similar to the hum of a refrigerator or a quiet corporate office. At the upper end of the noise spectrum (65 dBA), the noise compares to traffic through a closed window.
Extra Functions
Most portable air conditioners perform at least one other function besides cooling, like dehumidifying or circulating air with a room fan. As part of their design, they have to pull moisture from the air and blow out cool air anyway. For most of these models, it's a matter of being able to use those functions, dehumidifying or blowing air, separately when needed.
However, there are units that double up on function in other ways. Some portable ACs come with air purifying capabilities or function as a heater or humidifier. Depending on your climate and personal preferences, a model with one or more of these other functions can be economical and space-saving.
Frequently Asked Questions
What's the difference between a window air conditioner, portable air conditioner, and an evaporative cooler?
Window air conditioners fit within a window frame and, in many respects, function like a portable air conditioner, except they don't need hoses to vent outside. However, they are more efficient and powerful than a portable AC. On the downside, they take up window space and aren't very aesthetically pleasing. Some homeowners' associations may not allow them.
Portable air conditioners are smaller and typically have wheels, so they can be moved throughout the house. They often have several functions like dehumidifying, heating, or circulating air with a room fan. Portable units don't take up an entire window, but they're not as efficient as a window AC.
Evaporative coolers use water and a fan to cool the air. As the water droplets enter the air, they absorb heat as they evaporate. These coolers humidify, so they're only effective in dry climates. If there's too much humidity in the air, the water won't evaporate, and consequently, the room doesn't get cooler.
How many BTUs does a portable air conditioner need to cool my room?
Here's a general guide to BTU needs and portable air conditioning units:
6,000 BTUs for 200 square feet or less
10,000 BTUs for 400 square feet or less
14,000 BTUs for up to 500 to 600 square feet
Features within the room can affect the BTUs needed to adequately cool it. For example, ceilings higher than 8 feet, a room that faces the sun and isn't shaded, rooms occupied by more than three people, and a room like a kitchen that tends to be hotter and more humid. For these types of situations, you may need a portable air conditioner with higher BTUs than the room size indicates to adequately cool the space.
What are DOE SACC, ASHRAE, and EER ratings?
Manufacturers and government agencies use different rating systems to help customers understand the energy efficiency of the unit. There are multiple ratings because some account for the effects of negative pressure while others don't.
The American Society of Heating, Refrigerating, and Air Conditioning Engineers (ASHRAE) tests and rates all kinds of air-conditioners for their basic effectiveness, including how many BTUs it takes to cool a specified area. You may see ASHRAE or ASHRAE BTUs listed on some portable air conditioners.
However, the ASHRAE test does not account for the heat that gets sucked back into the room due to negative pressure. For that reason, the US Department of Energy (DOE) designed the Seasonally Adjusted Cooling Capacity (SACC) rating to better reflect air-conditioner efficiency. Some manufacturers list the DOE SACC rating as well as the ASHRAE rating. Generally speaking, the SACC rating is 50 to 60 percent of the ASHRAE rating.
The energy-efficiency ratio (EER) tells you the ratio of cooling ability in BTUs to the power input in watts — the higher the EER ratio, the more efficient the air conditioner.
Final Advice
While whole-house air conditioners and window air conditioners are both more efficient than a portable AC, sometimes they're not the most practical option. A portable AC of the right size can keep a room comfortably cool. Models that act as a dehumidifier, fan, heater, or air purifier can add extra value and save you money and space on appliances. Make sure to measure the room and get a model that has the appropriate BTUs for your home. From there, sit back and relax in the cool of the evening.