FAST FACTS
Throw blankets are versatile and stylish additions to any home, coming in various sizes to suit different needs. The standard throw blanket size is around 50 x 60 inches, making it ideal for draping over furniture and adding a touch of style and warmth.
When choosing the right size, consider your height, furniture dimensions, and the overall aesthetic of your space.
There are various types of throw blankets, including Luxe, Pintuck, Shimmer, Knit, Faux Fur, Velvet, Personalized Embellished, Eco-Chic Recycled Fabric, Chenille, Tassel Trim, Feathered Warmth, Feather-Light Fleece, and Cozy Woolen options.
Throw blankets offer versatility, style, and warmth, enhancing the comfort and aesthetics of your home. They can be used on beds, couches, and even as decorative wall hangings, making them a valuable addition to any living space.
Throw blankets are a stylish and versatile addition to any home. Whether you want to add a pop of color to your bed or cozy up on the couch, a throw blanket is the perfect accessory. But when it comes to choosing the right throw blanket size to guide you, things can get a little confusing. How big is a throw blanket? And what size should you choose? In this comprehensive guide, we'll explore the different sizes of throw blankets and help you find the perfect fit for your needs.
What is a Throw Blanket?
Before we dive into the world of small throw blankets and blanket sizes, let's take a moment to understand what a throw blanket actually is. A throw blanket is a lightweight and versatile bedding layer that serves both style and comfort purposes. Unlike traditional bedding blankets, throw blankets are not strictly meant for the bedroom. They can be used in various settings, including on armchairs, benches, beds, and even as decorative wall hangings.
Throw blankets come in various materials and textures, ranging from cotton and wool to cashmere, faux fur, and velvet. The choice of material large throw blanket depends on your preference for breathability, warmth, and luxury. Synthetic fabrics like polyester and fleece also offer more affordable options.
Standard Throw Blanket Dimensions
The average dimension of a throw blanket is around 50 inches by 60 inches (approximately 1.25 meters by 1.5 meters). This dimension is slightly smaller than the typical bed blanket size, making it an excellent choice for adding a stylish touch by draping it over your bed or couch. However, it's important to note that throw blankets are not designed to cover your entire body for sleep. They are intended for partial coverage or decorative purposes.
Here are some common throw blanket sizes you might come across:
36 x 50 inches

40 x 60 inches

45 x 55 inches

45 x 60 inches
It's worth mentioning that these sizes can vary slightly depending on the brand or manufacturer.
Baby Sizes
When it comes to blankets for babies and small children, the standard throw blanket size might be too overwhelming. In such cases, it's best to opt for twin blanket sizes or blankets specifically designed for infants. Here are some common baby blanket sizes:
Lovey

: A lovey blanket is a small, cuddly blanket measuring around 12 inches by 12 inches. It's perfect for babies to hold or cuddle while sleeping.

Baby or Security:

 These blankets, measuring approximately 14 inches by 16 inches, are often considered a baby's first blanket. They can become cherished keepsakes for the family.

Cradle:

 Once a baby reaches the age of twelve months, a cradle blanket that measures 14 inches by 30 inches can offer cozy coverage during sleep or rest in the cradle.

Stroller

: Whether you're out and about or require a blanket for your stroller or to lay on the ground, a 30-inch by 36-inch stroller blanket is ideal for keeping your little one covered.

Receiving: 

Receiving blankets, measuring 40 inches by 40 inches, are thin and soft cloths that can be used for swaddling, burping, or providing comfort to newborns.
These baby blanket sizes ensure a snug and secure fit for your little one, providing big enough to cover them with the warmth and comfort they need.
Lapghans & Afghans
Afghan blankets, named after their origin in Afghanistan, are decorative blankets that are usually crocheted or knitted with wool yarn. Unlike throw blankets, there is no standardized size for Afghans. Their standard throw blanket dimensions vary based on bed size or personal preferences. However, you'll commonly find afghans measuring around 50 inches by 65″ x 80 inches. There are also miniature versions called "lapghans" that measure approximately 36 inches by 48 inches.
Types of Throw Blankets
There are several types of throw blankets available, including:
Luxe Throw Blanket: 

Luxe throws are like a touch of luxury for your room. They come in various colors and instantly add a touch of sophistication to any space.

Pintuck Throw Blanket

: Pintuck throws are like cozy works of art. These blankets feature many neat folds in the fabric, creating a diamond-like pattern that's visually captivating. They work especially well in rooms with a single-color theme.

Shimmer Throw Blanket:

 Shimmer throws are like a sprinkle of elegance. These blankets have a touch of glitter that adds glamour to your room.

Knit Throw Blanket

: Knit throws are your winter companions. They are heavy and warm, perfect for keeping you cozy during the cold months. Plus, their textured design adds a bit of charm to your space.

Faux Fur Cozy Blanket

: Faux fur throws are trendy and incredibly snug. Drape them diagonally over your bed or sofa for a touch of elegance and warmth.

Velvet Elegance Blanket:

 Velvet throws effortlessly add a touch of sophistication to any room. Their plush texture not only looks appealing but also keeps you toasty.

Personalized Embellished Throw

: Enhance your decor with embellished throws that exude charm and tradition. Make it uniquely yours by adding your name through embroidery.

Eco-Chic Recycled Fabric Blanket

: These sustainable throws are crafted from recycled materials, including repurposed plastic waste. Play with accent details to infuse a playful vibe into your space.

Caterpillar-Inspired Blanket: 

In French, 'Chenille' means caterpillar, and these cozy throw blankets mimic the softness of caterpillar fur. Crafted from cotton, rayon, or acrylic fabrics, they're snuggly and easy to personalize with various designs.

Tassel Trim Throw Blanket: 

Fringe throw blankets sport playful tassels along their edges, lending them a touch of bohemian charm.

Feathered Warmth Throw Blanket:

Consider a down-throw blanket for those chilly winter nights

. These fluffy wonders are filled with duck or goose feathers, providing exceptional warmth.

Feather-Light Fleece Blanket: 

A fleece throw is a superb choice if you have wool allergies. It's lightweight, budget-friendly, and a breeze to take care of.

Cozy Woolen Throw Blanket: 

Wool throw blankets are renowned for their excellent heat retention and moisture-wicking abilities. Plus, they're fire-resistant, making them an ideal pick for staying toasty during the winter months.
Choosing the Right Size for You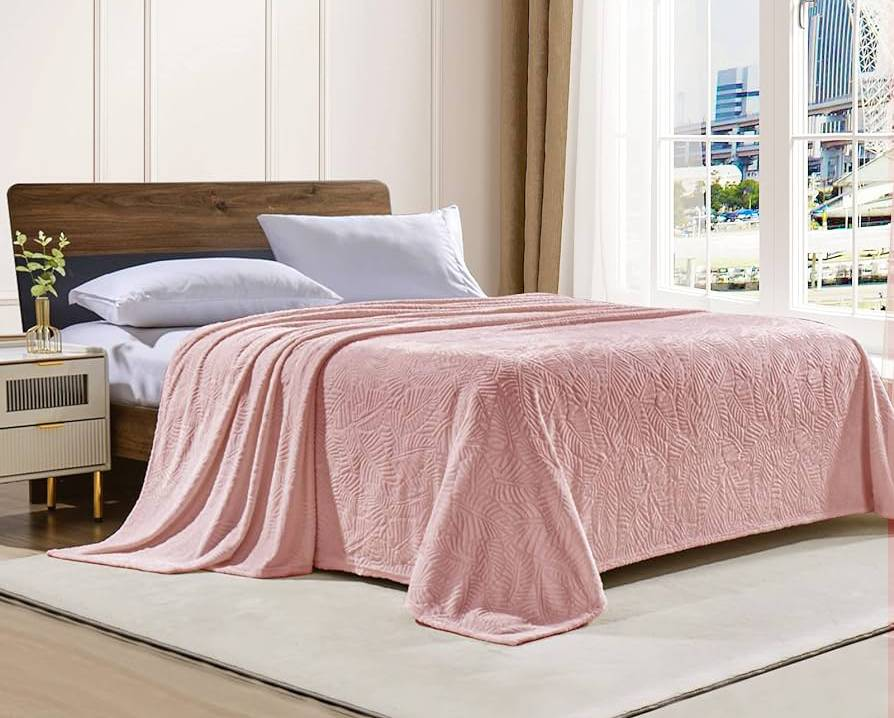 When it comes to selecting the right size throw blanket, there are a few factors to consider. Here are some key points to keep in the right throw blanket size in mind:
Height
While the standard 50 x 60-inch throw blanket works well for most people, it's important to consider your height. You may want to adjust the size of the Afghan blanket accordingly if you're particularly short or tall. You should feel comfortable and not overwhelmed by the blanket's dimensions.
Furniture Size
The size of your furniture also plays a role in determining the appropriate throw blanket size. A smaller blanket measuring 36 x 50 inches might be enough to cover a better fit if you have a small armchair. On the other hand, if you have a California King bed and want to add flair, a larger throw blanket measuring 50 x 70 inches will properly span the bed's footer.
Style and Design
Finally, consider the overall aesthetic and layout of your home's design. The size of the throw blanket should match the feel of your space. Unlike bed blankets, expressive rooms may benefit from more dramatic or thick throws, while intimate rooms often suit lighter and smaller throws.
The Benefits of Throw Blankets
While you can certainly survive without a throw blanket, investing in one can enhance the comfort and coziness of your home and keep you warm throughout. Here are some benefits of having a throw blanket:
Versatility
Unlike traditional bedding blankets, throw blankets can be used throughout your home, not just in the bedroom. You can drape a larger blanket or a throw over the bed footer one day and shift it to your couch the next. With the right throw, you have a blanket for the entire home.
Style
Throw blankets are not only functional but also stylish. They can be used as decorative accents for your furniture when not in use. A well-chosen throw blanket can elevate the coziness and aesthetics of any room.
Warmth
Of course, like any blanket, a throw blanket provides warmth and comfort. Grab your throw blanket for instant coziness when temperatures drop at night or during colder seasons. A queen-size blanket's small size and lightweight texture make it easy to add or remove from your bedding as needed.
FAQs
How to Decorate Your Bed with a Throw Blanket?
When using a throw blanket to add a decorative touch to your bed, opt for a color or texture that contrasts with your existing bedding. To achieve a relaxed, lived-in look, either drape the throw blanket straight across the foot of the bed or lay it diagonally over one of the bed blankets lower corners.
How to Enhance Your Couch with a Throw Blanket?
Decorating your couch with a throw blanket can create an inviting and dynamic atmosphere. For a balanced and symmetrical appearance, fold the throw blanket lengthwise and neatly drape it across the back of the couch. If you prefer a more casual vibe, drape the large throw blankets diagonally over the end of the couch, covering the arm and seat.
What are the Dimensions of an Oversized Throw Blanket?
The size of oversized throw blankets can vary, but they typically come in 80×90 inches or 90×100 inches. These larger blankets are versatile and can cover a king-size full or queen-sized bed when needed. They also work exceptionally well for larger sectional or L-shaped couches. Oversized throws can even serve as protective covers for your furniture when you have pets.
Is It Suitable to Use an Old Blanket as a Throw?
Repurposing a former bedroom blanket as a decorative throw is quite appealing. Still, because your smaller throw blanket will be a focal point in your home, ensuring it's in excellent condition is essential. Opting for a dedicated throw blanket ensures it's in pristine shape and seamlessly complements your living room decor.
Conclusion
Throw blankets are versatile and stylish additions to any home. They come in various sizes, from the standard 50 x 60 inches to smaller or larger options to suit different needs. Whether you want to add a pop of color to your bed or snuggle up on the couch, a throw blanket size is just right for you. Consider your height, furniture size, and overall style when selecting the perfect throw or blanket size to guide you. With the right size and material, a throw blanket can enhance your home's comfort, style, and warmth. So cozy up with a throw blanket and enjoy the ultimate relaxation experience.