Economical, compact, and independent in function, electric kettles come with many hard to ignore benefits. These handy little water heaters aren't expensive to buy or run. In fact, they take less energy than using a stovetop kettle.
All electric kettles have some similarities, but the differences in design, materials, and extra features, like a built-in timer or precise temperature settings, set them apart from one another. Whether you want a high-tech stainless steel model or a classy gooseneck kettle, there's an electric kettle waiting for you.
We reviewed six of the best models the market has to offer. We've also included a shopping guide to help you find an electric kettle with the design and features to brew you the perfect cup.
6 Best Electric Kettles of 2023
Best Electric Kettle Overall: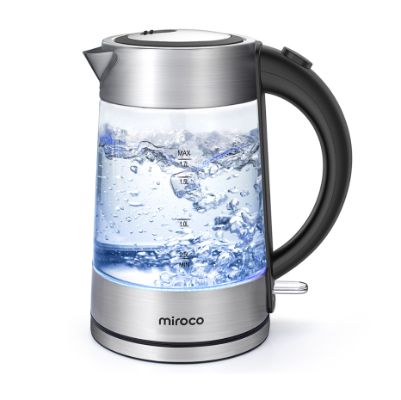 The Miroco's deceptively simple design hides its high functionality. The BPA-free cool-touch exterior prevents burns, while the automatic shutoff and boil-dry protection let you set and forget this kettle until the water is at the perfect temperature.
$37.99 from Mirocohome.com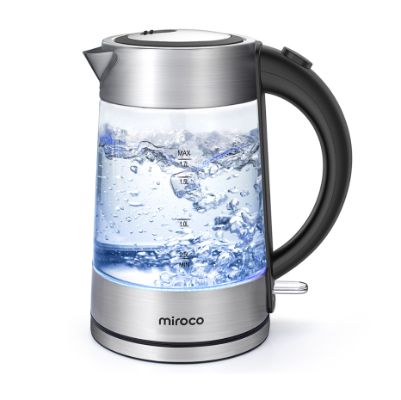 Best Electric Kettle Overall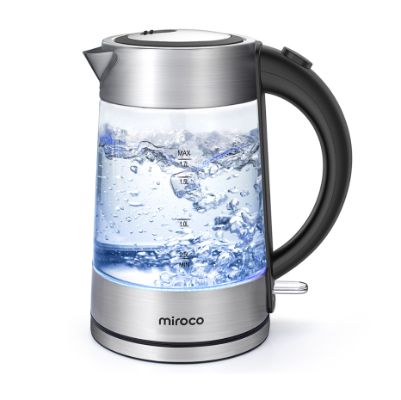 Best Electric Kettle Overall:
Boil-dry protection and automatic shutoff
Large opening for easy cleaning
Safe, cool-touch exterior
$37.99 from Mirocohome.com
The Miroco Electric Kettle looks simple from the outside, but it doesn't disappoint on performance. This kettle lets you put the water in, turn on the kettle, and walk away. It holds 1.5L of water and heats it to the boiling point within six minutes.
A double-walled design prevents the stainless steel interior from heating the sleek, cool-touch exterior. British Strix Control feature automatically turns off the kettle once the water begins to boil, protecting the kettle (and you) from a boil-dry situation.
The Miroco is also one of the easiest electric kettles to clean with a wide opening that lets you reach in to clean the interior. The lid opens to either a 45- or 75-degree angle based on the pressure on the one-touch button. Finally, this kettle features an easy pour spout that reduces spills and leaks when it's time to pour.
Tip:The Miroco Kettle is 100 percent BPA-free, so you're not exposed to harmful chemicals due to the heating process.
Best Luxury Electric Kettle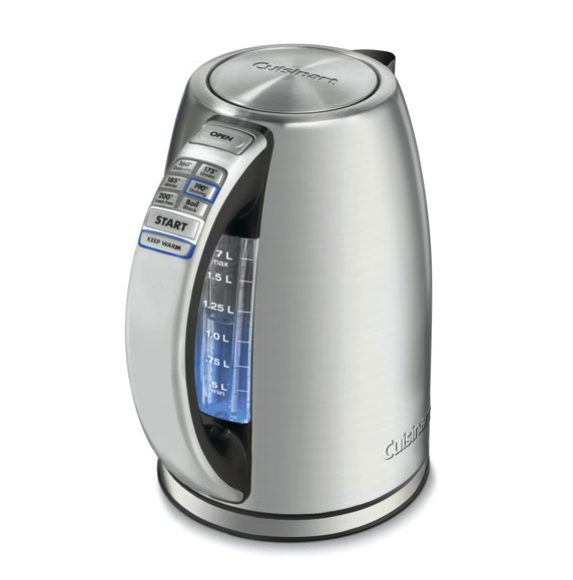 Best Luxury Electric Kettle:
6 precise preset temperature settings
Easy to see fill line
Boil-dry protection and cool base even at maximum temperature
$99.94 from Amazon
The Cuisinart PerfecTemp brings just about everything to the table. Its six temperature presets give precise control over the water, including French Press and Oolong tea settings to perfectly complement each cup. As soon as the kettle reaches the ideal temperature, it automatically switches to a warm mode to maintain the water temperature for up to 30 minutes. If you need to remove the kettle from the base mid-cycle, the memory feature allows you to remove it for up to two minutes. After the kettle is replaced, the heating cycle continues.
This model has a cool-touch base, which means it can be placed directly on the counter without a hot pad. Standard safety features like boiled/dry protection and automatic shutoff round out its list of features.
Tip:The Cuisinart PerfecTemp also contains internal filters to remove impurities from the water when pouring.
Best Glass Electric Kettle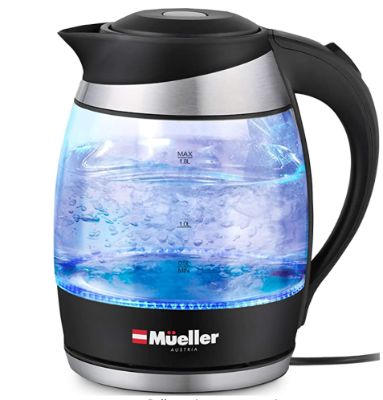 Best Glass Electric Kettle:
Made of borosilicate glass with BPA-free plastics
360-degree view for precise water measurements
Ergonomic, easy-grip handle
$29 from Amazon.com
The Mueller's sleek glass design lets you watch the water as it heats. The glass design also provides a full 360-degree view for precise measurements.
Bright interior LED blue lights let you know it's running and give it a sophisticated glow. A maximum capacity of 1.8L offers plenty of water for morning tea, coffee, and oatmeal. An ergonomic, BPA-free easy-grip handle feels natural and provides excellent hold on the kettle. Finally, it has automatic shutoff and boil-dry protection.
Tip:Tip: Wide kettle openings make for easy filling and cleaning.
Best Retro Electric Kettle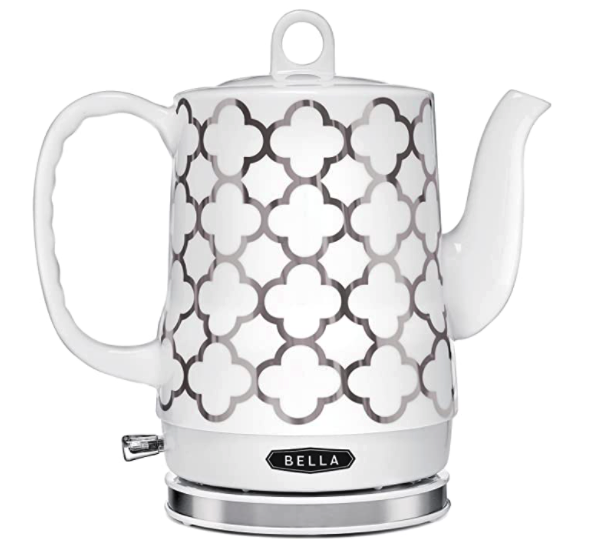 Best Retro Electric Kettle: 
Classic ceramic exterior
Clearly marked minimum and maximum fill lines
Auto shutoff and boil-dry protection
$49.99 from Amazon.com
We have to start with the appearance of a retro kettle. The Bella comes in four beautiful and earthy ceramic patterns. Both the interior and exterior are ceramic, though there is a plastic sealing ring at the top. But there's no hint of a plastic taste in the water.
A simple switch turns the Bella on or off. This isn't the fastest heating unit, but it works consistently every time. The manufacturer doesn't forget safety features by including an auto-shutoff and boil-dry protection. Overall, if you want a classic look but the convenience of electricity, this kettle gives you both.
Tip: The Bella comes in 1.2 or a 1.5L model.
Best Insulated Electric Kettle
Best Insulated Electric Kettle:
Double-walled, cool-touch exterior
British Strix Control to protect from overheating
Wide opening for easier cleaning
$32.99 from Amazon.com
The Secura's double-walled, cool-touch exterior holds the heat but keeps it inside to protect you and keep the water ready to use. The interior, from the lid down, is made of stainless steel. The water never touches the plastic components, so the taste doesn't take on a plasticky flavor.
British Strix Control stops heating the water once it starts to boil to reduce overheating and boiling dry. However, a boil-dry safety feature turns off the heating unit should the water level get too low.
Last but not least is the lid, which opens with the touch of a button. A wide opening makes it easy to fill, empty, and clean.
Tip: Deposits and mineral build-up can reduce the kettle's efficiency, causing it to prematurely break down if the kettle isn't cleaned after each use.
Best Gooseneck Electric Kettle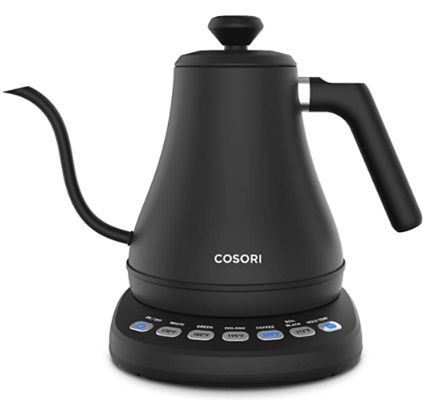 Best Gooseneck Electric Kettle:
5 preset temperature settings
British Strix Control to prevent overheating
Holds target temperature for up to 60 minutes
$69.99 from Cosori.com
For those who prefer a gooseneck, the Cosori provides a classic feel and pouring experience with a long list of modern features. Five preset temperature settings provide precise temperature control to complement each cup of tea. It contains British Strix Control that stops the heating process once the water reaches the desired temperature.
The Cosori's ease of use extends to its hold temperature features, which keeps the water at the target temperature for a full 60 minutes. An auto shutoff feature and boil-dry protection provide safety backups, so you won't ruin the kettle or create a fire hazard if you forget about it. All of the controls are on the 360-degree swivel base, which leaves only the sleek kettle when you're pouring.
Types of Electric Kettles
Glass
Stainless Steel
Glass electric kettles make it easier to see the water fill line, and you can watch the water boil. Many have LED lights that indicate the kettle is on and heating.
Glass kettles have the benefit of keeping the water out of contact with stainless steel or plastic, both of which can add a taste or flavor to the water.
However, all glass kettles will have either stainless steel or plastic parts on the handle and/or base. They also pose a greater risk of cracking and can get hot to the touch.
The sleek exterior of a high quality stainless steel kettle fits in with modern kitchen designs. Stainless steel makes these kettles incredibly durable and rust-resistant.
Some people feel that stainless steel leaves a bit of taste in the water. However, that doesn't seem to be a sentiment that's in the majority.
Ceramic
Plastic
Ceramic electric kettles aren't as common as glass or stainless steel because they tend to crack easier. Their classic appearance, patterns, and color variations make them popular among those who prefer a traditional kettle.
They include the same safety features as other electric kettles like automatic shutoff, a base, and boil-dry protection.
Plastic kettles aren't as durable as stainless steel or as pretty as ceramic or glass. They are, however, cheaper.
Plastic is often used along with glass or stainless steel. It should always be BPA-free to make sure harmful chemicals aren't leaching into the hot water.
Electric Kettles to Consider
The best electric kettles share some common features. However, some models perform better based on their combination of materials and features, making one more appealing to you. As you decide, consider the drinks and foods you want to make using an electric kettle. Serious tea drinkers have different needs than someone boiling water for morning oatmeal.
Capacity
The smallest electric kettles have about a four-cup or one-quart capacity. The largest models hold up to 2L. You may not need that much water based on your hot water use. You also have to consider that a higher capacity model will be larger, taking up more counter or cupboard space.
Safety Features
Don't skip basic safety features like boil-dry protection and automatic shut-off features. These two prevent overheating and dangerous dry boiling, which can ruin the kettle and pose a fire hazard. Some models have Strix control, which stops the water from rising above the set temperature.
Ease of Cleaning
Electric kettles need to be cleaned after every use. A wide opening and lid that opens to at least a 45-degree angle provide easier access to the interior.
Gooseneck kettles look good, but it's often difficult to clean inside of the neck.
Water Temperature Settings
Some kettles have a single temperature setting that brings the water to the boiling point. Luxury models may have preset temperature settings for specific types of teas and drinks. Variable temperature control isn't found too often, but if you're a connoisseur of tea, that kind of precise control might be worth splurging on to achieve a perfect rolling boil.
Water Gauge and Fill Lines
It helps when you can see how much water you have in your kettle. Glass kettles get top marks for visible water gauges. Some stainless steel models have a glass or clear plastic gauge so you can see the water level.
Fill lines aren't as helpful as a gauge. However, they provide guides, so you don't under or overfill the kettle.
Base Cord Storage
We're all overrun with cords. Bases with interior cord storage keep one more cord from cluttering your counter.
Design/Style
Electric kettles come in a surprising number of designs and styles. Stainless steel gives off a modern vibe while retro plastic designs reflect a 50's feel. Some have a futuristic appeal that's neither modern or retro. That means you can find one in a design that fits into your kitchen design or just visually appeals to you.
Keep-Warm Feature
Kettles with a keep-warm feature maintain the water's temperature for a set amount of time, usually somewhere between 30 to 60 minutes. If you're constantly sipping on tea, this feature will keep you hydrated and happy.
Corded vs. Cordless
Electric kettles come in corded or cordless designs. In general, cordless kettles are the best option because they're easier to store, and they prevent clutter on the counter. Traditionalists may like a cordless base because they look like part of the kettle, and you can hardly tell they're electric.
Corded models may have a cord in the base, or the base may be integrated into the kettle for a single corded design. These kettles perform well, but they do leave another cord on the counter.
Cordless models work just as well as corded, but they generally cost more. Consider your specific needs, like how much space you have and your budget to get a good idea of which electric kettle type would work best for you.
Frequently Asked Questions
How many heat settings do I need on an electric kettle?
The number of heat settings depends on your needs. Most people just need the water to reach a rolling boil. However, people who love to steep tea may prefer a model with several settings based on the types of tea and coffee they drink. If you're jumping between a French Brew and Oolong, it makes sense to have lower temperature options. If you just want hot water for oatmeal and morning coffee, one temperature will probably do.
Is it okay to reboil water?
It's best to empty the water after each use rather than reboil it. Minerals and contaminants get concentrated as water evaporates. The longer you boil and reboil the water, the more concentrated it gets. They can create a film that compromises the kettle's ability to function.
Are stovetop kettles better than electric kettles?
Some people may wonder why they need one more appliance in the kitchen when they can use a stovetop kettle. The truth is electric kettles are safer, faster, and more energy efficient. They also take up about the same space as a stovetop kettle.
Final Advice
If you can't imagine your morning without hot tea or coffee, an electric kettle could make your day faster and more convenient. They add precision to tea making and some create a kitchen conversation piece. Whether you want a modern look or classic comfort, there's an electric kettle out there that hits your sweet spot between price, features, and design.