Once you've gotten used to a dishwasher, it's hard to imagine life without one. These marvels of modern life clean, sanitize, and dry dishes so you don't have to. But today's models have far more features (and racks) than their forebears. More than ever before, you need to know which features are worth paying extra for and those that add little real value.
From an adjustable third rack in quick wash cycles, dishwashers come with a variety of options. You can even find smart models that you can monitor and control from your phone. However, if you're not into high-tech appliances, there are plenty of other dishwashers that simply clean dishes well and stay quiet. We picked five of the best models on the market and have provided a shopping guide to help you wade through all of the options.
5 Best Dishwashers of 2022
Best Dishwasher Overall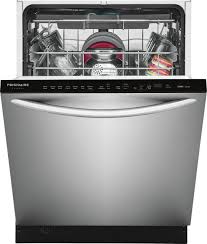 Quiet operation, a large capacity, and adjustable racks make this Frigidaire a versatile model. It holds 12 place settings and dries dishes faster with a fan that circulates air.
$949 from Frigidaire.com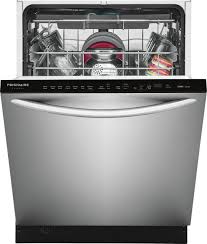 Top Pick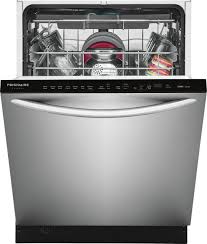 Best Dishwasher Overall
EvenDry feature circulates hot air for shorter drying times
Adjustable 3rd rack
Unique spray pattern that reaches dishes on every rack
$949 from Frigidaire.com
Frigidaire packs this model with convenience features like an adjustable third rack and a unique BladeSpray Arm that improves spray coverage. The BladeSpray Arm creates a spray pattern that efficiently hits dishes on all three racks. The adjustable top rack holds silverware and cooking utensils to save room on the bottom rack for cookie sheets, platters, and up to 12 place settings.
Another big pro for this Frigidaire is the top control panel. Top control panels remain hidden, so the controls can't get bumped and remain safe from curious little hands. And speaking of little hands, this model is National Sanitation Foundation Certified, which means it's been tested and found to remove up to 99.9 percent of common household bacteria.
We can't talk about this dishwasher without mentioning Frigidaire's EvenDry. EvenDry features a fan that circulates air throughout the stainless steel tub to better evaporate water. However, even when the fan is going or when the dishwasher is in the middle of a wash cycle, this model doesn't go above 49 decibels (dBA), which is about the equivalent of a humming refrigerator.
"The Frigidaire FDSH4501AS is Energy Star qualified to keep your energy bill down, saving you money over the lifetime of the dishwasher."
Runner Up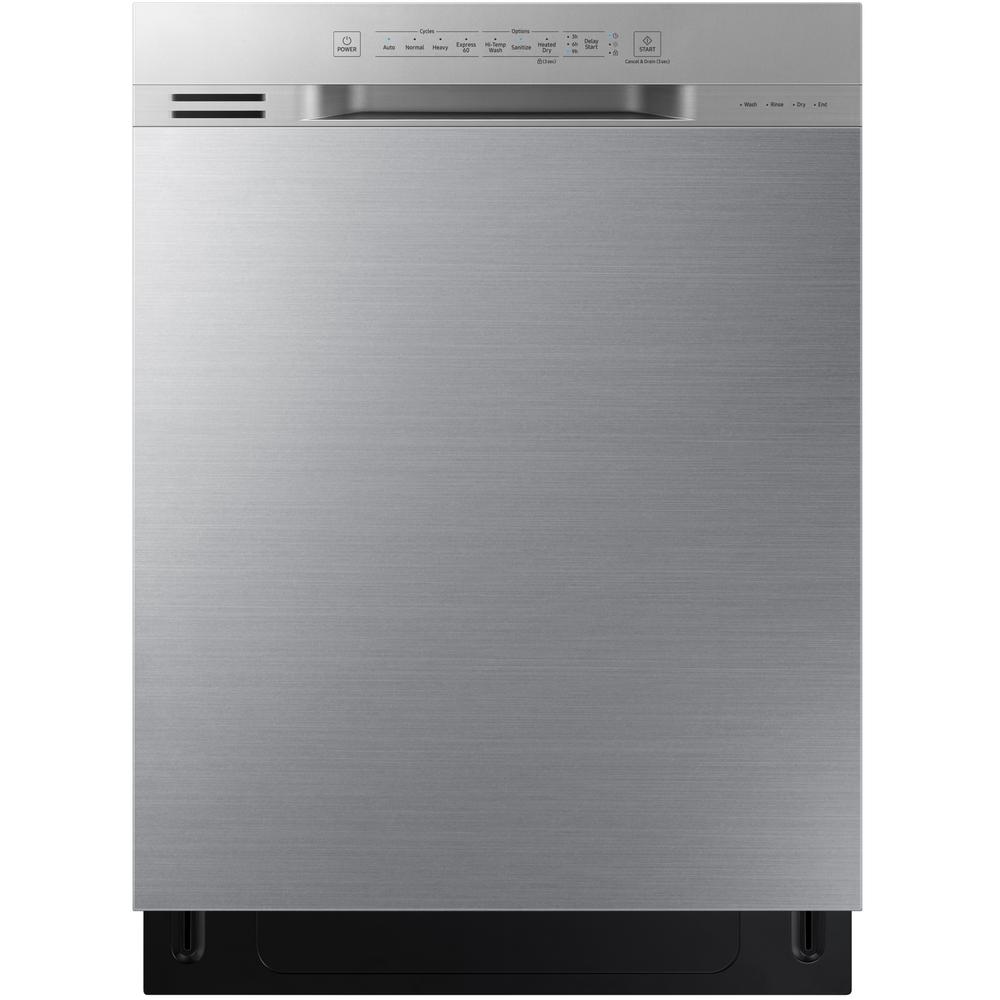 Best Built-In Front Control Dishwasher
Adjustable 3rd rack provides versatile configurations to fit more dishes
Holds up to 15 place settings
Digital leak sensor puts an early stop to leaks
$584 from Samsung.com
This large Samsung holds a whopping 15 place settings. At least some of that capacity comes from the adjustable third rack that you can move higher or lower depending on your load needs. It also makes it easier to load and access your flatware because of the third rack's flatware organization tines.
Samsung includes a digital leak sensor in this model, an uncommon but fantastic safety feature. The sensor automatically turns off the water if it detects a leak over 2.4 ounces. The leak sensor comes in handy all of the time but in particular when using the delayed start.
The delayed start feature allows you to take advantage of lower energy costs in off-peak hours, improving energy efficiency in your home and saving you money. And because of the leak sensor, you don't have to worry about water flooding the kitchen while you sleep.
This model is fully ADA compliant with a handle and digital front panel touch controls. Finally, it runs at a relatively quiet 51 dBA, which is the noise level of the average corporate office.
Tip: Read through the instruction manual of your dishwasher and follow the manufacturer's pre-rinse recommendations. Rinse excess food off of your dishes, but don't rinse them to the point that they look clean. Dishwashers with soil sensors may shorten the wash cycle because they don't detect enough food particles.
Best Built-In Top Control Dishwasher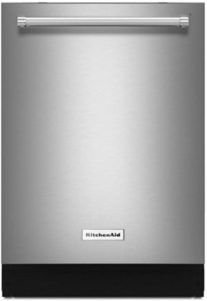 Best Built-In Top Control Dishwasher
Quiet operation, running at only 43 dBA
Sliding tines on lower rack allow you to adjust the configuration as needed
Self-cleaning filter
$1,034 from BestBuy.com
KitchenAid puts a long list of extra features in this model, including a self-cleaning filter, sliding tines on the bottom rack, and an advanced ProDry system that uses a fan to circulate air. The self-cleaning filter has a grinder that breaks down the food that gets stuck in/on the filter, so you don't have to do manual cleaning. Some self-cleaning filters are loud, but not the KitchenAid. This quiet dishwasher operates at 43 dBA, lower than all but one model on our list.
It also offers versatile loading options. Sliding tines on the bottom rack allow you to adjust the configuration to your needs. The top rack has some adjustability, too. Its two fold-down cup shelves provide extra organization options. There's also a utility basket on the top rack for holding sensitive items like baby bottles or pacifiers.
Rounding out this KitchenAid dishwasher's standout features is an express cycle that gets dishes done in a hurry. When you're not in a rush, the Pro Wash setting will choose the right cycle and wash time for you by automatically sensing the dishes' soil level.
Best Smart Dishwasher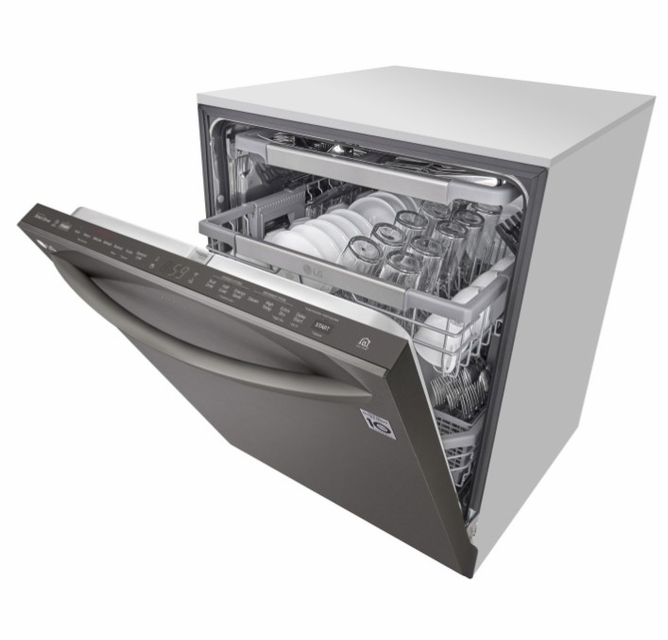 Best Smart Dishwasher
Connects to an app and is compatible with Alexa and Google Assistant
Adjustable rack system
Half Wash Mode lets you wash dishes on either the top or bottom rack, saving water and energy
$978 from HomeDepot.com
Smart dishwashers keep you connected with your home from anywhere. This LG model sends notifications, via a smartphone app, and lets you keep an eye on where the dishes are in the cycle and when they're done. It's compatible with Alexa and Google Assistant, so there are voice control options, too.
The upper rack of this model adjusts to three different levels with the touch of a button. You can use that upper rack for flatware or small cups, giving you options based on the load.
LG filled this dishwasher with other convenient features like varying water intensities on the lower and upper racks to protect fine dishes, an autocycle that chooses the right cycle and wash time-based on the soil level, and a half wash mode that washes either the upper or lower rack only. With this model, the right settings use less water and reduce energy use, while allowing you to customize the way you do dishes and save money.
"The LG LDT7808BD has a direct drive motor that's energy efficient but low on noise, coming in at only 42 dBA."
Best Portable Dishwasher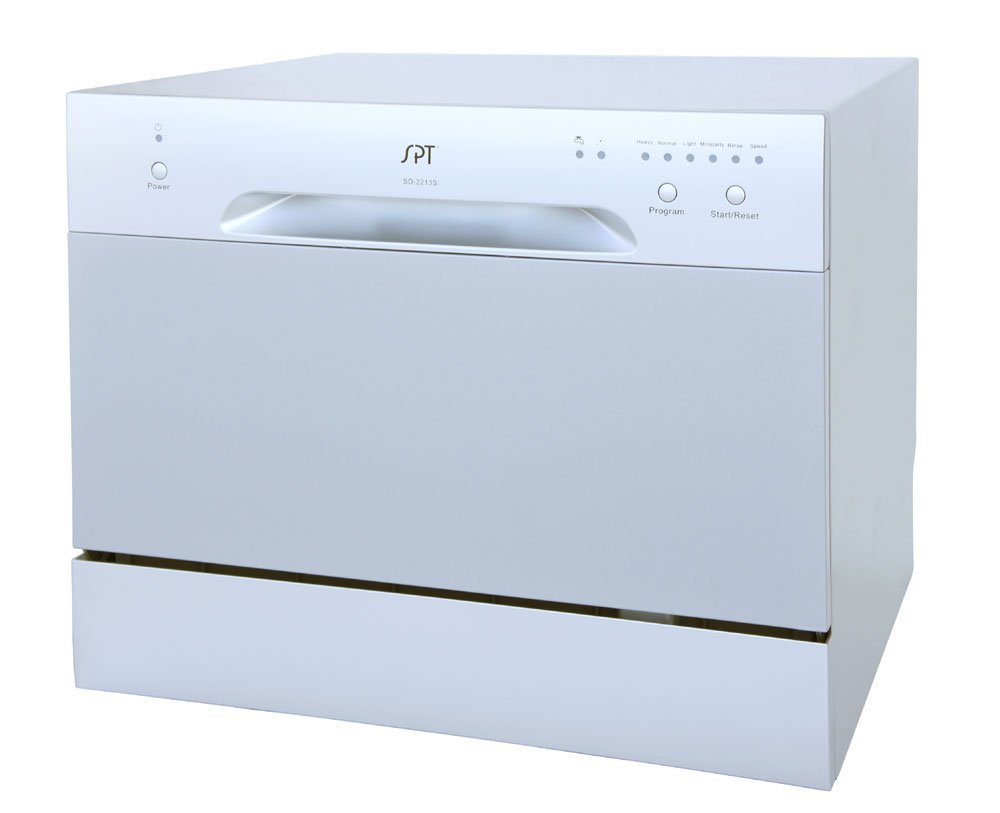 Best Portable Dishwasher
Holds 6 place settings
Automatic detergent and rinse agent dispenser correctly times soap dispensing and mixing with water
Water supply indicator light makes sure you know when the water is turned on (or off)
$258 on SunPenTown.com
If the size of your kitchen doesn't allow for a full-size or even compact dishwasher, a countertop model like the SPT SD-2213S might be right for you. Set it next to the kitchen sink when you're ready to do dishes, and it will clean a full six place settings.
It keeps things simple with six cycles, including speed and heavy cycles. The SPT comes with a universal connector for use with almost any faucet. Indicator lights for the water supply and rinse aid make sure everything's ready to go and properly working before you walk away. The best part about this model? You can put it away in a closet when the dishes are done.
Dishwasher Types
Built-In with Front Controls
Built-in dishwashers are by far the most popular model with an even split between front and top control designs. These models fit underneath the countertop and connect directly to your water supply.

Front control models have a control panel on the front of the door, where you can see how much time is left in the cycle and what settings you're on. On the downside, children, pets, and even an unsuspecting adult can accidentally hit the settings while the dishwasher is running.

Built-In with Top Controls
Top control models have the control panel on the top of the door, where they're hidden when the door is closed. These models look sleek and protect the controls from children. However, you can't see the cycle or time information when the dishwasher is running.
Smart Dishwashers
Smart dishwashers are built-in models with either a front or top control panel that connects to an app via Wi-Fi. They send cycle notifications to the app, with some models being compatible with Alexa and Google Assistant and their voice control options.
Portable Dishwashers
Portable dishwashers include countertop and wheeled models. As the name implies, countertop models sit on the countertop and connect to a water faucet via a hose. They usually hold anywhere from four to six place settings. While they don't have all the features of a full-size model, they clean well and fit in a closet when not in use.

Portable or wheeled dishwashers roll into place when you're ready to do the dishes. They connect to the faucet and can be compact (18-inches wide) or full-size (24-inches wide) with many of the same features as a built-in model.
Features to Consider in the Best Dishwasher
Rack and Configuration Flexibility
Third racks became the rage because they take flatware off the bottom rack, making more room for pots and dishes on the other two racks. However, not all dishwashers do a good job of cleaning the top rack, so make sure the dishwasher has jets or an arm design that reaches every rack.

Some models are even more flexible in their configurations with sliding or bending tines, so you can further adjust the rack configuration to your needs. If you do a lot of dishes, these extra configurations maximize every load.

Noise/Decibels
No one wants a dishwasher that sounds like rocks in a tumbler. The average dishwasher runs at about 50 to 55 dBA, or about the sound of light traffic through a closed window. Models with quieting or dampening technology may run as quiet as 40 to 45 dBA. If noise is an issue for you, pick one of these quieter models.
Tub Material
Dishwasher tubs are made of stainless steel, plastic, or a hybrid mix of stainless steel and plastic. Plastic tubs aren't as durable as stainless steel tubs, but you'll pay more for stainless steel. Hybrid tubs fall in between the two on durability and price.
Soil Sensor
Soil sensors adjust water levels and cycle times based on the soil level of the dishes. These models may save money in energy and time with shorter, more efficient cycles.
Wash Zones
Some dishwashers can wash either the top or bottom rack independently. That gives you some flexibility in what and when you wash dishes. However, you'll pay extra for this feature, so make sure it's something you'll use.
Filter Type
Dishwasher filters are either manual or self-cleaning. Self-cleaning models have a grinder that breaks up food and flushes it out of the dishwasher. Manual filters, as you would expect, require you to clean them out regularly.
Wash Cycles
Most people don't need more than light, normal, and heavy wash cycles. However, some models offer a pots and pans or express/quick cycle. If you're precise or particular about how you wash your dishes, these extra cycles might be worth their added cost.
Heated Drying
If you don't want to dry dishes by hand once the cycle is done, look for a model with heated drying. Many newer dishwashers now have fans to circulate air during the drying process to evaporate water faster and reduce drying times.
Frequently Asked Questions
What's a good budget for a new dishwasher?
Countertop dishwashers start around $250 with some high-end dishwashers with smart features, leak sensors, and adjustable racks coming in over $1,500. Needless to say, there's a wide range of options. Look for a dishwasher that has the features that are most important to you. Is it heated drying, a third rack, or do you only need the basics? Extra features cost more, so try to narrow down your feature list to those you know you'll use. Generally though, you'll want to budget around $1,000 for a high-quality dishwasher.
What are common dishwasher sizes?
Most built-in dishwashers are 24-inches wide, but to determine the right dishwasher size for your home, you'll want to measure your space. For small kitchens and homes that are tight on space, there are 18-inch compact models or drawer dishwashers that are built into the under-counter cabinets.
How do I choose the right dishwasher size for my family?
A family of three probably doesn't need a dishwasher capable of holding 15 place settings. That is unless you cook a lot and wash all your pots, pans, and cookie sheets in the dishwasher. A large family of five or more people may need that high capacity on a daily basis. High capacity dishwashers cost more, so look for a model that meets your needs, but isn't overkill for the kind of entertaining and cooking you do.
Final Advice
Dishwashers make life easier (and cleaner). There are so many models and combinations of features available that you're sure to find one that has everything on your dream dishwasher list. Know your budget and the features that are non-negotiable, and you'll welcome home a new dishwasher before you know it.