A great pair of workout shoes protect your feet, enhance performance, and make your workouts more comfortable. There are pairs designed for strength training, long runs, and even health conditions like plantar fasciitis and shin splints. The best exercise shoes support and stabilize the feet while being comfortable enough for you to forget they're even there.
We reviewed five of the best workout shoes for women on the market. We've covered everything from pairs meant for weightlifting to lightweight shoes that reduce fatigue. We've also included a shopping guide with the ins and outs of different shoe types and features that make the most difference in your comfort.
5 Best Workout Shoes for Women of 2020
Best Workout Shoes for Women Overall:
Nike put a mix of performance and style features in the Flyknit 3 that create a high-performance shoe that looks great. The Flyknit 3's air cushioning provides a responsive ride for a variety of workout types.
$200 from Nike.com
Best Women's Workout Shoes Overall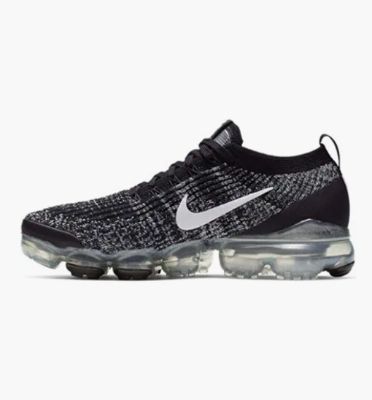 Best Women's Workout Shoes Overall:
Stretchy flyknit upper offers breathable, snug comfort
Toe to heel Vapormax Air technology to cushion and support the foot
Flywire cables enhance stability as the laces tighten
$200 from Nike.com
Nike's VaporMax line continues to improve in the Flyknit 3. The upper brings the style with the lightweight, breathable flyknit that hugs the foot for a close fit. That fit is further enhanced with flywire cables integrated into the upper that stabilize the foot as the laces are tightened. Though the outsole may be wide, the upper's fit prevents this shoe from feeling clunky.
The Vapormax Air technology in the midsole and outsole provides the shoe's cushioning and targeted compression. A single air chamber in the heel helps you feel the ground and keeps movement responsive during landings and takeoffs. The forefoot's five separate air chambers create zoned cushioning that moves with you through dynamic direction changes. The features come together to create a shoe that works well in cross-training, group classes, or on short runs.
Tip: Buy a workout shoe that supports the activities you do most. Running shoes have the cushioning to protect the foot from the impact of repeated foot strikes, cross-trainers provide a wider base to support lateral movement, and weightlifting shoes stabilize the foot for heavy weights.
Best Running Shoes for Women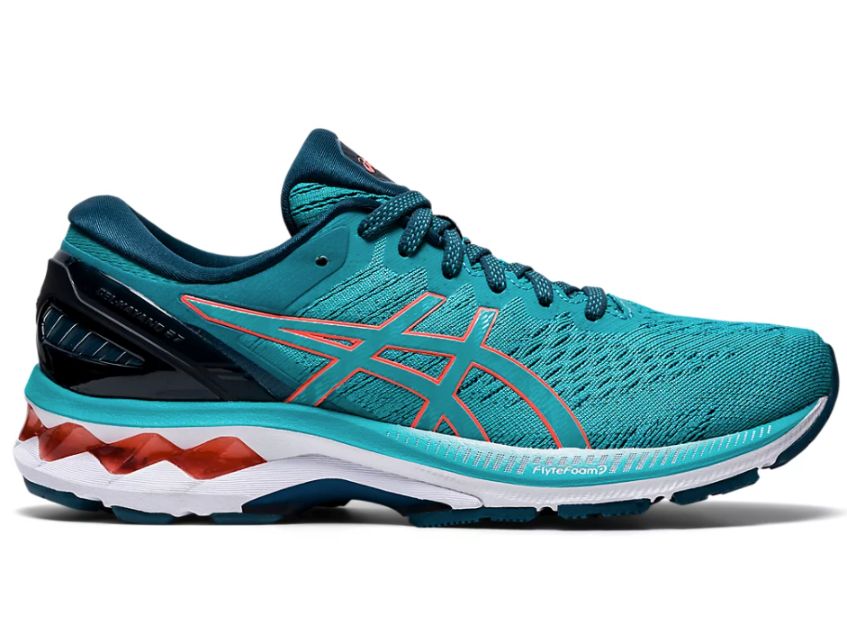 Best Running Shoes for Women:
External heel clutch keeps the heel in place and guides it through a neutral gait
Gender-specific trusstic design better supports a women's weight distribution and foot shape
Contains an extra 3mm of FLYTEFOAM to stabilize the foot and propel it forward
$160 from Asics.com
The Gel-Kayano has been through 27 versions, and the latest iteration makes for an amazing women's workout shoe. This shoe offers an extra three millimeters of FLYTEFOAM in the midsole to support the weight distribution of wider hips and prevent overpronation, an inward rolling of the foot and ankle. An external heel clutch further locks the heel in place, so runners can take advantage of the stability features. The foam design and heel clutch are part of ASICS's gender-specific trusstic system that helps the runner maintain a healthy, neutral gait.
A comfortable Ortholite insole gives the interior an almost plush feel without compromising responsiveness. The insole also wicks away moisture to keep the foot dry and shoe breathable. Cushioning gel in the forefoot and heel absorb road impact, reducing the stress on your lower body. The Gel-Kayano's design provides the stability and cushioning needed for mid- to long-distance runners, whether they do casual or intense training sessions.
Tip:The Gel-Kayano 27 has strategically placed high abrasion rubber in the outsole to strengthen high wear areas and provide better durability.
Best Lightweight Workout Shoes for Women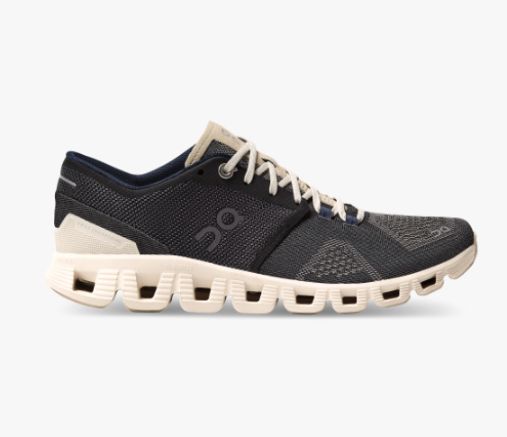 Best Lightweight Workout Shoes for Women:
Weighs a light 7.05 ounces
Molded cushioning pads in the heel customize the fit
Designed to support multiple sports
$139 from On-running.com
ON Running shoes look a little outside the box, but they're impressive from every angle. At only 7.05 ounces, they're incredibly lightweight, especially considering they can support everything from running and cross-training to high-intensity interval training (HIIT). On the inside, they have molded cushioning pads in the heel that conform to the foot with regular wear. A Speedboard in the midsole improves energy return to propel the foot forward.
On the outside, ON's CloudTec outsole absorbs impact while offering incredible traction and grip in all directions. The Cloud X has a wider base than a running shoe for stability during lateral movement. It all comes together in an incredibly lightweight sneaker built for athletes who need a shoe for diverse workouts.
Best Cross-Training Shoes for Women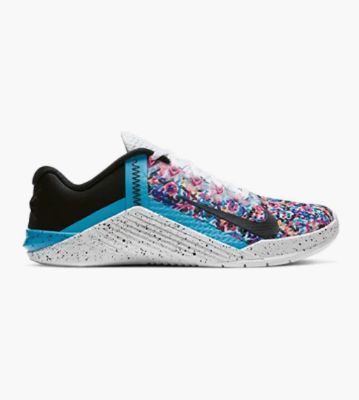 Best Cross-Training Shoes for Women:
Highly breathable to keep the foot cool when workouts get hot
Designed for both weightlifting and HIIT class
Removable Hyperlift inserts let you adjust the heel height based on the workout
$199 from Amazon.com
Functional fitness enthusiasts and athletes who can't help but push their physical limits will love the combination of support and stability in the Metcon 6. A flat, wide heel creates a stable base for weightlifting, while firm foams in the midsole prevent too much compression.
Heel height plays an important role in your form when weightlifting. The Metcon's removable insert, called the Hyperlift, lets you adjust the heel height for each lift. The right heel height can help you squat deeper and increase your PR.
However, the Metcon also has the traction, breathability, and cushioning for high impact moves like box jumps, running, and kettlebell exercises. The grippy outsole extends up the inside of the exterior, providing extra grip for rope climbs. The Metcon 6's design offers support and stability for a diverse range of training routines.
Tip: HIIT training includes exercises like kettlebell swings, clean and jerks, and the use of medicine balls. To do any of these exercises effectively, you need a cross-training shoe with a wide base, so you can ground yourself through your feet during each exercise.
Best Weightlifting Shoes for Women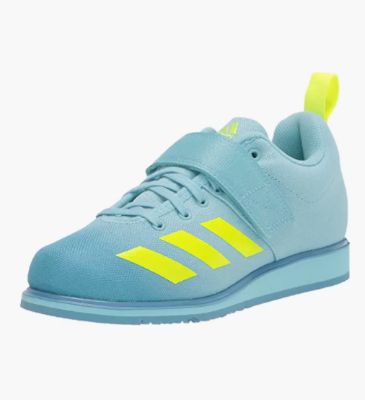 Best Weightlifting Shoes for Women:
Firm heel to ground the body through each lift
Raised heel for better positioning during squats
Midfoot strap to lock the foot in place
$54 from Amazon.com
The Adidas Powerlift 4 offers a series of features that support you through snatches, squats, deadlifts, and power cleans. That support starts with a firm, raised heel. Weightlifters need a low, firm heel to support heavy loads. The Powerlift 4's heel won't compress under that weight, so you have a stable base throughout the lift. However, the raise puts you in a position to deepen your squats and potentially lift heavier weights.
An internal heel counter holds the heel in place to further stabilize the foot, reducing slippage or movement mid-lift. A wide outsole distributes weight and pressure for a stable foundation on which to build your weight training. If you want a specialty weightlifting shoe, the Powerlift 4 provides stability at an affordable price.
Types of Workout Shoes for Women
Running
Cross-Training
Running shoes provide ample cushioning for the high impact of repeated foot strikes. Extra cushioning to absorb impact, stability features in the arch, and a relatively narrow, low tread pattern to accommodate the forces and stress of running.
With running sneakers, the longer the distance you run, the more cushioning you need to keep the foot safe and supported. Depending on the distance length, running shoes may need to be bought a half to a whole size larger than normal to provide space for swelling.
However, for activities outside of running, running shoes can fall short. For example, a running sneaker's narrow outsole doesn't support the lateral movement of HIIT training, and the softer foams can be unstable during weightlifting.
Cross-training shoes or cross trainers are a good choice for those who like to change up their workouts. Crosstrainer shoes have a wider heel and outsole for better stability than a running shoe. Consequently, they work better for weightlifting, cardio classes, and HIIT workouts.
However, they have more cushioning than a weightlifting shoe, so they can be used for short or mid-distance runs. These sneakers are one of the best options for any kind of workout that involves lateral movement. A cross trainer's outsole often wraps around the side of the shoe to provide extra traction for quick direction changes or even intense moves like rope climbs.
If you're an athlete that often switches workouts, a good pair of cross-trainer shoes would probably be the right choice.
Weightlifting
Lightweight
Weightlifting shoes are a specialty shoe that supports the body through heavy lifts. A wide, flat heel creates a stable base from which you can use the body's force to push through each lift. These shoes have firmer foams than a running shoe or cross-trainer to prevent the foam from compressing under extra weight.
Weightlifting shoes may feature an adjustable heel or a raised heel to help maintain good form. While weightlifting shoes are great for weightlifting, they don't have the cushioning for running or high-intensity workouts.
You can find a lightweight shoe in just about every shoe category—running, cross trainers, and weightlifting. These types of workout shoes typically weigh less than ten ounces, with some of the lightest being racing shoes that are around five ounces.
Lightweight shoes typically have lighter foams that may lose their ability to absorb impact sooner, especially if used regularly for long-distance runs or weightlifting. In an effort to cut weight, manufacturers also often leave out stability and motion control features in lightweight shoes, making them less stable for some women.
Some women use lightweight shoes for races or specific workouts to reduce fatigue. If you opt for a lightweight shoe, make sure it has the durability and support for the activities you do.
Minimal
Minimal shoes have an offset – the height distance from the heel to the toe – of less than three millimeters. Many of these shoes are designed to do little more than protect the feet from the ground with little to no cushioning.
They work well for some runners because they produce a gait that's similar to running barefoot. Some weightlifters like to wear them because they feel more grounded through the lift.
However, this type of footwear isn't for everyone. Weightlifters and runners both need to give the foot to time to strengthen and adjust to a minimal shoe. It usually requires several weeks for the foot to adapt and strengthen enough to do a full workout in a minimal sneaker.
What Makes a Good Workout Shoe?
Every foot is different, which means you need to know the most important features for your comfort. Your body mechanics, weight, body type, and comfort preferences will all influence what feels best to you. We've gone over some of the most important features, so you know what to look for.
Stability
Shoe stability features include medial posts, guardrails, and internal frames that support a neutral gait. These design features offset overpronation and prevent the foot from rocking back and forth in the shoe. They may add weight, but they're worth it if they protect your lower body from injury.
Cushioning
Two factors come into play when deciding how much cushioning you need—your chosen activity and personal comfort preferences. Runners need more cushioning, especially long-distance runners, to absorb the high impact and joint stress of repeated foot strikes. However, some runners feel like too much cushioning feels mushy and slows their pace.

Weightlifters need less and firmer cushioning than runners to prevent the compression that can compromise stability. Some women prefer a shoe with a raised heel, while others prefer a minimal shoe that's flat with almost no cushioning. However, how much you need ultimately depends on your body mechanics and how you position yourself during lifts.

Someone who cross-trains but does more weightlifting should probably look for a cross trainer with less cushioning than someone who cross-trains but prefers running. It's all about finding a balance between the stresses you put on your feet and what feels comfortable to you.

Traction
Working out in a gym is different than exercising outside. If you're running on wet pavement, you'll need more traction than if you're running on a treadmill. A HIIT training session requires traction that curves up the shoe's side, while weightlifters need traction across the entire outsole to better stabilize each stance.
Weight
Less weight equals less fatigue. Some athletes use lightweight shoes during competition and heavier, more supportive shoes during training. Lightweight shoes can be used for everyday workouts, but keep an eye on their lighter foams to make sure they aren't breaking down prematurely or leaving your body open to injury.
Internal or external heel counter
A heel counter holds the heel in place so it doesn't slip or lift during activity. For many women, a heel counter locks the heel into the shoe and helps maintain a neutral gait each time the foot strikes the ground.
Workout Shoes and Arch Types
Low (Flat): A low arch causes the foot and ankle to roll inwards as the foot transitions from heel to toe. Athletes with a flat foot may prefer a shoe with a low curve to the insole. Others are more comfortable and find themselves less prone to injury with stability features like medial posts and guardrails that prevent the foot from rocking side-to-side.
Neutral: A neutral arch is neither too low nor too high, and the foot stays in a stable position throughout the gait. If you have a neutral arch, you don't need to worry as much about stability or cushioning as someone with a low or high arch. Focus on finding a shoe that supports the workouts you do most often and feels comfortable to you.
High: High arches don't absorb impact as well as neutral or even low arches, making the foot vulnerable to injury. Sneakers with a high arch in the insole work well. You may also want to look for a workout shoe with a removable insole to make room for a custom or ready-made orthotic that supports the arch.
Frequently Asked Questions
When should I replace my workout shoes?
Workout shoes should be replaced every 300 to 500 miles or 50 to 70 hours. Based on the type of workouts you do, one of those indicators may be easier to track. Using a shoe beyond its life can lead to injury because the foams begin to compress, causing them to absorb less impact. The uppers also lose their elasticity, leaving the foot to move too much in the shoe. All of those issues can compromise the shoe's ability to support the foot and your ability to perform.
Do I need two pairs of workout shoes?
Most women only need one pair of workout shoes. However, there are circumstances under which having more than one pair makes sense. A runner who also likes to do power lifts should probably have a pair of running shoes and a pair of weightlifting shoes or at least a cross-trainer with a low heel. It can be beneficial for those who do long intense workouts to have two pairs of workout shoes to alternate every other day. That gives each pair 48 hours to recover from each workout, extending the shoe's life and making sure it's in peak condition each time you wear it.
Can I wash my workout shoes in a washing machine?
Technically, you can wash workout shoes. However, many of the foams and materials break down quickly from excessive heat or harsh laundry detergents. The shoe will last longer if you use a shoe brush and spot clean the shoe than putting it through a washing machine.
Final Advice
There are so many different workout types and body types that finding the best women's workout shoe is a highly personal decision. A good look at your workout habits and fit preferences will help you narrow down your options until you've found a shoe that makes you excited to hit the gym for your next sweat session.