Your shoes say a lot about you, and sneakers can give off an air of relaxed sophistication or dedication to your sport. The gym may have inspired the first sneaker designs, but today, they're a style statement whether you're hiking a mountain or hitting a sidewalk sale.
We've reviewed everything from running sneakers and vintage pairs to walking shoes and leather sneakers. We've also included a shopping guide, so you can find comfortable, durable shoes designed for your lifestyle.
8 Best Sneakers for Women of 2023
Best Sneakers for Women Overall: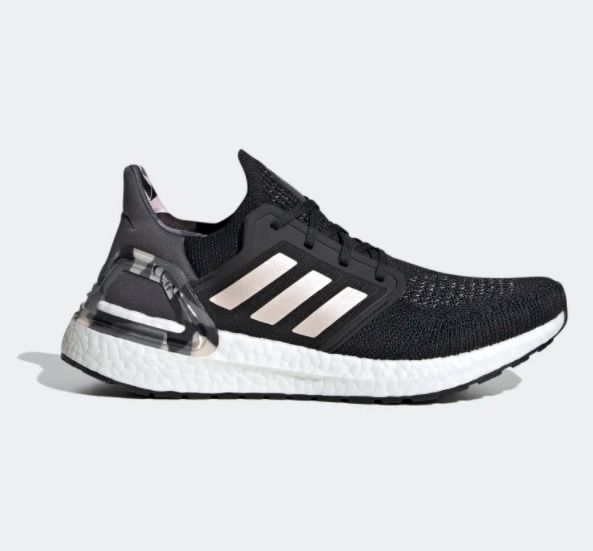 Adidas' Ultraboost 20 combines premium materials, including eco-friendly Primeblue fabric with a built-in stabilizing torsion system. The high-quality materials and springy foams put some definite pep in your step.
$180 from Adidas.com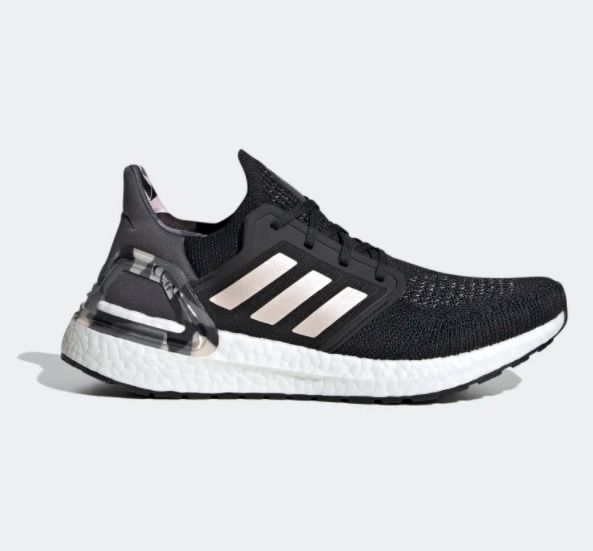 Best Women's Sneakers Overall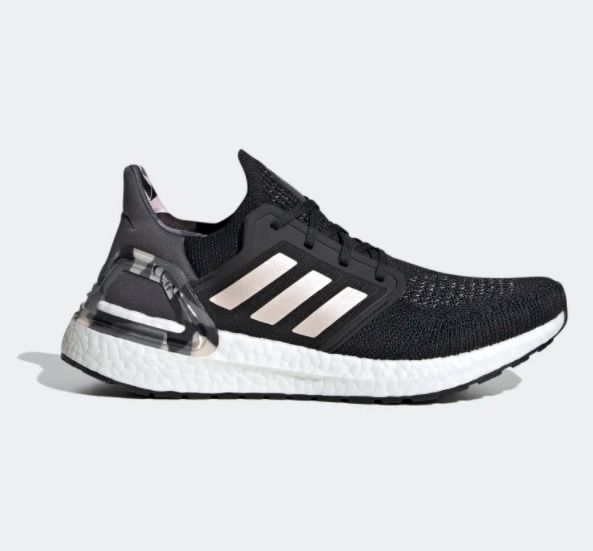 Best Women's Sneakers Overall:
Built-in stabilizing torsion system
Primeblue fabric made of recycled plastics taken from beaches and shorelines
High-absorbency foams that reduce the shock of impact
$180 from Adidas.com
The Adidas Ultraboost 20 brings together running technology with eco-friendly materials. The stretchy mesh upper fully conforms to the foot and is made from recycled plastics gathered from beaches and shorelines. The fabric's breathability and comfort make it ideal for use in a high-end running shoe like the Ultraboost.
In the midsole, the Ultraboost contains highly absorbent foams that reduce the impact of each footstrike. However, the Ultraboost maintains its cushioning and responsiveness, so it doesn't feel mushy. The rocker design propels the foot through a forward motion from the heel strike to toe-off, enhancing daily running performance. Finally, a built-in stabilizing torsion system stabilizes the shoe by reducing flexion forces from heel to toe as you run.
Tip: The Adidas Ultraboost 20's outsole contains Stretchweb and Continental rubber that adds traction and grip for wet weather conditions.
Best Vintage Sneakers for Women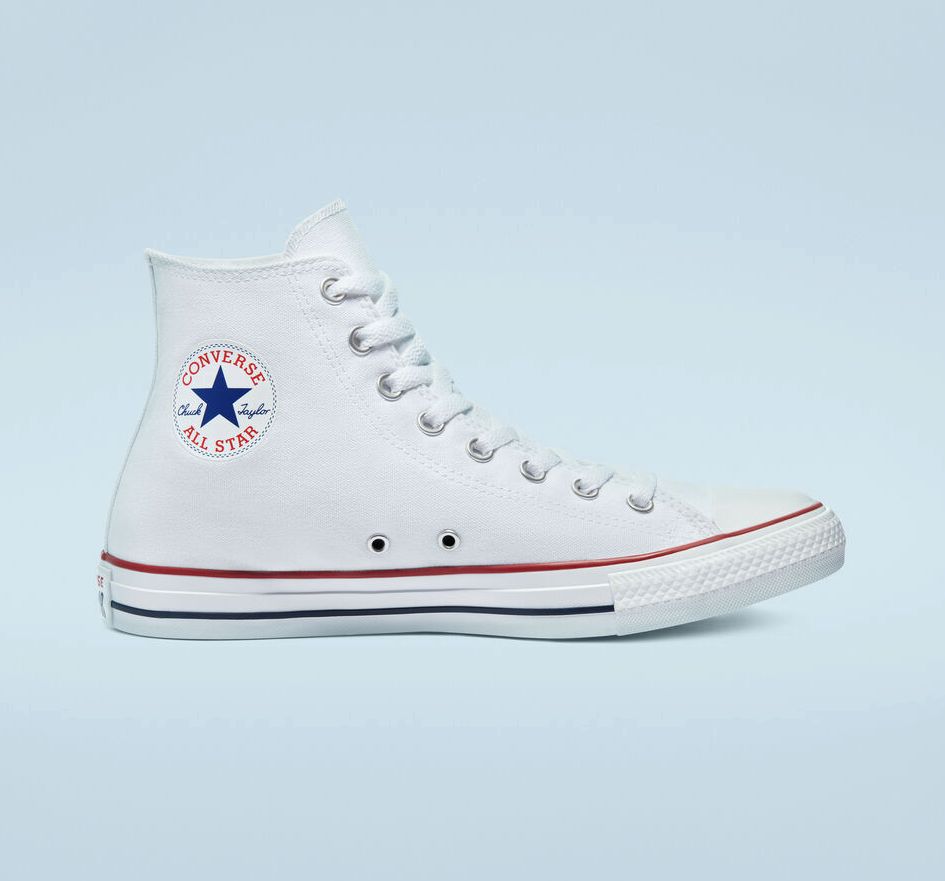 Best Vintage Sneakers for Women:
Classic design in multiple colors
Lightweight canvas upper
Customized options available
$55 from Converse.com
Chuck Taylors have been around for 100 years, and their classic looks still make them a popular favorite. The simple, clean lines of the lightweight canvas upper add casual sportiness to any outfit. While the design isn't as high-tech as today's basketball shoes, Chuck Taylor's are still a favorite in the gym for weightlifters because of their low, firm heel.
However, if you're truly about comfort and looks, this Converse classic does it. They're a great basic white sneaker. However, the color palette spans well beyond white with 11 options. There's an additional range of customizable patterns and colors, so you can create your own one-of-a-kind sneaker style.
Tip: Custom Chuck Taylors cost an extra $30 to $40, but you can create a unique pair from the inside out.
Best Women's Sneakers for Hiking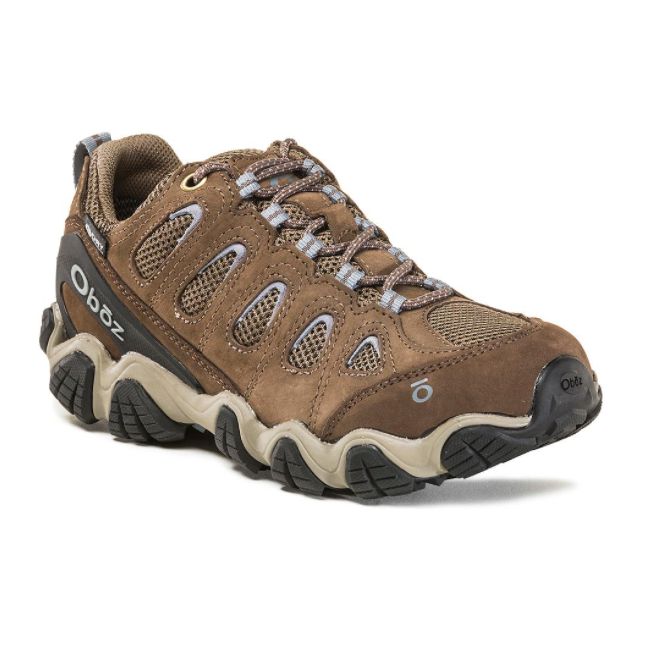 Best Women's Sneakers for Hiking:
Nylon shank in the midsole adds support and stability on rough terrain
Flexible outsole offers good grip and traction
BDRY waterproof system allows heat and moisture to escape but keeps water and mud out
$140 from REI.com
Oboz brings together a proprietary traction pattern and the latest foot support technology in a comfortable hiking shoe. The waterproof nubuck upper of the Sawtooth II offers Oboz's BDRY waterproof system, which lets moisture and heat escape but doesn't let water or mud in.
A dual-density EVA midsole keeps the foot well-cushioned. However, it also contains a nylon shank that offers protection from sharp rocks and roots. Everything stays comfortable and stable with asymmetric collars that move with the ankle's motions. A carbon rubber outsole with toothy lugs lets wearers dig into the mountain. Overall, it's a stable shoe that's rugged enough for adventures off the beaten path.
Best Slip-on Sneakers for Women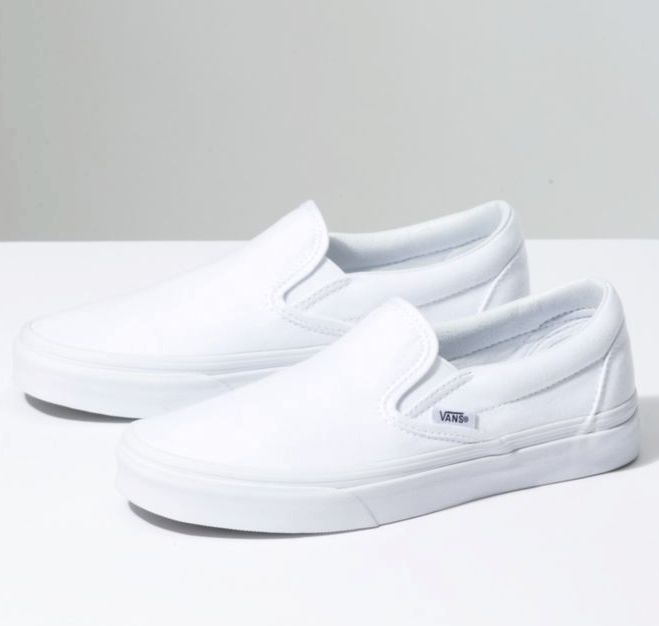 Best Slip-on Sneakers for Women:
Elastic side gussets for easy entry
14 color and pattern options
Padded collar for added comfort
$50 from Vans.com
Skaters aren't the only ones who love a good pair of Vans. These comfortable shoes have a flexible rubber sole that's perfect for all-day, casual wear. This slip-on gives a laid-back, relaxed feel to any outfit. It comes in 14 colors and patterns, so you can find a shoe that complements your personality.
Other low-top sneakers often rub against the ankle bone, but that definitely doesn't happen with the Vans slip-ons. These stylish sneakers feature a padded collar for added comfort at the ankle.
Tip: Don't compromise your foot health for the look of a sneaker. Slip-on shoes, like the Vans, should provide just as much support as a lace-up shoe.
Best Running Sneakers for Women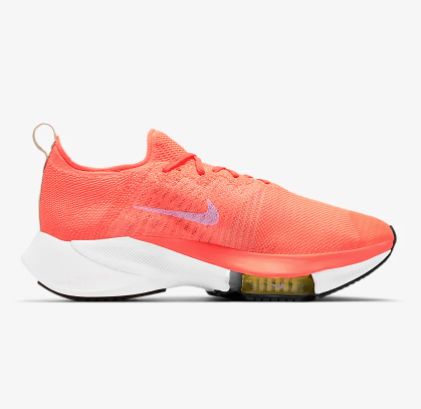 Best Running Sneakers for Women:
Air Zoom Pods and composite plate offer a smooth transition for training and tempo runs
Asymmetrical lacing system provides a more secure fit
Collapsible heel for easier entry and exit
$200 from Nike.com
The Air Zoom Tempo NEXT% offers a blend of technology for long runs and tempo workouts. The Zoom Tempo is similar to Nike's VaporFly and AlphaFly models except that it has a composite rather than a carbon fiber plate.
The composite plate creates a softer midsole with a more stable energy return. The Zoom Tempo has the kind of energy return needed for training days rather than race day. Air Zoom Pods take that energy return and smooth it out through the transition from heel-strike to toe-off.
An asymmetrical lacing system follows the foot's curves for a closer, more natural fit in the upper. Nike also incorporates a collapsible heel design for easier entry and exit. This is a shoe that fully cushions and supports the foot but maximizes training hours by improving the efficiency of each workout.
Tip: The Nike Air Tempo NEXT% has a traction system specifically designed for good traction on wet, dry, and uneven terrain.
Best Casual Sneakers for Women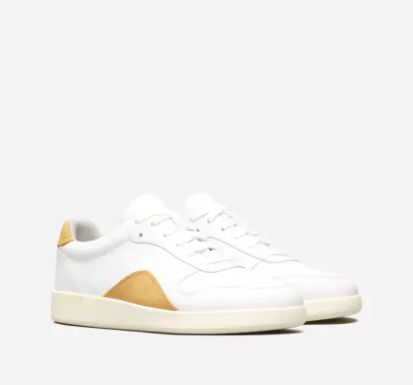 Best Casual Sneakers for Women:
Eco-friendly design
Full-grain leather upper
Recycled polyester lining and sole made of blended natural and recycled rubber
$98 from Everlane.com
Casual doesn't have to mean poor quality, and Everlane's Court Sneaker brings quality to every footstep. A full-grain leather upper adapts to your foot shape for a custom feel over time. However, it's more than looks and feel that put this women's shoe at the top of our list.
Everlane strives to reduce their carbon footprint with every pair of sneakers. From the 100% recycled polyester lining to the outsole made of a blend of natural and recycled rubber, this shoe reduces overall carbon emissions and follows sustainable practices. The Court Sneaker looks amazing, feels good, and saves the planet, too.
Best Walking Sneakers for Women
Best Walking Sneakers for Women:
Wide toe box lets the toes naturally spread
EVA footbed absorbs impact and supports the foot's natural shape
Lightweight outsole offers good traction but keeps the shoe from increasing fatigue
$97.99 from Zappos.com
VIONIC's Satima has comfort and support at the forefront of its design. The Satima features a wide toe box that lets the toes naturally spread for a comfortable, natural gait. A lightweight EVA footbed absorbs the shock of impact while supporting the foot's natural shape with comfortable arch support.
Mesh uppers and a breathable fabric lining let heat and moisture escape, offering a cool, dry fit even if you're on the go. A lightweight outsole helps keep the overall shoe weight to 9 ounces, and less weight means less fatigue for you.
Tip: The foot flexes less while walking versus running. That's why the best walking shoes for women have a firmer sole than the typical running shoe.
Best Leather Sneakers for Women: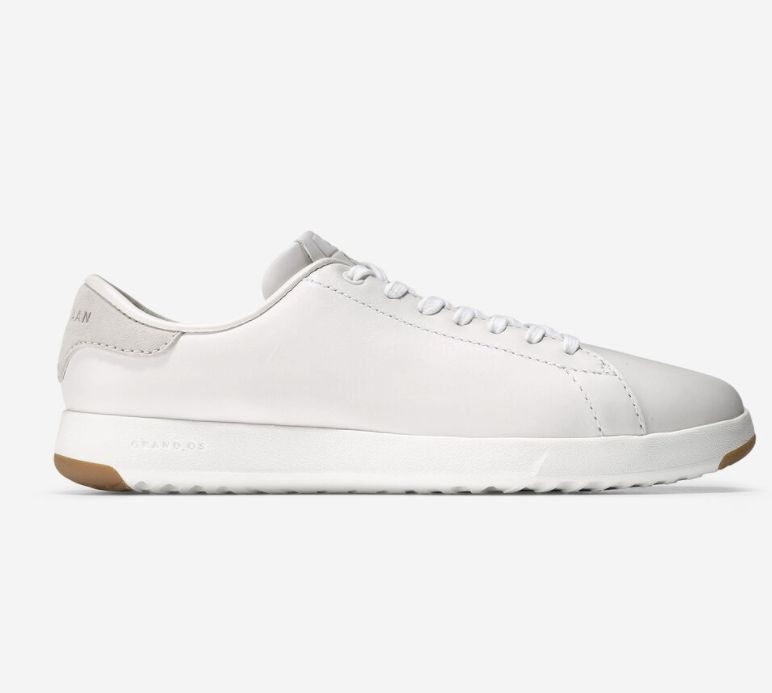 Best Leather Sneakers for Women:
Three width options
Light 5.6 ounces
Layered cushioning and engineered flexibility that follows the foot's natural motion
$130 from Colehaan.com
The Cole Haan GrandPro Tennis Sneaker brings tennis style to casual wear. However, the smooth leather and suede details create a high-end look that's made to last. While there aren't many color options with the GrandPro, you do get three width choices to fit a wider range of foot types.
The GrandPro's are also incredibly lightweight. Layered cushioning through the midsole builds the shoes' ability to absorb shock but doesn't add weight. When you put it all together, each shoe only weighs 5.6 ounces. The outsole is engineered for flexibility, so it can follow the foot's natural motion and support the arch while walking. You'll barely notice them when running errands, traveling, or commuting.
Types of Women's Sneakers
Running
Cross-Training
As a high-impact sport, running requires extra cushioning to protect the foot from the shock of repeated footfalls. There are minimal versions with little cushioning, but for regular training, cushioning protects the foot from injury.
Women's running shoes often have stability and motion control features like medial posts, guardrails, and internal frames that correct overpronation. Overpronation is the inward rolling of the foot and ankle.
Running shoes typically have a narrower base than a cross-trainer because running doesn't involve lateral movements. These shoes also tend to have more flexibility in the midsole than walking or casual shoes to accommodate the fuller range of motion needed to run.
Cross-training shoes are designed for a wide range of activities. Their outsoles typically have a wider base for added stability during quick lateral movements. Cross-trainers may not have as much cushioning as a long-distance running shoe, but they have enough cushioning to absorb the stress of high impact exercises like box jumps and jump roping.
Some cross-trainers have special features like outsoles that extend up the side of the shoe to provide traction for rope climbs. Others have firmer cushioning in the heel for better support while weightlifting.
A good pair of true women's cross-trainers can take you through aerobics classes, spin classes, and occasional runs as long as they have the right traction, cushioning, and support.
Walking
Casual
Women's walking shoes have a firmer structure than a running shoe to support the foot through a narrower range of motion. However, they still need good cushioning to protect the foot for all-day wear.
Most women's shoes specifically designed for walking look similar to a running shoe or cross-trainer rather than a casual sneaker. Walking shoes may also have stability or motion control features.
Casual sneakers bring some of a walking shoe's features, like cushioning and support, to everyday fashion and style. Their designs may harken back to the gym, but they're made for looks rather than performance.
Many women wear casual sneakers for errands and daily activities. For that reason, they should have good support and cushioning to maintain your comfort.
Slip-On
Designer
Slip-ons let you hit the door running. Like casual shoes, slip-ons should have good support and cushioning to protect the feet and keep them comfortable for as long as they're in use.
You can find designer sneakers in any shoe type. High-fashion designers and celebrities often have a line of sneakers next to a brand's regular line-up. These shoes rarely have stability or cushioning features different from the less expensive "generic" brand line. However, they do make a style statement better suited to your personality.
What Makes a Good Women's Sneaker?
Women, more often than men, have issues with overpronation due to wider hips. Women's feet also tend to be narrower in the heel. When looking for a good women's sneaker, look for models that prevent slipping in the heel, provide enough space in the toe box, and support the foot's natural arches and curves. For some, that may mean stability or motion control features. For plantar fasciitis or Achilles problems, it could be extra cushioning that makes the shoe more comfortable.
Cushioning
The shoe's cushioning should support the activity for which you plan to wear them. For example, running shoes should have plenty of cushioning for the distances you most often run. The longer the distances you run, the more cushioning you will need.
However, just because you aren't running doesn't mean you don't need good cushioning. Whether they are slip-ons or designer shoes, casual shoes should have cushioning that absorbs the shock of walking or standing.
Purpose
When you know what you need the shoe to do, it makes it easier to narrow down your options. Where do you plan to wear the sneakers? Are you heading to the gym or out to run errands? High-impact activities like running or playing court sports put extra stress on your feet and shoes.
A day of walking may not need as much impact absorption but will require extra support to maintain a healthy foot shape while walking or standing all day.
Style and Design
Sneakers come in everything from ultra sporty to hints of casual elegance. Designer styles make a statement, but many less-expensive classic sneakers add casual, sporty comfort. The shoe's purpose and how and when you want to wear it can help you decide on the style and design that's best for the occasion and your personality.
Stability and Motion Control
The source of your overpronation determines whether or not you need a stability or motion control shoe. Some people have naturally flat feet. If that's you, a shoe with a low curve to the arch of the footbed may be all the support you need.
However, if overpronation comes from an injury or wear and tear due to age, you may want shoes with either stability features like medial posts or motion control features like guard rails and internal frames that guide the foot through a neutral gait. These features offer extra arch support to keep the body in a neutral position as you move.
Know Your Foot
There are many different foot types—wide, narrow, low arch, high arch. You'll get a better fit and be happier with your shoes if you know your foot well.
Bunions and calluses, for example, may be more comfortable in a wide width sneaker. Plantar fasciitis often does better with extra cushioning and heel support. People with low arches need support based on their anatomy and whether the low arches are due to injury or wear and tear. A foot with a high arch has a harder time absorbing impact, which means that the person needs a sneaker designed with higher arch support or a removable insert to make room for a custom insert.
Frequently Asked Questions
The answer is usually no, but it depends on what you use for your everyday sneakers. If your everyday sneakers are a cross-trainer, they might be perfect for a workout that includes short to mid-distance running and some light weightlifting. However, if your sneakers are designed for style and casual wear, they most likely don't have the support and cushioning needed for high impact workouts. Your feet will be more comfortable and safer in a shoe that's designed for your chosen activities.
Can I wash my sneakers in the washing machine?
Some sneakers are machine washable, but machine washing could damage the materials even on a gentle cycle. You're better off spot cleaning the shoes with a little water and shoe brush than machine washing them. Remember that some materials like leather should never go in the washing machine.
Most high-quality sneakers have 300 to 500 miles in them. Once you reach that mark, their support systems and cushioning begin to break down. However, keep in mind that low-quality materials may break down before that. If the shoe doesn't seem to support your foot or the materials start peeling or wearing down, it's time for new shoes.
Final Advice
Sneakers can make your daily life and weekend adventures a joy. With the right pair of women's shoes, you can forget about your footwear and live in the moment, focusing on where you are and what you're doing.