Some people's feet naturally develop with a low or flat arch. Age and wear and tear or injury can also take its toll, causing the arch to collapse over time. While some people never experience pain related to flat feet, for others, it can cause pain in the ankles, knees, and hips due to alignment issues.
Without an adequate arch, the foot and ankle can roll inward, causing pain when standing, walking, or running. The best women's shoes for flat feet have good arch support, stability, and motion control features that reduce side-to-side movement to maintain alignment from head to toe.
Stability shoes come in all shoe types, from casual to classy and running to beachy flats. While stability and motion control features are key to comfortable shoes for flat feet, cushioning and fit are also high on the priority list. But, it's a balance of stability and comfort that will be your ticket to happy feet.
We reviewed six of the best women's shoes for flat feet, including running shoes, hiking shoes, sandals, and slides. We've also included a shopping guide to help you through the specs and features that could make a difference to your comfort.
6 Best Women's Shoes for Flat Feet of 2023
Best Women's Shoes for Flat Feet Overall: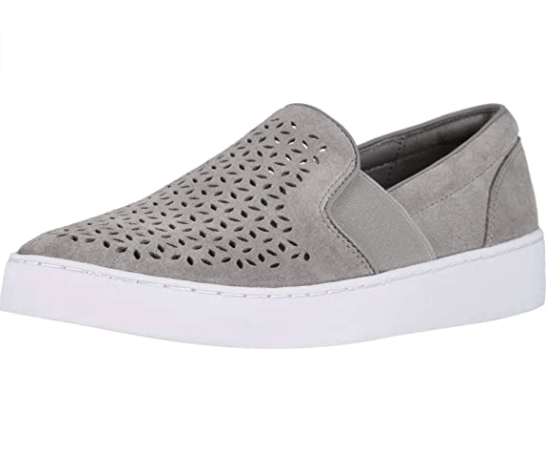 The Kani's built-in orthotic supports the foot without looking like an orthotic shoe. The Kani brings style and comfort to everyday footwear with a well-made suede upper in lots of color choices.
$57.49 from Amazon.com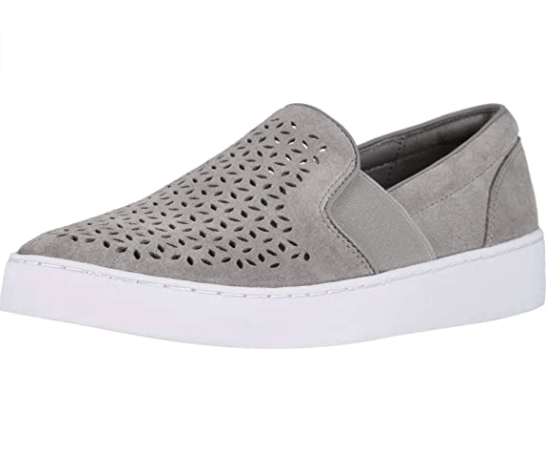 Best Women's Shoes for Flat Feet Overall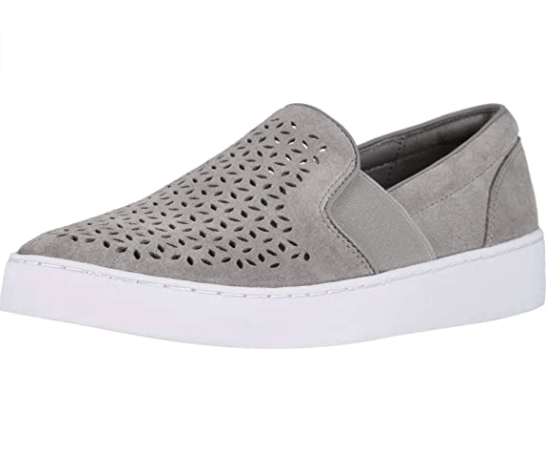 Best Women's Shoes for Flat Feet Overall:
Built-in orthotic insole
Easy slip-on design with double goring for flexibility
Deep heel cup that keeps the foot in place
$57.49 from Amazon.com
A shoe with a built-in orthotic like the Kani is just what the doctor ordered for flat feet. The orthotic is hidden inside the shoe, so they don't look like a stability shoe. Soft cushioning supports the insole for all-day wear. However, the footbed is removable if you have a custom orthotic you'd rather use.
What makes the Kani a standout is the combination of stability and style. On the outside, decorative cutouts in the suede upper keep them from looking like an orthotic shoe. It comes in nine colors, each with a thick rubber outsole. This shoe gives personality to comfortable, everyday outfits.
Tip: If you wear a custom orthotic, a shoe with a removable footbed allows you to get a better fit. If you use an orthotic but can't remove the footbed, there may not be enough room for your foot in the toe box.
Best Women's Running Shoes for Flat Feet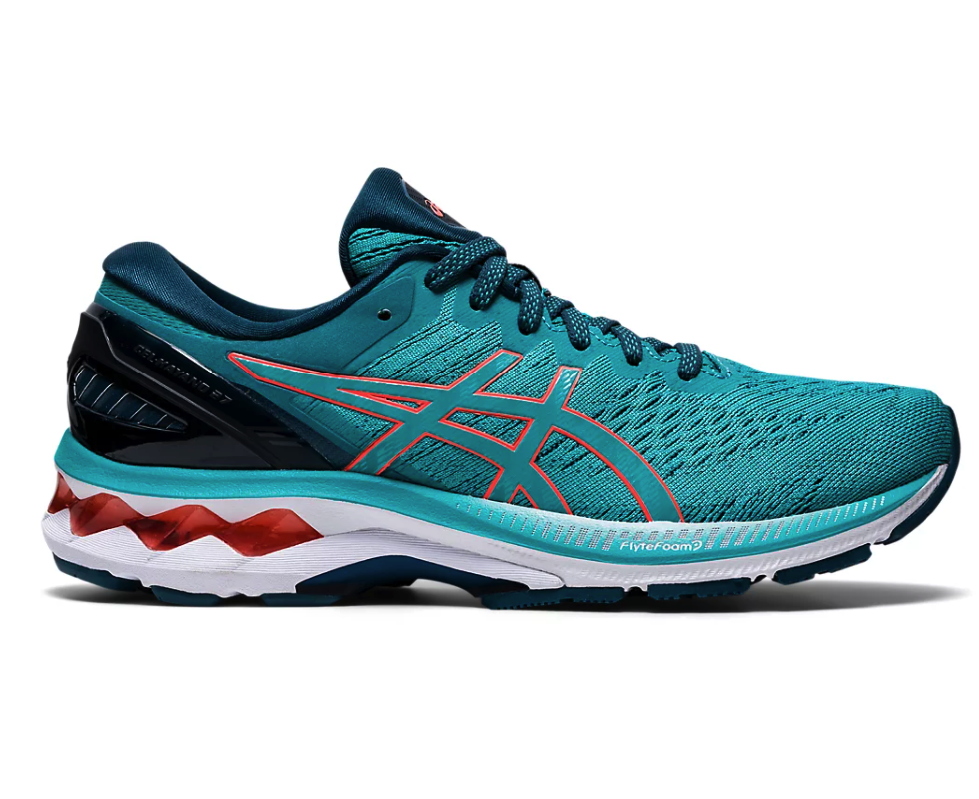 Best Women's Running Shoes for Flat Feet:
External heel clutch locks the heel in place to guide the foot through each step
Gender-specific design better supports the weight distribution and shape of a woman's body and foot
Strategically placed FLYTEFOAM stabilizes the foot to prevent overpronation
$160 from Asics.com
If you look at a list of the best running shoes, chances are that one of the Gel-Kayano's iterations are on there. Any shoe that's been through 27 models must have something special, and the Gel-Kayano does. An extra three millimeters of FLYTEFOAM in the midsole stabilizes the arch and supports the weight distribution of a woman's wider hips. On the outside, an external heel clutch locks the heel in place, so the foot stays fixed to adapt to the shape of the supportive foam. The foam design and heel clutch are part of ASICS' gender-specific trussic system to stabilize the body and prevent inward rolling of the ankle and foot.
A plush Ortholite insole creates an inner contour that keeps the arch of the flat-footed runner in position. Its moisture-wicking properties offer good breathability even during hot workouts. Gel cushions in the heel and forefoot redistribute impact to take the stress off of your lower body.
When it comes down to it, the Gel-Kayano's design makes it one of the best running shoes for flat feet because it specifically targets the weakness inherent to a low arch. By doing so, it lets you run in comfort without putting the health of your feet at risk.
Tip:Strategic placement of high-abrasion rubber in the Gel-Kayano 27's outsole provides better traction in high-wear areas.
Best High Heels for Flat Feet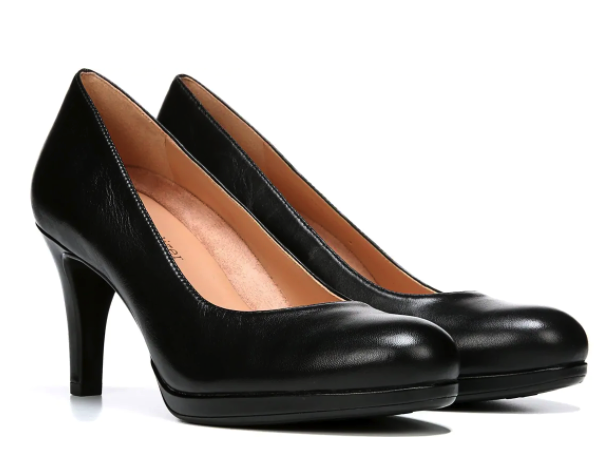 Best High Heels for Flat Feet:
Three width options
Comfort of the N5 contour technology keeps the foot in contact with soft support at all times
Excellent grip in the outsole
$90 from Naturalizer.com
Are you on your feet all day? If so and you love the look of a pump, the Michelle belongs in your closet. The rounded shape of the shoe through the heel and into the toe leaves room for the toes. The Michelle offers the same support you'd usually find in a wide, chunky heel with one that's far more sleek and classic in shape and design.
On the inside, it has Naturalizer's N5 Contour technology, which offers heel to toe cushioning and contouring. The insole follows the arcs and curves of the foot, fully supporting it all day. The outer sole includes excellent traction, so you're less likely to experience an embarrassing slip. The Michelle's classy design also dresses up for a night out or down for a sensible work shoe, making it a great multi-purpose high heel.
Tip: A wide, chunky heel offers better support for a flat foot than a stiletto because the even weight distribution puts less stress on the foot's arch.
Best Women's Hiking Shoes for Flat Feet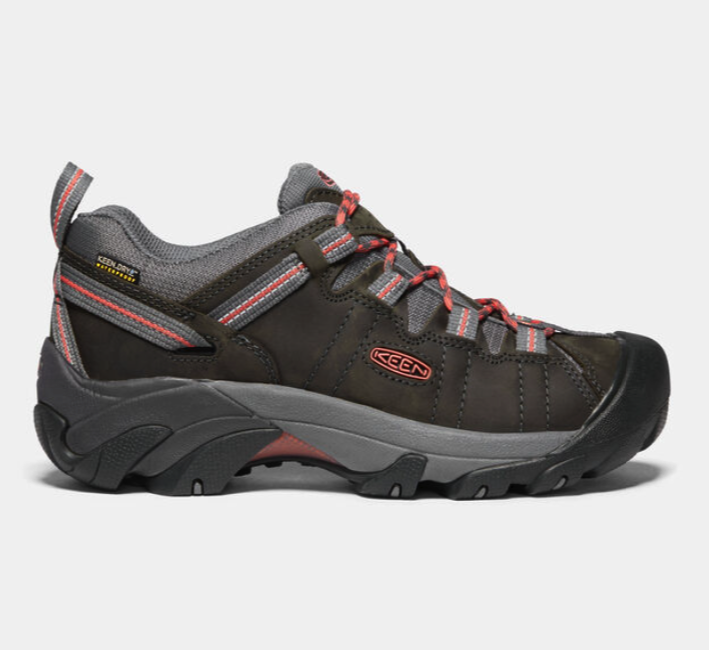 Best Women's Hiking Shoes for Flat Feet:
Contoured heel counter
Shank between the outsole and midsole adds stability and protection from rough ground
Metatomical footbed contours to the foot's natural shape and offers improved arch support
$130 from Keenfootwear.com
Flat feet or not, a good shoe should grip mountain trails and protect the feet from rocks and roots. The Targhee II does it all, including supporting the arch to reduce fatigue and prevent injury. A metatomical footbed cradles the foot's natural contours, specifically targeting the arch for adequate support even when on steep terrain.
The Targhee has a shank between the midsole and outsole to protect the foot from sharp rocks. However, it puts a firm, stable base beneath the arch, which you need on uneven ground. A contoured heel counter locks the heel into the heel pocket, keeping the shoe responsive and your foot in contact with the supportive insole. Whether you're scaling a steep trail or taking it easy, the Targhee II is the right shoe to stabilize and protect your foot.
Best Women's Sandals for Flat Feet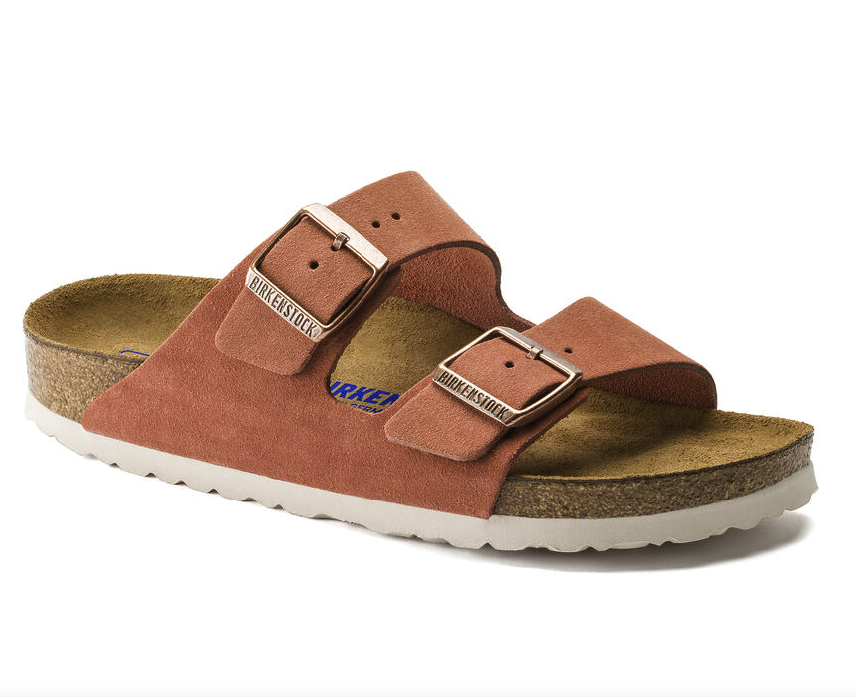 Best Women's Sandals for Flat Feet:
Cork footbed contours to the specific shape of your foot
Shock-absorbing EVA outsole
Soft suede straps
$135 from Birkenstock.com
Summer comfort doesn't get much better than a solid pair of Birkenstocks. The Arizona's cork insole is not only sustainable but, over time, it also contours to the unique shape of your foot. We're talking custom arch support that only gets better the longer you wear the sandal. Latex integrated directly into the cork offers extra cushioning.
Cork also provides impact absorption. However, that absorption is enhanced with the lightweight EVA outsole. EVA keeps the shock of walking from radiating through your joints. At the same time, it molds just enough to the floor or ground to stabilize each step. And who can forget the soft suede of a Birkenstock? From top to bottom, this sandal offers soft, custom comfort that lets your foot stay cool and supported.
Tip: It's tempting to slip on a pair of flip flops and run out the door. But most offer little or no stability for a flat foot. Sandals with an insole contoured to the bottom of the foot will keep you more comfortable and support your foot health.
Best Women's Slides for Flat Feet: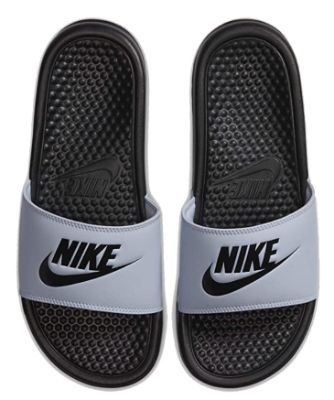 Best Women's Slides for Flat Feet:
Lightweight Phylon foam contours to the foot
Durable rubber outsole enhances traction
Soft jersey lining in the upper
$78 from Amazon.com
Nike is known for their athletic shoes, but the arch support in their classic slides is hard to beat. The Benassi JDI features a lightweight Phylon foam in the insole, and the midsole offers gentle arch support, with or without a sock.
Rubber outsoles provide good traction for a women's slide, and the soft jersey upper feels cozy. The Benassi JDI is a great option if you want slides to wear home from the gym or for a warm day out and about. They'll keep your foot comfortable without the confines of a sneaker or orthotic shoe.
What is a Flat Foot, and How Does It Happen?
A flat foot is a foot condition in which the foot has a low arch or no arch. A flat foot isn't an abnormality but a variation in foot type. All children have flat feet at birth but develop a natural arch as they grow and mature. However, that natural arch doesn't always develop. The result is a flat foot. Flat feet also develop with wear and tear, age, or injury in the musculature and tendons of the foot.
While a low arch doesn't always cause pain, it can alter the alignment of the knees and hips, causing pain when standing, walking, or running. Shoes that support the arch help align the body, reduce pain, and cut down on excessive movement of the foot in the shoe.
What Makes Good Women's Shoes for Flat Feet?
| | |
| --- | --- |
| Stability/Arch Support | Good arch support aligns the body from head to toe and stabilizes the foot within the shoe. The most basic arch support, often found in walking shoes, is an insole with a firm arch that holds its shape even after a long day of walking and standing. The next step is a medial post in the arch that provides even firmer support for higher intensity activities like running or HIIT. |
| Motion Control | Motion control features like guard rails and internal frames that directly guide the foot through a neutral gait are the next step up on stability. Shoes with these features are meant for those with severe overpronation. |
| Heel Counter | An internal or external heel counter holds the heel in place to prevent slipping. A heel that slips and slides within the shoe doesn't get the shoe's full support nor does it stay in contact with stability or motion control features. That's where heel counters come into the picture and lock the heel into the shoe to take advantage of everything the shoe offers. |
| Built-In Orthotics | Built-in orthotics add bulk to a shoe and can give the shoe a chunky, clinical look. However, they have the arch support of a ready-made orthotic integrated directly into the shoe. |
| Removable Insoles | Some people prefer a custom orthotic or a pre-made removable insert. A shoe with a removable insert lets you take advantage of all of the shoe's stability and motion control features but with an insole that's comfortable for you. Without a removable insole, you have to put your orthotic over the footbed, altering the fit in the toe box and heel. |
| Cushioning | Cushioning absorbs the impact of each step. Different activities require different levels of cushioning. High-impact activities like running and jumping need more cushioning than walking or standing. However, if you're on your feet walking and standing all day, you'll need cushioning that's firm enough to support the arch as well as absorb shock. |
The Do's and Don'ts of Flat Feet
Do:
Stretch the calves, heel, and feet regularly. Calf and arch stretches are both ways to maintain flexibility in the feet.
Wear supportive shoes. Always look for a shoe with good arch support. Arch support can help maintain the correct alignment through the knees, hips, and spine.
Exercise regularly and eat a healthy diet. Obesity can put extra pressure and stress on the body, magnifying any issues you have with your arches and the consequent discomfort.
Don't:
Ignore discomfort. It's easier to stop pain when it starts than to correct it after it's been going on for years. Talk to your doctor if you experience pain while walking and running.
Rely solely on your shoes. Wearing supportive shoes all of the time can weaken the muscles in the foot, worsening your foot issues. Spend at least part of the day barefoot to build foot strength.
Frequently Asked Questions
What causes flat feet?
For some, a flat foot is the natural shape and development of their foot. However, for others, the arch slowly collapses as the muscles and tendons break down and can no longer support body weight. Injury, like a torn or overstretched muscle or tendon, is another common cause.
Can I get rid of flat feet?
There are some physical therapy exercises that strengthen the muscles of the foot, counteracting a collapsed or low arch. Developing good posture and focusing on a neutral gait can all help, but it might not make your arch higher. Wearing shoes that stabilize and support the arch further help, but they won't alter the foot's shape.
Can I wear high heels with flat feet?
High heels offer very little arch support, so they're not usually a good choice for flat feet. However, if you love a good heel, wide, chunky heels with a wide toe box or a pair of heels with orthotic insoles are the best choice.
Final Advice
A shoe that's made to stabilize and support the arch will help align your body so you can keep going all day long. Flat feet don't have to eliminate gorgeous (and comfortable) shoes from your life. If you know what to look for, you can find great comfort in shoes that look good, too.